Sometimes when hunting, all you need to do is walk around the woods, come across a deer, and take a shot.
But most deer hunters would also tell you that, while you may get lucky, the superior strategy is to find a spot and wait for a deer to come to you…and one of the best ways you can ensure that a deer does indeed come your way is to attract it using a decoy.
That being said, it's not like you should just buy the first decoy you see in the sporting goods store, and then walk out to a random spot in the woods, set up your decoy, and wait for the five point buck to come along.
Deer hunting is a bit more complicated than that, but fortunately, in this article we will discuss how to use a deer decoy effectively on your upcoming hunts, and then we will cover some of the very best decoys on the market today.
How To Use A Decoy Effectively
As we discussed above, if you think deer hunting is as simple as just setting up your decoy and waiting for your dream buck to come trotting down the trail to shoot with your deer hunting rifle, you're going to be in for a surprise.
There are specific strategies and tips that you need to learn in order to use your decoy as effectively as possible. The first tip is to actually commit to using your decoy. Too many hunters buy a decoy and use it maybe once, only to then later place it in their garage where it spends the rest of its days collecting dust.
A decoy is not like a magical solution that's going to guarantee you shoot a deer every time you set it up. Nonetheless, many hunters seem to think that's exactly what a decoy is for, only to get discouraged when they don't bag a deer on their first hunt with it. Furthermore, many hunters dislike the fact that they have to pack the actual decoy out into the woods each time for the hunt.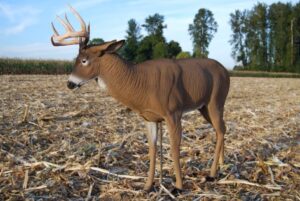 Again, the trick here is to actually commit to using the decoy and refine your skills with it. The good news is that there are many models of realistic decoys today that are compact and light, and easy to transport and set up.
Next, you need to be very strategic about where you set up your decoy. Simply setting it up at a random spot in the woods most likely is not going to cut it. Instead, before hunting season begins, go scouting out in the woods to find a location in the woods there there are heavy signs of deer, such as tracks and droppings. Near a creek or water hole, or at a crossroads where numerous game trails come together, are usually prime targets.
You also want the location to be open rather than in thick brush, so the decoy can be highly visible. If you're hunting out in the woods, you're going to want to find an open clearing if at all possible, and again you should confirm that there is heavy sign that deer are typically present in the immediate area.
Next, you're going to really want to add to the realism of the decoy by applying scent. If your decoy is covered in human scent (which it most certainly is if you are handling it repeatedly), then either covering it in scent or placing scent next to it will be necessary.
You would also be wise to store your decoys in a bag that is scent proof, and then use gloves when setting it up. You can also spray the decoy with scent killing product. Another tactic could be to add a deer feeder to the surrounding area as well.
Another way to add to the realism effect will be to use a realistic looking deer call. If you can use this in combination with a scent-covered decoy, you'll have a much greater chance of attracting a deer.
Next, you also want to be strategic about the type of decoy that you will be setting up as well. For instance, do you want to set up a doe decoy or a buck? This will need to be based on the time of the year that you are hunting, and what type of behavior you are looking to attract. If you're just looking to bag a doe, you'll want to probably want to set up a doe decoy, as deer will often seek other deer to socialize with and feed near.
But a doe decoy could also attract a buck looking to mate. Alternatively, setting up a buck decoy could attract a real buck looking to dominate over other males in the area. This will work for bucks who are more aggressive.
Now that we've covered how you can use a decoy effectively, we will next cover the best makes and models of deer decoys on the market today:
Flambeau Grazing Doe Decoy
One of the biggest brands of deer decoys is Flambeau, and the Grazing Doe Decoy is a model that you can use to attract either does looking to find other does to graze with or bucks looking to mate.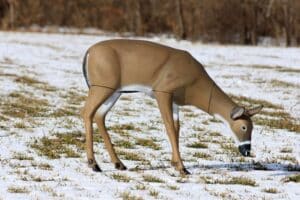 This is a lightweight decoy at only fifteen pounds, and the body parts disassemble from the main decoy and can be stored inside the body torso, which makes it much easier to transport around into the woods.
In addition, despite the light weight, Flambeau also designed this decoy with a durable build to be able to stand up to the elements, and in particular to resist windy conditions.
Flambeau Masters Series Boss Babe Decoy
If you plan on going hunting out in vast open fields, you're going to need two things: a good eye relief scope, and the Flambeau Master Series Boss Babe Decoy. This decoy is designed to be used specifically for open fields, where it can be used to either attract other does looking to graze or a buck looking to mate.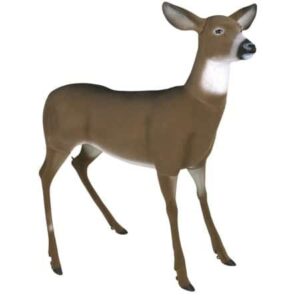 One notable feature about this decoy is the fact that it comes with two sets of ears. One ear set is designed to simulate the deer being alert, while the other is designed to simulate the deer being more welcoming. Either ear set will really help add to the realistic effect of the decoy.
Even though this decoy is also designed to break down easily, the legs and head will secure to the torso section very securely, so the decoy can easily withstand higher winds. When detached, the head and legs will fit into the torso cavity. Total weight is a relatively light fourteen pounds, so packing this decoy to your preferred spot out in the woods shouldn't be that big of a hassle.
A final neat feature to the Flambeau Masters Series Boss Babe Decoy is the fact that it has the ability to add scent pads to it. This stands in contrast to most other deer decoys, which require you to either spray the deer down or place scent attractors at the bottom of it.
Primos Scarface Decoy
The Primos Scarface Decoy is a buck decoy that will be very effective at attracting other bucks seeking a challenge. There have even been reports of bucks that will physically attack this decoy, which just goes to show how effective it can be.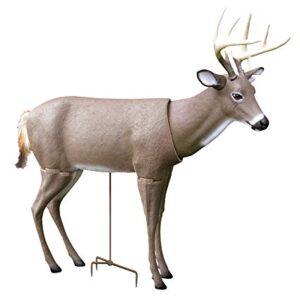 One reason why bucks may feel compelled to attack this decoy is because of the fact that it's very realistic: in even the most gentle of breezes, the head will bobble up and down to make it look like an actual deer moving. There is also a body stake that comes with this decoy to help stabilize it in the wind and the inclement weather.
Since the antlers are removable, you can alternatively utilize this decoy as a doe decoy if you would like, which means you can also attract bucks looking to mate. The legs and head can be removed and then stored inside of the body cavity for ease of transport.
Conclusion
The three models of deer decoys that we have covered in this article will be among the most realistic that you can use on your next hunting trip.
Does setting up a realistic deer decoy guarantee that you will bag a deer on your next hunting trip? No, and a decoy certainly isn't necessary for going deer hunting either.
But at the very least, setting up a decoy can likely increase your chances of bagging a deer. Just remember to set it up in a strategic location and to spray it with scent attractant to add to the realism effect.