Shoulder holsters are the companion of men in action and are usually associated with law enforcement officers, military personnel, and detectives. Don Jonson from Miami Vice is the iconic wearer of such an accessory.
To this day, his companion, a leather shoulder holster, now known as the Galco Miami Classic Shoulder System remains one of the best options to carry a full-size gun like a Colt 1911, a Remington R1 or a Springfield with rail.
This sturdy item is made of full grain leather with a branded system that ensures comfort. The Flexalon back plate acts as a central point for the harness straps. The shoulder holster is fully modular and offers a high concealment factor.
The most common accessories, apart from the magazine carrier that comes included are tie downs, flashlight attachment, and cuff case.
Get Great Guns and Ammo Deals!
---
Selecting a Leather Shoulder Holster
As the name suggests, the Galco Miami is a classic, and you can hardly find something to hold against this piece of equipment, but there are a lot of other great options out there.
When shopping for a holster, the first thing you must make sure is to choose something that fits your gun properly, your lifestyle and your body frame. Particularities such as being left-handed or ambidextrous are also decisive factors. Let's make a list of the most important determinants of a great holster:
Gun size and type
Since leather holsters are rigid, they need to fit the gun's dimensions tightly, without forcing the barrel and avoiding for the hammer to be in a tensioned position or the grip to stick out in a manner that is uncomfortable under the arm and causes constant movement and rearrangement of clothes, drawing unwanted attention.
Check the manufacturer's website for a perfect fit and ask around before buying.
Gun position
Any holster should offer fast access to the weapon. Depending on individual preferences dictated by body frame, clothes, and even the job, some people prefer a horizontal holster, while others are more inclined to use a vertical shoulder holster.
The vertical offers enhanced safety since it points downwards, while the horizontal is faster to draw out. Some horizontal holsters also offer a 30 degrees tilted position which combines advantages. Keep in mind that large guns can only be fitted in vertical shoulder holsters.
Ammo compartment size
Most holsters are modular and allow you to opt for different types of magazine compartments. In some cases, you can dispose and just choose a double holster instead of think of how much ammo you intend to carry with you.
Some holsters designed for medium guns need an ammo compartment for balance reasons, thus avoiding unnecessary movement of the system. Holsters meant to carry small weapons do not require such an addition.
Concealment factor
A shoulder holster is an accessory. Therefore it needs to be appropriate for the situation it was intended. If you want to conceal the gun, then it is important to select a flat model, with no unnecessary details that can be masked by clothes and does not print on the jacket.
On the contrary, for military or use during hunting, especially for larger weapons you can go with a statement model, eventually custom-made.
Proper fitting
The wearer does not even feel the best leather shoulder holsters after a few days of accommodation. When getting a brand new holster, you need to try out a few different adjustments until you find the perfect one for your body.
If you buy a type that requires conditioning and molding, be patient and think of the time spent as an investment in a customized item. Before buying be sure to check if the holster fits your size, some brands only produce average sizes, while others take pride in creating pieces to fit even Goliath.
---
Caring for a Leather Shoulder Holster
Be sure to check the manufacturer's instructions regarding proper caring for the leather and accessories. Most leather holsters can last decades, but they require a bit of work in the beginning. Each brand-new holster needs a breaking-in period to stretch to the exact dimensions of the gun it will accommodate.
Don't return I right away if it feels too tight on the gun, that is how it should be, you just need a little bit of patience and some old-school technique to make it yours.
Here is a movie that shows you how to break-in your brand-new leather holster.
To avoid damaging your gun, you need to wrap it in plastic or wax paper and fit it in and out of the holster a few times to loosen it. Leave the gun in overnight until the shape of the holster accommodated the weapon entirely.
Some users advise using silicone inside the holster to ensure an easy drawing of the gun, but only use this as a last resort, as it can make the holster too loose.
Caring for the outer part of the holster requires removing dirt and stains with a damp cloth and letting it dry. Special conditioning treatments are welcome but should be used sparingly, as they tend to soften the leather too much and ruin the dimensions.
It is more important to avoid direct contact with moisture and sweat by wearing a t-shirt under the leather holster.
---
Best Leather Shoulder Holsters
Now that you know how to select a holster and how to take care of one, let's review some of the best options, considering the size of the gun, concealment, and style. We strive to bring you a wide range of choices, for specific products, be sure to check our dedicated pages.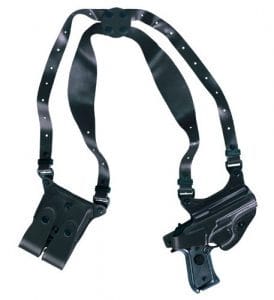 This horizontal style shoulder holster is created from genuine leather tanned black. It is comfortable, concealable, even when worn by women.
It has extra flat straps that are useful for hiding it while doing your day job, sitting behind the desk.
Features
Fits GLOCK 17, 19, 22, 23, 31, 32, 34, 35, 39
Variants for Beretta, Sig Sawer and S&W
Double ammo carrier
Fitted with tension screws
Comes in black and tan
Pros
Excellent for use from a seated position
Easy to adjust with a screwdriver
Good price/quality ratio
Compatible with tie-down straps, which are recommended to keep it in place
Cons
Plastic clips can feel cheap
Requires a good break-in period to adjust to user and gun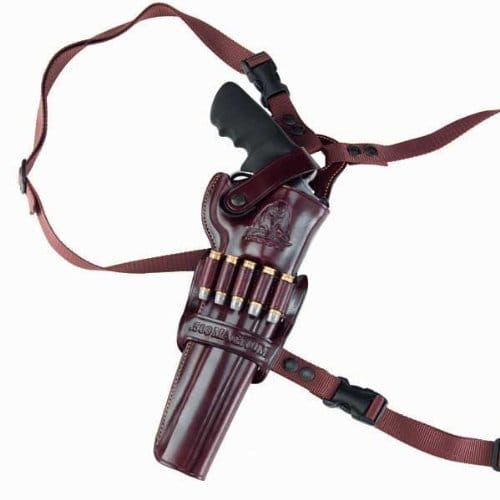 If you are looking for a sturdy piece of equipment to carry around a large gun, such as a Magnum, this is one of the options worth noticing.
The stylish dark brown leather holster offers an adjustable angle. Due to size, it is most fitted for outdoor recreational activities such as hunting or shooting as a sport.
Features
Fits S&W N Frame .44 Model 29/629
Padded shoulder strap for comfort
No screws for adjustment, less movable parts
Optional bandolier
Pros
Works with Ruger Super Redhawk
Excellent weight distribution
Remains in place even during movement such as that on an ATV
Once broken in it just blends with the wearer
Cons
Stiff leather in the beginning
Needs to be sanded where nylon straps touch the leather if used during hunting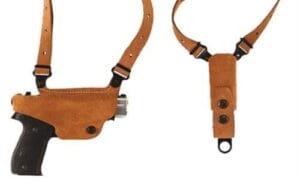 Some people just prefer the comfort of a smaller gun, just for peace of mind. If you are looking for just the bare basics of a shoulder holster for a small gun like a Glock 43, this Galco suede number will most likely answer your demands.
It is simple, slim, lightweight and uses the four pivoting Flexon plate. The advantage is that it does not print and offers concealed carry even in casual attire.
Features
Fits XD-S 3.3/4in or Glock 43
Top-quality suede
Easy to adjust
Pros
More comfortable than other carrying methods
Can be worn with a dress shirt
Adjustable straps to fit most body sizes
Excellent for drivers
Cons
Just for right-handed individuals
Suede requires about 2 weeks of break-in time
This is a versatile leather shoulder holster that accommodates a broad range of subcompact guns. It is crafted from top quality leather with simple details, and the best part is that it is fully modular.
The removable magazine pouch can be used as a separately attached to the waist belt. The holster is also removable and if you want, you can have a "OWB" or "IWB". This kind of multifunctionality makes the XCH product stand out.
Features
Fits 1911 type pistols, Colt Defender, Colt Commander, Ruger SR1911 CMD, Sig Sauer P238/P938, Ruger SR1911CMD, Sig Sauer P232, Makarov, Polish P64, FEG PA-63, Bersa Thunder .380, Ruger lc9, Taurus PT709, subcompact handguns
Modular and adjustable
Ambidextrous, left-handed, right-handed
Comes in light and dark brown
Pros
Usable in different configuration depending on the needs
Can be used horizontal or vertical
Thinner leather shapes faster
Excellent leather artistry
Cons
Ships from Russia, delivery takes time
Requires softening of the trigger guard
---
Conclusions
Shoulder holsters are a good way to carry and conceal guns up to about 5", even during summertime. These items are recommended for drivers or individuals who spend much time sitting, and they still want undisturbed access to the gun, without additional moves.
If you choose a leather shoulder holster, you should give it some time to loosen and fit your body and that of the weapon perfectly. Be patient and don't skip steps if you want your new investment to last for decades in good condition.
Our Pick
A holster that promises to stand by your side for years to come is Galco's Miami Classic, a modular system designed in the 70's that has not lost its appeal. Lightweight, flexible, adjustable and made from the finest quality leather it is the choice of professionals and amateurs alike.