You're searching for a holster for your new Ruger 22/45, and you might be wondering, what's the best holster for it? There aren't many holsters specifically designed for the 22/45 yet, since it's still pretty new, but many generic holsters for medium-sized semi-automatics will fit this pistol.
Our pick for the best holster for the Ruger 22/45 is the Tactical Kydex Open Top Hip Holster by Uncle Mike, size 30. This is a polymer holster that comes with both paddle and belt loop accessories. The paddle is soft and vented for comfort, and the holster gives passive retention.
Check out this video review, where he talks about finding the Uncle Mike size 30 holster for his 22/45.
Get Great Guns and Ammo Deals!
---
What to Consider Before Buying
Go Wide
The Ruger 22/45 is more of a specialty weapon, so there aren't a lot of holsters that list the 22/45 specifically. But, this doesn't mean you won't be able to find a holster for it. You'll just have to take your time and shop around.
Many generic leather or nylon holsters for medium-sized 5-inch barrel semi-automatics will fit your 22/45. Even open-ended holsters for 4 and ¼-inch barrels may fit, even though the barrel will protrude out the opening.
Dominant Hand
Whether you're right- or left-handed is a factor in the holster you choose. Most holsters are not ambidextrous, so you'll need to make sure you order the right side for you. But, some of the nylon holsters are able to be used on both sides simply by moving the belt clip.
Pistol Accessories
If your 22/45 has accessories like the red dot sight, you'll need to keep this in mind. Many shooters want to leave the sight attached, so the choice of holster must accommodate this sight. When fitting a polymer holster to the 22/45, you should remember the pistol has a fairly large slide release on the side; some holsters may not have a groove for this.
Retention
This refers to the tension on the firearm when it's holstered. Many polymer holsters have adjustable retention screws to guarantee a tight fit. You should get an audible 'click' when the pistol is securely holstered. Other holsters have a strap that goes over the firearm to keep it tight in the holster.
---
General Holster Talk
Before we look in detail at specific brands of holsters for the 22/45, let's talk about some general details about holsters.
Styles
There are several different styles of holsters available on the market. Your choice of style will depend on how you intend to carry your Ruger 22/45.
Outside the Waistband (OWB) — This holster clips to the outside of your pants or on a belt, or has slots to slide onto a belt. Some have polymer paddles instead of clips.
Inside the Waistband (IWB) — These are usually used for concealment, and slip inside your pants with a clip or by a paddle.
Shoulder Holster — A shoulder holster comes with a harness, placing the firearm under your weak side arm. They usually have spare magazine holsters on the opposite side to balance the weight.
---
The Top Five Ruger 22/45 Holsters
Now, we'll look at our top five picks and go into more detail about them. We'll give you the pros and cons of each holster.
This is a polymer holster molded for Rugers of this series. A word of caution, there are two mounts for this holster, a high ride and low ride. The one you want depends on if you want the pistol to ride high on your hip or lower for easier draw.
The MK Series holster has user-adjustable retention screws, so you can get a tight fit. You'll get a click when the firearm is securely holstered. With the proper fit, the pistol won't fall out of the holster. This holster is ambidextrous and can be used by either right- or left-handed shooters.
You can use this holster even if your 22/45 comes with accessories like optical sights or a suppressor. The front of the holster allows enough space for these extras while still retaining the firearm.
This is a nylon holster with both a sturdy metal clip and a belt slide. It's ambidextrous, so it can be used on either side by moving the clip. It also comes with a spare magazine pouch.
The Side Holster has a retaining strap with a thumb break snap to secure the firearm. The strap is adjustable for the perfect fit. It is designed for pistols with up to a 5.5 inch barrel, and has extra room. Since it's not perfectly molded, holstering your 22/45 with optical sights shouldn't be a problem.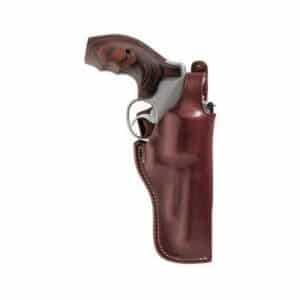 This is a leather holster molded for the Ruger Mark series. It's not listed specifically for the Mark IV, but should fit as it's designed for barrels up to 5.5 inches. However, it might not be a good fit if your 22/45 has larger sights.
Because it's a molded leather holster, it might be a tight fit. Some shooters have coated the inside with leather conditioner, wrapped the pistol in wax paper, and inserted it in the holster for a few days. This allows the holster to relax to your firearm's size and shape.
Some shooters have mentioned an accidental magazine release when using this holster. The Carry Lite also features a retention strap with a thumb break to keep the pistol secure in the holster.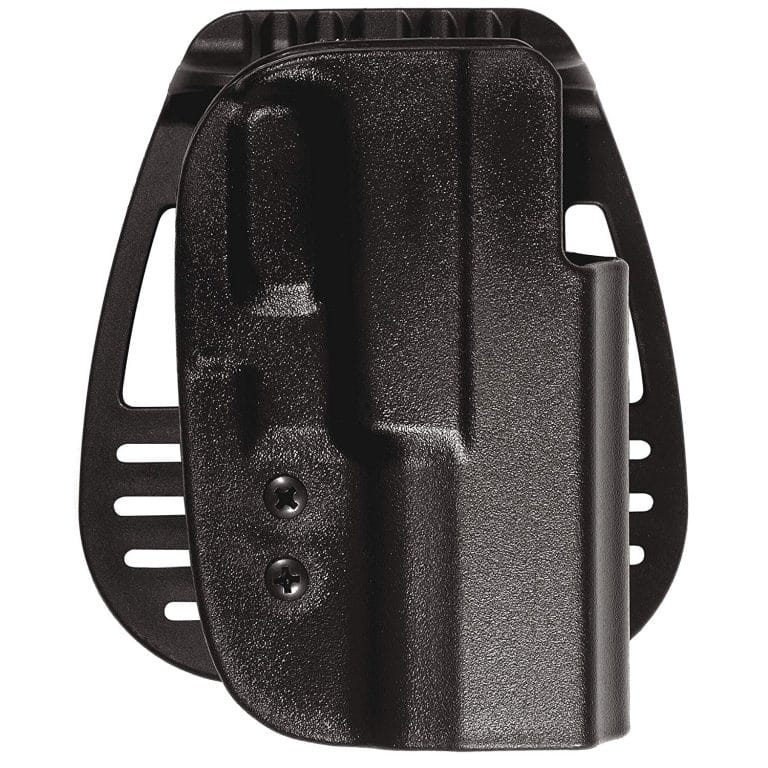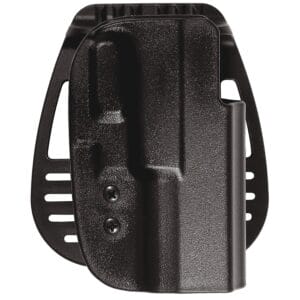 This holster is made of molded Kydex polymer and comes with both a paddle and belt loop assemblies. The Open Top Holster also fits 22/45s with a compensator and red dot sights (RDS). This holster isn't ambidextrous, so be sure to order the right side.
Because it's molded to fit, this holster doesn't have any other retaining features. You can adjust its passive retention by loosening or tightening the retaining screw. The paddle has a pair of protruding teeth to help keep the holster on a belt, but they can make the holster difficult to remove.
Kydex polymer is durable and resistant to breakage from shock. But, some shooters prefer not to use Kydex, citing it may be abrasive and wear the finish on the pistol. For more information about the Open Top Holster, and to see how it fits the Uncle Mike, watch the YouTube video at the beginning of this article.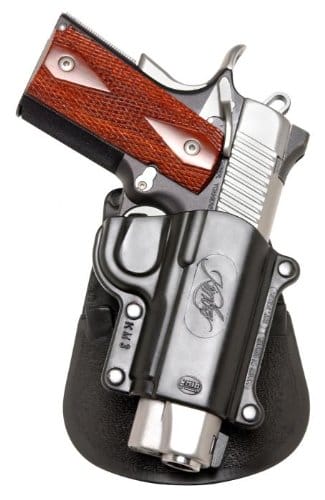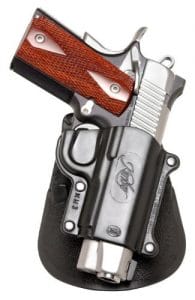 This is a molded polymer holster for the Mark II and III series, so it's possible it will fit the Mark IV as well. The holster comes with a molded paddle to slide inside the pants. It is not an ambidextrous holster, so if you order one, make sure you get the right side.
The Fobus paddle holster comes with an adjustable tension screw, so you can adjust its passive retention for the right fit. Retention comes from the holster gripping the trigger guard, keeping the firearm safely holstered.
Fobus offers a lifetime warranty on their Standard Holster Paddle. But, this holster is listed for the Mark II and III, but the Mark IV is not mentioned. Use caution when ordering this holster, and it might be a good idea to contact the seller for more information.
---
Final Thoughts
Because the Mark IV 22/45 is relatively new, it might be difficult to find holsters made specifically for it. This doesn't mean you won't be able to find a holster to fit it. Many generic holsters for medium-sized frames will fit the 22/45, but if you're unsure, make inquiries to the seller before purchasing a holster for your 22/45.
Our Pick
The Kydex Open Top Hip Holster by Uncle Mike is the best choice for the price. As shown in the video above, it will fit the 22/45 and guarantee retention. It comes with an adjustable retention screw, and the open front means you'll be able to carry your 22/45 even with additional accessories. For the price and features, you can't go wrong with this holster from Uncle Mike.
Related Reads: