The Taurus PT140 Generation 2 is a great gun for self-defense, so finding the right holster is important. It has a nice .40 caliber operation and is actually very light, which can come in handy in a shooting situation.
Some might argue that the holster is the most important gun accessory because its proper functioning can save your life. With this in mind, we've found an excellent holster for the Taurus PT140 Generation 2 that provides a good draw experience.
[thrive_leads id='19948′]
---
We've pored through several holsters for the Taurus PT140 Generation 2 handgun so that we can present you with the best. As a result, we've found that the best Taurus PT140 G2 holster for the money is the Outbags LOB2S-MIL concealed carry gun holster.
This specific holster shines, in our opinion, because of its handmade nature. The holster is crafted from natural cowhide that has been hand dyed, cured, and coated so that it can maintain its quality for years. Additionally, it has a great clip mechanism for attaching easily to your waistband and it has a classic holster styling that many appreciate.
Pros
The somewhat mottled brown coloration of this holster has a very classic appearance. Since it's hand-dyed, there is a lot of visual charm to this holster.
One of the biggest problems with leather holsters is the fact that the leather can be scratched. This holster has a protective clear coat.
This is also a cured holster that will keep its shape and not deform over years of use.
It also can be used for a plethora of firearms, including the Taurus PT111 and the PT145.
Cons
There is a break-in period. You should practice with it for a few weeks to ensure it fits your weapon well and doesn't snag on the draw.
It's nigh-impossible to soften this holster.
---
How to Choose the Best Taurus PT140 G2 Holster
For those who are unfamiliar with the Taurus PT140 G2, it's a 40-caliber handgun that has a reliable operation. For a good and honest review of the gun itself, Youtube has a great weapon walkthrough.
That being said, what should you look for in a holster for this firearm? Read on to figure out what's best for your needs.
---
Some Important Attributes
There are several key features that make a great handgun holster for concealed carry, so let's take a look at a few:
Safety Features: No one wants to have their day ruined by a handgun holster that lacks the safety features to help you avoid accidental actuation. Some of the best safety features are trigger protection and retention.
Trigger protection keeps foreign objects from sliding into the holster and causing your gun to accidentally go off. In many cases, a good strong material will keep your firearm's trigger protected.
This is why you should always look for holsters made of tougher materials like leather, synthetic materials like Kydex or Boltaron, or tougher nylon holsters like those that are made of ballistic-grade Cordura.
A Strong Clip or Attachment System: Not all holsters attach to your belt or waistband, but those that do should attach firmly. A clip should be made of stronger metals so as not to suddenly bend over time; steel is a great option for this.Some holsters also attach directly to your belt. You simply run the belt through the holster and you'll have a firm connection.
Quality Retention: There are several systems to keep your gun secure in its holster when it's not needed. One of the most popular is the thumb-break snap, which allows you to free your Taurus PT140 G2 with your firing hand.
Other methods for retention are the ALS lock, the tension screw, and a rotating hood. In any situation, always look for a retention system that isn't too hard to disengage so that you can draw with relative ease.
---
The Most Common Types of Holsters
Belt Holsters
Having your holster concealed on a belt is one of the most common methods of handgun concealment. There are two types of belt holsters:
Belt Loop Holsters: As you might expect, these typically have two holes or loops for your belt to go through. You simply place your belt through the holes as you are putting your belt on and it'll be secure. The biggest issue with these is that they aren't very versatile; once you've attached it, it isn't easy to adjust.
Paddle Holsters: Paddle holsters clip on to your belt and are adjustable when you need to change their position. They are also fairly secure, but the chief drawback of these is that a paddle holster is a little bulkier than most loop holsters.
Waistband Holsters
These typically are concealed inside the waistband of your trousers or jeans. While the belt holsters fall in the OWB, or outside of the waistband category, the other type is an IWB or inside-the-waistband.
Typically, waistband holsters are good because they don't require a jacket for concealment. This means that they are great for summer and spring carrying.
Additionally, these types of waistband holsters are also less bulky than OWB holsters and can even be positioned comfortably on your back. The main drawbacks of IWB holsters are that they are sometimes uncomfortable, can pick up gun-damaging oils and sweat, and require jeans or trousers with a wider waist than you may be used to.
Cops Plus has an excellent video on Youtube that really hits the nail on the head when it comes to outlining the benefits of paddle holsters, belt holsters, and IWB holsters.
Pocket Carry Holsters
These are pretty great for overall concealment and are less prone to picking up bodily oils and causing discomfort than IWB holsters. These are designed to simply fit inside of a pocket so that you can carry with a relative sense of security.
Simply carrying your gun in your pocket courts disaster, so using one of these types of holsters is a great option for many. It's just really important that you have full trigger guard coverage because any other items inside of your pocket can inadvertently push the trigger if there is inadequate trigger protection.
The primary drawback of this type is that once you have your concealed Taurus inside of your pocket, you're not really going to be able to put other larger inside that pocket like smartphones or a wallet.
---
Alternative Taurus PT140 Generation 2 Holster Reviews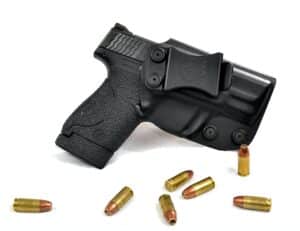 Boltaron is a synthetic material that is ten times more impact resistant that standard plastic, which is why we loved this particular holster. It's made of the same durable material that some enthusiasts and manufacturers actually prefer to Kydex.
Pros
This CYA product conforms well to your gun; the trigger guard is well-protected.
There is an exceptional degree of retention with this holster.
For those who like the CIA cant, this holster is fully adjustable.
Its design is perfect for obscuring the outline of your firearm.
You can adjust the tightness of the side hex bolts for a variable degree of retention.
Cons
The holster can actually wear the finish on the pistol.
Since there is no cutout for the manual safety, it's possible that the holster can inadvertently disengage it, which is dangerous.
There is a tendency for it to click when you are drawing your Taurus PT140.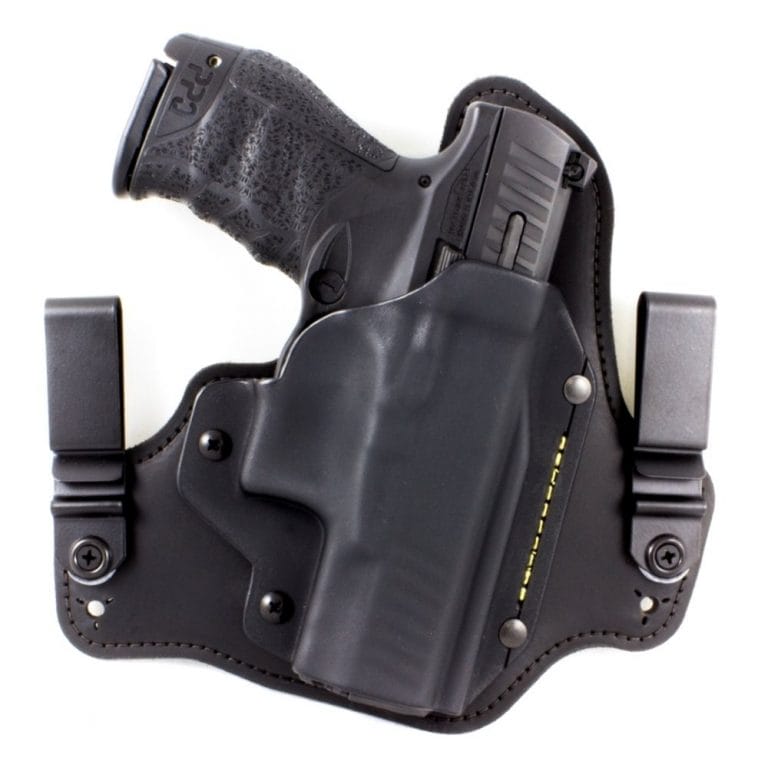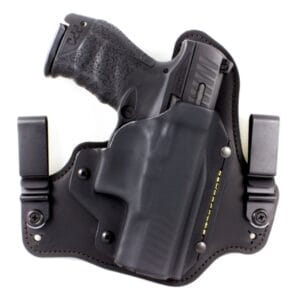 Black Arch holsters are considered to be some of the most comfortable holsters available. This is probably because of the excellent materials they use in manufacturing, such as genuine suede and quality cowhide leather.
Pros
This is a very adjustable holster. You can vary everything from the retention, the cant, and even its ride height.
The inner material is suede, which is incredibly comfortable; especially considering this is an IWB holster.
It has Kevlar stitching, which is very strong and durable so that you can use this holster for years.
It's curved so that it fits well against your body.
This is a fully sweat-proof holster that will protect your Taurus from damaging bodily fluids.
Cons
It has a small break-in period.
Its retention isn't as tight as some gun owners might desire. Still, this will definitely hold your gun in place.
It's a tad on the expensive side.
It really isn't very crossdraw-friendly.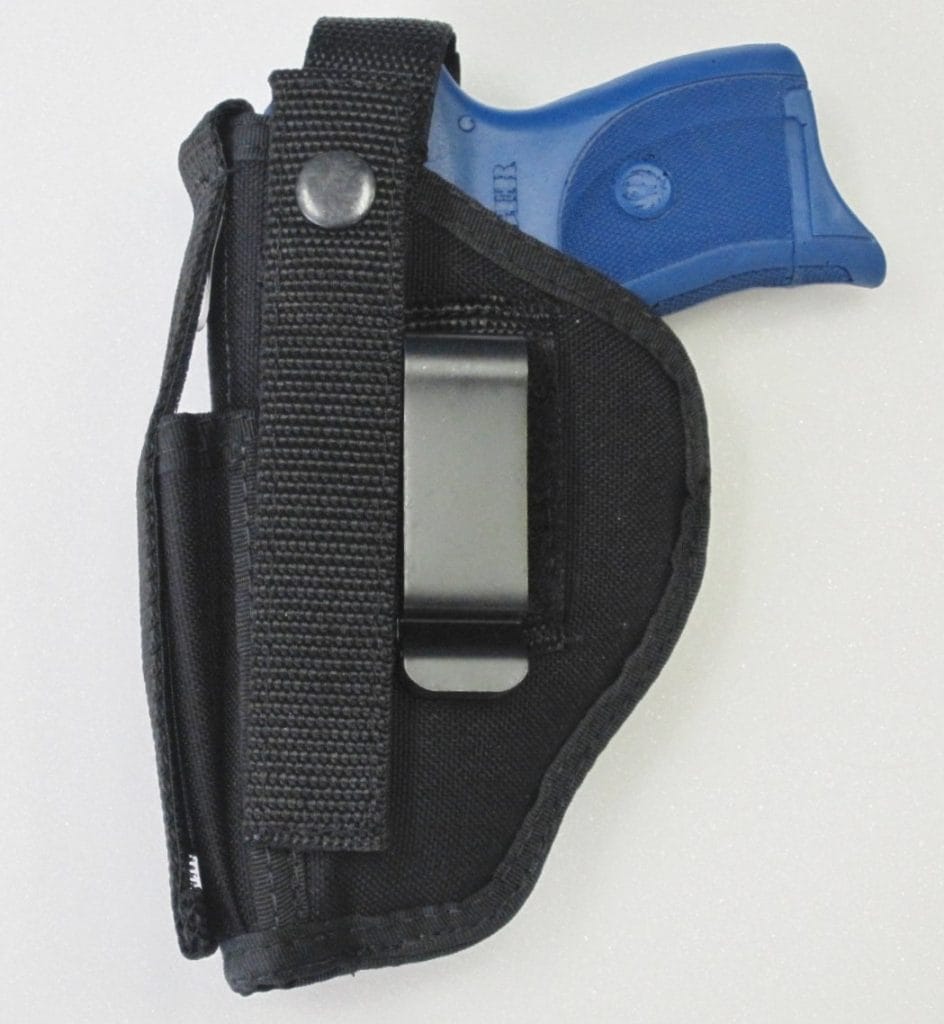 The Taurus PT140 Generation 2 has a rail at the base that allows it to accommodate a laser. If you have this accessory, then this is a great option for your firearm.
Pros
While this isn't a ballistic-grade Cordura nylon holster, its nylon construction is multi-layered so that it's strong.
The interior cushion will mold itself to the gun over time so that the fit is nice and secure.
This is a fully ambidextrous holster; the clip can be moved to either side of the holster if needed.
This also includes a belt loop so that you can achieve a secure connection for your holster.
The thumb-break snap is also reinforced for safety.
It also included an extra magazine pouch.
Cons
The security strap is only made of Velcro, which isn't very secure.
It doesn't accommodate every laser. Specifically, lasers like viridian green are just too large.
Since it's made of standard nylon, it can fray over time.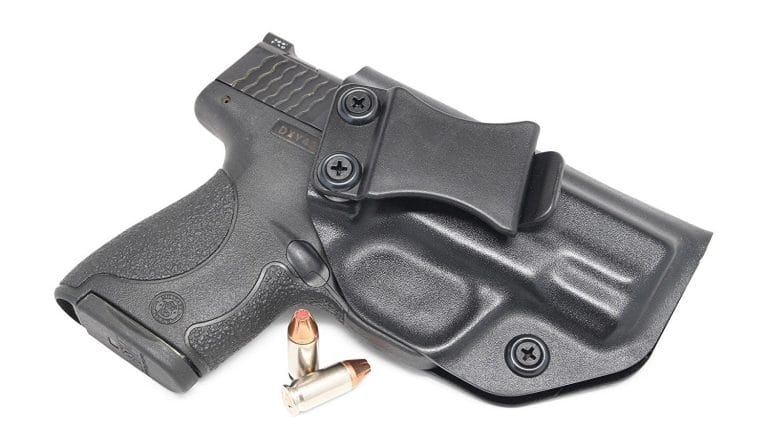 Kydex is an excellent synthetic material for holsters. This Concealment Express holster for your Taurus is a nice click sound when it locks your weapon into place.
Pros
You can adjust the retention pressure for this holster, which is very useful for making drawing easier or securing the gun more tightly.
This is a durable option for just about any PT140 owner.
The body has a stitched-looking "carbon fiber" design that is very attractive.
You can adjust the cant via the durable clip.
This holster has features that help keep it dry.
Cons
You may experience some rubbing marks on your Taurus's body.
It has a tendency to dig into the skin if you wear snug-fitting pants.
While the "stitched" pattern has a carbon fiber design, the material is really Kydex.
---
Conclusion
The Taurus PT140 Generation 2 is a very enjoyable and reliable gun to own. It's a great .40 caliber handgun that provides a strong performance. Each of the holsters that we picked for this review is designed to provide the best protection and concealment for your Taurus model.
Our Pick
Additionally, each holster has some excellent material construction, comfort, and retention so that you can use each with confidence and safety. If we had to select a clear winner, then the Outbags LOB2S-MIL concealed carry gun holster comes out ahead. It has a great-looking design, handcrafted engineering, and is durable and solid enough to be relied upon for decades.
Related Reads: