One piece of tactical gear that is actually more useful than most people may realize, is the tactical watch. That little piece of gear around your wrist can be a pretty big game changer for your outdoor adventures.
Tactical watches can serve a variety of purposes from keeping you on track during a long trek thanks to GPS or compass functions, alert you to bad weather in your area, and some can even track your physical performance.
Ultimately, a tactical watch is just one of many tactical items that you would be wise to have in your possession, in addition to backpacks, boots, and tactical hats.
But with so many options available, how can you be expected to make a decision? Lucky for you, we have already narrowed down some of our top picks to make life just a little easier for you.
SAFEST NEWSLETTER - WE WILL NEVER SELL YOUR EMAIL
GET GREAT

GUNS AND AMMO

DEALS!
SENT ONCE A WEEK - NO SPAM - NO SELLING YOUR EMAIL
---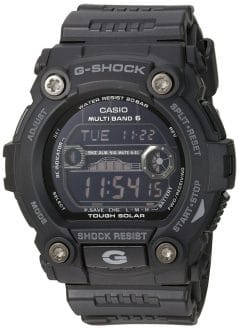 The Casio GW7900B-1 G-Shock is designed to provide durability during the roughest outdoor outings. Its sleek, elegant design makes wearing this watch simply a joy, and will have you wanting to look down at your wrist even when you don't need to.
The bezel is made of a high-impact resinous material. This only adds more to its durability and style.
Speaking of the this Casio's design, the watch face really stands out. The backing here is black but the numbers are a lighter gray color to give you a nice contrast between the two. This lends greatly to its visibility. The watch face is secured to the casing by 4 replaceable screws that won't rust badly after extended use or average "wear and tear".
If water resistance is important to you, the Casio GW7900B-1 G-Shock is rated for water-resistance up to roughly 220 meters. This amount of water-resistance is great for taking a dip in the lake, going out for some fishing on the boat, or a ride on your jet ski.
And if you are worried about all that bumping and jolting around while riding about on that jet ski… no worries. Since this is a G-Shock watch, it has built-in shock resistance to keep it in perfect working order.
If all of that still just isn't enough for you, this watch also features tide and moon data, can make use of solar power, and multi-band 6 atomic timekeeping.
Pros:
Multi-functional
Solar power
Shock resistant
Cons:
Watch face has been known to get scratched easily
Not great for water sports
---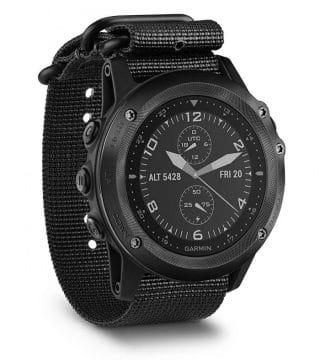 For the person who must have every single piece of tech survival gear in their bug out bag, the Garmin Tactix Bravo is the perfect addition to top off their collection. True performance meets tactical functionality with this watch.
The Tactix Bravo features a 1.2 inch high-resolution Garmin Chroma Display that is sunlight-readable through its high-strength domed sapphire lens. Not only is it sunlight-readable, it can also be switched between two modes to make sure that you can easily read the screen no matter what time of day it is: daytime use and night vision goggle compatibility.
And if you feel like customizing the watch face, you are in luck as you can add widgets to spruce things up a bit. To top off all the watch face goodies, you can even get all of your alerts, emails and push notifications sent right to your watch.
The features you will find on this watch are many and robust, to say the least, but the most useful to say the least is that it is GPS/GLONASS capable. And thanks to its stainless steel EXO antenna, it can track very well even in the most challenging terrain.
Furthermore, there are numerous custom apps you can download to the watch, several fitness monitoring tools to measure everything from stride length to vertical oscillation.
If you are into any kind of watersport, the Tactix Bravo has got you covered. It is water-rated up to 100 meters, so a small dive in the pool with it on your wrist should be no big deal at all.
The overall design of this watch is just the right combination of sleek, stylish and tactical. It comes with interchangeable 3-ring nylon straps that come in both black and olive drab.
Battery life is always important in electronic tactical gear, and the folks over at Garmin know this. Because of that, the Tactix Bravo has a battery life of up to 50 hours when in battery saver mode, 20 hours in GPS mode, and a whopping 3 weeks in smartwatch mode.
Pros:
Well-known and trusted brand
Very long battery life
GPS/GLONASS capable
Activity monitoring
Cons:
---
The Suunto Traverse Alpha is our top pick for hunters for a reason. This tactical watch is built with outdoor exploration in mind.
This watch comes equipped with GPS/GLONASS navigation and a plethora of dedicated functions for all your fishing, hunting, and hiking needs. You can monitor your own activities, check moon phases, and get alerts for sunrise. And before you head out on your excursion you can check the local weather trends to make sure you aren't walking into a rainstorm or blizzard.
The watch face is made of sapphire crystal encased in a stainless steel bezel. It is ultra clear and crisp, features a red backlight for low-light usage, and it is even night vision goggle compatible. If you want to customize the watch face to suit your needs, you do also get access to a wealth of Suunto apps that give you quite a bit more functionality.
Like any good tactical watch, the Traverse Alpha is water-resistant and rated up to 100 meters. However, if you use the Suunto Movescout app, you can easily plan your route so you can avoid any elements you'd rather not have to deal with on your next hunting trip.
Overall, this watch is very easy to set up, looks stylish, and has all the features you could ask for from a tactical watch.
Pros:
Sapphire crystal face
Night vision goggle compatible
GPS/GLONASS capable
Cons:
Cheap wristband
Lock functions do not work sometimes
---
The watch face feature a mineral crystal glass screen surrounded by an aluminum bezel that you can rotate both clockwise and counter-clockwise. This bezel can be used for tracking elapsed time, or as an analog compass. Along the sides of the watch face, there are lockable buttons to control your watches features.
Let's talk about the features you will find on this tactical watch. This watch is what is known as an "ABC watch". This means that it is equipped with an altimeter, barometer, and a compass.
Needless to say, these are features that are probably going to be most desirable to the outdoorsman who will be adventuring through high altitudes, expecting inclement weather, or doing any kind of tracking.
Aside from these, it also has a sunrise and sunset monitor, storm alerts, and even a depth meter that comes in handy while snorkeling (which is good since it is also water-resistant rated for up to 30 meters). In addition, it comes with all of your standard tactical watch features, such as the time and date, as well as a stopwatch function.
The Suunto Core is extremely light and sits comfortably on the wrist. The wristband itself is has a very low profile and gives you that slimmed down, minimalistic look. The batteries are easy to remove thanks to a very simple, and user-friendly back door. Batteries last about 12 months on average. This is easily one of our favorite tactical watches for everyday carry.
Pros:
Altimeter, barometer, and compass (ABC watch)
Very lightweight
Extremely long battery life
Cons:
Paint wears off quickly
Altimeter accuracy seems to decrease as battery becomes drained
Wristband is not very comfortable
---

Last but certainly not least on our list of the best tactical watches is the Evo Navy Seal Blackout watch from Luminox.
This watch is a versatile timepiece that features a 44-millimeter polyurethane case and matching wristband with a buckle clasp. It is an extremely sturdy build, but thanks to the polyurethane wristband it feels very nice on the wrist.
The face is an analog display that is powered by smooth quartz movement. The notched unidirectional bezel and contrasting white markers make this watch extremely easy to read at a glance.
If you are into watersports, You are in luck. The Luminox Evo has one of the highest depth ratings on this list. While not suitable for extreme water sports like scuba diving, this watch can take a dunk in a deep pool. It is water resistant up to a depth of about 660 feet.
We've found that the battery life of the Luminox Evo is outstanding, and should last you at least 6 months or more before needing to be replaced. This is much longer than any of the other tactical watches on our list.
The reason for this is because the Luminox Evo is an analog watch versus digital, so it is able to preserve a lot of battery power as opposed to its digital cousins.
Pros:
Lightweight
Good water-resistance rating
Long battery life
Cons:
Can be hard to read in low light
Made of weak Tritium
Scratches easily
---
What To Consider Before Buying A Tactical Watch
If you want to find the perfect tactical watch that suits all of your needs, there are two main things that you should consider first. Answer these questions for yourself and it will certainly help you to further narrow down your many, many options.
Analog Or Digital?
One of the most common questions people have when buying just about any type of watch is whether they need an analog or a digital watch. Both of these types of watches have their own pros and cons.
Digital watches are often much more of a drain on your batteries, albeit, they will still often last several months or more before dying. Whereas analog watches have less they need to power in general, so will probably get a lot more out of your watches battery life.
The trade-off here, no matter how small, is that if your digital watch dies in the middle of a trek through the woods, you could potentially lose a lot of the functionality that you need in order to complete your trip. So in terms of battery life, analog definitely wins, but it's only by a small margin.
Analog watches come up short in two departments, however, accuracy and functionality. Digital watches have quickly met and even exceeded most of the traditional roles filled by analog watches, and accuracy is one such area.
With a digital watch, you don't have a ton of different gears in the case that can be jolted around easily. Analogs do, though. Those gears and timekeeping hands are used to keep movement in the watch. When these gears are jolted around, become loose, stuck, or even dirty, they can stop working properly and leave you guessing.
To solve this dilemma, we recommend finding a tactical watch that has some analog features and some digital features. Usually, this combo works out rather well as the analog features pick up the slack of the digital components and vice-versa.
What Features Do You Need?
Are you going to climbing a mountain? Going scuba diving? Hunting? Maybe you just need an every day carry watch that you can take on any adventure you find yourself on?
Any good tactical watch will give you all the basic features like the time, date, stopwatch, and so on. But deciding what features you need your watch to have is entirely dependent upon what activities you will be doing.
For instance, if you plan to go snorkeling on your next trip, you would probably want your watch to have a decent water-resistance rating and maybe even a depth meter. On the flipside, if you are going to be climbing a mountain, a depth meter will do you no good, but a altimeter will.
Do you live in a place where the weather can change at a moments notice? Then you may want to look into a watch that has a barometer or even storm alert capabilities.
With so many options out there today you should have absolutely no trouble finding the perfect tactical watch for all of your adventures. Look for a watch that first and foremost has all of the features that you know you will be using quite often and you will be on the right path.
---
Final Thoughts
In this review, we've looked at some of our top picks for tactical watches to help facilitate your next outdoor excursion and we think we rounded up the best of the best.
Remember that when it comes to tactical gear, it's all about durability and usefulness. No matter whether you decide to buy digital or analog, slim or bulky, robust or minimalistic functionality… the most important factors are simply this:
Does it do its job well and will it hold up to your outdoor activities? If yes, you have found may have found the right watch for yourself.
We've tried to include all the best tactical watches on the market at the moment. But if you feel that we have left any watch off this list that deserves a spot in one of our future reviews, as always please let us know in the comments section below what it is and why it is so great, we'd probably love to check it out.
Related Reads: