If you are currently looking for a bolt action rifle, be it for big game hunting or long distance shooting, you have no shortage of options.
At the higher end, you have world-renowned rifles such as the Remington Model 700, Ruger Model 77, and Winchester Model 70. On the more budget ended side of the spectrum, you have choices such as the Tikka T3 and Mossberg Patriot and the Ruger American and Savage Axis.
But there's one more rifle that isn't so commonly cited with the above options, even though it's very high quality and has never had any real issues with quality control (unlike bigger companies such as Remington).
That rifle is the Howa 1500, and it's the subject of today's article.
---
What Is Howa?
What is Howa, you might ask?
Basically, Howa is an industrial company based out of Japan. They manufacture industrial machining tools, construction vehicles, and yes, firearms. They've been in business for over a century, and the company as a whole has developed a well-deserved reputation, but again, when it comes to firearms they don't have nearly the recognition that they deserve.
When it comes to weaponry in particular, Howa has done a lot. They built numerous Arisaka rifles for the Japanese military in the Second World War, and the Howa-made Arisakas are widely considered to be among the most prized Japanese World War II rifles that collectors can get.
Additionally, Howa also built flamethrowers, rocket launchers, and automatic rifles.
And then there's this little fact: you know the Weatherby Vanguard rifle? It's basically Weatherby's budget rifle, costing a lot less than their more expensive options.
Well, the Weatherby Vanguard is actually not built by Weatherby. Instead, it's built by Howa. And furthermore, the Weatherby Vanguard is essentially a Howa 1500 rifle, only with a different stock.
Another famous company that (previously) contracted Howa to build rifles for them is Sako. The L61 and L579 rifles from Sako are actually built at the Howa factory, only with Sako's name and logo stamped on them.
So if there's anything that you take away from this, it's that Howa can build practically anything that can be built, and they are among the most underrated manufacturers when it comes to rifles.
Now that we've learned a little about Howa and what they can build, let's talk about the 1500 rifle in greater detail.
---
What Is The Howa 1500?
The Howa 1500 is not a single rifle but rather a series of rifles. Just as there are many variations of the Remington 700 or Ruger 77, there are numerous variations of the Howa 1500 as well.
For example, you can buy the Howa 1500 in just about any major rifle caliber that you can think of. It's also available in a variety of different stocks, finishes, and barreled actions.
But there are certain characteristics that all Howa 1500 rifles, regardless of variation, share in common. For example, all Howa 1500 rifles feature a three position safety, similar to the Winchester Model 70. This safety system essentially works as follows:
Position 3: Both Trigger and Bolt Inoperable
Position 2: Trigger Inoperable and Bolt Operable
Position 1: Both Trigger and Bolt Operable
The Position 2 safety setting in particular is helpful, because it enables you to work the bolt and unload or load the rifle, but without having to risk the trigger going off.
Furthermore, there is a very noticeable and definite click each time you push the safety forward or back, so you receive audible confirmation that it is properly engaged.
Howa 1500 rifles are available in both blued and stainless steel finish. Out of these, the stainless steel is far more durable and corrosion resistant, and therefore a better choice for hunting or duty use, but it's also going to be more expensive.
Another characteristic that all Howa rifles have is a very well made and durable stock, with the polymer stock variation by far being the most popular. However, it should be noted that most stocks on modern Howa rifles are not actually made by Howa, but are rather built by third party suppliers such as Hogue and then shipped to the Howa factory for fitting.
The barrel of the Howa 1500 rifle is also worth considerable attention. Each Howa 1500 barrel is built using the button rifling manufacturing process. This stands in contrast to the cold hammer forged barrels from higher-endrifles such as Sako, but it helps to keep the overall cost of producing the rifle down, which lowers the cost of the MSRP as well.
One aspect of the Howa 1500 that is in need of improvement, however, is the trigger. No, it's not a bad rifle trigger by any stretch of the imagination, but it's definitely nowhere near as good as the smooth and light, crisp trigger of a Winchester 70 or Sako rifle.
Fortunately, this is also something that can be easily upgraded. There are an abundance of aftermarket triggers for the Howa 1500 that are vastly superior, and will make it comparable to the best rifle triggers on the market.
Last but not least, the receiver of the Howa 1500 rifle is also very durable and strong, being based off of the same receiver that is used on the Sako rifle. The reason for the durability is because of a strong integral recoil lug, with a machined, drilled, and tapped top. The bolt itself has twin locking lugs with a recessed face. Not only is this also durable, but it's also very smooth.
---
Why The Howa 1500?
At this point, we've covered who Howa is as a company and the features of the 1500 rifle.
But all of this naturally begs a very good question: why would you go with a Howa 1500 over a more well-known rifle such as the Winchester Model 70 or Remington Model 700?
Well, there are technically many reasons why.
The first and biggest reason is this: price. Howa 1500 rifles are meant to be affordable for the everyday person. These days, Sako rifles can cost well over a thousand dollars, with Winchester 70 and Ruger 77 and Remington 700 rifles not being far behind.
In contrast to this, the Howa 1500 is routinely available in the $500 to $600 range, and sometimes in a combination with a scope and/or bipod already installed on the rifle for you. For example, the Howa 1500 Scout Rifle sometimes ships with a scope over the receiver and then a bipod attached to the front of the stock, right under the barrel, and all for the price of around $650, which represents an incredible value.
Yes, there are other budget rifles on the market as well. The Tikka T3 is very comparable in terms of price to the Howa 1500, while the Ruger American and Mossberg Patriot can actually be bought for around one to two hundred dollars less (although they are also not as nice rifles).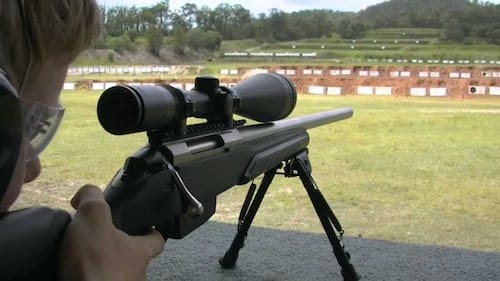 But one distinct advantage that the Howa 1500 has is quality control. Many other companies have had issues with quality control. Remington rifles have developed a reputation for being more spotty in terms of quality in recent years, for example, and even Winchester was having issues before.
But Howa has always had a consistent reputation for quality. Even if their triggers are not as smooth as a Sako or finish not as glossy as a Winchester, the company has constantly held themselves to a high level of quality.
Another reason to buy Howa, as we have already discussed previously, is that they actually make or have made rifles for other companies, such as the Weatherby Vanguard and Sako. Compare a Weatherby Vanguard and Howa 1500 side by side, and you will see that they are virtually identical except for the stock.
---
Conclusion
In summary, the Howa 1500 rifle truly represents an incredible value when it comes to a long range and/or hunting rifle. As a mid-range rifle that's far more affordable in contrast to higher priced options, the Howa 1500 is well-built, durable, and accurate.