Even though Ruger came out with their low cost line of American rifles a few years ago, we initially didn't think too much of them. After all, Ruger was one of only many companies offering a budget line of bolt action hunting rifles.
That was, we didn't think too much of them until after a while after their introduction that a new model in their American Rifle lineup was announced. This new model was called the Predator. It featured a heavier weight barrel that was threaded for a suppressor or muzzle brake, and all at a very low cost for the budget conscious.
These rifles were advertised as being American made, and Ruger marketed them as being a low cost rifle might soon be available for long range shooting.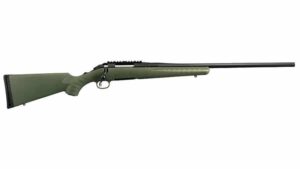 So, what can be said about the Ruger American Predator? Does it really deliver on Ruger's promise of being a budget rifle suitable for long distance use?
Well, the barrel may be heavier, as advertised, but heavier does not mean heavy. It's slightly thicker than their sporter barrel profile, at least we are assuming it is since that is how they advertise it.
This being a low cost rifle the first thing that will impress itself on you was how cheap it looks. The stock is molded from a synthetic plastic, and if you tap on the buttstock it creates a hollow sound. The comb of the stock where your cheek rests isn't elevated and has a sporter style shape. One beneficial aspect though is a squishy rubber recoil pad that does absorb some of the shock during firing.
The Predator is advertised as, a bit obviously, a predator rifle, one that is useful in hunting coyotes or similar animals, and not any kind of tactical piece. Typically predator rifles are similar to varmint rifles with heavy barrels, but usually carrying a smaller profile stock for lighter weight. The Ruger Predator rifle seems to fall more into the sporter category in this fashion as well with a sporter-like stock.
This everpresent sporter theme continues up through the pistol grip as well, as it is thin and swept back instead of carrying a vertical style grip. There are some small benefits to the design though, as the green colored plastic stock has a semi-rough texture that can help provide friction to hold your cheek in place when firing. Some raised, triangle-like designs around the pistol grip also provide a bit of useful added gripping surface.
Beyond the pistol grip the stock is molded into a trigger guard, removing that separate part of the rifle and reducing manufacturing costs. If the plastic can hold up to the abuses of field use, it should work fine, though after-market stock makers will now have to provide a trigger guard. Below the pistol grip is a plastic cap with the Ruger logo. There isn't much to say about the cap (it has no functional use), but it's worth mentioning.
The stock maintains its thin profile through the action area and directly in front of the trigger guard is a detachable box magazine. Finding something like that is unexpected on a lower priced rifle. Just like Ruger's long-standing 10/22 rifles, this rifle's magazine is a rotary box magazine. In many ways this magazine reminds us of the 10/22 design, but on a larger scale. The magazine holds four rounds, and detaches easily. Simply pull the lever at the front of the magazine back and remove the magazine.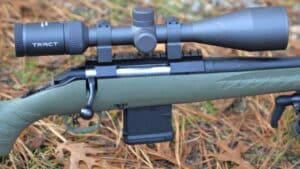 It is a simple system and since all of the moving parts are contained on the magazine, it makes the stock simple and more affordable to manufacture. The magazine well consists of only a smooth sided opening molded into the stock. That is it. There are no other parts to manufacture. Unsurprisingly, the magazine is made of plastic too.
The two-position safety is placed past the rear tang of the action. When the bolt is cocked, pulling the safety to cover the red letter F locks the rifle into a safe position.
When the safety is engaged the trigger can still be pulled, but the rear striker is not released to engage the firing pin. Even while is the safe position though, the bolt can be cycled to remove rounds from the chamber. Pushing the safety forward and off the red letter F means the rifle is prepared to fire.
The Ruger American Predator carries a blade style trigger. A safety blade in the center of the trigger must be squeezed with the trigger in order for the gun to fire. While we don't necessarily prefer this style of trigger, they have become a widespread part of the industry. They've allowed manufacturers to ship rifles with lighter trigger pulls due to extra liability protection this trigger system enables. This is, overall, a good thing.
Somehow though, the trigger on this Ruger isn't light at all, breaking at around 4.25 lbs. You can adjust the weight yourself though, from anywhere between 3-5lbs. Simply remove the stock and use a small Allen wrench to adjust the single set screw at the front of the trigger mechanism. The adjustment came with issues, however, as there is some creep when lightening the trigger pull.
The rifle is shipped in a cardboard box with a single MAGPUL PMAG10 magazine and a lock. In earlier years, Ruger and other large manufacturers would only provide their own magazines, instead of providing a quality aftermarket magazine option like this MAGPUL. It was nice to see Ruger provide a real magazine, and they definitely deserves a fair amount of credit for doing so. An exceptionally crafty design feature prevents the bolt from closing, if it's retracted on an empty magazine with the magazine follower. It's rare to see a feature like this on bolt-action rifles.
The rifle doesn't come with iron sights, with Ruger instead providing an installed Picatinny scope integral to the rifle. Surprisingly, this scope was properly and tightly installed, unlike many other factory installed bases that we've seen before.
The barrel is mounted to the action using a lock ring setup, which is similar to the Savage and other lower cost rifles. This system saves machining labor, reducing cost, and establishes the proper head spacing for the rifle. One of the more surprising features of this rifle is the threaded barrel. While this is surprising to find on such a low cost rifle, it is doubly so on one with such a thin barrel profile.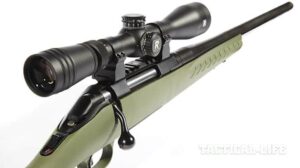 It's possible to imagine it being used for a muzzlebrake, but seems unlikely to be used with a suppressor. While it's entirely possible to attach one, and has been done before, putting that kind of weight on the front of a thin sporter barrel will inevitably cause a dramatic point of impact shift. Compensating for the shift should be doable though, as it will likely repeat with individual shots. The Predator rifle also comes with a thread protection cap and entire barrel, along with the action, are finished using a good quality matte bluing.
Aa with the standard Ruger American rifle, the bolt In the Predator is a short throw model three lug, which is retained by an external bolt release that also helps guide it. This type of bolt is common to most of Ruger's models. Also like Ruger's earlier models, this rifle uses Ruger's Power Bedding System, which consists of a pair of steel v-blocks that match with corresponding surfaces in the bottom of the receiver. This system reduces most of the common problems coming from a lack of rigidity in plastic stocks by passing the two action screws directly through the blocks. It's likely due to this system that their American series of rifles manage to perform so well.
In conclusion, the most important thing to remember with the Ruger American Predator is that this is a low budget rifle. It certainly feels like a low budget rifle in comparison to say a Winchester Model 70 or similar classic hunting rifle designs, and more likely than not the plastic parts will wear poorly over time as the rifle is used.
Overall though, the rifle is accurate and there are no indicators that the rifle wouldn't function well and properly if needed. It would be nice see a true 18" heavy barrel on this though, or maybe even retain the current barrel and simply stretch it to 24". Hopefully one day, Ruger will put out another Predator with features like that.