So, you've got a .308 rifle and you are thinking of doing some hunting. The .308 is fantastic for hunting hogs, deer, black bears, and it's adequate for elk. It has little recoil, reloads easily and shoots accurately. For most hunters, this is what they're looking for.
Now you are in the market for a scope for your .308. You may be asking yourself, what is the best .308 rifle scope? I've done some research for you and have come up with a list of a few of the best scopes to choose from.
My top pick in scopes for the .308 rifle is the UTG 3-9×32 BugBuster Scope.
This scope is completely sealed and 100% nitrogen filled so it's waterproof and fogproof. It features red and green illumination so you can shoot in diverse situations and weather conditions.Includes flip open lens caps and quick detachable rings.
Get Great Guns and Ammo Deals!
---
Holding The Rifle Steady
When you go hunting or sports shooting, getting that perfect shot requires good aim. Good aim requires holding the rifle steady.
Figuring out how to hold the rifle steady requires teaching yourself and practicing over and over to hold your rifle steady. It requires some time and practice but you will be able to hold your rifle steady with some good basic habits.
Steady Position
First you need to build up your steady position. Teach yourself different positions to find the one that works the best for you.
Steady The Hand grip
The hand grip should rest in the V that your fingers and thumb make in your nondominant hand. It needs to be a light hold, like a handshake, with your fingers twisted around the gun.
Most of the steadying will come from your shooting hand and the steady position of your body.
Butt Of The Rifle
The butt of the rifle goes into the pocket of your shoulder. Make sure the butt is up against the shooting hands shoulder, not your collarbone or under your armpit. Placing the butt into the pocket of your shoulder causes your whole body to absorb the recoil of the rifle.
Elbows
Keep your elbows in and down. Your elbows should remain under the rifle to hold it's weight properly.
Head and Neck
Relax your neck and allow your cheek to rest on the stock of the rifle. This allows your vision to naturally adjust to the rifle site.
Relax
Relaxing your body and breathe with a rhythm. This allows you to pull the trigger easily without movement.
Putting It All Together
You'll know you are doing these things correctly when your body is relaxed. You should not feel any strain or tension in your muscles. You should be able to see through the sites. If you can not see through the sites without straining you may have some tension in your neck or other area.
Are you breathing with a steady rhythm? Are you hitting your target when you fire? These are all questions you can ask yourself to know whether or not you have a good stance and are relaxed.
Proper Shooting Technique
There are four basic positions for shooting.
Standing

Sitting

Kneeling

Lying prone
There are many videos and tutorials on how to have proper shooting technique. I'll lay out a quick bullet point version here.
Keep your shooting arm extended and relaxed

Keep your stance stable with your feet approximately shoulder width apart (if you're standing)

Lean slightly forward

Keep your body balanced to absorb recoil

Maintain a proper grip on the rifle

Employ trigger control
How you pull the trigger is very important. Follow these guidelines to properly pull the trigger.
Once you have the target in your sights and have made the decision to shoot, keep your body very steady

Hold your breath for a steady shot

Once you start pulling the trigger your finger should be the only thing moving

You should squeeze the trigger. Do not use jerky movements
Zero Your Sights
If you're planning a day of fun on the range or a fun day of hunting, you will want to zero your sights. After all, you want to hit what you're aiming at, right? 
Safety
Always observe the four rules of gun safety.
Treat every gun as if it is always loaded

Only point your gun at something you are willing to destroy

Be sure of your target and what is beyond it

Don't put your finger on the trigger until you have made the decision to shoot
Practice
Practice makes perfect, so the saying goes. It is true if you want to become an excellent marksman you will have to practice shooting. The more time you spend with your rifle, whether it's on the range or hunting, the more you will see your marksmanship abilities grow.
Top 308 Rifle Scopes
Let's get to the top picks in scopes for a .308 rifle.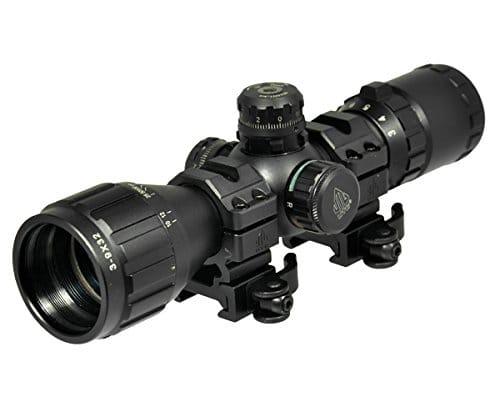 This scope doesn't cost a lot but it is well made, easy to use, and has lots of cool features. It features a high quality lens with flip open lens caps to protect your glass, a sunscreen, and quick detachable rings.
Features
Maximum light transmission

Resettable turrets

Red and green illumination

Large field of view

2" sunshade

Flip open lenses

Completely sealed

Nitrogen filled
Pros
Well built

Durable

Withstands recoil

Clear optics

User friendly settings

affordable
Cons
Limited eye relief

Compact size contributes to limited eye relief

Dots are really hard to see
This scope will help put just about any shot in your comfort zone. It transmits up to 98% of the available light so it can be used in low light situations.
Features
Compact rifle scope

Multicoated optical system

Zero reset turret

Spring loaded adjustment knob

3.7 inches of eye relief

Nitrogen filled

BDC reticle
Pros
Great value for the money

Clear optics

Great BDC

Perfect for casual hunter
Cons
No sunshade accessories

Parallax isn't great
Maximum reliability and accuracy, pinpoint precise adjustments, incredible brightness, and fast focus are a few of the features this holster has.
Features
Target turrets

Fast focus eyepiece

Multicoated optics

Made from aluminum alloy
Pros
Great scope for the price

Sights in with no problem

Good eye relief

Good low light performance

Side focus works good
Cons
A little heavy

Turret clicks are a bit mushy and hard to distinguish
Everyone love the Leupold. This holster is made from top of the line materials, is very durable, and will stand the test of time and use.
Features
Anondized aluminum housing

Mill dot reticle

Both vertical and horizontal scadia

multicoated optical

Second generation argon/krypton waterproofing

One inch main tube

8.60x maximum magnification
Pros
Excellent quality

Great price for the exceptional quality

Clear optics

Good ballistics
Cons
This scope is high quality and includes features like an extremely bright, clear sight, and a versatile magnification range.
Features
Made from polymer, aluminum

Compact rifle scope

Fully multicoated optics

Zero reset turret

Spring loaded adjustments

3.7 inches of eye relief

Nitrogen filled

BDC Reticle
Pros
Bright and clear

Sturdy

Well made

User friendly

Easy to sight in

Great hunting scope
Cons
Susceptible to parallax distortion
Final Thoughts
There are many things to learn about rifle shooting, especially if you are new to it. Just like any other accessory you purchase with your gun, a good scope is important to have.
Maybe you want to go hunting, maybe you want to do some range shooting. No matter what you want to do, you will need to see your target or your aim will be off.
Our Pick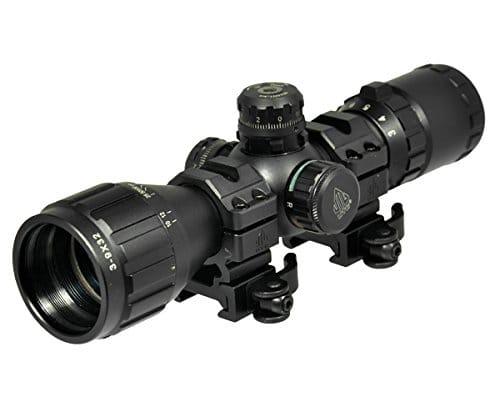 Since rifles are good for long range shooting, a scope is necessary. After doing my research in scopes, I think the best .308 rifle scope is the UTG BugBuster Scope. It has some pretty great features and a midrange to low price. I think this may be a good scope for you to try.
I hope you learned some good information from this article and you are on your way to getting a great scope and become a great marksman.
To see more scopes reviews, take a look at our Scopes Resource.
Related Reads: