It is not unusual to end up buying an expensive scope that does not suit your needs and specifically, fails to capture clear vision beyond a certain level of magnification even if you try and position your eye at an optimal position for some time. As far as most AR 15 rifles are concerned, it seems that almost every shooter looks for uncompromised optics.
Most scopes that feature a sort of red or reflex type sight are particularly good for close to mid-range shooting or Close Quarter Combat as referred to in military or police circles. But what about the long range varmint hunter? The varmint hunter typically needs a scope that reaches out beyond 300 yards, a long-range scope which might be ideal for their shooting needs.
Under normal circumstances, coyotes and prairie dogs avoid being at those ranges when they sense that hunters are close by. This is where the Nikon P-223 3-9-x40 steps in to save your hunting experience.
The Nikon P-223 3-9x40mm might be just what you are looking for. Overall, its effective variable zoom rifle scope caters to a range of circumstances you may find yourself in, from range shooting to tree stand hunting.
The accuracy of this scope is further accompanied by an extended eye relief that is capable of standing up to heavy recoil. Overall, it might be just perfect if you are a serious long-range hunter.
Get Great Guns and Ammo Deals!
---
Things to consider before buying
Even though the Nikon P-223 is a multi-purpose scope which can be used from competition shooting to long-range hunting, it is designed particularly for smaller caliber rifles specifically 5.56/.223 NATO ammunition types. If you are a type of person who fancies big game hunting, this scope might not be best suited for you.
On the other hand, target shooters may find the P-223 a very nice fit to their needs. This is because the scope's unique reticle design allows for precision grouping on long range targets easy to attain. However, let me be specific, if you are looking for a scope that will work in densely wooded areas like a forest or jungle, the P-223 may not be your best bet.
Even though it facilitates long range shooting, but in narrow spaces the reticle can be difficult to see with the scope's magnification zoomed out to 3X or 4X. For some, this may only be a minor drawback but for those who require a scope for such purposes, the P-223 may not be for you.
As long as the optics are kept in focus, an average shooter might not be able to discern any observable difference. Given these details, it can be deduced that the Nikon P-223 is not a very good choice for military or paramilitary use.
You will have to purchase the mounts separately to fix this scope on your rifle
You will have to purchase a lens cleaner separately
The P-223 is not designed long-range shooting, but only close to mid-range shooting
Excellent budget option given the scope's remarkable quality
Maximum zoom limit of 9x may not be enough for extra long range shots for some
---
Pros
Mount Type and Eye Relief- P-mounts work best for the P-223. Splendid eye-relief feature.
Magnification Options- There are several magnification options (both static and adjustable) to meet any shooter's specific needs
BDC 600 Reticle- This open, non-obtrusive reticle creates an open feel, while still offering accuracy-improving range hash marks
Zero-Reset Turrets- Windage and elevation can be adjusted accurately and returned to their original setting afterwards
Light Transmission- Maximum light transmission through the Nikon lenses makes for a high-quality shooting experience, even in low light conditions
100 Yard Parallax- This parallax setting makes shots more accurate at the most common shooting ranges.
Usability and User Friendliness- Very easy to use. Sturdy, durable and well constructed.
Cons
Reticle Visibility- As stated above, it seems that the reticle itself becomes more visible when the magnification level of the scope is set at or above 6X. For this reason, the lower magnification options are somewhat problematic.
No Parallax Adjustment- The 100 yard parallax setting is good for shooting at ranges close to 100 yards. However, there is no separate parallax adjustment option on this scope
Not Fit for High Caliber Weapons- Because this scope is designed for .223 weapons, it is obviously not the best choice for larger caliber rifles
Mount Type and Eye Relief
The default Nikon P-mounts are best suited for the P-223. A M-mount may work too but it won't deliver much flexibility as the P-mounts. Nikon makes a mount for this scope to directly interface with a flat top Picatinny rail you would find on the upper receiver of most AR-15 rifles.
These mounts give plenty of clearance for the large diameter objective without having to take a conjecture of the mount height. In addition, this also means that when you mount the scope, you will not require lapping of the rings of any extra fitting because the mount if precisely machined according to the specifications of this scope.
On the downside, it may lack the versatility that comes from two independent rings, but given the amount of rail space available on modern flat top AR-15s, how much versatility would one need?
As for the eye-relief, the P-223 offers maximum comfort while using the scope and is best suited for extreme shooting angles as well as high-powered recoil situations, even in lightweight rifles. You can also reset windage and elevation dials back to zero.
The tactical target style knobs for windage and elevation are good to use. There is no fussing with turret caps and using a dime to move the crosshairs because they easily twist and click. The 'return to zero' feature is a blessing, all you have to do is pull up on the caps and return them to the zero position. After that, you can make minute adjustments according to your needs once you have your rifle doped.
Magnification
The scope can be zeroed in at 100 yards and adjusted out to 800 yards. Let me put this in perspective. Using this scope you can consistently hit an 8-inch gong posited 800 yards from you.
However, greater magnification results in fuzziness even though glass optics are impressively sharp and bright and only minimal sighting in is required. This scope features a 3X to 9X variable zoom.
Such magnification levels are enough to give a clear picture of the target at distances up to which an AR-15 can deliver a .223 Remington bullet in all effectiveness.
On the other hand, the maximum range i.e. 9X zoom may not be cut out for targets really at down range. If you haven't honed your aiming skills to perfection, you might face some difficulty taking down your long-range targets at the highest magnification setting.
BDC Reticle
The Nikon P-223 also equips its Variable Zoom Scope with a patented BDC 600 reticle. The reticle offers you unique open-circle aiming points along with bullet drop hash marks ranging from 100 to 600 yards. Choosing the higher magnification option while purchasing this scope is recommended because it does not change even a bit in the zoom range.
Secondly, the Spot On technology helps you figure out what each dot represents in terms of yardage and zoom settings. Focus adjustments are essential to getting the most out of the BDC 600 reticle because it only functions correctly at full zoom.
For the varmint hunter, the Bullet Drop Compensator takes the cake. The BDC essentially allows you to manually adjust your scope in order to hit targets at different ranges. In short, it allows you to easily determine where the bullet will impact the target given a particular range.
For instance, a 223 Remington round will not have the same point of impact at say, 200 yards than it might have at 600 yards. The BDC compensates for how much the bullet will drop over a certain distance.
Turrets and Customizability
The elevation knobs and tactical-style windage allow for customizability and making necessary adjustments. Moreover, with Nikon's Zero-Reset feature, all you have to do is select your range, line up your shot, and take down the target. Moreover, the turrets are directly accessible.
This feature is hard to find in scopes of this price range. The turret adjustments are quite crisp. After zeroing in the scope, you can turn and lift the turret caps without resetting everything and dropping it back into the position you left it in. The turrets when adjusted make an audible sound and each click is a quarter inch at 100 yards.
Light Transmission
The Nikon P-223 scope is equipped with a 40mm objective lens and fully-coated optics, which help create an impressive light transmission rate of 98%. This works best in low light situations such as during sunrise and sunset. In addition, the firmly sealed nitrogen inside the scope's O-ring further adds to better vision, making the scope fog and waterproof.
Aiming Range
The Nikon P-223 has a default 100-yard parallax setting which comes in very handy for precise shooting at typically common ranges. However, the side parallax adjustment knob is missing which is why accuracy is not entirely perfect. For an expert rifleman, there may be a small margin of parallax error at extremely far or close ranges.
Usability
Even a handicapped person can use this sturdy, durable, well-constructed scope. The Nikon design is hard to beat. It is nearly as good as a Mark 4 LR/T 4.5-14x50mm or Schmidt Bender 3-12×50 PM II/LP, which both cost about 10 times more. The scope has no caps on it, which is yet another great feature, as you do not need to worry about removing and losing them.
---
Alternatives to Nikon P-223 BDC
As mentioned earlier, the Nikon P-223 BDC is designed for relatively closer ranges, not for long-distance shooting. It is best suited for competition, hunting and target shooting. But when it comes to long-range, it isn't your best bet. If you are looking for long-range shooting scopes here are some alternatives that may pique your interest: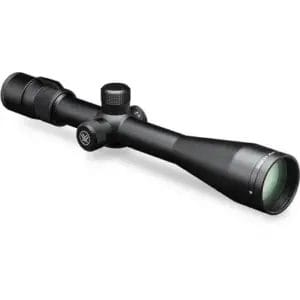 The Viper Vortex riflescope is ideal for tactical, long range, predator/varmint, and target shooting. It includes a Mil Dot reticle which help estimate windage, bullet holdover and range. Ideally, the Mil Dot subtensions best work at 14x zoom.
The adjustable side knob allows for easy and effective parallax adjustments with visible range numbers. Moreover, the tall capped turrets ensure quick field adjustments according to the user, while the 30mm main tube offers greater windage and elevation adjustment coupled with strength.
For those who seek a scope with a reticle that has an in-built bullet drop compensator, you might want to check out the revolutionary ACSS. Available in both .223 and .308 models, the bullet drop compensator uses the auto-range BDC which allows a simple sight-in targeting which shaves out precious seconds off the typical engagement time.
From elevation turrets, windage, fingertip adjustability to being water/shock/fog proof, the Primary Arms ACSS is the perfect choice for a designated marksman or military operations team.
---
Final Thoughts
In a nutshell, the Nikon P-223 3-9×40 is undoubtedly a product of the company that believes in quality. It is specifically geared towards an audience that is looking for a scope suitable for close to mid-range shooting.
Obviously, it is not a flawless scope. Every scope would have its pros and cons so if you are expecting an indefectible scope, you are likely to get disappointed. Despite this, the P-223 easily outperforms various rival scopes that have a significantly higher price.
As minor as they are, even if you were to consider P-223's drawbacks, the benefits it offers in terms of target shooting, competition or hunting given its price range, I would say it is a marvelous riflescope.
For more Scope reviews, go to our Scope resource.
Related Reads: