Who doesn't love a Ruger 10/22? They're not only fun, they're useful. That is probably why Ruger has sold over six million since 1964. Who can resist such a great little .22 rifle? They're great for beginners, but experienced shooters have just as much of a blast shooting them.
You are now in the market for a scope for your Ruger. You may be asking yourself, what is the best Ruger 10/22 scope? I have done the research for you. I've taken into consideration the different scopes that are out there for your .22 and I came up with a few of my top picks.
My favorite scope for the Ruger 10/22 is the UTG 1" BugBuster Scope.
I think you may be very happy with this scope. It's very well made, affordable, easy to operate, and comes with helpful options. Features include a sun shade, flip open lens caps, and nitrogen filled so it is waterproof and fogproof.
Get Great Guns and Ammo Deals!
---
Skilled Marksmanship
Everyone can improve their marksmanship skills. Whether you shoot at the range, hunt, or like to plink around, becoming a better marksman is a skill that is invaluable. Project Appleseed is a weekend clinic that can help you.
They make you start at the beginning if you are a brand new shooter or an experienced one. You will always come away having learned something new and an improved shooting ability.
Project Appleseed
Project Appleseed started back in 2006 with, according to their website, the goal of "teaching every American our shared history as well as traditional rifle marksmanship skills."
The Project Appleseed Marksman Clinic is typically a two day event that teaches marksmanship skills that are a foundational part of American history. This clinic will teach you the necessary skills to be able to, one day, shoot accurately out to 500 yards. This distance is known as the rifleman's quarter mile.
The marksmanship training at Project Appleseed is similar to what you would see at a High Power Match or a CMP event. At most clinics shooting takes place at the 25 yard line with smaller targets that simulate a longer distance shot. Students learn to shoot in the three shooting positions, which are standing, sitting/kneeling, and lying prone.
As you can probably guess, your Ruger 10/22 works great for these events.
You can learn more about Project Appleseed by checking out their website.
The Four Fundamental Marksman Skills
Steady Position
The first thing a marksman learns is a steady firing position. If you can hold the front sight steady through firing you have a steady position.
The rifle handguard rests in the V formed by the thumb and fingers of the non firing hand.

The butt of the rifle is placed in the pocket of the firing shoulder

The firing hand grips the rifle and the fore finger is placed on the trigger

The firing elbow is important for balance. The elbow placement depends on which position you are firing from

The non firing elbow is placed under the rifle

The firer's neck should be relaxed, allowing the cheek to fall naturally onto the stock of the rifle. The stock weld should provide a natural line of sight through the center of the rear aperture to the front sight and onto the target

If sandbags, stumps, etc are available for support, they should be used. If not, the upper body should be used for supporting the rifle

If support is used correctly most of the muscles in the body should be able to relax
Aim
After learning how to hold a steady position, aim is the next thing to work on.
Alignment of the rifle and target is critical

The eye must be directly in line with the center of the rear sight aperture

A correct sight picture has the target, front sight post, and rear sight aligned
Breath Control
Breath control is used to keep a steady position.
The rifle should be fired at the natural pause of exhaling, when almost all air has been exhaled and the firer pauses before inhaling, for single shots

For rapid fire, the firer stops his breath while squeezing the trigger
Trigger Squeeze
If you learn to hold a steady position, aim, and breath control, the rifle can still move at the point of firing.
Any sudden movement of the trigger can cause the rifle to move and the shot will miss

The trigger finger is placed on the trigger between the tip and the first joint

The trigger finger should squeeze the trigger to the rear so the hammer falls without disturbing the lay of the rifle
Final Thoughts
Practicing marksman skills will greatly increase your ability. At first, a new shooter may spend a lot of time on trigger squeeze, sometimes taking several minutes to fire. As you continue to practice, shots will take shorter and shorter amounts of time. Shots will take a second and sometimes even less.
Dry fire is a great way to improve your accuracy. Practice all the steps. Take it slow and work on your breathing and trigger squeeze. When you dry fire your body won't tense up like it will knowing that you are going to fire and experience recoil.
Dry firing will train your body and mind to be comfortable while taking the shot. When you shoot live rounds you want your body to act just like it does during dry shooting.
Top Ruger 10/22 Scopes
Let's get to our top picks.
This is a great scope. It's completely sealed and nitrogen filled so it's waterproof and fogproof. Sun shades, flip open lens cap, and quick detachable rings make this a scope with plenty of options, for a great price.
Features
1 inch tube

Resettable turrets

Adjustable objective

Large field of view

Red and green illumination

Completely sealed

Nitrogen filled

Flip open lens cap

2 inch sun shade

Quick detachable rings
Pros
Great clarity

Easy to adjust

Feels solid

Made well

Adjustments are user friendly

Great scope for the money
Cons
Limited eye relief

Quick detach levers seem a little loose

Heavy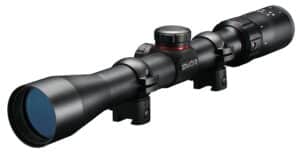 This is another great scope. It's affordable, features Simmons true zero adjustment system, and qta quick target eyepiece. Comes complete with a set of Rim Fire rings to get you mounted and ready to go real quick.
Features
Fully coated glass lens

Parallax correction preset from 50 yards

Rimfire ⅜" dovetail mounting rings

Hydroshield lens coating for clarity

Suregrip rubber surfaces
Pros
Nice scope for the price

Excellent clarity

Adjustment dials are smooth

Easy to install

Glass doesn't fog in the cold
Cons
Rings do not fit Ruger rail

Need to order extra rings

Tactile click is hard to hear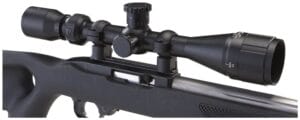 This scope turns your plinker into a varmint killer. It is easy to mount, easy to use, and easy to sight.
Features
Adjustable objective

Quick change turrets

Fully coated optics

3" eye relief

100% waterproof, fogproof, and shockproof
Pros
A good scope for the money

Easily mounted

Clear optics

Easy to dial in

Bright
Cons
Crosshairs may rotate

Difficult to focus

A little heavy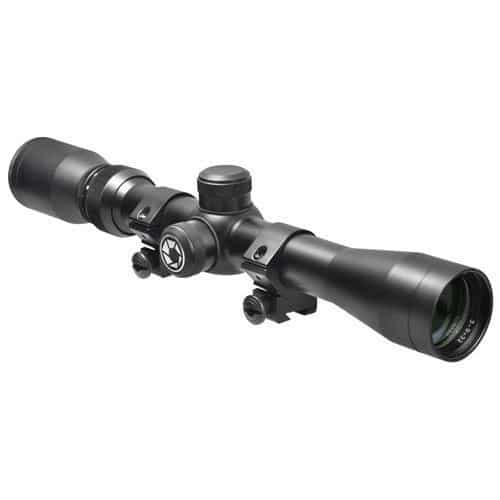 This scope is built to last the rugged outdoors. It has bright, clear optics and boasts a durability that more expensive scopes have. It includes mounting rings, lens covers, lens cloth, and a limited lifetime warranty.
Features
Weighs 11.5 ounces

water , shock, and fog proof

Multicoated optics

1 inch tube

3.5 inch eye relief

Includes mounting rings, lens covers, and lens cloth

Limited lifetime warranty
Pros
Well made

Solid

Easy adjustments

Affordable

Nice optics

Bright

Holds zero
Cons
Heavy

Made in China

Rings are not a good fit
Final Thoughts
Marksmanship can seem a little overwhelming for new hunters. There's a lot of new terminology to learn. Getting the basics down, like steady position, aim, breath, and trigger control will help your marksmanship skills.
Our Pick
When you are looking for a scope, keep in mind that you want to adjust the scope to fit you and your body. You don't want to adjust your body to fit the scope or rifle. That only leads to discomfort, which leads to muscle tension, which as we learned above, is not a good way to shoot.
My favorite scope for the Ruger 10/22 is the UTG BugBuster. It is affordable, durable, and easy to operate. I think you will like this scope as much as I do.
To see more gun scopes reviews, you can go to our resource page.
Related Reads: