You're shopping for a holster for your new Ruger LCR, and you might be wondering, what's the best pocket holster for it? Well, look no further, because we're going to break it down for you and give you all the pros and cons of various pocket holsters.
Our pick for the best pocket holster for a Ruger LCR is the Pistol Holster MD5 by Sticky Holsters. It's lightweight and works for both right- and left-handed shooters. Its sticky outer surface keeps it secure in your pocket, and the smooth interior allows for a quick draw. It can also be used as an inside the waistband (IWB) holster, relying on tension to keep the holster in place.
Get Great Guns and Ammo Deals!
---
What to Consider Before Buying
Gun Regulations
One of the most important thing to consider when buying a holster for any concealed carry purposes is your state, county, and city regulations on concealed carry. Even if your location allows concealed carry, keep in mind that if you travel to another city or state, they may not allow people to carry a concealed weapon.
Your Wardrobe
Yes, this will make a difference in your concealed carry. Make sure to check your pockets to ensure they're deep enough to guarantee concealment. Women's jeans are especially notorious for having tiny pockets, and many men's jeans are the same way. Your pocket needs to be deep enough to fully conceal your pistol.
Another note about pocket/inside the waistband (IWB) holsters: if you carry a holster without a clip inside your pants, you'll have to make sure your pistol won't fall out if you have to drop your drawers. This is especially important when in public restrooms; concealment must always be your first concern.
Barrel Length
The Ruger LCR comes in both standard and LCRx, with barrel variations of 1.87 inches to 3 inches. If your pistol has the longer barrel, you should carefully read the product description to ensure your gun will fit the holster. Barrel length is measured from the end of the barrel to the beginning of the cylinder.
Holster Material
Pocket holsters can come in either nylon or leather. Nylon is cheaper and easier to clean, but not as durable as leather. Leather holsters often need a couple days of break-in to ensure a smooth draw.
This can be shortened by wrapping the pistol in a plastic bag, wetting the leather with a leather conditioner, and inserting the covered handgun in the holster. Let it sit for a couple days, and you should have an easy draw.
Handedness
Most holsters are not ambidextrous, meaning you'll have to make sure to order the right- or left-handed model, depending on your dominant hand. But, pocket holsters often are ambidextrous, just look to see if the holster you're looking at comes with an additional clip. If it does, it's often right- or left-handed only.
'Printing'
This is a term used by concealed carry shooters in reference to the handgun's profile when carried concealed. A holster is said to 'print' when you can see the outline of the pistol under the clothes. For concealed pocket carry, you'll want a holster that breaks up 'printing', making it look like anything other than a firearm.
---
Specific Pocket Holsters for Ruger LCR
Let's talk about some specific pocket holsters and take a look at the pros and cons of each one. By the time we're finished, you should have a pretty good idea of what holster will work the best for you.
This is a natural leather pocket holster intended for the 2' barrel Ruger LCR. It features an 'ear' to one side to help anchor the holster securely in the pocket. It's made from cowhide and features heavy-duty stitching.
The Barsony holster is ambidextrous, so it can be used in either the right- or left-hand pocket. But, because it is leather, it may require a bit of a break-in period before it fits securely and gives you a smooth, precise draw.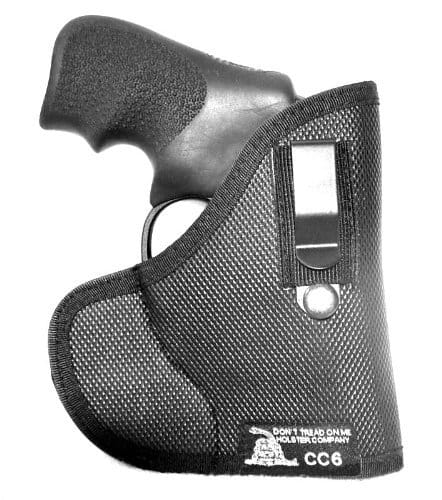 This is a pocket holster that doubles as an inside the waistband (IWB) via a removable metal clip. The holster is made of sturdy nylon with a soft inner padding to prevent firearm 'printing' if used in the pocket.
The CC6 has heavy stitching around the trigger guard, ensuring that the handgun doesn't slip too far into the holster. When worn inside the waistband (IWB), this holster is right-handed only, but as a pocket holster, it's ambidextrous.
Don't Tread on Me offers a 30-day guarantee on the CC6.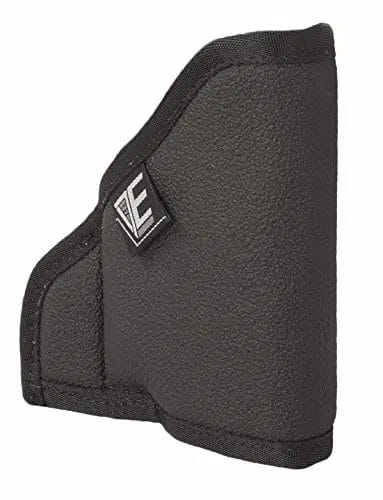 This Size 3 Pocket Holster is constructed of a sticky outer memory foam shell with a padded inner to allow for a smooth draw. It helps to eliminate firearm 'printing' when carried in the pocket.
The pocket holster covers the trigger guard, an important feature when carrying concealed, but the barrel end is open, potentially exposing your barrel to pocket lint or other debris. It also comes in four other sizes for other pistols.
It comes without a clip, so is fully ambidextrous.
This nylon pocket holster is form-fitted to specific firearms. It features heavy stitching around the full trigger guard. The holster also features a slick interior for a smooth draw, and padding to reduce handgun 'printing' in the pocket.
It does not come with an inside the waistband (IWB) clip, so it's fully ambidextrous. For more about the Nemesis, see the YouTube video earlier in this article.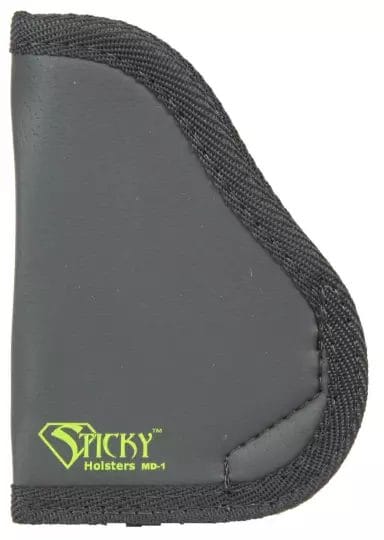 This is a pocket holster that moonlights as an inside the waistband (IWB) holster. Its outer shell is made of a sticky substance that uses friction to keep the holster in place. The barrel side of the holster is closed, keeping out lint and pocket debris.
The Sticky Holster keeps the firearm in the proper draw position when carried in the pocket, and the inner material allows for a quick, smooth draw. The holster is padded for comfort and to deter pistol 'printing'.
If used inside the waistband (IWB), make sure you know what you'll do with it if you ever have to use a public restroom!
The Pocket Holster is extremely lightweight and is not bulky. Sticky Holsters offers a lifetime warranty on workmanship of their holsters.
---
Our Final Thoughts
When carrying concealed, you want a comfortable holster that will ensure proper concealment of your firearm. Make sure you check your state and local regulations for concealed carry before you decide on which holster is best for you. Remember, the responsibility of proper concealed carry falls on you.
Our Pick
The Pistol Holster by Sticky Holsters offers the best features at the best price. It's got a lifetime warranty and can be worn inside the waistband (IWB) as well as carried in a pocket.
It helps reduce firearm 'printing' and is possibly the lightest weight holster on the market. It is completely ambidextrous and can be used in a variety of situations.
Related Reads: