When you are looking for a nice holster for your Walther P99, remember to take your time and choose wisely. Deciding on the right holster for your P99 is just as important as finding the right handgun for your needs.
Don't base your decision on cost, you want to make sure you have a holster that lets you access your gun when you need it. Holsters vary and different holsters fit different situations, so make sure you get the right holster for your needs.
Our top pick is the Walther P99 Desantis Scabbard Holster. This traditional American holster is leather, and it is held tight to the body while it continues to be supportive as it is carrying your weapon.
With a thumb strap for an easy draw and two front side belt loops for easy cant adjustment, this holster has an attractive look and an efficient design that works well with the Walther P99.
Get Great Guns and Ammo Deals!
---
The History of the Walther P99
Walther's entrance into the modern polymer pistol market is the Walther P99. It was meant to replace both the Walther P88 and the Walther P5 that is still being used by the police. In an effort to cut weight and production costs, Walther decided to design a polymer frame pistol instead of a full sized pistol.
Design and Function
Based on the design for the famous double and single action that is well-known in the PP series of pistols, the P99 differs with the lack of a hammer and the use of a DA/SA function allowing the pistol to have the ability of a double strike, not usually used on pistols like Glocks.
Walther also reform the ergonomics of its grip making it feel completely natural in your hand. It also naturally points and feels good in your hand.
Grip and Control
The grip is also designed to be wide enough to make sure you are in control and thin enough to be comfortable no matter what hand size is holding it. One of the first companies to use an interchangeable back strap, with the Walther P99 you can adjust the size of the grip for whoever is using it.
---
Finding the Right Holster for your Walther P99
Questions to Ask Yourself
When you decide to carry a handgun, you will have a few questions to think about when choosing a holster:
How long will I be carrying my handgun?
How will I carry it? As a concealed weapon?
Do I need to be able to draw and fire my handgun quickly?
Do I just need access in the even a situation appears where I will need to defend myself?
Make sure you are knowledgeable about the handgun you are intending to carry and how to best use it. One you have the answer to these questions, deciding on a holster will be a lot easier.
Best Way to Carry Your Walther P99
The best way to tactically carry your handgun is carrying on the strong side hip. Carrying strong side on the outside will be the fastest way to access your handgun, but it is not necessarily as concealable as an IWB (in the waistband) strong side carry.
Other good places to wear a Walther P99 holster are an ankle holster, shoulder holster, fanny packs, small of the back, and other off-body carry options.
Type of Holsters for Your Walther P99
Shoulder Holsters – Most of the shoulder holsters you will see are made with the crossdraw design. This design orients the gun so it is either pointing behind you or pointing down and the gun rides under your left arm if you are right-handed.
Crossdraw Shoulder Holsters – This design will often have the magazine pouches on the harness' side opposite the firearm. You should take a lot of care if you choose this type of holster as you don't want to accidentally fire your handgun when it is directed behind as you draw. You should take some time and practice with this type of holster to be effective.
Belt-Worn Holsters – This type of holster gives you a place to slide your belt through and is one of the more secure and safe holsters as your handgun is aimed down until the last second of the draw when it is raised up and aimed.
This holster gives you fast access to your weapon, but it is common to snag your holster of the arms of furniture when you sit down and you may have to take it off.
Paddle Holsters – The Paddle Holster gives you the advantage of a belt-worn holster, but it can be taken off without having to remove part of your belt.
When wearing a paddle holster, you need to make sure your belt is on tight enough to hold your holster during your draw or you may pull out both your gun and holster together. If you have a good belt, especially a wide one, this should not be a problem.
Inside-the-pants Holsters – This type of holster is used to conceal your handgun using an untucked shirt or jacket to hide it. With this type of holster, you can choose where you want your handgun worn without having to worry about belt-loop positions.
Standard Belt-Worn Holster – The Standard Belt-Worn Holster places your handgun on your thigh, level with your hand. This holster is adjustable so you can always have your handgun in the best position for fast-draw situations. This is a popular choice among the military and law enforcement as well as anyone that practices open carry.
---
Top Choices for the Walter P99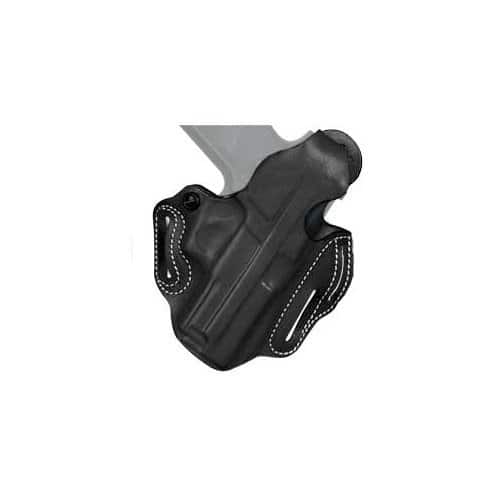 For an optimum draw and a traditional American holster feel, you can't beat the Walther P99 Desantis Scabbard Holster. This leather holster has an all-American feel although it fits the European Walther P99 well.
Presented at an optimum draw angle, the holster carries the P99 high and the exact molding and thumb break work with a tension device to give you a secure, but highly concealable carry.
This is a three slot model with the belt slots measuring 1 3/4″ wide. The Desantis Scabbard Holster uses a saddle leather that is soft and fine that keeps your weapon protected, plus it creates a great looking holster.
Instead of an efficient, bare-bones model, the Desantis Scabbard Holster is pleasing to the eye and each holster id is modeled after the handgun's design. It has active retention that is predictably done with a thumb strap, although that doesn't slow down your draw. When you naturally draw your handgun, the thumb strap is instantly broken.
With two belt loops on the front, the holster allows for cant adjustment and when you are carrying the weapon, the holster is very supportive when the holster is held tight to the body. This is a great holster to carry an incredibly modern pistol that is a joy to own and shoot.
Features:
1 3/4" belt slots
Does not have a thumb break
Precision molding and tension screw device
Pros:
The P99 is a perfect for this holster
Great looking holster, it's a shame to wear it concealed
High quality, easy to draw
Cons:
Some users found it easy to engage the mag release
A good holster for concealing your weapon, the Safariland Model 6378 Holster "locks" into place once the weapon is holstered. It gives you an extra level of security from your typical open top holsters, plus it has a simple straight up draw that is possible once your thumb deactivates the locking system when you are obtaining a shooting grip.
This IDPA approved holster also features an all-new injection, highly concealable molded paddle design that rides close to your body making your weapon have a slightly forward cant. It also comes with a regular belt loop that fits the 1.5″ to 1.75″ belt widths. Plus, it has a suede lining that keeps the gun's sights and finish protected.
The Sarafiland Holster has a wraparound design that makes it one of the strongest design combinations on the market. This is a low-ride level holster that has an ergonomically designed soft nylon paddle with an optional fully adjustable belt slide.
Features:
Suede lining with thermal-molded construction
Automatic Locking System
Ergonomic design soft nylon paddle
Completely adjustable belt slide
Pros:
Logical retention for easy draw strokes
Light, well-made, nice suede lining
Release is good, draw is smooth
Cons:
Can snag on the ejection port when you pull up
Easy to activate the mag release button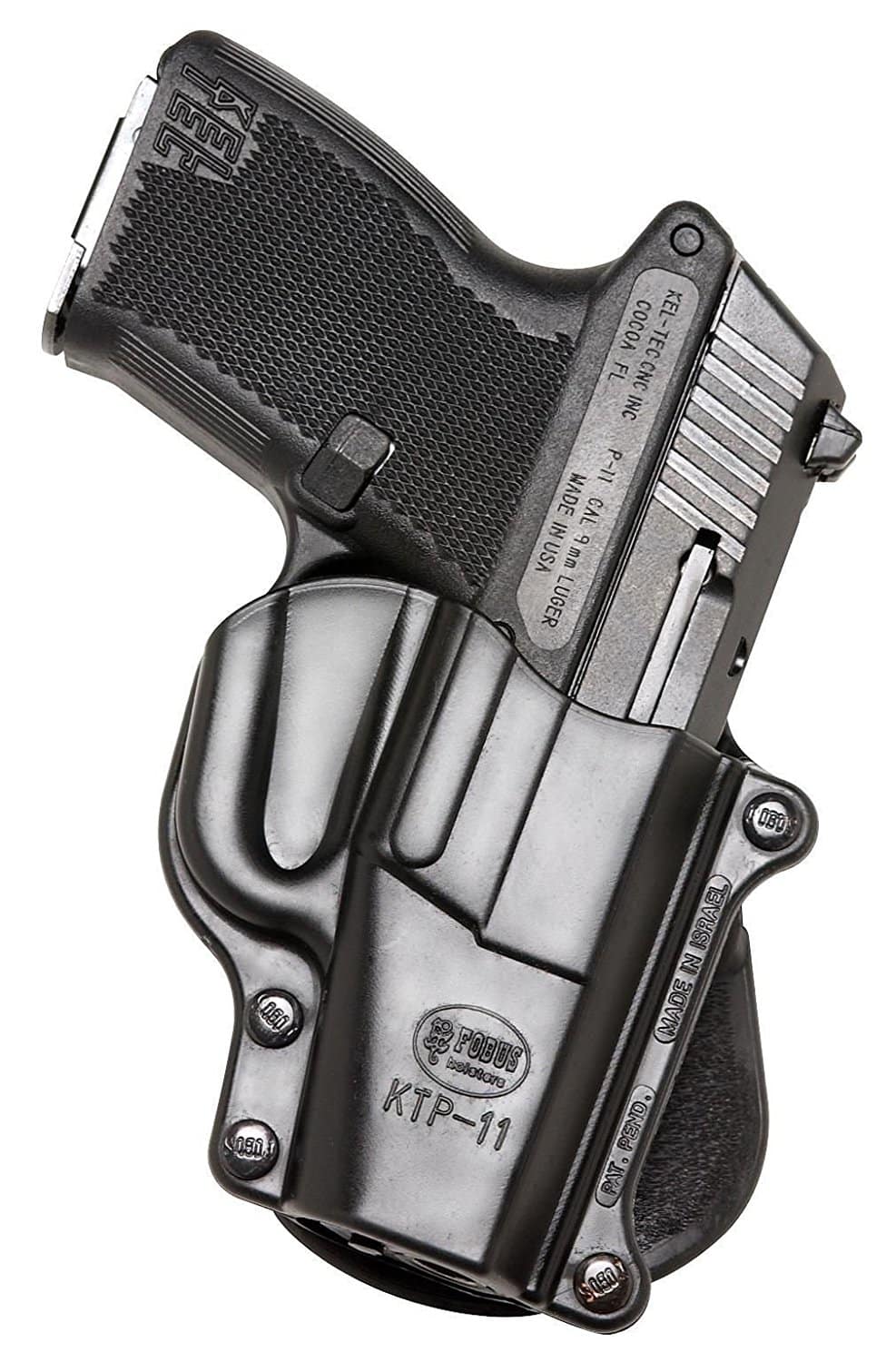 The Fobus Tactical WP-99 is one of the first holster makers to use the molded injected polymer holsters in the market. The Fobus Tactical WP-99 is a lightweight holster that features a passive retention plus a rapid deployment. Combat tested and performed in all situations, this is a virtually indestructible holster that is made for maximum comfort.
The Fobus Tactical WP-99 is a hardwearing and durable holster made of a lightweight polymer construction that holds your firearm firmly in place. Fobus products are used by security, police, SWAT, gun owners, and anti-terrorist teams, so you know they are easy to conceal and have a low profile.
Pros:
Great starter holster
Durable and hardwearing
Easy to conceal
Cons:
Very tight on the gun
Material isn't very high quality
When you want classic American craftsmanship, the Ultimate Suede Leather IWB Holster offers the features you want in a holster. It mixes comfort, function, and durability and it made by hand with genuine suede leather instead of the cheap, synthetic materials of its competitors. The Ultimate Suede Leather Holster is the essential holster for concealed carry.
Backed by Relentless Tactical's Lifetime Warranty, this is a holster that is built to last and is guaranteed with maximum protection to allow you to enjoy every day as long as you own it. The Ultimate Suede Leather IWB Holster was created for the best concealment and is easy to access when you need it.
To make sure your handgun remains indispensable and available at a crucial time, you can't trust a flimsy holster that is undependable. You can feel confident when you wear the Ultimate Suede Leather IWB Holster from Relentless Tactical that you will have quick, reliable access from a dependable and form-fitted holster.
Features:
Handmade by American Craftsmen
Form fitting and comfortable
Genuine suede leather
Pros:
Well-made and easy to attach to your belt
Comfortable, very soft material
Lightweight and durable
Cons: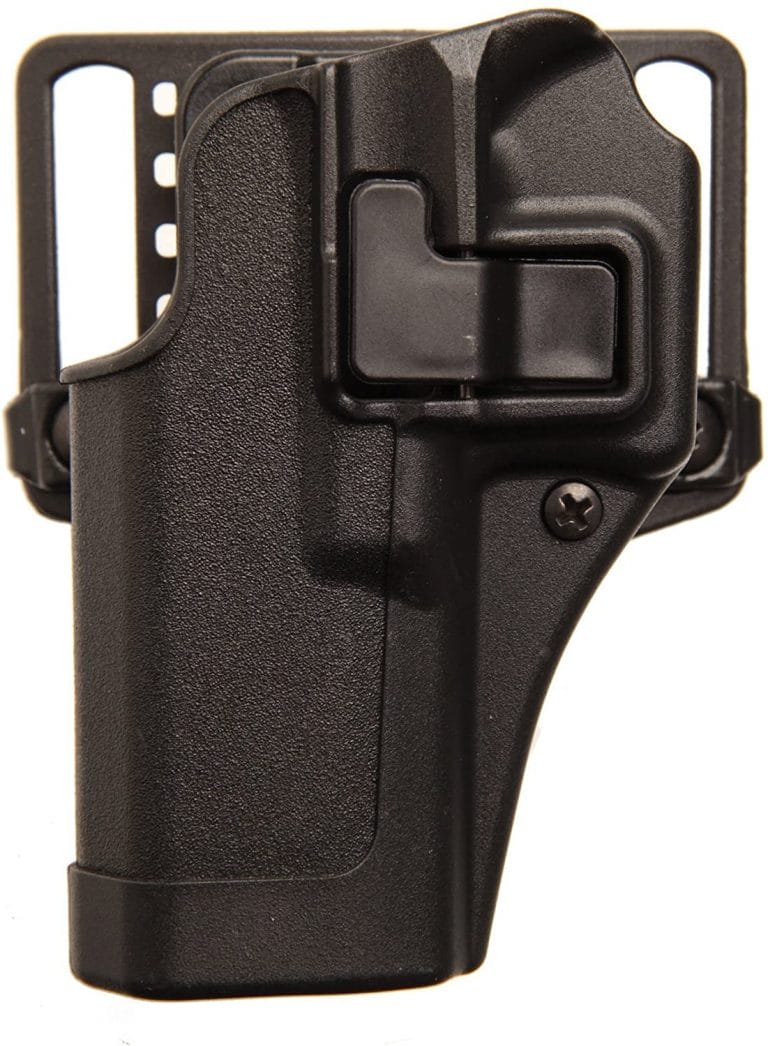 If you prefer a modern holster, the Blackhawk Serpa Kydex holster is the ideal holster for today's modern gun. This a modular system design that can be mounted on a shoulder rig, a belt loop, a paddle, a leg rig, and a MOLLE platform.
This injection molded holster features an active retention device that includes a small button where the shooter naturally keeps his finger when it is off the trigger. This holster has a modern military design that is widely used by the United States Military.
Features:
Superior draw technique
Passive retention detent adjustment screw
SERPA Auto Lock release
Pros:
Handgun fits in it like a glove
Narrow belt loops are very convenient
Release lever is easy to operate
Cons:
Taking it on and off correctly takes a lot of time
---
Conclusion
Our Pick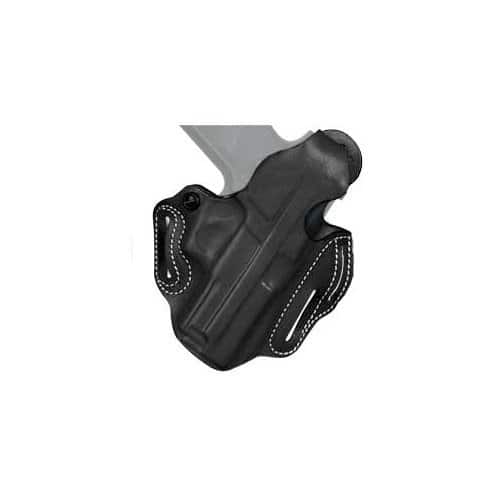 Finding the right holster for your needs is extremely important. Not only do you need a holster that fits your handgun well, but you need one that it is easy to access for how you want to wear it. Make sure to do your research and make sure the holster you choose satisfies all your requirements.
Related Reads: