While magazine fed shotguns have been around for quite some time, they have only more recently started to come into their own.  You will find some that are more traditional, manual action with a magazine feed system added.  Others are designed specifically from the get go to be an AR shotgun. 
A shotgun is already an excellent weapon for home defense, and when you add the larger capacity from a magazine-fed design it can become even more effective since you have the ability to defend against multiple attackers.
No matter the design, having a magazine fed shotgun in your arsenal can be a big plus.  They have a higher capacity than a regular shotgun, taking away the big negative of slow reloads that comes with using one.
Take a look at our top 5 magazine fed shotguns below to see if it is something that would be a good fit for you. A warning, stock on these weapons can fluctuate.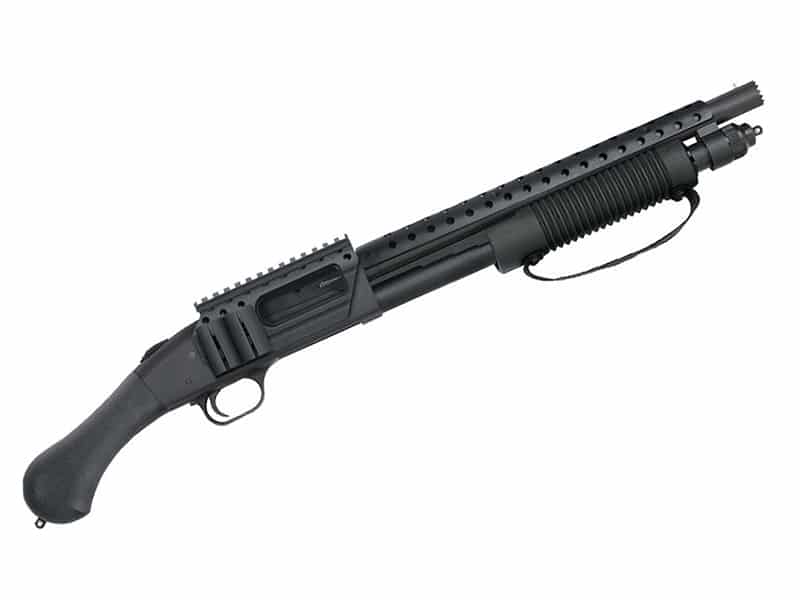 The Mossberg 590 Shockwave SPX 12 Gauge expands on the success of the original Mossberg Shockwave model. The Picatinny Rail at the top of the receiver allows for a multitude of different attachments to be added to your weapon.
It is also equipped with a breacher-style muzzle, allowing you to place the serrated tip on a door hinge or lock to enter. Additional features include a heat shield that surrounds the barrel and a side saddle made of aluminum that allows you to store extra rounds. The Mossberg 590 Shockwave SPX 12 Gauge is a shotgun ready for personal defense.
Specs:
Weight: 6.75 pounds
Barrel Length: 14.37 inches
Overall Length: 26.5 inches
Magazine Capacity: 5+1 rounds
The Kalashnikov USA KS 12T 10+1 is a Saiga-style, Russian-made shotgun chambered for 12 gauge, which is arguably the best shotgun caliber for home defense. This model comes with a collapsible stock so you can fold it up when it is not in use. The included flash suppressor is made specifically for the muzzle of this weapon for use when firing.
The Kalashnikov USA KS 12T 12 Gauge 10+1 Black is also compatible with most Saiga accessories that are on the market today, so you can easily add any extras that you need. It is also designed to accept shot shells up to three inches long.  One 10-round magazine is included with your purchase of this weapon. Lastly, the smooth black finish makes this weapon a sleek addition to your personal arsenal.
Specs:
Barrel Length: 18.5 inches
Weight: 8.86 pounds
Capacity: 10+1 round
Total Length: 38 inches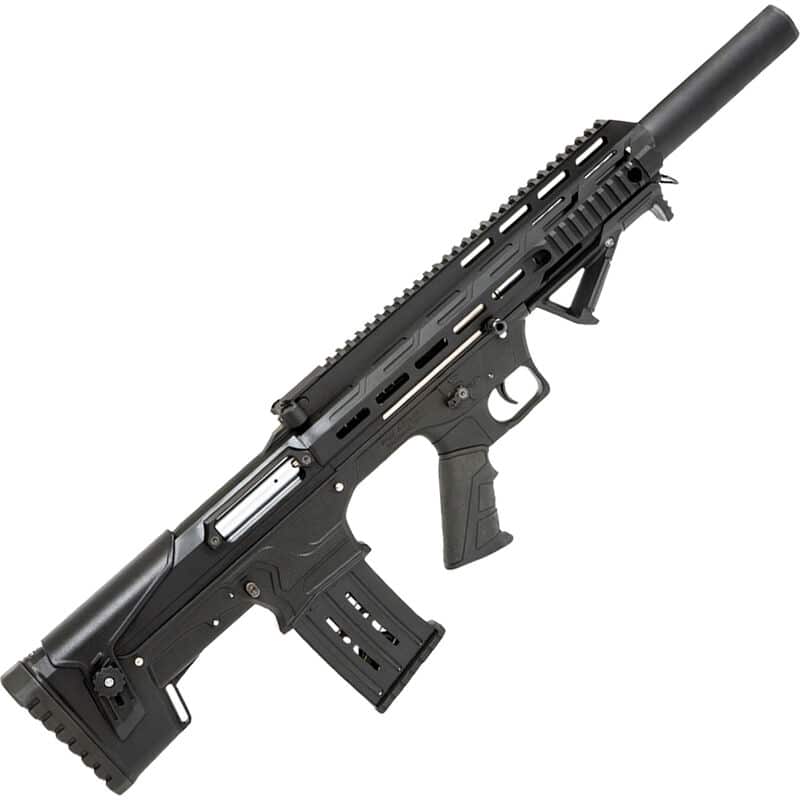 The BP-12 Bullpup 12 Gauge from Panzer Arms is a well-made, high-quality weapon. The BP-12 Bullpup is designed with a regular barrel length, but a shorter overall length and a lighter overall weight. These modifications were made for easier handling without having to sacrifice velocity or accuracy. This model is compact and efficient, especially when used in close quarters.
The upper receiver of this weapon is made from 7075 Aluminum and includes picatinny rails for easy attachments. It is also completely ambidextrous, so both right and left-handed shooters can use with ease. Your purchase of the BP-12 Bullpup 12 Gauge comes with 2, 5 Rd. Magazines, both front and rear flip-up sights, a removable angled fore grip, and a cleaning kit.
Specs:
Barrel Length: 18.5 inches
Capacity: 5+1 round
Overall Length: 29.5 inches
Weight: 9 pounds
If you are looking for a defensive shotgun with a higher magazine capacity, the SRM Arms Inc. M1216 12 Gauge 16+1 is the weapon for you. This weapon holds 16 rounds in its rotary magazine, which is over double the capacity of many typical magazine fed shotguns. The semiautomatic action of this shotgun has a self-feeding mechanism that automatically loads the next round into your weapon.
This gun also features a three-inch chamber for longer, magnum shells. Additionally, the receiver of this weapon is ambidextrous, so it can easily be set up for both left and right-handed shooters. Lastly, the SRM Arms Inc M1216 12 Gauge Shotgun has a unique roller delayed operating system.
Specs:
Barrel Length: 18.5 inches
Polymer Stock
Capacity: 16+1 round
Overall Length: 33.75 inches
The last on our list is the Panzer Arms AR-Twelve 12 Gauge.  While this gas operated, semi-automatic shotgun physically resembles an AR-15 rifle, it also is designed to have similar function and control. The flat top receiver of this weapon is equipped with a full Picatinny rail for mounting many different types of accessories or optics.
Your purchase of this weapon comes with a detachable front sight, as well as a detachable carry handle with a rear sight. It also comes with two, five round magazines and a cleaning kit as well. The three-inch chamber allows you to use shells up to three inches. Top it all off with an ergonomic pistol grip and you have a comfortable, high-quality shotgun for all your tactical, hunting, or sporting needs.
Specs:
Barrel Length: 18.5 inches
Capacity: 5+1 Round
Overall Length: 39.75 inches
Weight: 8.12 pounds
Conclusion
In the end, choose the shotgun that best fits your personal needs.  If you aren't particularly interested in a high capacity, a shotgun that is lighter and easier to maneuver will be a good choice for personal defense. Either way, with a magazine fed shotgun, you are getting the strength and power of a shotgun with quick reload speeds.