The purchase of a new gun is an exciting day.  However, the shopping rarely ends with the weapon alone.  A protective case for your new handgun or rifle is a necessity for traveling and transporting your weapon.
Whether you are flying with your weapon, or simply transporting it to the range, the best cases for your gun, accessories, and ammunition will keep everything safe and sound, and be a convenient carrier.
Below is our list of the top six gun cases on the market today for 2020:
The Pelican 1720 Watertight Protector Rifle/Gun Case is a 42 inch, NATO codified case that is MIL-C4150J, IP-67, and ATA certified.  It is made of ultra high impact structural copolymer, a strong and durable material that makes this case crushproof and dust proof.
It is watertight because the Automatic Purge Valve keeps moisture out by equalizing changes in atmospheric pressure.  Other notable features of this case include easy-open latches, folding handles, wheels, and stainless-steel reinforced padlock protectors. The best part about the Pelican 1720 is that it has an unconditional lifetime guarantee.
Pros:
Fits one rifle with a scope, or two rifles without
Watertight
Crushproof and dust proof
Wheels for easy transportation
Easy-open latches
Unconditional lifetime guarantee
Cons:
Does not come with locks
Expensive
Heavy when filled
The MTM Single Handgun Case is an affordable hardcover case that is perfect for handguns with barrels measuring 6 inches or less.  The interior of the case is filled with thick, egg-crate style foam to insulate and protect your weapon. Interior dimensions of 12.5" x 8.1" x 3.0" leave enough room for a handgun, plus accessories or ammo, or both.
The outside of the case is made from polypropylene with a textured finish for strength and aesthetics.
Double snapping latches keep the case closed securely, while the long handle makes it easy to carry. While a lock is not included with your purchase, the MTM case does have double padlock tabs so that the case may be locked.  This case has stellar reviews from its users, who mention how pleased they are at the quality for the price.
Pros:
Affordable
Made of sturdy polypropylene
Space for accessories or ammo
Double snap latches, and padlock tabs
Cons:
Locks not included
Only holds one weapon
If you're looking for a case to keep your AR or MSR safe, consider purchasing the Flambeau Outdoors Tactical Case.  The exterior of this case is made with durable plastic, while the interior is filled with convoluted foam. Both of these features combine to keep your weapon and accessories as safe as possible during transport or storage.
Hook-and-loop straps are included to safely secure your weapon within the case, as well as separate magazine storage dividers. Four locking points also provide the opportunity to secure your case.  The most unique feature about this case is the Zerust Anti-Corrosion Technology. This technology releases invisible, odorless, tasteless, and FDA-safe vapor in your case that forms a protective layer on firearms to prevent rust and corrosion.
Pros:
Meets TSA and airline travel requirements
Has Zerust Anti-Corrosion Technology
Four locking points
Comes with Hook-and-loop straps included to secure weapon
Affordable
Cons:
Confusing instructions
Plastic lock tabs allow for easy break-in
Some users complain that the latches can pop open on their own at times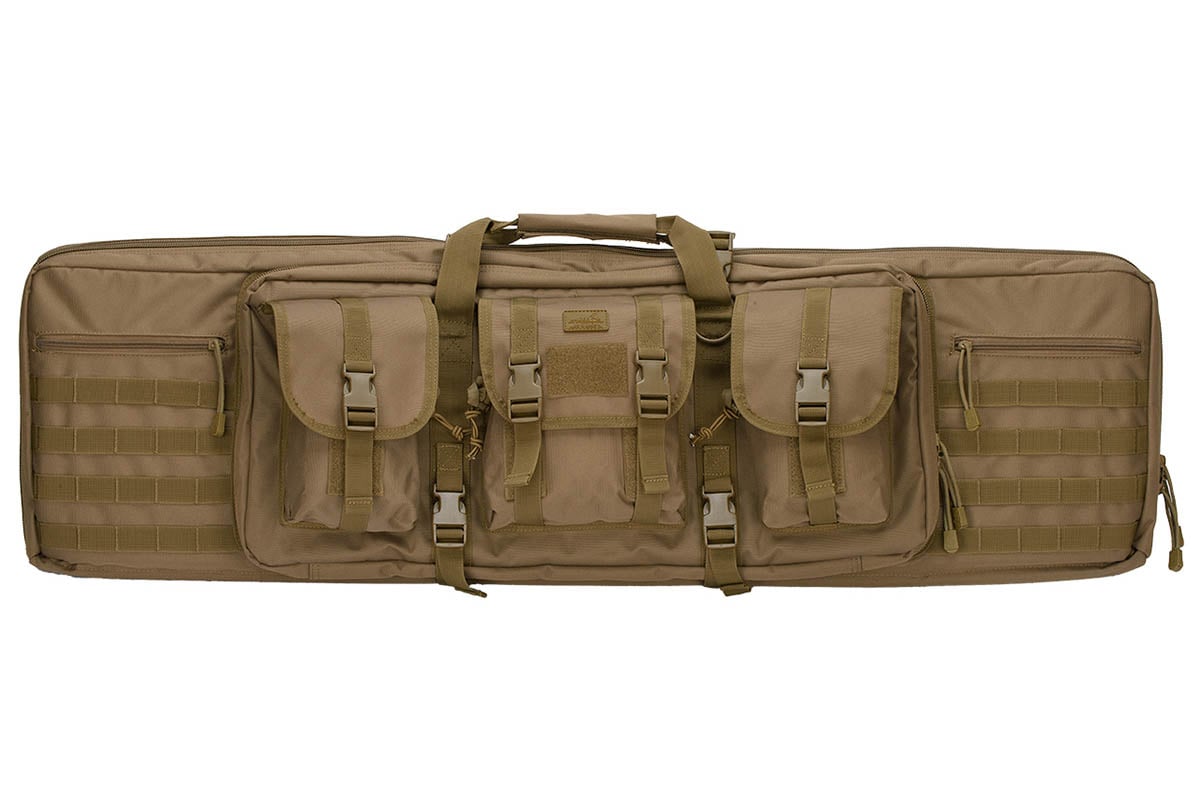 Don't let the fact that the Lancer Tactical Rifle Case is soft-sided fool you.  This case is sturdy and provides ample protection for your weapon and accessories.  Made of high-quality, woven polyester with reinforced stitching, this fabric case resists tears or fraying, and holds up well in extreme conditions.
Every part of the interior of this bag is lined with EVA foam padding to cushion your weapons and brace them against shock. The Lancer Tactical Rifle Case also has four lines of MOLLE webbing on each side to keep accessories, ammo, and other necessities close at hand and secure.  Ruck pack straps allow you to carry the Lancer Tactical Rifle Case while maintaining the use of both hands.
Pros:
Comes in 36" and 42" sizes
Made of sturdy fabric with reinforced stitching
Lined with EVA foam padding
MOLLE webbing on both sides
Ruck sack straps
1-year quality warranty
Cons:
Hard to fit items in interior pockets when weapon/s are inside
Exterior buckle adjustments slip
The Savior Equipment Tactical Rifle Soft Case is the best case for discreetly carrying multiple weapons.  It comes in two sizes, 30 and 34 inches, to best fit the size of your rifle. The bag itself is made of strong, durable fabric, and has room for a multitude of weapon and ammo combinations.
This case is designed for concealed carry to avoid unwanted attention. Although it does not come with a lock, the zipper sliders on the main compartment are able to be locked for maximum security.
For comfort during use, the Savior Equipment Tactical Rifle Soft Case comes with padded back support. The carrying strap is also ambidextrous, so it fits both right and left-handers like a glove.
Pros:
Allows user to carry multiple weapons and ammo discreetly
Spacious and durable
Padded back support
Ambidextrous carrying strap
Cons:
Can only be worn as a sling
Does not include a lock
Does not come with mag holders
Heavy to carry if filled with weapons
If you are looking for a safe and secure lock box for your handgun, look no further.  The Awesafe Gun Safe is not only equipped with fingerprint identification and a biometric lock, but it is also made of pry-resistant solid steel.
This case holds two standard handguns, or one larger pistol with extra ammunition.
The interior of this case features LED lighting and a gas strut for discreet single-hand access when necessary.  Because of its size, the Awesafe Gun Safe is portable, but also works well as an under bed or car safe.
Pros:
Fingerprint and Biometric Lock
Can register up to 30 fingerprints
Pry-resistant
LED lighting
Lightweight and portable
1-year factory warranty
Cons:
LED lighting is not very bright
Fingerprint recognition is finicky at times
Best Gun Cases Conclusion 
A case for your weapon is a necessary purchase for every gun owner.  The best gun case prevents scratches and water damage to your weapon, while keeping it safe from unauthorized access.  Choose a gun case that is specific to your needs, whether you need a case for transport, or simply for at-home storage.  Any of the cases above would be a great investment for any gun owner.