In the winter months, there is nothing like sitting by the campfire, looking out at the night sky, telling stories, and loading magazines for the next day's hunt. One thing that is sure to ruin your trip is reaching into your bag for a box of 270s and coming back up with a torn and soggy mess and bullets strewn about the bottom of your backpack. Wet backpacks, especially if they are carrying extra clothes, will cut your trip shorter than you wanted. But, finding a truly ​great waterproof backpack​ is sometimes harder than it would seem. Many companies claim their ​hunting backpack is waterproof​, but it's either not affordable or, in reality, water resistant​.
What is a waterproof backpack?
A waterproof backpack means that you can completely submerge it in a body of water. Usually what makes a backpack waterproof rather than water resistant is the type and density of the fabric, the type of seals used (zippers vs. roll down, etc.). Most companies make their backpacks waterproof by welding thermoplastics. By using ultrasonic sound waves, manufacturers melt together two or more pieces of fabric creating a waterproof seal. A backpack's true "waterproof" ability will be dependent on these factors. Some backpacks claim they are waterproof and are actually just highly water resistant. The trouble with finding a truly 100% waterproof hunting backpack is that most waterproof fabrics are not very quiet and make a lot of unwanted noise. So, you have to determine how much you want to compromise on sound and waterproofness.
Choosing the right waterproof backpack for you.
Another troublesome part of purchasing your backpack, is that the ​best waterproof hunting backpack​ for you may not be the best for someone else. You may need more storage while another hunter is looking for versatility and comfort. The trouble with deciding on a ​waterproof hunting backpack​ is that there are too many options and not enough ​condensed​ reviews. To help you decide where to spend your buck for the most bag, we've compiled a short general review of the ​best waterproof hunting backpacks. ​For a faster review of the products listed, see the comparison chart below.
ALPS Outdoorz Dark Hunting Timber Day Pack*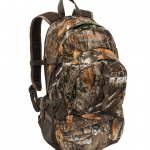 One of the highest rated overall ​waterproof hunting backpacks​ is this beaut here. Available in Realtree Edge and Mossy Oak Country, this bag has a carrying capacity of 37L (2300 cu in) and weighs just 2 lbs. 1 oz. This bag includes side compression straps, an adjustable sternum strap, padded waist belt and shoulder straps, and mesh side pockets. If you use a hydro bladder, it includes a pocket and port. It's an ideal backpack for those who often hunt deer. It's also a highly ​affordable waterproof hunting backpack​ that goes for an easy $47 on Amazon. Most reviews highlight the amount of room in the backpack, the high quality fabric and seams, and the comfort from the padding.
Timber Hawk Killshot Backpack, 56.2L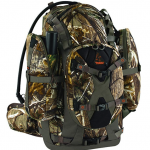 For the avid hunter (or huntress if you prefer), this backpack has just enough bells and whistles to keep you satisfied. The Timber Hawk is probably the ​best waterproof hunting backpack​ for those who hunt regularly and passionately. Some prime features of this backpack include the 2L reversible hydration bladder, the Silent Stalk quick-ejection clip, and the Hawk-Eye binocular strap system. It also is compatible for rifle, bow, and tripod storage, and it features a pull-out rain cover. The material is made from ultra-quiet twill lining and polyester-brushed tricot with PVC backing for enhanced durability. There are several types of pockets for internal storage as well as bottom and top lashing points for external storage. It is available only in camo and costs approximately $130 on Amazon.
FENGDONG 40L Waterproof Lightweight Backpack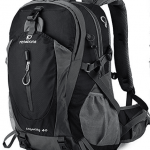 Though typically for hiking, the FENGDONG 40L is one of the highest rated ​waterproof backpacks that best serves most hunters' needs. However, it only comes in black, dark blue, purple, and red. The material is made from anti-abrasion polyester fiber with bar tacking, and the shoulder straps are padded. There are multiple compartments, and it weighs just under 2 lbs. It fits easily for both men and women and is available on Amazon currently for $27. For the amateur or novice hunter, this backpack is a good start.
Kirafu International, Crater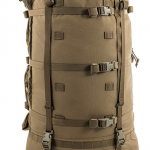 This ​great waterproof backpack​ certainly earns its name for both its capacity and for the hole it might leave in your hunting budget. The Crater has a carrying capacity of 8,000 cu in with 131L and costs approximately $345. It weighs 3lbs 4oz., and it includes a meat shelf, snow collar, and side/back compression straps. Though it does not include a hydration bladder, it does include a hanger and hose port inside. Kirafu International's backpack is not currently available on Amazon, so you'll have to order straight from the company. They offer the Crater in camo, gray, and ranger green. This is not an ​affordable waterproof hunting backpack ​for the novice or even an advanced hunter. This Crater is best left for the experts.
Badlands Superday Hunting Backpack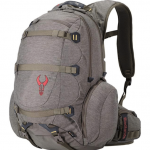 As one of the only ​waterproof backpacks​ without a single 1-, 2-, or even 3-star review, the Badlands Superday lets its quality speak for itself. It is one of the heaviest at 3lbs 15 oz., but it includes approximately 1,950 cu in in carrying capacity. Like the Timber Hawk, it also includes rifle storage with a built-in rifle boot. It also includes two side pistol holders and is compatible with a bow boot (sold separately). The back panel is made with Thermo-molded foam for highest comfort and has the capacity for a hydration bladder of 2L. The colors available are Approach Fx, Solid Earth, and Realtree Edge. For $120 on Amazon, this bag provides a lot of bang for your "buck" with a lifetime warranty for any damage.
Comparison Table
ALPS OutdoorZ Dark Hunting Timber Day Pack
Timber Hawk Killshot Backpack, 56.2-Liter Storage
FENGDONG 40L Waterproof Backpack
Kifaru International Crater
Badlands Superday Hunting Backpack, (Bow, Rifle, and Pistol Compatible)
Bladder Included
NO
YES
NO
NO
NO
Weight
2 lbs., 1oz.
7.6 lbs.
1.8 lbs.
3 lbs., 4 oz.
3 lbs., 15oz.
Carrying Capacity
37L
2,300 cu in
56.2L
3,429 cu in
40L
131L
8,000 cu in
23.6L
1,950 cu in
Colors
Camo
Camo
Various
Ranger Green,
Wolf Gray, MultiCam
Camo, Gray
Price
Kifaru Product Page