You can find .30-60's everywhere. They are great rifles. Not only can you find vintage .30-60's, manufacturers are pounding them out all the time, to keep up with demand. Scopes have changed over time and we now have a lot of advanced scopes to choose from.
Picking which scope you want for your .30-60 can be a daunting journey.  Knowing how you will use it and the budget you have will be a good start. From there you can decide which features are needed and which ones you can live without.
The first question I always hear is, what is the best .30-60 scope? Well, I've done some research for you and have my top picks listed in this article.
My top pick is the Nikon ProStaff 4-12×40 Riflescope (BDC).
This scope is designed for the highest resolution image, even in the worst hunting conditions. It features a multi coated optics system, generous eye relief, and precise hand turn ¼ MOA click adjustments to make any hunting experience better. 40mm and 50mm models available, at an affordable price.
Get Great Guns and Ammo Deals!
---
Background: Choosing a Rifle Scope
Choosing your rifle scope can be a daunting task. To get a sense of the right scope for your 30 'aught, let's take a quick trip through the history books.
It was in 1844 that the first practical rifle scope was used. A competitive shooter, named Morgan James, designed a scope and wrote a book about it. By the 1860's scopes had advanced enough that the union army sharpshooters regularly used them.
Early scopes lacked any advanced features we have today, they lacked quality lenses, and they were not as durable as we have now. As a matter of fact, they were looked at as unreliable. Until 1958 when Roy Weatherby introduced his Mark V rifle without iron sights.
The rest is history, as they say. Scopes get better and better, all the time. What would be considered an economy scope today, is better than mid range scopes from just a couple of decades ago. What would be considered top of the line today wasn't even on the radar then (radar had just been invented!)
Anatomy of Scopes
In the beginning, scopes were made from steel. Heavy steel. Today's scopes are made from aircraft grade aluminum. Aircraft grade aluminum is durable and lightweight. (Fun fact: the same 6061-T6 aluminum used for scopes and F16 jets is also used to build the receivers for AR-rifles).
Scopes are usually shiny or matte black. A shiny black scope is just another way to alert your pray that you are around. Matte black is the most popular choice for scopes, for this very reason.

Tube
The tube of the scope is what's between the lenses. Tubes are usually 1 inch in diameter, although European scopes, which are 30mm diameter, are gaining in popularity here in America. It's important to know the diameter of the scope's tube so you can make sure you get the right rings.
Bells
The ends of the scope are bell shaped and called the lens housing or bell. The objective lens housing or bell, is at the front of the scope. The ocular lens housing or bell, is the one you look through. As the power of the scope increases, the diameter of the objective bell increases. The bigger the lens, the more it will cost and the more it will weigh.
Eye Relief
Eye relief is the distance between the ocular bell and your eye. You want 3 inches, minimum. 3 ½ is even better. If you have a rifle with quite a bit of recoil, you could even stand to have a 4 inch eye relief.
Adjustments
Scopes have adjustments for windage, which is lateral, elevation, which is up and down, and focus. Some scopes that are for long range shooting, have an adjustment for parallax.
The best scopes have their adjustments move with a click so you can tell you have adjusted if your hands are numb from the cold or you have gloves on.
Ficus is the easiest adjustment there is. Every eye is different. You just point the scope at something, adjust until it is in focus and set the lock.
If your parallax adjustment is set for the wrong distance your target will look like it is in a different spot than it really is. This is called the parallax error and it will cause you to shoot in the wrong spot.
Reticle
It was during the 1960's that Leupold developed the Duplex Crosshair. It became the standard and has been the standard ever since. The Duplex is four thick crosshairs that get pinpoint thin at the center. This will draw your eye to the center and help you have quick, precise aim.
LED lights are a nice addition to reticles. Just be sure your scope is still usable if the light stops working. Taking an extra battery helps too.
Magnification
Variable power scopes are the most popular, because you can choose between a range of magnification. This is extremely helpful.
You don't necessarily need a whole lot of magnification. A lot of times, less is more. There is a general guideline for magnification.
For big game under 200 yards, 1x-4x

For medium to big game, 3x-9x or 2x-10x

For varmint shooting, 6x-24x
Lenses
The quality of the lens and the coating that are on the lens is what you are paying for. Even someone who knows nothing about scopes could pick up a $250 scope and a $1200 scope and know which one is which. The difference in the quality of the image will be apparent and it is what makes the biggest difference in price.
Most scopes are multi coated to keep the glass from collecting beads of water or fog. This is a feature you don't want to pass up. Fortunately, these days most scopes are coated even what would be considered economy scopes.
---
Best Scope Options for .30-06 Rifles
Let's get on with the top picks.
The Nikon ProStaff is hands down a great scope. It is affordable, and offers some great features. It was designed with 4-12x power magnification, 40mm objective lens, nitrogen filled and o ring sealed, fully coated optics, and advanced adjustment systems.
Features
Fully multi coated optics

4-12x magnification

40mm objective lens

Zero reset turrets with spring loaded adjustment knobs

3.7 inch eye relief

Nitrogen filled, o ring sealed tube

BDC reticle

Quick focus eyepiece

14.1 inches
Pros
Lightweight

Clear image

Holds zero

Great price

Does not fog up

Made well

Good in low light
Cons
Must buy rings separately

Made in the Philippines
2.

Leupold VX-2 3-9x40mm Riflescope
This scope includes a revolutionary quantum optical system that works great for hunting. Leupold is a great company that always produces a quality product. You won't be disappointed if you choose this scope.
Features
Duplex reticle

Matte black

Diamondcoat lens system

Quantum optical system

Medium magnification, 3-9x

1 inch tube
Pros
Nice field of view

Nice eye relief

Crisp image

Lightweight

Won't fog up

Affordable

Reliable

Works good in low light

American made
Cons
No sun shade

No return to zero turrets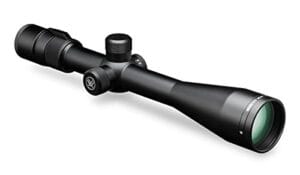 This is a premium riflescope for the price. Features include fully multi coated optics, heavy duty precision force spring systems, and the smooth glide erector system. With the 6.5-20x high magnification and is built on a 30mm in diameter main tube, this scope is ideal for long range shooting.
Features
Unconditional lifetime warranty

30mm diameter objective lens

Multi coated optics

Waterproof, fogproof and shockproof

95% light transmission
Pros
Clear

Accurate

Great warranty policy

Holds zero

Well made

Works great on the range and out hunting

Good price
Cons
Crosshairs could be a little darker to be seen easier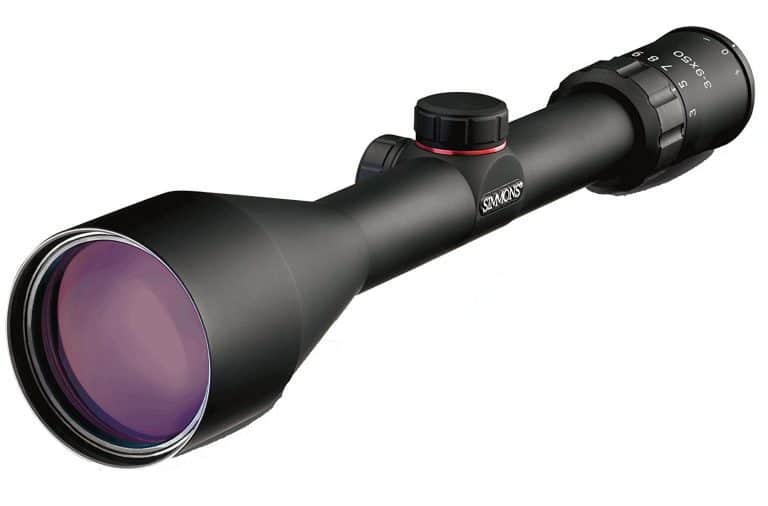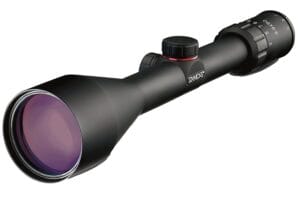 This is a great scope. It is the lowest priced scope in my top picks. Don't let the low price discourage you. This scope is really good for the price. It offers more feature than any other in it's class. Standard features include, multi coated optics, ¼ MOA SureGrip audible click windage and elevation adjustments, waterproof, fogproof, and generous eye relief.
Features
TrueZero  fingertip windage and elevation adjustment system

Quick Target Acquisition eyepiece

Fully coated optics

Water, fog and recoil proof

Truplex reticle

Matte black finish
Pros
Optics are clear and bright

Holds zero pretty good

Great for the price

Made sturdy

Field of view is good
Cons
Not the best in low light

Can have issues with the focus adjustment
---
Final Thoughts
I hope you found a lot of great information in this article. I gave you a good range of scopes to choose from. Even the lowest price one has all the features we mentioned that are needed.
Our Pick
Hands down, my favorite scope is the Nikon ProStaff 4-12×40 Riflescope BDC. For the price of a mid scope you get some really nice glass and quality features. I think you will have years of good use out of the Nikon.
To see more rifle scopes reviews, visit our gun scopes reference page. Thanks to Brandox Cox for helping with corrections on this page on June 20, 2019. 
Related Reads: