So, you're looking to add a scope to your armory. But you may have noticed the tremendous number of scopes available on the market today. You might think wading through all the scopes is a daunting task. Never fear, we're going to give you a breakdown on the top 5 Bushnell rifle scopes!
Our pick for the best rifle scope is the Trophy Extreme X30 6-24x 50mm. It has the best magnification range and the highest objective lens for the brightest field of view. It comes with an MOA adjustable duplex reticle with parallax adjustment. The scope is waterproof and comes with a sunshade.
Get Deals on Guns and Tactical Gear
Join 70,000 Readers For Our Weekly Discounts
---
Some Unfamiliar Terms
While you're looking at scope listings, you might come across some terms unfamiliar to you.
Reticle–this refers to the 'crosshairs', the cross-shaped markings inside the scope to guide you to your target.
BDC–it stands for Bullet Drop Compensating and it's a type of crosshair reticle that allows the user to compensate for bullet drop over long distances.
MOA–stands for Minute of Angle, this is an adjustment of the scope usually good for ranges less than 100 yards.
MRAD–short for milradian, it's an adjustment of the scope good for ranges greater than 100 yards.
Parallax–when the reticle changes position in relation to the target when the head is moved, meaning the scope can't focus on the target. Many scopes over 12x come with a knob for adjustment of parallax.
Eye relief–the distance a scope can be held away from the eye while still offering a full field of view.
What to Consider Before Buying
There are certain features you might want to consider before you purchase a rifle scope. The factors you decide are important to you will include how you intend to use the scope. Are you just target shooting? Do you plan to use a scope while out in the field hunting?
Adjustable Magnification/Optical Power
You'll see a number or numbers separated by a dash when you look at rifle scopes. In the YouTube video example above, you see 4-16. This tells you the magnification is adjustable from 4 to 16 times magnification.
This is where your intended use of the scope will come into play. A competition target shooter isn't likely to have much luck with a 4x scope. But, if you plan to be out in the woods deer hunting, a 32x scope isn't going to do you much good.
What is magnification, anyway? Scopes from 4-10x are good for distances up to 500 yards. They also allow for easier target acquisition and tracking. On the other hand, scopes with greater than 10x magnification are for longer ranges and work best on rifles supported by something such as a bipod.
You might see the terms 'variable' and 'fixed' when searching for scopes. A variable scope allows for user adjustments to the magnification.
Adjustable scopes use either MOA or MRAD measurements. For ranges under 100 yards, 1 MOA corresponds to nearly an inch at 100 yards. MOA adjustment is good for any range up to 100 yards. 1 MRAD measurement corresponds to about 3.6 inches at 100 yards. MRAD adjustments are ideal for ranges over 100 yards.
Objective Lens Size
The objective lens is what brings light into your scope. In our example above, you see the magnification numbers separated from the millimeter number by an X. This third number refers to the size of the objective lens, in this case, it's 40mm.
A larger millimeter number allows more light into your scope. This is important if you plan to use the scope for hunting, as it will give you greater target visibility in low light such as at dawn and dusk. The more light your eye gets, the brighter and clearer your target will appear.
One thing to consider is that a larger objective lens will mean a heavier scope, and some issues in mounting the scope to your firearm. It can also throw off the balance of your rifle and make it more difficult to traipse through thick underbrush in the woods.
Reticles
There are reticles that work better for different applications. Consider what you plan to use your scope for to determine the one that will work best for you.
Duplex Reticle
This is what you bring to mind when you think of a scope's crosshairs or reticle. It consists of two thick lines, horizontal and vertical, crossing dead center of the scope's view. The bars narrow as they get closer to the center, a trick to make the eye focus dead center. This is the type of reticle suitable for most hunting applications.
Mildot Reticle
This takes the duplex reticle a step further. Instead of narrowing bars in the center of the scope's view, you'll see a series of dots. This allows you to somewhat determine the range of a target. They can also be used as a sort of bullet drop compensator or BDC. This is an excellent scope reticle for shooting over 300 yards.
BDC Reticle
This type of reticle is similar to the mildot, but incorporates several aiming points into the crosshairs pattern. A BDC reticle allows for shooting at different target ranges without making adjustments to the scope. But, these are only available for certain cartridges. Nonetheless, it's a great all-around scope reticle.
Looking at Specific Bushnell Scopes
Now that you know a little more about scopes, we can look more closely at some popular Bushnell scopes.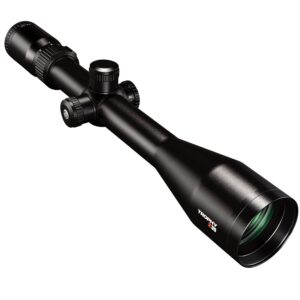 This is a high power scope with magnification from 6-24, making it excellent for both short- and long-range shooting. It's also got a 50mm objective lens, allowing the user more light to see the target. This scope can pass up to 91% of light to the user.
It's an adjustable scope using MOA adjustment knobs, and it has a side knob for parallax adjustment. It's got a duplex reticle. The Extreme is also shockproof. It comes with a fast-focus eyepiece.
The scope is waterproof and the lens is coated to keep your view clear even if the weather is not. It comes with the accessory of a sunshade. The Trophy Extreme holds its zero after the firearm is shot.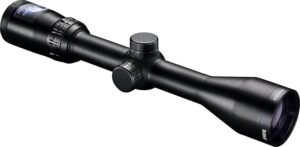 This scope is a 3-9x magnification with a 40mm objective lens. It's designed for low-light conditions with a special Dusk & Dawn Brightness (DDB) lens coating.
The Banner has a duplex reticle and uses MOA to adjust for windage and elevation. But, it doesn't adjust for parallax. It is 100% waterproof and offers eye relief of around 6 inches. This scope also has a fast-focus eyepiece.
The short magnification of this scope makes it ideal for shots within 100 yards.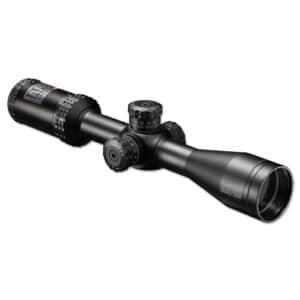 This scope has a BDC reticle calibrated for 55-62 grain .223 REM/5.556 loads out to 600 yards. It comes with MOA adjustment for windage and elevation and it adds parallax adjustment as well.
Because of the location is this scope's erector cap assembly, extra-low or low scope rings will probably not work well with it. The manufacturer recommends at least medium-height rings.
The Drop Zone also has a fast-focus eyepiece and offers eye relief of 3.7 inches. It's water- and rustproof.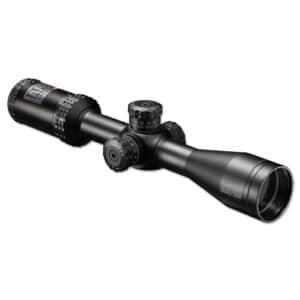 This scope offers greater magnification and comes with a BDC reticle for increased accuracy. It uses MOA adjustment for windage and elevation and has a parallax adjustment as well.
The reticle is calibrated for 55-62 grain .223 REM/5.556 loads out to 600 yards. As with the previous scope, the manufacturer recommends at least medium-height scope rings for mounting. It offers eye relief of 3.7 inches.
The scope is waterproof and the lenses are coated to ensure clarity of view.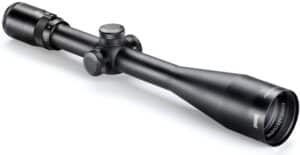 This scope comes with either a duplex or a Mil Dot MOA reticle and increased magnification for longer shots. But, the MOA adjustments may not work well with the Mil Dot reticle. It also comes with a side-mounted parallax adjustment.
The lenses on the Legend Ultra are coated to provide clear vision even in rainy conditions and it's waterproof. It also comes with a fast-focus eyepiece.
Final Thoughts
Most of Bushnell's rifle scopes come with a no questions asked lifetime warranty.  In some cases, this warranty covers accidental damage as well as defects in manufacturing. Your choice in rifle scope should give you all the features you need for your type of use.
Our Pick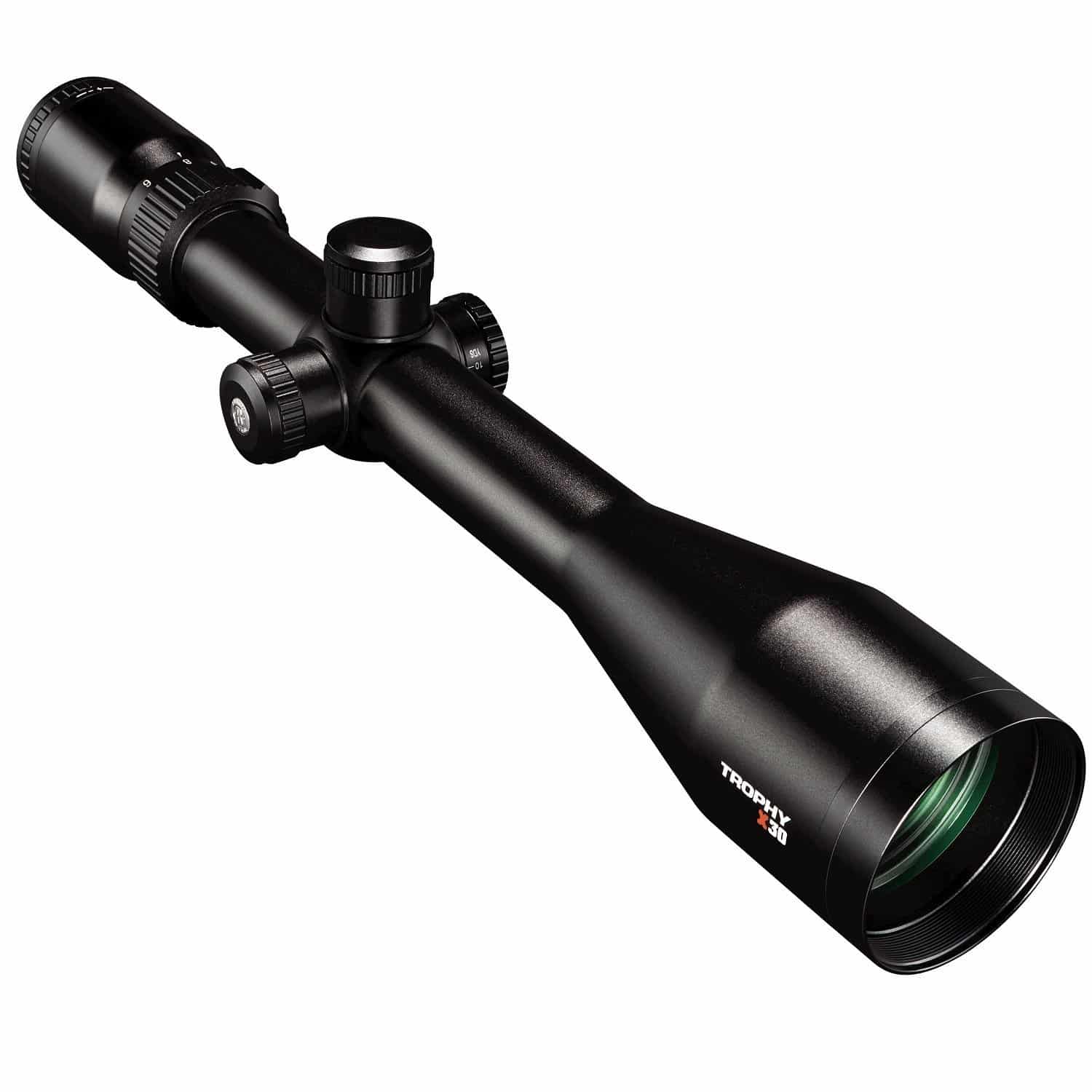 Consider the Bushnell Trophy Extreme for your scope needs. It offers the greatest range of magnification with the highest objective lens size for accuracy and clear vision. You'll also get the benefits of parallax adjustment and the additional sunshade.
Visit our Gun Scopes Resource for more gun scope reviews.
Related Reads: