So, you've decided that you'd like to try a concealed carry T-shirt holster. These are compression t-shirts of polyester and nylon with built-in pockets for carrying a firearm, spare magazines, or even an iPod. There are several brands available today. You might be wondering what's the best shirt holster on the market?
Our pick for the best concealed carry t-shirt is the Holster Shirt by 5.11 Tactical. It's available in regular neck with or without sleeves, and in V-neck with sleeves and in sleeveless V-neck for women.
It has holster pockets on either side, so it can be used by both right- and left-handed shooters. The outside features a mesh to break up 'printing' of the firearm. 5.11 Tactical offers a lifetime warranty on all their products.
Get Deals on Guns and Tactical Gear
Join 70,000 Readers For Our Weekly Discounts
---
What You Should Know Before Buying
Some holster shirts may have velcro in the pocket for additional handgun retention, but some don't. This may cause retention issues. Some of these shirts have up to 6 pockets.
Certain brands have additional strengthening in the holster pocket to help balance out the weight. The pockets are usually on both sides, so can be used by both right- and left-handed shooters.
Fit
Holster shirts are compression shirts, meaning they're an extremely tight fit. This is necessary in order to keep the firearm secure in the pockets. Keep this in mind when ordering, and double-check the listing for sizing.
On the 5.11 product above, next to the drop-down menu for size, you'll see that 81% of reviews decided the shirt fit as expected. Other listings you may notice that as low as 63% of reviewers said the shirt fit as expected. Use caution when sizing; many manufacturer have handy size guides on their websites.
Weather
Because these shirts are made of polyester and spandex, they may be a bit stuffy in hot weather.
They're also designed to be worn underneath other shirts, so keep this in mind when you're looking at these shirts. Some of these holster shirts are made of moisture-wicking fabric to help reduce sweating.
Wardrobe
You will need to wear another shirt over this holster t-shirt. This might include a polo, button-down shirt, or even a jacket or sport coat. If your existing shirts are already tight, you might consider buying new ones a size larger than you normally wear. This will help you keep your handgun concealed no matter what you wear.
Local Regulations
As a gun owner, it's your responsibility to learn the regulations for concealed carry in your state, county, and city. This includes areas you might travel through in order to get where you're going. Just because concealed carry is allowed in one location doesn't mean it's allowed once you cross boundary lines.
---
Holster Shirts by Brand
5.11 Tactical produces four different holster shirts in black and white. For men, they are sleeved shirts in both crew and V-neck, a V-neck sleeveless shirt, and they also sell a V-neck sleeveless shirt for women. These are polyester/spandex compression fit t-shirts, so they will be tight when worn.
These shirts offer two pockets, one on each side, for concealing a firearm and spare magazine, phone, or iPod. Each pocket has a velcro closure and the outside is padded with mesh to help break up handgun 'printing' through the shirt.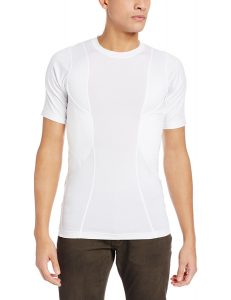 This is a polyester/spandex blend compression shirt designed with pockets on both sides available in both black and white. It accommodates both right- and left-handed shooters. Each pocket is overlaid with mesh to break up firearm 'printing'.
The pockets on the 24/7 don't have any retaining features, so this may be a bit unsecure with certain weapons. Tru-Spec offers a warranty on any products sold through them or through authorized dealers.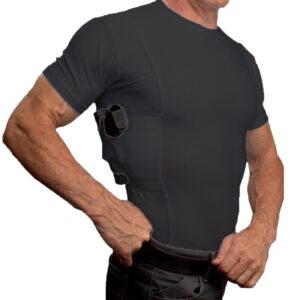 UnderTech produces several models of concealed carry shirts, including crew neck, V-neck, and tank top for men, and a tank top for women as well. These are made of a polyester and Lycra blend with elastic holsters stitched on both sides, so they're ambidextrous.
UnderTech's holster shirts with elastic holsters have an additional retaining strap of velcro, ensuring the firearm stays in place. Other shirts have extra pockets, including a zippered pocket, for spare magazines, ID/credit cards, mobile phone, or iPod.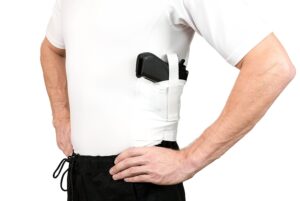 GrayStone makes these black or white polyester/Lycra blend shirts in V-neck, crew, and tank top. These are compression shirts with one holster and two pockets for each side, making them ambidextrous. They also have a nylon velcro strap for added handgun retention.
The extra pockets on the Tactical Holster Shirt are excellent for spare magazines, cell phones, iPods, and even medical devices such as the LVAD (for heart patients).
AC Concealment makes a variety of concealment shirts, from crew, V-neck, and tank tops for men. For the ladies, they offer a scoop-neck, tank top, and midriff tank. These polyester/spandex compression shirts have elastic holsters with retention straps for added security. They come in black or white.
The Undercover shirt has holsters on both sides, so it's good for both right- and left-hand shooters.
AC Concealment offers a 14-day return policy for unused products, but any product exhibiting manufacturing defects will be accepted even if they've been worn.
---
Final Thoughts
Concealed Carry holster shirts can be a great option for carrying your handgun on a daily basis. They're compression shirts to hold your firearm securely against your body and are meant to be worn underneath other shirts.
They're available for men and women in a variety of styles. Some have additional retention features such as velcro pockets or straps.
Our Pick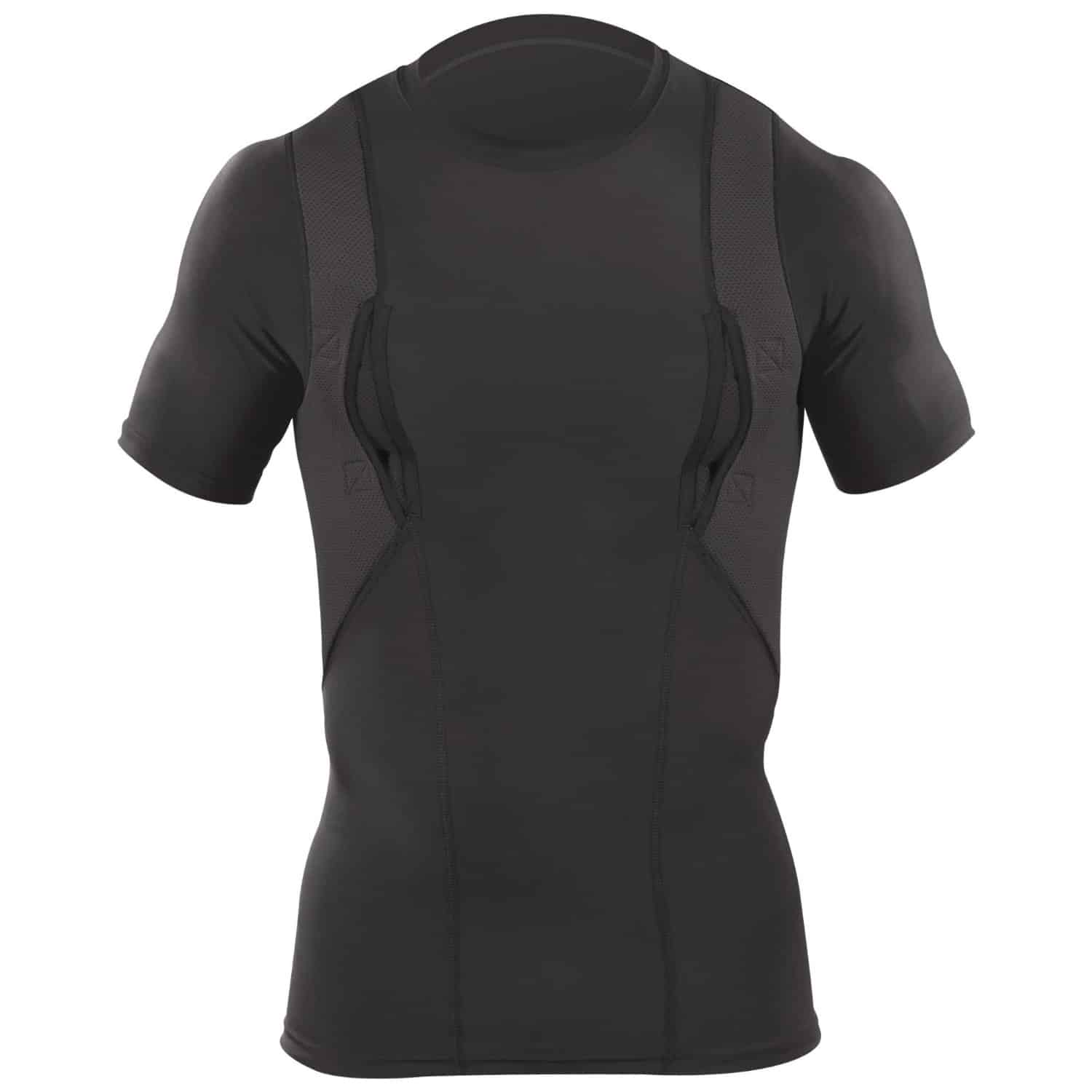 Our pick for the best concealed carry holster shirt is the Holster Shirt by 5.11 Tactical. They offer crew, V-neck, and tank top shirts for men, as well as tank tops designed for women. The deep pockets of the shirt allow for many sizes of handguns, and they have velcro closures to ensure retention.
Each pocket is lined with mesh to assist in breaking up the handgun's profile. 5.11 offers a lifetime warranty on their shirts, so you can buy with confidence.
Related Reads: