So, you're in the market to find a concealed carry holster for your Glock 23. This means you've already decided you want to carry your Glock concealed. You're following all the laws in your state regarding concealed carry. Now you're in the market for the perfect Glock 23 holster.
The best Glock 23 concealed carry holster is IWB Kydex Holster by Concealment Express. This is a molded to fit polymer inside the waistband (IWB) concealment holster.
It offers adjustable passive retention as well as customizable cant (carry angle). It's available in both Kydex and carbon fiber, and comes with a lifetime warranty.
This video review discusses the inside the waistband (IWB) holster by Concealment Express. Though he talks about the Glock 26, 27, and 33, the features are the same as the holster for the Glock 23. What to Consider Before Buying
There are a few things you'll want to keep in mind before purchasing a concealment holster for your Glock 23.
Your dominant hand — most holsters are not ambidextrous and can only be used for right- or left-hand carry.
Your activity level — if you're an extremely active person, you might want to consider a holster with active retention such as retention straps or buttons.
Your wardrobe — carrying concealed means you might need to adjust your clothing choices to guarantee your weapon remains hidden.
Draw speed — carrying concealed means carrying for defense; you want to make sure you can draw your pistol quickly if the need arises.
Barrel length — many firearms come with options for different barrel lengths. If you're looking at a holster with a closed end, make sure your pistol will fit. To measure barrel length, measure from the end of the barrel up to the ejection port.
Get Deals on Guns and Tactical Gear
Join 70,000 Readers For Our Weekly Discounts
---
General Holster Guidelines
When searching online for holsters, there are a few words and abbreviations you need to be familiar with.
IWB — this stands for inside the waistband, meaning the holster slips into your pants and clips to your waistband or belt.
OWB — this means outside the waistband and it usually clips or slides on a belt.
Kydex — Kydex is a patented polymer (plastic) blend that can be molded into any form
Carbon Fiber — this is a material made from carbon, giving it added strength
Cant — cant refers to the angle at which the firearm sits in the holster and is usually referred to using degrees: 0 or 15 degrees. An FBI cant is the 15 degree position. Many holsters offer a user-adjustable cant.
Passive retention — holsters made of polymer usually have passive retention; the molded holster gives the user an audible 'click' when they weapon is properly holstered.
Active retention — this refers to retention straps, thumb breaks, or finger buttons that must be activated in order to draw the firearm. Many holsters offer this level II retention.
---
Types of Holsters
We've already touched on a couple styles of holsters, so let's take a look at some we haven't talked about yet.
Shoulder Holster — This is the type of holster you generally see detectives in crime shows wearing. It consists of a harness that goes around your upper arms with a holster attached. You'll carry this opposite your strong hand, underneath the arm.

They usually have spare magazine pouches to balance out the weight. To ensure concealment, you must add a jacket or sport coat when wearing a shoulder holster. They have additional retention straps as well.

Ankle Holster — An ankle holster goes around your ankle, securing the weapon under your pant leg. They come with retention straps, and may increase your draw time. But if you spend a lot of time at a desk or in the car, this might be a good option for you.
Belly Band — This is a neoprene band that goes around your abdomen under your shirt. An elastic holster is stitched to the band. They usually have retention straps, and because the pistol is under your clothing, it may increase your draw time. Some users with certain body types may not find this holster comfortable.
Belt Holster — this will have a clip or slots (or both) to either clip to or slide on your belt. They may come with or without additional retention features. When carrying concealed using this type of holster, your clothing must conceal the pistol.
---
Specific IWB Holsters for Glock 23
Now let's take a look at some specific holsters on the market today for the Glock 23. We'll look in detail at some of the pros and cons for each one.
This is a suede leather holster intended to be worn inside the waistband (IWB). A sturdy metal clip secures the holster to your pants. The holster is open-ended, making it capable of handling different barrel lengths.
The Ultimate holster does not have any retention features, because it relies on tension from your pants to secure the firearm. If you are an active person, this might not be a good choice.
Because the Ultimate doesn't have a high rise on the contact side, parts of your pistol will likely rest against your skin, causing potential issues of corrosion from sweat.
This holster is designed to enhance concealment, yet make drawing your pistol in an emergency quickly and easily. Because it's made of soft leather, the Ultimate may collapse, making re-holstering difficult. It is not ambidextrous.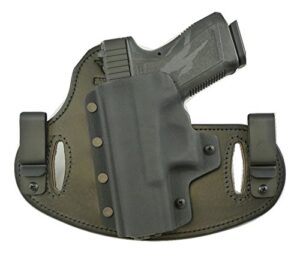 The inside the waistband (IWB) Concealed Carry holster from Hidden Hybrid is a unique design. The holster on the contact side is made of leather, while the front skin is molded Kydex polymer. This holster can also be worn outside the waistband (OWB) using belt slide slots.
This holster can be adjusted for cant (carry angle) when worn IWB and also for carry height, but not when using the belt slots. It also offers user-adjustable retention screws to guarantee your firearm is secure in the holster. There are no retention straps or buttons to interfere with a smooth draw.
Some shooters don't like holsters made of Kydex, citing that it can be abrasive and cause wear marks on your pistol's finish. This is an open-ended holster, so you don't have to worry about barrel length. But, it's not ambidextrous, so make sure you order the right side.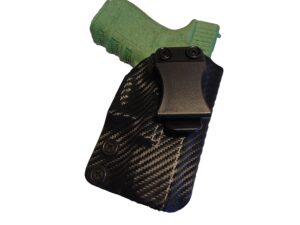 This inside the waistband (IWB) Glock holster is made of molded Kydex and features a full sweat guard on the skin side. It comes with a sturdy polymer clip to secure it to your pants.
The holster offers adjustable passive retention, giving you an audible 'click' when the pistol is securely inserted. But, the cant (carry angle) is not adjustable on this holster, sitting at a standard 15-degree FBI angle.
This holster is the lightest holster on the market at 3 ounces. It is designed for specific firearms, and is not ambidextrous, so make sure you order the right one if you purchase online.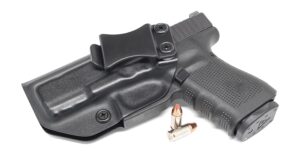 This is a molded Kydex polymer or carbon fiber holster designed to fit inside the waistband (IWB). Because it's molded for specific firearms, the retention is excellent.
It offers an adjustment screw for the retention, giving the user the option to tighten or loose as needed. It also has an adjustable cant (carry angle) and fits belts up to 1.5 inches.
There is no active retention features; instead, you'll get the audible 'click' sound when the pistol is properly holstered.
You can choose from either Kydex-T polymer or carbon fiber material for this holster. Some gun owners don't care for Kydex, claiming it might mar the finish on the handgun.

This is an elastic band intended to be worn around the abdomen. The holster is also elastic and is securely stitched to the band.
Because this is an elastic band, it has a wide range of carry options: inside the waistband (IWB), outside the waistband (OWB), cross body, and more. It also offers additional pouches you could use for spare magazines, a phone, pocket knife, etc.
There's no retaining straps on the holster or pouches, so if you're active on a daily basis, this might not be a good choice for you. Also, a belly band may not work on some body types.
To measure for this holster, measure at the largest part of the belly. The smallest holster is 22 inches long, while the largest is 41 inches long. iiSport offers a quality warranty and a 60-day money back guarantee.

---
Our Final Opinion
If you're going to carry concealed, you want the best holster you can find for your Glock 23. The perfect holster will have most or all of the features you feel are most important. What you choose in a holster will depend on your personal lifestyle and the particular situations you're likely to find yourself in.
Our Pick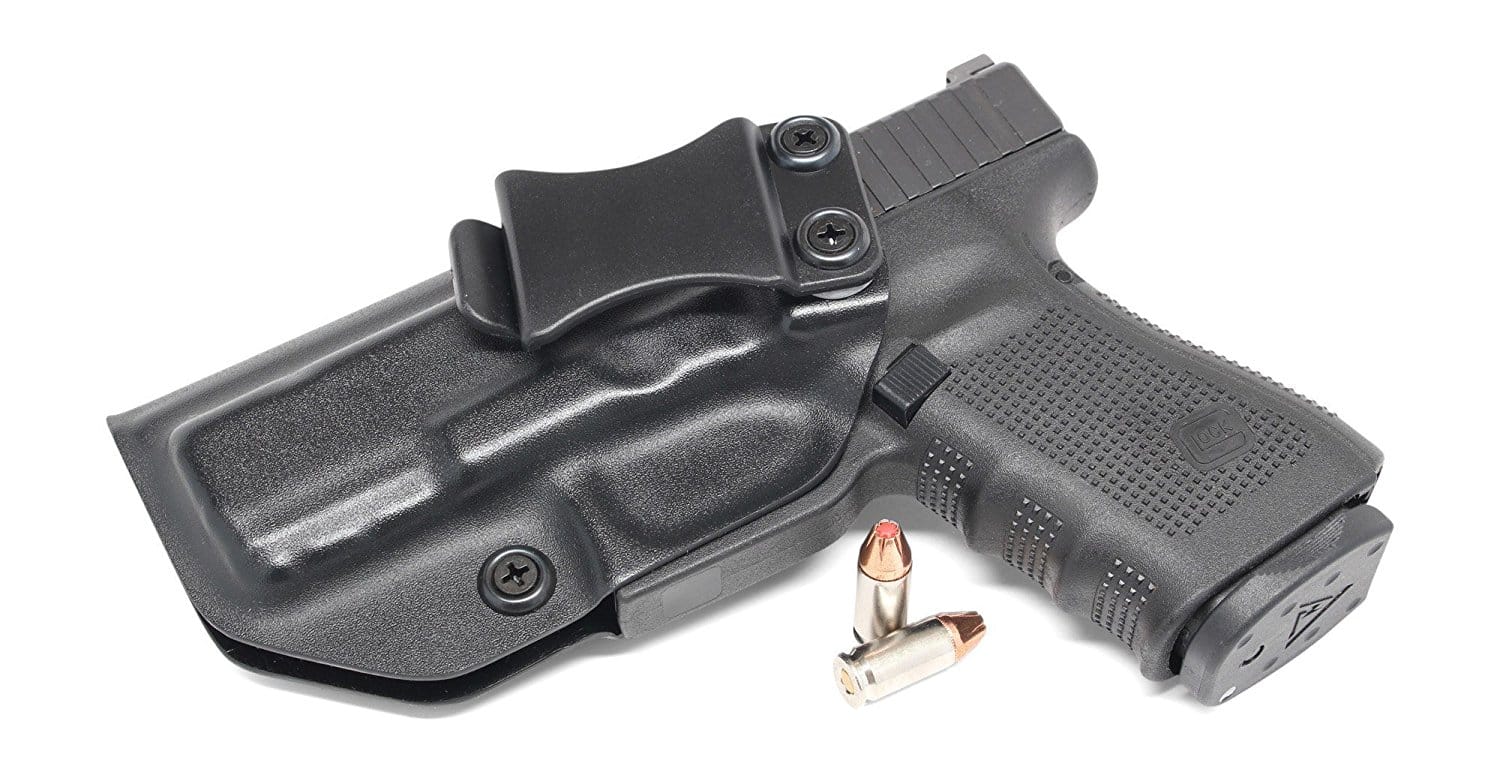 The IWB Kydex Holster by Concealment Express is the best, most versatile holster for a Glock 23. It offers features such as adjustable retention, custom cant (carry angle), and a slim profile to ensure concealment. There are no retention straps or buttons to slow down your draw in an emergency, and the holster doesn't collapse, making re-holstering easy.
For the price of concealment holsters, you can't go wrong with the IWB Kydex Holster. Concealment Express offers a lifetime guarantee, backing up their tough and enduring product. In the middle of the price ranges, this holster is an excellent buy.
Related Reads: