Shoulder holsters are a harness designed to carry a firearm under each arm, or one firearm under an arm and extra ammo under the other. Usually, shoulder holsters are designed to be ambidextrous, allowing you to choose which handedness works better for you.
If you are in the market for a good shoulder holster, the Galco Jackass Shoulder Rig is a great holster.
This shoulder holster was first introduced in the 1970's, by Jackass Leather Company. It features a horizontal holster that can be adjusted to a more diagonal carry position. All four points of the center cut steerhide harness can pivot independently and are connected to Galco's unique Flexalon swivel back plate.
Get Great Guns and Ammo Deals!
---
Things To Consider
Most shoulder holsters are adjustable, so they cater to a wide array of carriers. They are equipped with multiple adjustment points, making it adjustable to different body types, or to your body, if you grow or shrink.
Advantages Of Shoulder Holsters
A good fitting shoulder holster is great for heavy handguns. In fact, this is an area that they may work better than hip holsters. Shoulder holsters distribute the weight of your handgun more evenly over a larger area of the body. Not only heavier handguns, but those with long barrels work well in a shoulder holster.
If you drive a lot a shoulder holster is a great choice. The seatbelt won't affect your access to your firearm. Ankle holsters are the other good option for driving, but they work best with small firearms.
Adjustable thumb breaks are another advantage. This feature makes shoulder holsters able to fit different handguns.
Disadvantages Of Shoulder Holsters
Your gun may become accessible to your opponent in a struggle. If you are backed against a wall, your draw can be blocked, making gun grab easy.
You need to wear a jacket or other cover garment all the time to keep a shoulder holster concealed. You will need to be mindful in the wind.
The draw is slower with a shoulder holster. Reaching back under the arm and pulling the gun out from this position will take more time than from a hip holster.
Safety is the biggest disadvantage to the shoulder holster. While you draw, you will sweep bystanders to get your gun on the target. Keep in mind, most gun ranges and gun classes will not allow shoulder holsters, because of this safety issue.
---
Alternatives To Shoulder Holsters
Deciding how to carry your handgun is about more than just comfort. Although comfort is important, since you probably won't carry if you think it's uncomfortable.
IWB Holsters
IWB holsters are a good option. You can wear these pretty much anywhere along your waist, and they attach to your belt with clips. IWB holsters are the most concealable but you will need to have your pants about two inches bigger, in the waist,  than you normally wear.
OWB Holsters
OWB holsters are worn outside the pants, on the strong side. These are the most popular holsters, probably because of comfort.
Pancake Holsters
Pancake holsters are made with two pieces of material with the gun sandwiched between them and come with two or more belt loops.
Paddle Holsters
Paddle holsters are held on your pants with a paddle or duckbill that clips onto your pants. They ride inside the pants. They are usually easy to get on and off.
Small Of Back Holster
Small of back holsters are worn inside the pants right about the middle of the back. Most people find them uncomfortable, especially while sitting. Safety concerns include falling on your back and hurting your spine.
Appendix Carry Holster
Appendix carry holsters are very concealable. They ride in the front of your body between the belly button and the hip. Draw is quick and easy because the position the gun rides in is a natural area for your arm to reach.
Pocket Holsters
Pocket holsters are growing more popular all the time. They are very convenient and conceal very good. They are best used with smaller handguns. Pocket holsters can fit in the front or the rear pocket.
Ankle Holsters
Ankle holsters are best suited for a backup handgun. They work good with smaller firearms. They can be uncomfortable while walking. Sitting may expose your gun.
---
Holster Objectives
Choosing a holster is a personal decision based on personal preferences. At the end of the day, your holster needs to perform three main functions.
Security
A good holster will hold your gun in place while you are running, getting in and out of a car, even doing somersaults. This is the main point, right? A place for your holster to safely ride as you go about your day.
Accessibility
As your holster keeps your gun safe and secure, in needs to be accessible to you. If you are ever in a stressful situation, where you need to draw a handgun, the last thing you need is to have to fumble around looking for your holster. A quick and smooth draw can be the difference between life and death.
Concealment
Your holster should be out of sight. If you carry concealed then you don't want any part of your firearm to be visible.
---
Top Concealed Carry Shoulder Holsters
This holster is a streamlined and comfortable. It comes standard with holster, harness, ammo carrier, and a set of system screws.
Features
Pros
Comfortable
Conceals well
Conceals large handguns
Quality holster
Cons
Break in time needed
Screws may come loose during break in period
Expensive
This holsters universal design fits most handguns. It has a soft lining that protects the firearm's finish from wear. All components of this holster are fully adjustable for a custom fit.
Features
Universal shoulder holster
Designed for both left and right handed
Two mag pouches
Padded shoulders
Pros
Fits good
Affordable
Universal
Cons
Slow draw
Retention is inconsistent
Stitching looks flimsy
This holster is ambidextrous and great for concealed carry. It features a thumb strap for various size pistols, tie down straps to secure your holster to your belt, and double thumb snaps for security.
Features
Ambidextrous
Adjustable
Double magazine holder
Tie down straps
Adjustable thumb break
Pros
Made well
Affordable
adjustable
Cons
Can not adjust cant
Feels like it will only last a little while
This shoulder holster has superior weight distribution, snug gun retention and comfort. Uncle Mike's are a superior product and they stand behind their products.
Features
Adjustable
2 ½ inch wide nylon straps
Self centering backpiece
Wear inside or outside your jacket
Fits up to a 48" chest
Pros
Well built
Affordable
Fits good
Keeps gun secure
Anchor straps
Cons
Trigger may be left exposed
Bulky
Difficult to adjust
5.

Shootmy Horizontal Shoulder Holster
This holster has padded shoulders for comfort. It is a very versatile and durable holster and comes with an adjustable thumb break system for quick draw.
Features
Horizontal shoulder holster
All components are fully adjustable
Thumb break is adjustable
Quick draw
Reinforced pressure points
Pros
Works well
Affordable
Comfortable
Cons
Itchy
Takes a lot of effort to adjust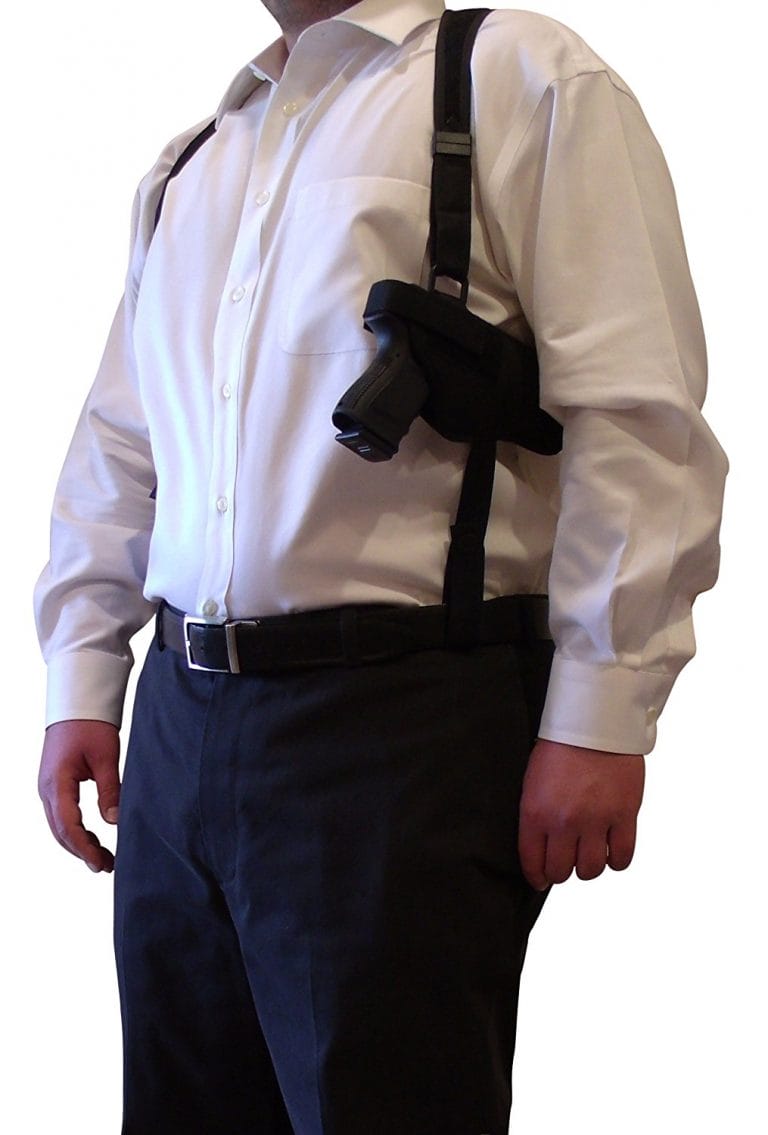 This is a universal holster that works for both right handed or left handed draw. Fits most medium to large frame handgun and comes with an extra magazine pouch.
Features
Most guns fit this holster
Reversible
Double magazine pouch
Pros
Good quality
Comfortable
Conceals good
Lightweight
affordable
Cons
Not adjustable
Shoulder straps too narrow
---
Conclusion
Don't be convinced by those who try to tell you that shoulder holsters are a thing of the past. They're a basic design that works well when you need it. A shoulder holster that is comfortable, fully adjustable and conceals well will come in handy.
Our Pick
Maybe you will need a shoulder holster for certain wardrobe choices or for wearing at work. With all the choices on the market, I think the Galco Jackass Shoulder Rig outshines the others. If you are looking for a shoulder holster that is durable and made from high quality materials, this holster may just be the one for you.
Related Reads: