Glocks are great guns for hunters, law enforcement, those of you needing self-defense or even beginners. You'll need a proper way to carry it though, leaving you with shoulder holsters or hip holsters.
I found the shoulder holsters to be more useful for me, with the top pick being the Gould & Goodrich Gold Line Shoulder Holster. It's made just for Glocks, so you can be sure it'll fit whatever model you've got very securely, while saying comfortable on your body.
Get Deals on Guns and Tactical Gear
Join 70,000 Readers For Our Weekly Discounts
---
A Brief Guide To Shoulder Holsters
Shoulder holsters are a popular carry method for handguns among police officers, active duty military and everyday citizens. They come in many different styles and types to fit your needs, but it's not just their versatility that makes them popular.
There are a few reasons why they're so preferred, and why you see them on just about every police show on television. The most obvious reason is due to the concealment provided.
You can draw the weapon without being too noticeable, so if there are any special conditions where you need to draw quickly, you'll be able to.
Shoulder holsters are also practical, since any wearer can keep it on even while sitting. This is different from the belt holster that may make it difficult to remove your weapon if you're seated or crouching down. All you have to do is reach back and aim, making them perfect for any situation.
---
How To Wear A Shoulder Holster
People often have trouble making their shoulder holster feel comfortable, but this is mainly because it's not adjusted or worn correctly. If you don't want to compromise concealment or drawing speed, these steps will help you wear it right.
Put the Glock in. Start by putting the magazines in the magazine carrier, if there is one, and move on to place your Glock gun in either side of the holster.
Put on the Holster. Put on that holster so the Glock is under the opposite arm as your shooting hand. So if you're left-handed, the Glock is on the right side. If you've got two guns, just put them both in there.
Back Straps. Make sure the place where the straps cross in the back is centered high, right below your collar and a little above the shoulder blades. Any holsters with pads should have the pads near the neck, not by the shoulders.
Adjust the Holster. The holster should hold your glock horizontally with the muzzle pointed behind you. The grip should stick out around 2 inches when your arm is straight. This will help you draw the Glock easier without showing an outline on your jacket.
Magazine Carrier. Make sure the magazines are right under your shooting arm and that you can easily un-strap and remove them. It might be easier to grab them if they're tipped forward slightly.
Tie-Downs. Attach tie-downs to a belt to keep the holster snug against your sides. This is optional, but may feel more comfortable.
Practice. Finally, practice with a jacket. Make sure you can draw your weapon smoothly and if you can't, make a few more adjustments.
---
Advantages of Shoulder Holsters
There are many reasons to get yourself a shoulder holster when you've got a Glock, which I've listed here.
Great for Glocks: Heavy handguns fit great, and the weight is more distributed than with a hip holster. Any gun can be carried even for days without discomfort.
Long Barrels: If you've got long-barreled guns, shoulder holsters are your only real option for concealed carry. Shoulder holsters are great for concealment in general though.
Perfect while sitting: Driving or sitting isn't a problem when you need to hold onto your gun. If you're working or crawling under things, it'll stay on securely. Any movement at all is simplified with a shoulder holster.
Movement: Even if you're not crawling or moving under things, you'll find that you can move around more easily. Your holster won't get caught on anything and will lay flat against your body. This will keep it clean and less dusty too.
Storage and Versatility: With a shoulder holster, you can keep the Glock and spare ammo close to you, which is ideal in an emergency situation. Regardless of what gun you have, you shouldn't have any problem fitting in your holster.
---
Best Shoulder Holsters for Glocks
This shoulder holster is made from durable and rugged nylon, so it's built to last. It's black, waterproof, lightweight and perfectly sized for both your Glocks and magazine pouches.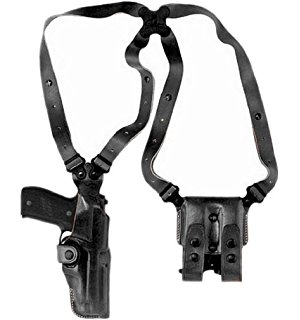 This holster is made right in the USA with top grain vegetable tanned genuine leather. This holster adjusts fully for comfort with straps that lay flat, double ammunition, and non-glare leather.
Pros
Easily adjustable and made from quality materials
Holster hugs your Glock perfectly to keep it snug and secure
Holds your Glock and ammo securely with no slippage
The wide front strap section distributes the weight more firmly than other kinds of holsters
Very comfortable and easy to adjust and pull from a sitting position
Cons
You do need to buy the tie-down straps separately
The leather straps are a little thin, and people question how long they will last
The mag pouches are very solid and stiff, so you may need to adjust them a bit
The barrel of the gun isn't totally encased
The leather is a little rougher than some buyers might light, and will take some time to break in
Pros
It's fully adjustable, with a clip behind the shoulder pads to balance the weight and keep the holster from shifting
Includes impact resistant plastic sliders and a quick release buckle that tailor it to individuals
Shoulders are padded for comfort, but not puffy
Reinforced corners
Very high attention to detail
It's a vertical carry and can carry even weapons with larger muzzles with ease
The included Velcro clips attach easily to your belt
Cons
Not waterproof, although it is somewhat water resistant
There aren't included instructions on how to adjust the holster
The double lock is a little bulky
Some guns are too large to fit in the holster although it won't happen with your Glock
There isn't a thumb break for one-handed retrieval of your gun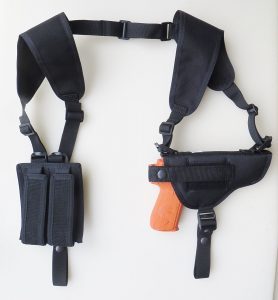 When you're looking for comfort, the dual stay flat shoulder pads are sure to fit snugly. You can carry two magazines in the double magazine pouch, and the six way size adjustment is sure to fit anyone. Tie-down straps for your belt are even included.
Pros
No problems adjusting straps to various specifications
Very comfortable; can be worn all day without any issues
The holster is easy to unsnap when drawing your Glock
Magazine pouches and the Glock are securely put in place
Remains close to the body; fits snugly
The price is very cost effective
You can reach both the glock and magazines with ease, and the actual holster is light and comfortable
Cons
It is a little bulky when you actually wear it underneath a jacket
Doesn't seem to conceal as well if you have a more slender stature
Takes time to break in and sit more comfortably
The biggest consistent problem is with the quality more than anything else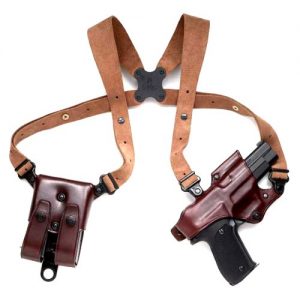 Fit the Glock 17 or 31 in this Galco shoulder harness. It's tested for durability and quality, with a horizontal holster that can be adjusted.
You'll get the harness, an ammo carrier and a set of screws too.
Pros
Very versatile with many adjustment possibilities and options, like having or not having a mag pouch, tie-downs, or higher or lower slung on your body
The thumb break style makes sure it stays on securely
You can conceal it in a wide variety of jackets or coats
It's very trim and not easily seen
The angled holster makes it easy to conceal most glocks without them being obvious or getting in your way
Cons
It does take a good amount of time to set up properly
The holster is very tight until it's broken in properly
You do need to stretch the straps yourself over time if you want it to fit more comfortably
The double mag pouch does seem a little large
Thin straps can make it uncomfortable to wear
The pricing may be high for some buyers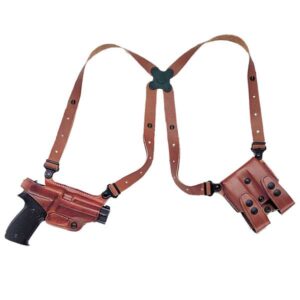 This classic Glock holster is perfect for any type of glock that you pick up.
The materials are top quality, so you can be sure they'll last a while too. The leather straps keep it snug on your body and keep your weapon perfectly concealed.
Pros
Doesn't get in the way at all, and can be adjusted easily
Holds Glocks easily with snugly fitting magazines
Very high quality leather and comfortable to wear without any bulges
Cons
It does take some time to really break it in and make it comfortable to wear
It can be difficult to fit your Glocks in there initially before it's broken in
---
Final Thoughts
There are many reasons why you might want to purchase a great shoulder holster. Overall, the preferred choice seems to be the Gould & Goodrich Gold Line Shoulder Holster.
Our Pick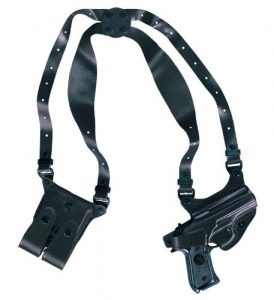 It fits easily and doesn't take as much time to break in as some other holsters, although all of these top picks are great options too.