With a grip angle modeled after John Moses Browning's 1911, the Springfield XD has excellent aiming abilities and points naturally and without much effort at all. When you aren't using it, however, and want to keep it protected at your side, you'all need a good holster to match.
The Blackhawk! SERPA Concealment Holster is a great option for a swift, easy draw and re-holster. It is a level 2, concealed carry holster that is quality made and will hold your sidearm securely, prevent wear, and all the while remain comfortable on your person.
Get Great Guns and Ammo Deals!
---
Choosing a Holster
When choosing a holster for your firearm, there are often many options to go through. This can make it difficult to choose. That is why you should consider the many different features and available qualities when narrowing down your choices.
Manufacturer
With holsters, the popularity and reputation of the brand will tell you how reliable it is. The more positive review history the maker has, the more you can trust that you are getting a product worth your trust and money.
Sometimes, though, reliability isn't dependent on just a big brand name. There are lesser brands that are cheaper, but the quality might be the same between it and a competing major manufacturer. If the quality is the same and all you would be paying for is a fancy name, then you can save yourself some money by going with the cheaper version.
Don't jump to conclusions, however. Really compare manufacturers, and make sure you choose quality over price.
Pricing
Like was mentioned above, the pricing can differ from brand to brand. Most people will look for the cheapest option they can while still maintaining at least a decent quality.
Find the balance between quality and pricing. Compare the brand to the price, and the price to the features. Pay attention the reviews on the product, and make sure you are willing to pay for what you will be getting.
Concealment of your Firearm
Some people are looking for a holster meant for open carry, but for those looking to carry concealed, you will want to pay attention to specific things.
Holster shape, size, and material plays a huge part in the concealability. Bulkier holsters will print more, and odd edges will stand out rather than being smooth and subtle.
Your clothing plays a part in the concealment as well. You won't be able to get away with wearing something skin tight all the time, but that doesn't mean your shirt has to be a potato sack. Simply keep in mind the make of your holster and what you wear, and the two will create a balanced combination.
Make and Material
The material of your holster plays a part in its functionality. Some popular materials are leather, nylon, and kydex.
Kydex is a pretty common material you will find. It is easily molded to a specific shape, which is why most kydex holsters are molded to the pistol already. You may find them already pre-shaped, or you can find some that are custom molded to your specific model of gun.
Leather looks nice and is a long-lasting material. However, heat and humidity can wrinkle and cause the material to fold, and sweat has a chance of soaking through. Aside from those issues, though, it tends to be comfortable against your skin.
Nylon, of course, is a very basic but still effective style. As long as you get a quality holster, you won't have too many problems. They may wear faster, but they have their advantages as well.
The Stitching
One aspect of the make of the holster is the stitching. If it is not double stitched or made with durable seams, you run the risk of it unraveling quickly. Holes can develop, and there is more opportunity for your sidearm to fall out or for the rear sights to catch on the material.
Additional Holster Features
There are important features included in the holster, like clips, belt loops, retention mechanisms, and magazine pouches. Each of these is important to a certain extent, depending on what you want.
Having the addition of a magazine pouch is convenient. This allows you the ability to carry extra ammunition, which is always handy. While it may not be a necessity, it is still handy and adds some value to it.
In what environment do you intend to use the holster? How well does it attach? Can it easily be pulled off?
Is it for active military service, the shooting range or to carry your gun when on your property? Some holsters are only suitable for light use. As a general rule, the more dangerous the intended environment, the more rugged the holster should be.
Persons in law enforcement for instance need holsters that make it difficult for crime suspects to grab the officer's handgun.
Versatility with other Guns
Perhaps this is your first handgun, or perhaps you already own one or more firearms. A wise investment would be to have holsters that fit a variety of handguns, not just the one. You save money on this, plus having only a few holsters will break them in and mold them to your body better.
When buying online, you will generally find a list of compatible guns so be sure to look that over.
Adjustability
How tightly does it fit to your gun? Is the cant adjustable? The retention? Are there retention screws or is the firearm flying free, so to speak.
An adjustable holster is a good holster. This allows more of a chance to fit it to your gun exactly, rather than thinking one size fits all. You want it to fit tight so that your gun won't fall out and no one else can grab it out of the holster, but you also want it loose enough for quick draw.
This is a balance not always attainable with every holster, so be sure to look for this in the features of a holster.
---
Top choices for the Springfield XD
Now that we have looked at some components of choosing a holster, let's compare them to the following holsters and see what other great options are out there.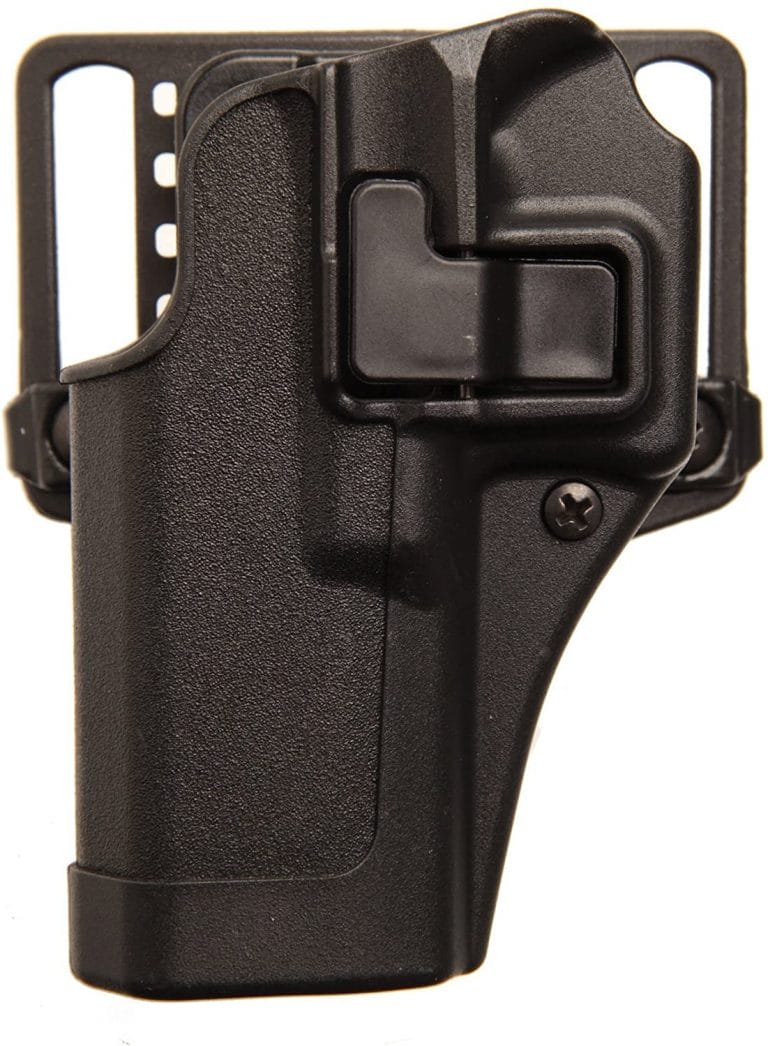 With an advanced and easy retention system, your gun will remain secure in this holster, all the while safely concealed. A top brand that is reliable and trustworthy, this SERPA is a top pick.
Features
Passive retention detent adjustment screw
SERPA Auto Lock release
Reinforced master grip/draw technique
Immediate retention click upon re-holster
Includes belt loop and paddle platform
Pros
Great retention system
Good fit to gun
Durable
Cons
Exposed square in the way of retention lever
Belt loop option may pull away from body
If you're looking for a good holster for IWB, this genuine suede leather option is a great choice. It's made in America, quality material, and very comfortable.
Features
Pros
Cons
Sight can get caught on holster during draw
Returning to holster can be difficult
A unique holster that abandons the thumb break in order to help with quick draw, this option works great and is made for your sidearm.
Features
Passive retention adjustment screw
Immediate retention click when re-holstered
Includes paddle platform
Gunmetal gray holster body with black SERPA Auto Lock release
Pros
Good protection
Secure retention
Comfortable
Cons
Paddle may be tough to remove from pants until practiced
May be half an inch too long
Adjustment screw could be bigger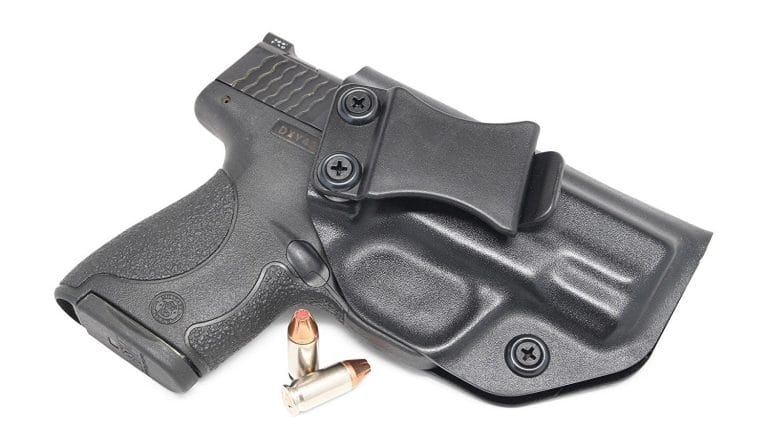 This hand molded option is another fantastic IWB option. It is a sturdy kydex holster that protects your gun from moisture, all the while remaining a light and reliable option.
Features
Fits springfield XD-S 3.3″ 9MM/40SW/45ACP
Inside the waistband
Adjustable retention
Adjustable cant 0-15 Degrees
KYDEX
Belt Clip 1.5″
Audible retention lock system
Integrated full sweat shield
Made in the USA
Lifetime warranty
Pros
Great retention level
Quick draw
Good retention
Cons
Edges might be sharp (need filing down)
Mag release isn't covered on both sides
---
Our Top Pick
These options are all great choices when it comes to the right holster for your Springfield XD, but the top one remains the Blackhawk! SERPA Concealment Holster. The adjustability and retention of it is a must, and it is quality material that will last a long time.
Our Pick
With the multiple options available to firearm owners, you want to make sure you are choosing the right holster. Our hope is that the information we have provided will be helpful in guiding you to the right choice. Whether it is one of the options listed in this article or another that you find, the purpose is to help you narrow down your search to find what will work best for you.
As always, thank you for reading, and we hope this has been helpful. Check out our other articles for more holsters and information, and read our news articles as well.
Related Reads: