Who doesn't love an AR-15? It's a powerful, adaptable rifle that is so much fun to bring to the range. You probably aren't thinking of anything else besides putting hits on your target smoothly and efficiently with this monster while firing.
But what about the other times when you aren't unleashing a hail of bullets? Let's be honest, while they are extremely fun rifles they won't win any awards for being the lightest or easiest to carry when not in use. That's why one of the other most important things to buy with your gun is a great sling to keep it safely out of your hands when you aren't shooting.
There are a lot of slings out there though and finding one that is comfortable, affordable, and dependable can be a painstaking task. That's why we've done it for you! We've compiled a number of the best AR-15 slings on the market so that you can find the perfect one for you and your gun!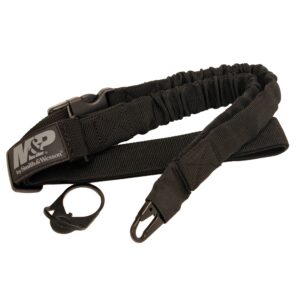 This sling is an adaptable and reliable model that can be adjusted to fit any shooter's preferences and frame. Its end plate allows for both left and right handed shooters to use it comfortably. However, there have been some issues with the end plate sitting roughly against the carabiner and gouging grooves in the aluminum.
Constructed out of a high density bungee material with a nylon outer covering, this sling is incredilby adaptable and provides chafeless handling even for extended periods of time. Its easy-to-adjust design makes finding the comfortable position for you simple and quick. The carabiner is also spring-loaded for fast detaching and attaching to your rifle.
While this sling isn't the cheapest one out there, you don't really want a cheap product when it comes to your AR sling do you? It is a bit lower in price than some of the other slings on our list though, so you'll be able to save a few dollars while still getting a quality sling you can depend on.
Buy it here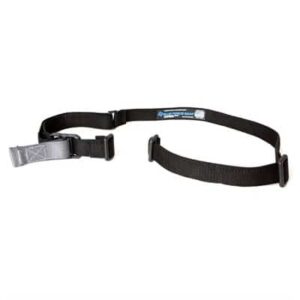 If you're looking to keep your rifle as ready for action as possible then you should look into this Blue Force Gear Vickers combat sling . With its adaptable and simple two-point design, the sling allows for quick, easy, and efficient length adjustments without creating any excess loops that could tangle or get in the way of your draw movement. The sling material itself is incredibly strong and dependable as well, being made up of two lengths of Cordura nylon webbing (one 17" toward the forearm and a 30" for the rear buttstock end) which are joined together by a durable steel loop.
This sling has been combat proven, being used by all branches of the U.S. military in action and designed by the renowned firearms expert Larry Vickers. You can also purchase this sling in two different colors, black and a tan coyote, as well for added adaptability. Because of its design and construction though, it isn't the most comfortable sling for long periods of use, but if you aren't planning on having it on constantly then there shouldn't be too much of a problem with chafing.
In terms of price, this one is on the slightly more expensive side of the spectrum, but it's quality and dependability can't be beat.
Buy it here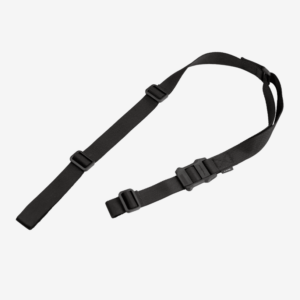 Another two-point sling that provides great adaptability and reduces the chances of tangling, this Magpul sling is a reliable option that most shooters will be able to afford. It is constructed out of a lightweight polymer that doesn't sacrifice on strength and 1.25" wide nylon webbing which is durable, resistant to wear over long periods of use, and reduces chafing. There are also two varied color options to choose from, including the classic black color and the foreboding Flat Dark Earth color (which is really just tan).
This sling is easy to adjust as a two-point version, allowing you to shorten the sling easily, shift between comfortable and ready shooting positions, and keep it in easy-carry positions for longer. One of the added benefits of this model though is that you can even adjust it into a one-point sling with a few optional adapters, providing you with additional position options and easy access when you need it. However, the adapters are sold separately, so it might be better to test your sling as a regular two-point before throwing more money into its one-point variation.
Overall though, this is still a relatively inexpensive sling option for the quality that you receive. It has gone through many different durability and stress tests in order to provide shooters with a reliable sling.
Buy it here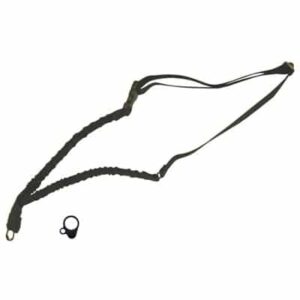 Finally, if you're looking for a high-quality, speedy sling without worrying about how much it'll cost you, then this last sling on our list is the perfect option for you. It is an easy clip-on sling that won't require any alterations of your rifle while providing the maximum amount of speed and versatility. Easy installation makes it so that you only have to remove the buttstock, slide the adapter over the receiver extension tube, and then replace the buttstock; leaving your rifle with its new sling fully ready for action.
It is constructed out of a strong and durable 1.25" nylong webbing that covers a high-density bungee cord providing a maximum of 4" flexing. The sling is made for noise reducing as well, with the weather-resistant nylon sheathing preventing noise and an elastic sleeve over the quick-release clip which prevents rattling.
This is one of the pricier models on the market. If you don't mind spending a bit extra though, you'll be rewarded with a high quality sling that will last, reduce unwanted noise, and allow for easy, comfortable adjusting.
Buy it here
Conclusion
And that concludes our list of the best AR-15 slings on the market! Hopefully you've found one that suits your need and doesn't break your bank. With your new sling you'll be able to comfortably handle your favorite rifle on the range and off. Keep shooting!