Have you ever wondered why an AR-Trigger is the best choice for your AR-15? Well, for one, you will definitely feel the difference between using a factory, stock trigger, and the incomparable AR-15 trigger. For the sake of this review, let's go over some important facts.
Basically, the AR-15 is a semi-automatic rifle that is widely used for adaptable applications. These range from shooting and hunting to tactical, military work. For some gun owners, an AR-15 is a classic firearm just as it is with its original parts. Unfortunately for others, it's used as a means of destruction, as evidenced by victims of the Parkland shooting massacre.
But sometimes, off-market pieces are required to create the best, so you may have to decipher what you really need. For some gun owners, the AR-15 is a go-to choice and there is a wide selection of triggers and accessories available.
With that said, we've outlined some facts on some of the best AR-15 triggers available to consumers. However, before we get into the nuts and bolts, let's go over some key AR Trigger Specifics …
SAFEST NEWSLETTER - WE WILL NEVER SELL YOUR EMAIL
GET GREAT

GUNS AND AMMO

DEALS!
SENT ONCE A WEEK - NO SPAM - NO SELLING YOUR EMAIL
---
Trigger Take-up
The Trigger Take-up is the movement of the trigger that does not cause the sear to move. Nor does it engage the mainspring — when you pull the trigger toward you. Any decent trigger will have minimal take-up. Basically, it's that loose feeling you get before your trigger starts to depress the sear.
AR Trigger Creep
Trigger Creep is in direct contrast to Take-Up.  It means any positive movement of the trigger that causes the sear to move and engage the mainspring. It's how far your trigger travels from when the sear begins to slide off the hammer, to the time the hammer actually strikes. The result is a loud boom noise. Essentially, it's slowly depressing the trigger.
AR Trigger Break
The break is the point of the trigger action where the sear releases the hammer. But be careful, not all triggers are similar, so not all triggers will break the same. Your trigger should always make a clean break.
AR Trigger Weight
Trigger weight refers to how much pulling pressure you must exert on the trigger to get it to break.
Overtravel and Reset
Overtravel is any amount of positive trigger movement following the break — how far your trigger continues pulling after the hammer breaks.
Reset
Reset is essentially how far the trigger has to back out to reset for your next shot. It's the negative or forward movement of the trigger to the point that the trigger re-engages the sear.
Single-stage
A single-stage trigger is exactly what it sounds like. It pulls in one, singular stage from when your finger presses to the boom sound. There are basically no half stops or changes in trigger weight.
Two-stage
A two-stage trigger acts like a single-stage up to a certain area. A final set of travel — usually with much less weight, lets you get up to the breaking point.
---
AR Trigger Tips
If you have been looking to find a trigger for various reasons like improved pull weight, or you require a trigger to travel shorter distances, you're sure to find it after reading this article.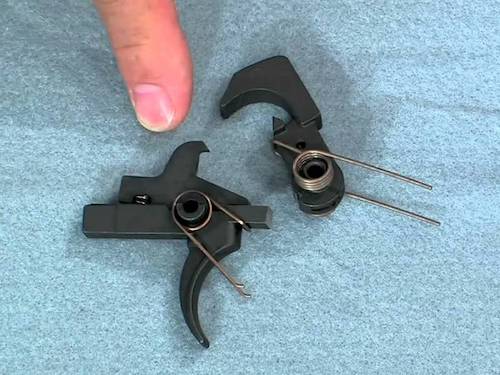 First and foremost, it is absolutely essential to get a solid, smooth working trigger with the right pull weight and break. The trigger is the part of the firearm that's the key interface between the weapon and the user. Secondly, in regards to customization if and when you purchase, you'll get the trigger part itself.
Next, you need to assemble in the lower receiver of the firearm. Basically, you get to customize your weapon according to your preference. And the commonly used triggers are the Drop-in Triggers.
---
AR Trigger Assembly
These triggers are pretty easy to assemble. All you need to do is drop it in the lower receiver, and secure them with the trigger pins. That's it! But there's been some reported issues such as the trigger won't fit into the lower receiver.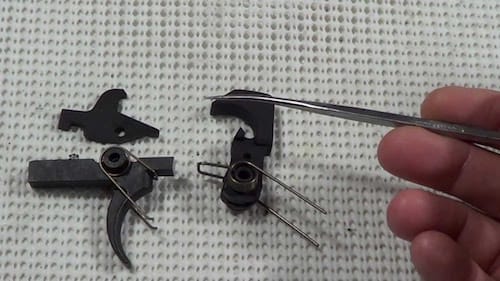 What you need to do now is some modifications. These include drilling and cutting to get a precise fit. If you do this, it will ensure proper alignment and an accurate shot — with secure groupings.
Lastly, if you use a separate trigger or using the existing one depends on your personal preference. You may want to buy one separately and assemble yourself, which can help improve your control when applying them.
Our Top AR Triggers
---
Velocity Triggers, based in Phoenix, AZ has been a solid leader in the industry for over 30 years. Their expertise lies in designing, manufacturing, and assembling of triggers. Their high-quality AR-15 Curved Trigger offers you a quick and clean single pull. The AR-15 Curved is available up to 4.5-pound trigger pulls at a reasonably low price.
The AR-15 curved trigger comes in a classic black color and is slimmer than other brands. In addition, the Velocity Trigger is marketed as "easy installation" — as long as you use the correct tools. What about the Velocity Curved Trigger's performance?
Well, we can tell you this …  it's a fantastic choice for anyone who doesn't have a lot of money to spare. It's also the right choice for anyone who wants to tweak their current pull weight. However, this trigger by Velocity is probably not the best choice for prospective competitors. It's also not quite right for someone who requires more particular usage.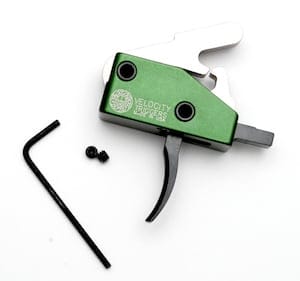 To put it simply, the Diamond-Like Carbon Coating (DLC) results in a greater wear resistance over the life of the trigger.
So what's our verdict on the Velocity? This trigger costs around $150 online and it's the best value for your money as well as on the market! The Velocity AR-15 Curved Trigger is also one of the simplest drop-in triggers to install, and it comes at a great cost.
Features
Great value for your money
Available in three pull weights
User-friendly installation
The trigger is rather thin (not best for those with thick fingers)
Check the best price online!
---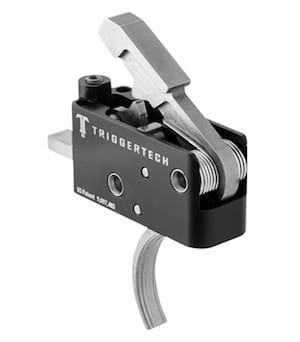 The TriggerTech is adjustable and made of tough stainless steel, with every included part corrosion resistant — guaranteed. Triggers made by TriggerTech operate without sliding friction. This company's triggers are manufactured using their patented Frictionless Release Technology.
Their two-stage trigger is adjustable, with a pull weight that can be adjusted up to 5 pounds. With this trigger, you'll have a quick break that's clean and neat for better accuracy.
The TriggerTech is an extraordinary performer that actually boasts no creeping. With their frictionless technology, you'll experience a smooth pull. Additionally, the fact that this one features an adjustable pull weight is awesome.
In fact, some users actually prefer the heavier weight over the lighter one. Still, other users argue that the flat trigger is better than the curved. Overall, the TriggerTech costs on average, $220 online — still a great price for this high-tech trigger!
Lastly, the TriggerTech AR-15 Adjustable Trigger is offered in your choice of a curved or straight trigger. The TriggerTech is a high-quality model offered at a great price.
Features
Short two-stage trigger
Zero creep release provided by Frictionless Release Technology
Enhanced Reset Control with sub .030" reset
Hammer, sear, and trigger are all constructed with stainless steel
All other components are corrosion resistant
Check the best price online!
---
The Timney model is an AR-15 Drop-In Trigger Module and is made of best quality aluminum. The rugged trigger is constructed, of durable, hardened steel with a unique finish. The Timney drop-in trigger is curved and can be purchased in various pull weights.
In addition, you can use the model's original hammer for your AR-15 — always a great feature. As far as overall performance, there's really not much that stands out from other brands. Simply put, it offers many of competitor's options as well.
On the other hand, the curved trigger has a bit more normal thickness, which is always great. Overall, the Timney version seems to be a brand used often by online reviewers/users. Word of advice — the Timney Drop-In Trigger is pricier than the two other triggers so far. But, if you have the funds, it's a wise investment.
So, what do we think? The Timney AR-15 Drop-In Trigger is a breeze to install. Priced for around $220 online, this is a great investment for a reputable and trusted brand.
Features
Available in three different pull weights
Simple installation
Great price for an excellent product
Check the best price online!
---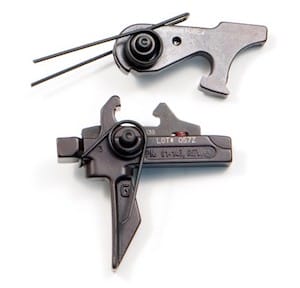 The Geissele company, or better known as Geissele Automatics, was established in 2004 as a manufacturer of trigger mechanisms for the AR15 rifle. Their first trigger was the Hi-Speed National Match and was designed by the company's founder, Bill Geissele. In addition, this particular trigger was designed for CMP and NRA High-Power Rifle Competition.
Originally designed for target shooting, the Geissele Hi-Speed trigger was found by the U.S. Military to have applications in semi-automatic sniper weapons. The Geissele Automatics LLC AR-15 Super Dynamic Trigger is with tough steel and comes in a sleek black color.  In addition, the manufacturer has included a kit for installation.
Three Different Trigger Versions
The Super Dynamic Trigger comes available in three options (combat, enhanced, and three gun) Looking at the three versions, the heaviest weight is the combat. The overall performance of the Super Dynamic Trigger can be described as a superbly designed trigger with zero corners cut by Geissele Automatics LLC.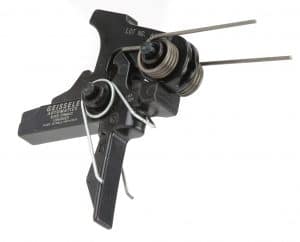 The three styles available are perfect for today's shooters as each one is intended for different reasons.
As far as the included installation kit, you should be confident in your skill if you decide to install by yourself. What's our verdict? The Geissele Trigger is the priciest model in our review — costs $230 online.
However, for extraordinary construction, plus tons of options, you're definitely getting your money's worth! Whether you use this trigger for hunting, tactical, or competitive purposes, the Geissele Automatics LLC AR-15 Super Dynamic Trigger is uniquely designed to enhance each one — a fantastic choice indeed.
Features
All-steel construction
Choices include three different pull weight styles
Flat trigger eliminates misconceived pull weight
Quite expensive
Check the best price online!
---
Best AR Triggers – Final Thoughts
Here's what we've narrowed in on … if you prefer assembling your own customized trigger plus additional parts onto your AR-15, then the AR-15 trigger is the best choice for you. It definitely makes a considerable difference between using this type of trigger and the stock factory-installed trigger.
Now, if we had to choose from our list of AR-15 triggers, it would have to be the TriggerTech AR-15 Adjustable Trigger. Fresh and new technology is always a bonus! This model can be purchased in either curved or flat triggers, plus with the adjustable pull weight, the choice is a no-brainer.
The TriggerTech AR-15 Adjustable Trigger is absolutely worth your consideration. As always, it's very important to invest in a high-quality product that will not only last you a lifetime, but also one that will give you an unforgettable shooting experience.
Related Reads: