After hours of research and testing dozens of different models, we found that the Galco Jackass Rig Shoulder System is still the best 1911 shoulder holster in terms of comfort, durability, quality, and popularity.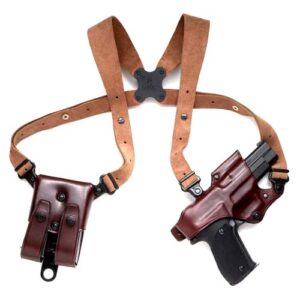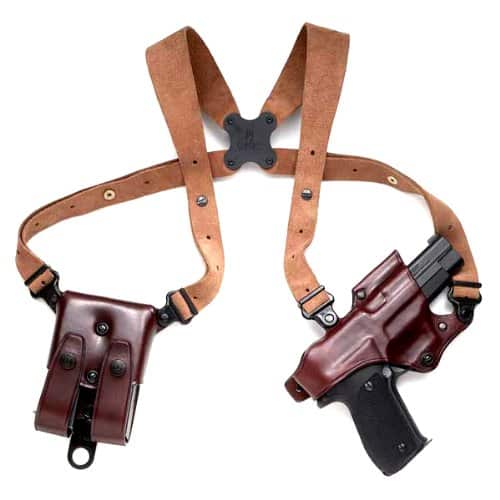 With a design that's been sought after by law enforcement and savvy citizens since the 1970's, a center cut steerhide harness with swivel connectors, and stylish Havana brown leather, this one obviously stands out from the crowd in a very good way.

It has the highest ratings of any 1911-compatible shoulder holster and the unique Flexalon swivel back plate with 4 pivot points gives it the most adjustable and versatile fit. Plus, it's a fully modular system with an abundance of accessories, add-ons, and configurations to choose from.
Get Deals on Guns and Tactical Gear
Join 70,000 Readers For Our Weekly Discounts
---
Other Great 1911 Shoulder Holsters
Although the Galco Jackass Rig is slightly ahead of the pack in this category,  there are plenty of other options to consider. Before we introduce you to the rest of our top picks, here's some important information you can use to simplify the decision-making process and learn more about this type of holster:
Advantages of Shoulder Holsters vs Other Kinds
You might be asking yourself "why would I want to wear a shoulder holster over all the other carry types?" Here are several reasons why many 1911 owners prefer shoulder holsters
Faster and more convenient to put on – you can hop out of bed and throw a shoulder holster on without even putting your pants on. This grab-and-go convenience is appealing compared to the hassle of putting on a waistband holster.
Better for people with back and hip problems

– with the weight of the gun higher up on the torso this is a great option for someone with lower back, hip, or groin problems.
Easier access while seated – drawing your gun from a shoulder holster while seated in a vehicle is much easier than trying to reach below your seatbelt to access your waistband. However, there are some specialized vehicle holsters that might be more useful in these situations.
Better weight distribution for heavy guns – since the straps go over both shoulders, the weight is more evenly distributed compared to the alternative of having the gun's weight resting on one hip all day.
Drawing your gun is less obvious

– you can cross your arms and quickly pull a gun out of your jacket without conspicuously reaching behind your back or towards your hip.
Integrated magazine carrying ability

– most shoulder holsters include a magazine carrying compartment to expedite reloading.
Easier to draw with either hand if needed

– it's much harder to reach over your body and grab your opposite hip than it is to reach into the same side of your jacket. Also, many shoulder holsters allow for double carry, so you can have a gun on each side using only one holster.
Comfort and accessibility are the key benefits a shoulder holster offers, especially when you're talking about carrying and concealing a long full-size handgun like a 1911.
Features to Look for When Comparing Shoulder Holsters
Not all shoulder holsters are made equal. In fact, the difference in design and functionality between models is often tremendous. These are some of the features and attributes you should be considering during your comparison:
Horizontal vs Vertical – Some shoulder rigs position the holster so that the gun is pointed vertically, while others have the muzzle facing horizontal. It's a good idea to try on several holsters of each kind and see which you're most comfortable with, as this is mostly a matter of personal preference.
Adjustability

– The straps, pivot points, possible configurations, and compatible accessories will also vary with each model. Try to envision how you want your complete setup to function and then go for something that can accommodate your needs.
Materials –

Some people want something stylish like a Galco leather rig, while others are fine with nylon as long as the strength factor is there. Again, this is a matter of personal preference.
Ease of Concealment

– Some holsters are easier to see than others. In cold areas where you'll constantly be wearing a large jacket this isn't a problem, but if you live in a hot climate it would be a good idea to opt for something slim and easy-to-hide.
Tips for Using Your New Shoulder Holster
As with every firearm accessory, even the best shoulder holster needs to be used properly to ensure you're benefiting from its inherent advantages while also staying safe. Here are a few things you should practice and look into further when your 1911 is becoming acquainted with your new shoulder holster:
Ensure the fit is snug and secure – put your unloaded weapon and ammunition in the holster when fitting it. The center of the back of the holster should be just below the back of your collar. Straps or pads should be positioned high on the shoulder, closer to the neck than the shoulder joint.
Your 1911's grip should protrude two inches in front of the arm on the side of the gun for easier drawing. Magazine carriers and other accessories should be easily accessible. There should little to no movement of the holster when you walk or move back and forth.
Detailed explanation on how to fit your shoulder holster for maximum comfort and concealment:
Use the Tie Ons – People say tie ons are optional but in reality they should be used whenever possible. They keep the holster in a stable position, which is vital when you're trying to draw in a hurry. Furthermore, the tie ons keep your gear from bouncing around when you're running.
Learn how to draw your gun safely and properly – Drawing your gun from a shoulder holster in the wrong manner could put you at risk of accidentally discharging the weapon and shooting yourself in the arm.
Keeping your non-shooting hand under the gun when drawing puts your brachial artery in the line of fire during the draw. The key is to keep your free arm above the barrel of the gun, as shown in this instructional video below.
USCCA demonstrates how to safely draw from a shoulder holster:
Practice to see how it will respond to movement – Once you've got a snug fit and you're aware of how to draw properly, it's time to practice drawing, with an unloaded gun of course, in a variety of motions.
Stand in front of a mirror and draw the gun in different ways at least a dozen times and then check to see if the holster has changed positioned or loosened up. If so, address the fitting error and resume practicing.
Now that you know the main benefits of shoulder holsters, which features are most important, and how to use them, check out the 4 next-best options behind our top choice: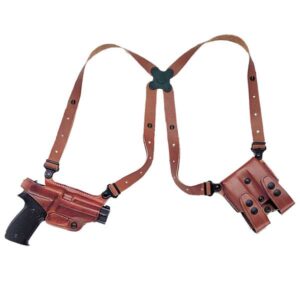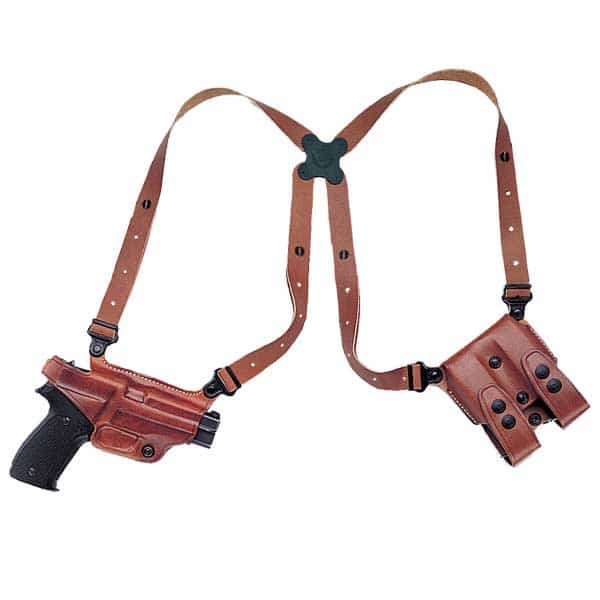 The closest option to the Jackass Rig is Galco's Miami Classic, with a similar design that also incorporates the swivel back plate and spider harness. This shoulder holster has gained notoriety for being one of the best in terms of longlasting fit and comfort. It's made of 100% full-grain leather and comes with an ammo carrier and a holster.
Features
Has a vertical magazine carrier that can hold two mags

Harness has points that pivot independently

Galco's trademarked Flexalon plate

Available in left or right hand draw
Pros
Narrow harness straps are easy to conceal

Compatible with a variety of tie ons, cuff cases, flashlight attachments and other accessories

Steerhide leather materials are highly durable

Swiveling back pate keeps the straps from tugging on your attire

Modular design is easy to amend and upgrade

A popular shoulder holster among law enforcement professionals and military personnel

One size can be adjusted to fit anyone

Based on the original shoulder holster system introduced in the 70's
Cons
Small straps and slim design make it difficult to grab a hold of and put on in a hurry.

Some owners of wider guns have complained about the holster being a tight fit, but no such complaints have been made about it fitting the 1911
The universal fit concealed carry shoulder holster from Under Control Tactical is quite a bargain considering its durability and features. It's made of lightweight, waterproof nylon material that has proven its ability to withstand strenuous testing.
Despite coming from a lesser known brand this has become a surprisingly popular holster and is often mentioned alongside household names.
Features
Adjustable shoulder straps for optimal comfort

Compact yet large enough to accommodate all handguns, pistols, and revolvers

Includes a dual flashlight/magazine pouch
Pros
Notably cheaper than other options on this list

Nylon will not wear and tear as bad as leather over time

Holster re-sizing straps make it possible to tighten the fit around any handgun

Adjusting shoulder straps is as easy as adjusting a backpack's straps

Rated just as highly as our top pick

Low profile design is perfect for concealed carry

Made by a family-operated company and backed by 100% satisfaction guarantee
Cons
Despite being labeled as a universal fit, the holster may be a little too large for smaller revolvers. However, on the other hand it's an ideal fit for the 1911

Not the most impressive holster aesthetically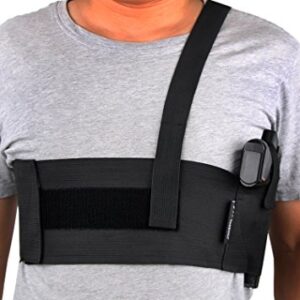 If you're looking for a vertical carry system that can be effectively concealed without having to wear a thick top, the Linixu Deep Concealment shoulder holster is definitely worth considering.
Thanks to its flexible elastic strap and support band it can easily conform to any body type. This is one of the few shoulder holsters that can be worn under a regular T-shirt without being noticeable.
Features
Available in right hand and left hand draw

Long velcro strip

Single shoulder strap

Available in three sizes: Medium (33"-38"), Large (39"-44"), and X-Large (45"-50")
Pros
Secures the gun close to the body and evenly distributes weight across the shoulders and back for better all-day comfort

Padding between the holster and your body keeps hardware from poking into your side while also protecting your gun from sweat

Easy to hide under any kind of clothing – no need to wear a thick jacket or suit

Designed in the U.S.
Cons
Location of the holster under the arm can become a nuisance if your arm repeatedly rubs up against the top of the gun or the aiming sight

Can restrict range of motion for the arm on the side where the holster is

Many people find the vertical holster position makes it challenging to draw the gun quickly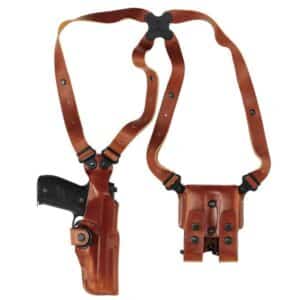 If you're a fan of Galco's Miami Classic but would prefer something with a traditional vertical carry style, this would be an ideal choice. It features the same spider harness with the Flexalon swivel back plate and is available in black or tan.
This holster has been battle-tested in Afghanistan and Iraq and is currently in use by thousands of army personnel, law enforcement officers, and civilians.
Features
Modular design is compatible with all the accessories you'd need.

4-point pivot system with each point moving independently

Full grain leather materials of the highest quality – as should be expected from Galco

Double ammo/flashlight carrying compartment
Pros
Swivel action connectors make it easy to put on and keeps straps from tightening and pulling against your clothing

Capable of fitting all body shapes and sizes
Designed for double-action revolvers and semi-automatics

Vertical carry position makes it easy to conceal without thick clothing

Lightweight construction and intuitive functionality
Cons
The grip of a long handgun like a 1911 will sit high on the mid section in a vertical holster, so depending on your frame and flexibility it may take more effort to grab than if you were to use horizontal holster.
---
Conclusion
With everything taken into consideration, the majority of experts will agree that the Galco Jackass Rig is most suited to accommodate the long barrel of a 1911 handgun.
It has a slight edge over the Miami Classic because the holster can be swiveled into a more diagonal position, allowing for the 30-degree upright muzzle angle that many 1911 owners prefer.
Our Pick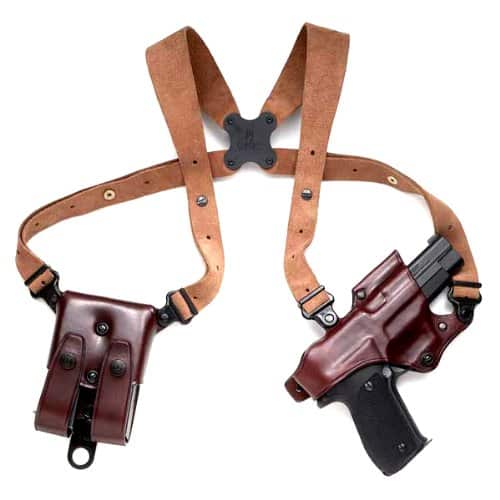 It's also undeniably the sexiest rig of the bunch, with sleek, lightweight, and minimal materials that stay out of the way. Overall, the Galco Jackass Rig outperformed all of its counterparts in every essential category we mentioned above, including adjustability, ease of concealment, accessibility, quality of materials, and holster positioning.
Related Reads: