If you're a gun owner, I trust you'll agree that keeping your guns hidden from small children and thieves is a top priority. Gun safety is one of the biggest parts of owning a gun.
Buying an under the bed gun safe is a solid investment for any gun owner and here we'll break down why.
The fundamental reason is quite simple: A lot of gun safes are big, clunky things that aren't able to be hidden.
---
Why Put a Gun Safe Under Your Bed?
An oversize gun safe can be easily tampered with by a burglar. Some gun safe companies offer a warranty which protects the gun safe owner against damages to the safe wrought by the burglar.
But all too often, we let our warranties lapse and, if this happens with your gun safe, you'll be stuck footing the bill for any repairs. You may even end up having to purchase a new safe.
Another factor that should be considered is accessibility. In a crisis situation, you might not have time to go stumbling around in the dark, crossing a room to a wall safe or rummaging around in your bedroom closet.
In the event of a home invasion, you want to keep your home defense weapon close at hand. The under the bed safe is made for just that. It provides easy access and secure storage. Knowing that you have a quickly accessible gun safe right at your feet will ensure that you rest easy.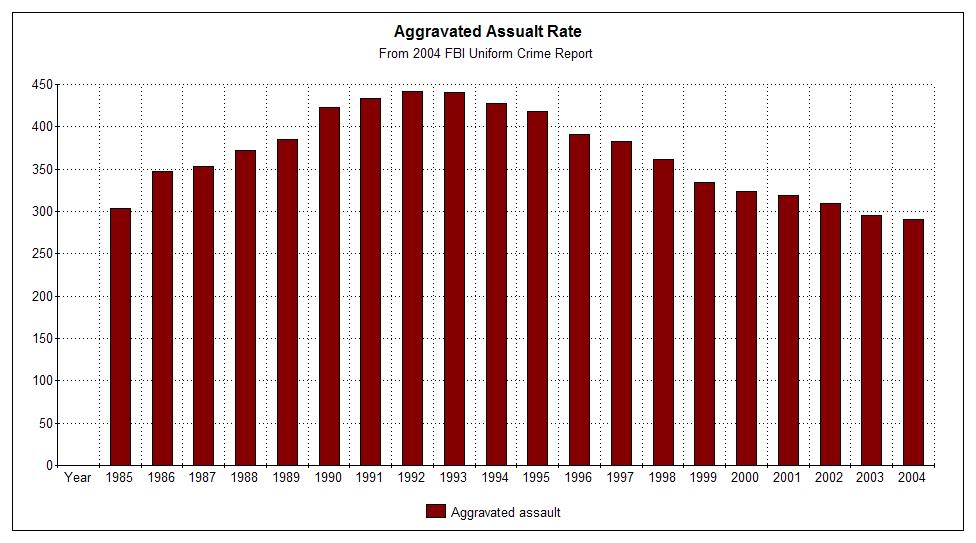 If you use a handgun to defend yourself, you don't want to store it in some huge, cumbersome gun safe, you want to keep it under your bed where it will serve its intended purpose. Many under the bed gun safes now come with biometric fingerprint locks which enable the user to quickly get to their gun with the touch of a finger.
You'll significantly cut down on the time it takes you to access your firearm because you don't have to fuss with entering a combination or search for a key. This is one that anyone with children should definitely look into.
---
Biometric Gun Safes (that fit under the bed)
Here is a list of my top picks for under the bed biometric gun safes.
Note: I put these first because they are easily accessible and fit under nearly any bed.
Sentry Safe Biometric Quick Access Pistol Safe
Locksafe Biometric Pistol Safe
Gunvault Microvault XL MVB1000
Gunvault GVB1000 Mini Vault Biometric Gun Safe
Barska Top Opening Biometric Safe
Get Deals on Guns and Tactical Gear
Join 70,000 Readers For Our Weekly Discounts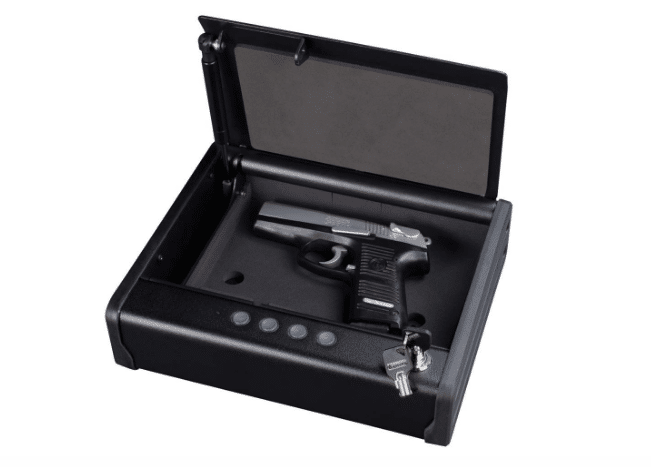 I've gotta admit, I'm kind of a brand loyal guy and Sentry Safe is a name I put a lot of trust in. I find their safes to be more durable and secure than others on the market, whether we're talking about a regular portable home safe or a pistol safe.
In the case of this bad boy, I just love the ultra-small 6.6" x 9.7 x 2.2" design and the fact that you can operate the safe without being heard. This one is fully stocked with hardware that's quieter than a lullaby. It's got gas struts which open the door and keep it open until you decide to shut it.
My favorite thing about it is that it reads fingerprints in a matter of seconds which makes it superior to most other models on the market.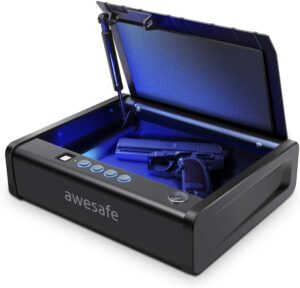 If you want the security of a biometric gun safe without the giant price tag, this option from Awesafe is the best of both worlds.
This good-looking gun safe is sleek, compact, and lightweight. It looks great on the outside, with no-weld, tight, anti-pry construction, and looks great on the inside, with a soft sponge interior and a bright automatic LED light that lets you retrieve your sidearm with one fluid motion with no other light source.
The construction on this is solid: 18 gauge steel, an anti-impact latch, and a strong lock mechanism. Keep your family safe and keep your gun locked away from the young ones with this biometric safe, programmed to only open to your unique fingerprint.
Whether you use fingerprint biometrics to gain access, or you use your backup manual keys or PIN, the hydraulic gas strut opens the safe immediately for single-hand retrieval of your firearm.
Place this anywhere- home, office, or vehicle. It's compact enough to fit in a drawer, under a vehicle seat, between mattresses, anywhere you need it to feel safe and secure. The one downside to this is that it's easily portable by a thief or criminal- but, the included punch holes will let you securely mount this safe anywhere you need it.
The price point is great on this Awesafe safe, great value for its construction and biometric function. If all you need is a safe with enough room for one sidearm and some extra ammo, this size is perfect for easy-to-access, yet secure, gun storage.
Pros
Heavy-duty construction
Attractive with precise fittings
Quick hydraulic open
Cons
Biometric programming can be difficult but works great once it starts up
Needs batteries to operate, but comes with four to start and includes a battery low indicator light
Some online reviewers report defective items: make sure you buy from a trusted Airsafe listing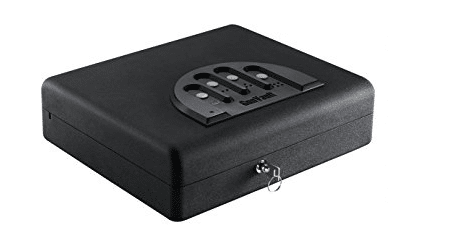 Next, we have this little number that looks like it's straight out of a high-tech laboratory. It is lined with foam to protect your handgun against damage in the event it slides around inside the safe.
You get a five-year exclusive warranty from the company and you can program as many as 100 fingerprints. Personally, I don't see the need for so many fingerprints, but I guess it doesn't hurt to have 'em, particularly if you take my advice from above and program your fingerprints from a multitude of angles.
Gunvault's pistol safe is easy to open in the dark and there is no code, so you won't have to worry about your curious kids trying to access it without permission.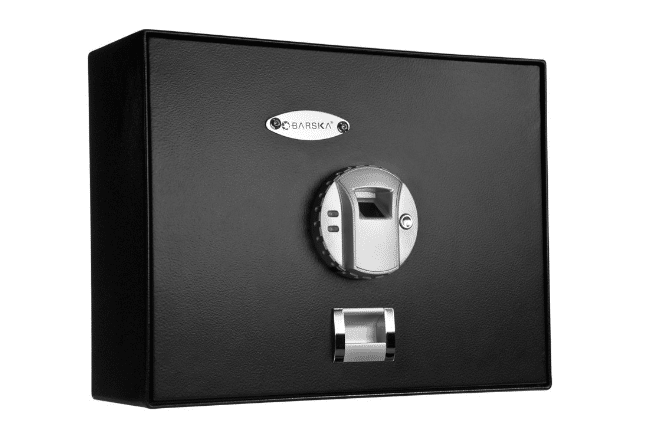 This one is a personal fave by dint of design. I just love the fact that you can open it from the top instead of having to turn it around in the dark or anything like that. While it is slightly larger than Gunvault safe, it is still light and compact.
The locking bolts are solid steel and motorized, and its pre-drilled holes make it easy to mount to your bed frame. The only con, in my opinion, is its AA battery power which is something that can run out quicker than other options on the market.
However, the only time the battery power is used is when fingerprints are activated. So unless you're constantly accessing the safe, the power should last a good while.
One thing I really like about the Barska Top Opening safe is its silent mode control and the way that it beeps when the door is left open for too long.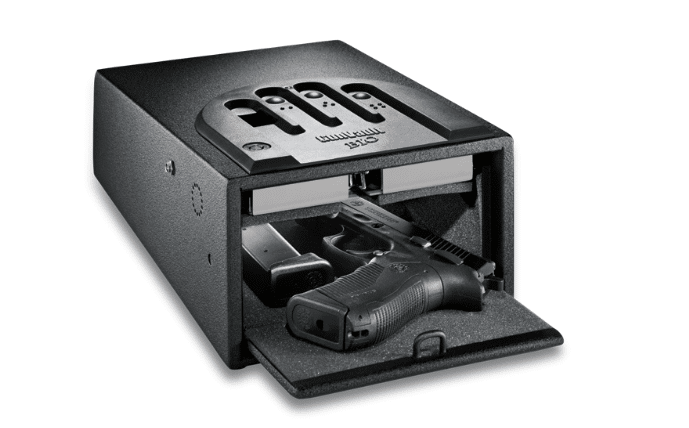 Last but not least, we have the Gunvault Mini Vault which features an LED light that blinks when your battery is running low. It also comes with a convenient A/C adaptor. Like the other Gunvault model we discussed here, a five-year warranty is included in the purchase price.
Now that we've covered biometric gun safes, let's talk about my top picks for the best under-the-bed gun safe. Bear in mind, many biometric gun safes can serve as an under-the-bed gun safe, but when it comes to home defense, it is often better to go with a slightly more traditional safe.
The reason?
Because intruders are often skillful when it comes to technology. It explains why so many of them can pick locks and get around security systems. They know what they're doing and they're up on the trends.
If a burglar is wise to biometric technology, he could sneak up on you while you sleep and order you to open a biometric safe at gunpoint. Better you maintain the upper hand.
---
Strictly Under The Bed Safes
Here is a list of my top picks for under the bed safes which are built specifically to go under the bed:
Monster Vault Under The Bed Safe
Moutec Under Bed Safe
Titan Under Bed Gun Safe
Defense Vault DV652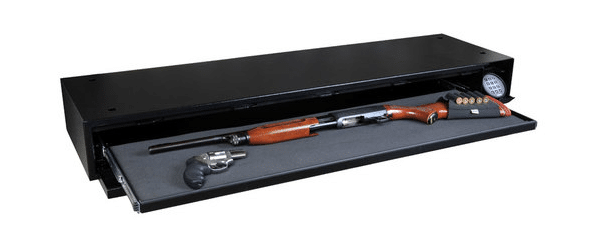 Despite this being number four on my list, I'm going to talk about this one first because some of you no doubt favor rifles or shotguns over handguns. You may think they look more menacing to a burglar or you may prefer them because they can cover more ground.
Whatever the case may be, if you want to keep your rifle or shotgun close to you, the Defense Vault DV652 is a terrific alternative to other under-the-bed gun safes. It's 6 inches in height, 52 inches in length and 14 inches in diameter.
Forged from 14 gauge steel, the Defense Vault has an electronic lock with an illuminated keypad that makes it perfect for late-night access. The six-digit combo should be easy enough to remember, even when in a state of panic.
It's got a slight-out gun tray which is padded to prevent damage to your firearm. The safe can be anchored to the floor thanks to its pre-drilled holes and a handy mounting kit that American Security includes with each purchase.
One potential drawback is the fact that the keys beep when pressed, but this function can be disabled once you've familiarized yourself with your safe. One beep that you will likely appreciate is the beep that sounds when your battery is running low.
While the steel is thick, it isn't so thick that you'll have any problem moving it under the bed or into any tight spaces. The part I like the best is the drawer which is large enough to accommodate two guns.
This safe's biggest weakness is its keypad which is made of cheap plastic which can be busted out with little effort. It's simply screwed into the safe itself.
The experienced thief would no doubt have little trouble trying to break into one and the lag bolts aren't as heavy-duty as those one more expensive safes, but this is a viable option for those who are looking for something more affordable and elementary.
The DV652 weighs 75 pounds so it's not going anywhere without you noticing. And it's even got a separate compartment for a small revolver if you want to keep multiple home defense weapons at your feet.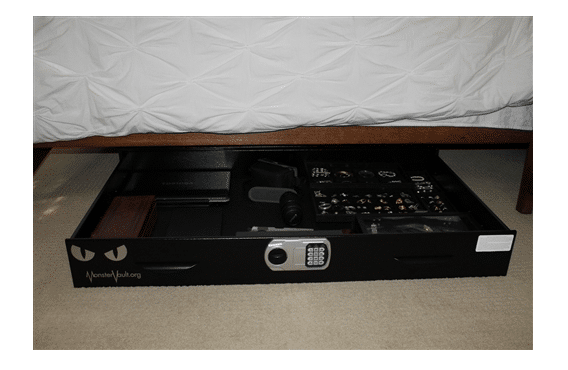 This one is awesome! Period. It's got a cool logo, a sleek black design, and weighs in at 100 pounds. It's got a digital programmable combination lock and can be programmed with 3 to 8 digits. Note that for home defense purposes, it's best to program it with just 3 digits so you won't be trying to memorize a long sequence of numbers should a home invasion occur.
Its cold rolled steel construction means that it's as durable as it is dependable. An added bonus is its override key which will come in handy if the battery dies. This one can also fit some smaller size rifles.
As with most products, it has its pros and cons. The biggest drawback in my eyes is its price. It's more costly than other options and it's not fireproof or waterproof. As someone who's experienced a dramatic flood (I lived a block from the water during Hurricane Sandy and lost many of my guns for this very reason).
But if fire and water aren't an issue in your area, you could do worse than picking up one of these safes.

If you're going for a non-biometric under-bed gun safe option, a great one is the Moutec model. Certain features solidify this safe as a great safe for protecting your family instantaneously- an automatic LED light display, a personalized keypad PIN code, secure construction, and instant drawer open allows for a quick draw in any situation.
This gun safe comes with two backup manual keys in addition to the high-quality keypads, and also comes with a mounting kit. Bonus points for being easy to install- with the included hardware and pre-punched mounting holes in back and bottom, it's a breeze.
This safe is versatile enough to fit under different large furniture items or even in your vehicle. Or, you can stand it up vertically in a closet- however, while the drawer opens quickly even when stood up, the keypad stays only horizontally oriented, possibly making this function a bit awkward. But, this mounted, the under-bed safe has two-factor security locks that deter thieves- at 68 lbs, even an uninstalled safe isn't going to get very far.
Moutec's construction and security with this model are off the charts. With solid, 16 gauge steel construction and tamper-resistant edges, the only thing that could make it even more secure is the three pry-resistant steel locking bolts. Lots of gun fanatics rave about this under-bed gun safe- it's still sleek and slim, not bulky, but has enough capacity to hold an AR-style rifle and a secondary shotgun, as well as some extra mags.
Pros
Great, reliable build quality
Deters any thief with security and weight
Large capacity but compact
Cons
Possibly too heavy and too horizontally oriented to be just as effective vertically
Lock takes some elbow grease to close, some have issues with a tight turning mechanism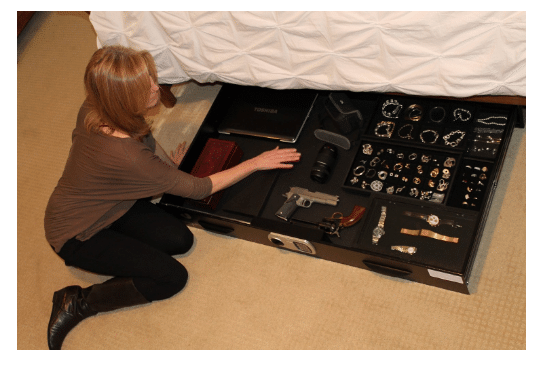 The Titan safe has a mechanical combination lock. It can be easily mounted to a solid surface thanks to the mounting brackets included when you buy one.
The Titan Under Bed Safe comes with a one-year manufacturer warranty and, best of all, it is not battery-powered. If you find yourself in a home defense situation, this one is by far the most expedient option on the list because your gun swings out when the safe door is opened.
Another cool feature I like about this one is its versatility as it can be adjusted to fit a range of different size firearms.
It's a bit pricier than similar safes on the market and there isn't a sufficient amount of storage space for extra ammo. Another potential drawback is the fact that a seasoned thief could gain access to this safe with simple hand tools.
But if you're in the market for a safe that will enable you to get to your gun quickly and easily, this is a terrific choice.
---
Under Bed Gun Safe Buying Guide
So now we've seen a range of different safes that you can choose from, but let's dial it back for a second and remember why we're looking at under-the-bed safes in the first place. The number one reason for buying one is because under the bed is the best place to hide a gun.
Almost as good as this.
An intruder who strikes under the cover of night is not expecting the homeowner to be prepared for such an attack. Most of them will expect you to be helpless under your sheets. Under the bed safe makes it so that you can surprise the intruder when they least expect it—when they think they're about to surprise and catch you off-guard. Another good option is an in-wall gun safe.
There are so many brands and models out there so the question remains: How will you know which one is tailored to your personal needs?
---
What to Consider Before Buying Your Gun Safe
Well, here's a list of some tips that should help you select your safe of choice:
When trying to find the best gun safe, you should know what kind of gun you will be stored in it, what size the gun is, and how many guns you want to keep in the safe.
Make sure that the safe you select will actually fit under your bed. So grab your measuring tape and write out the dimensions before you start shopping around.
Consider whether you will be storing the safe strictly within your home or if you intend to travel with it. Weight and portability will figure into your decision.
What material do you want it to be made of? Do you need a metallic safe or will a plastic one suffice?
Do you want it to have rollers? (see: # 3)
Can you access it expediently in the event of an emergency CQC (Close Quarters Combat) situation?
Do you require a safe that's waterproof or fireproof? If so, you should expect to spend more money than you would for one that is not.
Do you want a mechanical safe or a biometric safe?
Do you have kids? This is an important consideration as modern children are just as tech-savvy if not savvier as most adults are and would have little problem breaking into most traditional home safes.
How many people will have access to the safe? This is important if purchasing a biometric safe.
Can you fit a gun safe dehumidifier inside?
Do you want a safe that's battery-powered and rechargeable, a lock and key safe or one with combination codes?
Do your homework! Whether you're buying a gun or a gun safe, I highly advise my readers to do their own independent research. Surf the Web, look up customer reviews, check on the reliability of the manufacturer and read testimonials.This can help a lot when it comes to choosing any item.
What brand has the best reputation. Some manufacturers are more trusted and popular than others.
How big is your budget? Under the bed safes come in a wide variety of price points and not all of them may be right for you.
Choose a hiding place. Technically, I mean choose two hiding places, one for your under the bed gun safe and one for the code or a combination that you will be using to access your safe.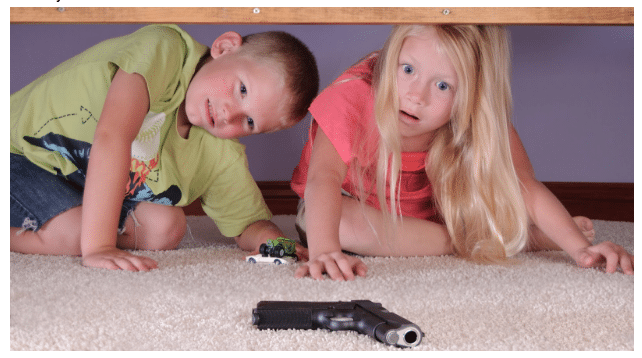 ---
Conclusion
So there you have it! The above is pretty much everything you need to know before deciding on a safe. But here are a few things to remember:
If you have children, I highly advise that you choose a heavier gun. This will ensure that they won't make off with it when you're not around and, chances are, the heavier it is, the harder it would be for a novice to break into.
Every day someone is looking to buy a gun. But every day someone else is murdered by a gun that fell into the wrong hands.
Be safe and be smart. Make sure to properly secure your safe and pick a place you know your kids won't know about or think to look.
Personally, I prefer those under the bed safes that come with pre-drilled holes since the best way to prevent the safe from being compromised is to have it safely bolted into the floor.
Keep it stationary, keep it secure and, like its namesake, keep it safe.
Related Reads: