A Sig MK-25 is a fine handgun, and if you just purchased one (or even you've owned your Sig for a while), there's a good chance you're in the market for a high-quality holster to go with it. But this can often be a harder decision than buying the gun.
There are literally dozens of types and models of holsters that fit the Sig MK-25, but you can usually narrow down your options by deciding how you plan to carry and use your firearm.
For example, do you plan to open carry or conceal carry? Would you be comfortable with your gun wedged in between your pants and your side?
Would the weight of your Sig be too much to carry around in your pocket? Would you be nervous having your firearm hanging off your belt where someone could potentially make a grab for it?
These are all things to consider before you spend your hard-earned cash on a holster. For this article, I reviewed several highly-rated holsters for the MK-25, and after some deliberation I chose the Gould & Goodrich B802-26R Gold Line Two Slot Pancake Holster.
This holster is well crafted from top-grain leather, and its deep definition molding offers a superior fit and retention. And this Gould & Goodrich holster is made in the USA.
Get Great Guns and Ammo Deals!
---
What Are Your Options in Sig MK-25 Holsters?
As mentioned above, much of your choice will depend on your needs, and how you plan to carry your handgun. One of the most important things to consider is whether you plan to conceal carry, as only certain holsters can effectively hide your weapon.
Another factor is your shooting hand. Find out if the holster you're considering is right or left-hand draw, and whether you like your weapon on your dominant side, or you prefer to cross-draw from the other side.
If you would like a further explanation of the different types of holsters, you might find the following "Holsters 101" video informative:
---
Some of the Most Popular Holster Types Explained
While there are a variety of different holsters made for the Sig MK-25, for this article I chose the following popular types: IWB, OWB, small-of-back, and pancake holsters
Small-of-Back Holster
The first holster I'm going to talk about is the small-of-back holster, or SOB. As you might guess, these inside-the-waistband holsters fit into the small of your back, which many people find more comfortable than carrying at the hip or appendix.
This is especially true if you've put on a few too many pounds around your waist, or you work on your feet all day. Another plus is a SOB holster gets your weapon further away from a potential assailant. This might not be your best choice if you're a driver, or if you sit in a hardback chair all day.
Pancake Holster
Most pancake holsters are made from leather or nylon or another malleable material. The idea is that this material flattens – like a pancake – which helps to hold the weapon close to the body for better concealed carry. The holster slides onto the belt via pair belt loops, which hold the holster securely in place.
These are usually worn on the hip, or toward the back of the shooter. One drawback of pancake holsters is the fact that many of them are open at the barrel, exposing your guy to dirt and other contaminants. There's also the risk that you gun sight could hang up when drawing, especially if you have tall sights.
Inside-the-Waistband, or IWB Holster
These inside-the-waistband holsters are generally the most popular type of holster for concealed carry, due to the fact that they're easier to hide than many other holsters.
Most IWB holsters slide or clip onto the belt, and they can be worn in a variety of positions. They're typically made of Kydex or another type of hard polymer plastic, and they can rub against your skin if you're not wearing an undershirt.
A popular variation of the standard IWB holster is an AIWB, or "Appendix inside-the-waistband holster." These are worn at the front of the pants, which is a more comfortable position for some shooters.
OWB, or Outside-the-Waistband Holster
There are many occasions when a standard outside-the-waistband holster is your best option. This is especially true if concealing your weapon isn't a top priority, or if you wear suits or a lot of loose clothing.
OWB holsters usually clip or slide onto the belt, or have slots to thread the belt through. As with the IWB holsters, these outside-the-waistband models can be worn in just about any position that's comfortable. These are especially good holsters if you open carry your weapon.
---
Sig MK-25 Holster Reviews
Now that we've looked at some of the more popular holster types, it's time to put a few Sig MK-25 holsters to the test. The following holsters are all made by major brands, and they all have been given positive reviews by happy Sig owners.
This outside-the-waistband paddle holster from Safariland attaches to the gun owner's belt via an injection molded belt loop.
The holster rides close to the body with a slightly forward cant (not adjustable). The Safariland is designed for right handed shooters.
Pros
Cons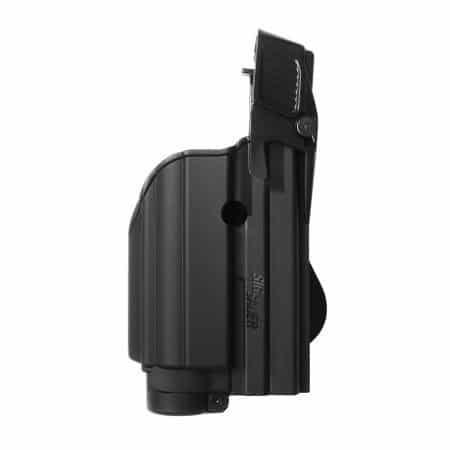 This Level II holster by IMI Military Industries was designed by the Israelis for military and police departments who use lights or laser sights on their handguns.
This is an outside-the-waistband holster that is intended for tactical operations, but it works great for everyday carry as well.
The holster connects to all of the IMI Defense platforms, including their belt clip, paddle, low ride and drop leg platform. Designed for right-handed shooters.
Pros
Cons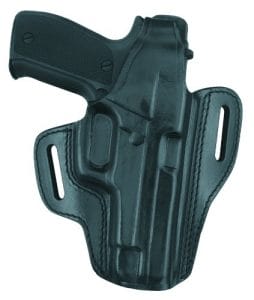 This outside-the-waistband pancake holster by Gould & Goodrich is made to accommodate the equipment rail that's built into the Sig MK-25.
The holster fits onto a belt via two belt slots, has a fixed cant that holds the firearm in a slightly forward position. The holster works for conceal carry as long as you wear a loose shirt or jacket to cover your weapon.
Pros
Cons
---
Conclusion
While these are all capable holsters, and each has its strong points, I chose the Gould & Goodrich B802-26R Gold Line Two Slot Pancake Holster as the winner. The holster hugs close to the body for good concealability, the leather is top quality, and it fits the Sig MK-25 like a glove.
Our Pick
Related Reads: