Nothing's worse than having to open a can of worms. We've all done it at least once in our lives and we never liked the outcome. Sometimes it's just better to keep mum about certain touchy topics concerning politics, religion and sex, among others.
But here at Gun News Daily, we pride ourselves in tackling touchy gun-related issues the average Joe wouldn't even dare try. That's just who we are and what we do.
Over the past several months I have been comparing different types of handguns — mostly two different model Glock pistols at a time — to try and give our readers a different perspective, maybe help them decide which one to purchase if they're new to the world of firearms.
While I did look at other pistols not manufactured by Glock — namely the two Cobra models (the FS 380 and the CA 380) and the two SIG Sauer models (the SIG P226 and the SIG P229) I compared in Rounds 5 and 6 of this series of our Handgun Showdowns respectively, I never compared two pistols from different manufacturers in this series.
Well, that all changes today.
Today, we're comparing the SIG P320 in .45 acp and the Glock 21 Gen4, two pistols by two very different gun manufacturing companies that share the same solid reputation: their production firearms are as reliable as it gets.
Disclaimer: Just as a bit of a background, I'm a 1911 and revolver guy and I don't claim to be expert on either platform — but it also makes me neutral, which means this article will be as objective as it gets. It's sure to open a big ol' can of worms regardless, so just as a quick disclaimer especially to fanboys from either camp who might be reading this article — take from this what you will, but please don't take things too seriously.
Get Great Guns and Ammo Deals!
---
The Tale of the Tape
| | |
| --- | --- |
| SIG P320 Nitron Full-Size | Glock 21 |
| Caliber: .45 ACP | Caliber: .45 ACP |
| Overall Length: 8.0 in | Overall Length: 8.03 in |
| Height: 5.5 in. | Height: 5.47 in. |
| Width: 1.3 in. | Width: 1.27 in. |
| Barrel Length: 4.7 in. | Barrel Length: 4.6 in. |
| Weight with empty mag: 29.5 oz | Weight with empty mag: 29.3 oz |
| Frame Material: Polymer | Frame Material: Polymer |
| Slide Material: Steel | Slide Material: Steel |
| Finish: Nitron | Finish: Melonite |
| Action: DAO, striker-fired | Action: "safe action" DAO, striker-fired |
| Barrel Rifling: Lands-and-grooves | Barrel Rifling: Polygonal (octagonal) |
| Magazine Capacity: 10 rounds | Magazine Capacity: 13 rounds |
| Bore axis: 1.78 inches | Bore axis: 1.27 inches |
Both the SIG P320 and the Glock 21 are robustly made, reliable, have good fit and finish and use polymer frames. Both also use a DAO (double action only) trigger mechanism.
So apart from the two pistols being manufactured by two companies well known for their products' reliability, they share a few similar things. But let's look at how each is different from one another so we can decide which is better for your use case scenario.
Dimensions and Weight
If you've been following this series of Handgun Showdowns you'd be familiar with how we normally compare handguns.
Full size handguns most of the time are great for home defense, competitive shooting and hunting (in the case of handguns chambered for 10mm at least).
But since they're bigger, it's automatically assumed that an ultra-compact, a sub-compact or even a compact handgun would beat them out when it comes to concealed carry.
Smaller guns are just inherently easier to carry concealed. That's why we don't bother talking too much about carrying a full size handgun concealed. There's no point.
Not this time though. All SIG P320 pistols having a modular design means these can be great for almost everything — provided you're willing to spend extra on the Caliber X-change kit, more on that below.
The full size SIG P320 chambered in .45 ACP can be had in a compact frame by changing the grip module. When converted, the SIG P320 will have a longer slide and barrel while having a shorter grip and shorter dust cover, giving it a bit of a railed 1911 look.
This compact version has an overall height of 5.3 inches which is two tenths of an inch shorter than the full size P320 and seventeen hundredths of an inch shorter than the Glock 21. The compact frame's width measures the same as that of the full-size version though, which makes it three hundredths of an inch thicker than a Glock 21.
Converting the full size P320's frame from a full size to a compact makes it easier to carry concealed as the shorter grip will not print as easily as full size grips.
Some Glock fans might cry foul when they see the comparison of dimensions above — they might say the comparison of compact pistols should be between the compact SIG P320 in .45 ACP and the Glock 30.
I might do that comparison in another article, but do keep in mind that this is an inherent advantage of the SIG P320 being a modular handgun platform. In this area, the SIG P320 in .45 ACP has a better value proposition than the Glock 21.
Back to comparing full size handguns, the full size SIG P320's frame isn't that much bigger than the Glock 21's — it's only about three hundredths of an inch wider and also three hundredths of an of an inch taller, so as far as width and height, both handguns measure about the same.
But the full size SIG P320's overall length measures eight inches even, which is three hundredths of an inch shorter than the Glock 21's overall length. Yet the former has a 4.7-inch barrel, a tenth of an inch longer than that of the latter.
Barrel
A shorter overall length that can accommodate a longer barrel is always a winner in my book — that said, SIG P320 barrels use a traditional lands-and-grooves type of rifling while all Glock barrels use a polygonal type of rifling (octagonal rifling in the case of Glock .45 ACP and .45 GAP barrels and hexagonal for all other smaller diameter barrels).
Glocks are known to push bullets faster because of their use of polygonal rifling, the only downside to it being Glock advises against shooting lead bullets in their barrels. If you'd like to know more about it, feel free to read this article where I talked about it greater depth.
Slide and Frame
Both handguns having a frame made of polymer means they weigh significantly lighter compared to other full-size handguns that use an all-steel or aluminum alloy frame.
Both also have steel slides, which is why both pistols are in the same weight category. That said, the SIG P320 full size is around a tenth of an ounce lighter than the Glock 21.
Finish
The base model .45 ACP-chambered SIG P320 that we're looking at today has a black finish SIG Sauer calls "Nitron", while all Glock Gen4 pistols use "Melonite".
These companies sure like to give fancy names to their guns' finish. Having been brought up with 1911s and revolvers the only gun finishes I know are blued, parkerized, nickel-plated and stainless, so I decided to do a quick research on how Nitron and Melonite compare when it comes to corrosion resistance.
All SIG Sauer P320 pistols use a process called PVD (Physical Vapor deposition). The slides are bombarded with ions while in vacuum, which results in a protective coating applied to the metal surface by way of metal vapor. This gives the finish a rating of around 70 in the Rockwell C Hardness scale. In the case of Nitron, color is added to the PVD process to give P320 slides a black finish.
In contrast, Glock uses a ferritic-nitrocarburizing salt-bath process called Melonite (Glock enthusiasts argue that the company has always used Tenifer until 2011 when they first started using Melonite on Gen4 handguns — both Tenifer and Melonite are trademarked processes sold by the same company) to treat the slide's surface.
Both Tenifer and Melonite are reported to have a rating of 64 in the Rockwell C Hardness scale. The coating on top of the treated slides is a little different compared to previous generation Glock pistols, which results in Gen4 having a lighter shade of gray finish compared to the somewhat blacker finish in previous Gen1 to Gen3 Glocks.
If all these online data on hardness are accurate, the SIG P320's finish should be a bit more durable than that of the Glock 21.
---
The SIG P320
In January 2014, the first SIG P320 pistols (chambered in 9x19mm Parabellum) became available in the US civilian and law enforcement market. At first glance these were just the same SIG P250s, the only differences being the early P250s used a DAO (double action only) hammer-fired mechanism and had a steel frame, while the newer P320 uses a DAO striker-fired mechanism and a polymer frame.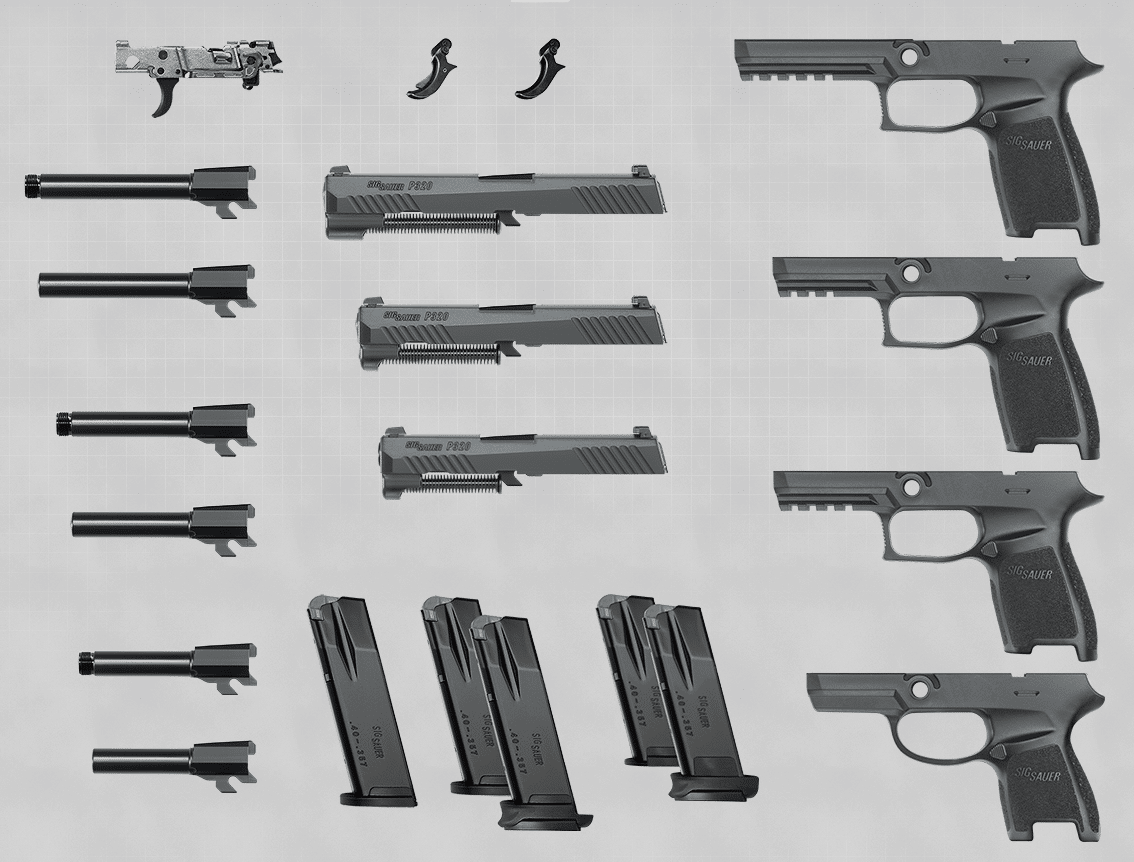 But what could be the P320's most defining attribute which would three years later win it the US Military's (MHS) Modular Handgun System contract by besting other polymer pistols of competing gun manufacturers is its modularity, akin to the AR platform.
In fact it's what SIG designed these pistols for. Inside the P320's frame is a trigger assembly housed in a stainless steel chassis called the FCU (Fire Control Unit). It has the trigger and all the linkages and springs necessary for the gun to fire.
This FCU trigger assembly group can be removed and installed to four different size frame (full size, compact, carry and subcompact) by the user and requires no knowledge of gunsmithing or tools. This is achievable via SIG Sauer's Caliber X-change kit.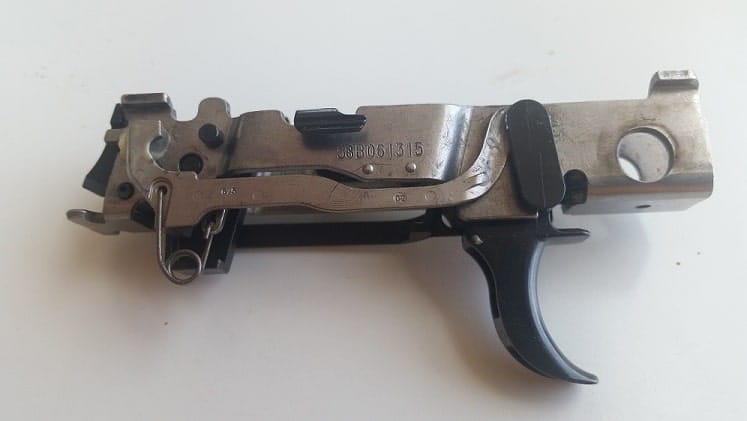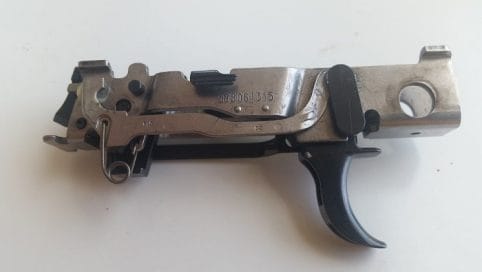 Talking about the trigger, SIG Sauer states in their website that the P320's trigger reset is short, cleaner and crisper compared to their competitors' handguns (they were obviously making a reference to Glock's pistols being their closest rival, as people who own Glocks regularly talk about how mushy the Glock trigger feels).
And disassembly is also supposedly safer because the trigger does not have to be pulled, eliminating potential risks of accidental discharges (again they were obviously making a reference to how a Glock pistol's trigger has to be pulled to field strip the gun).
The SIG P320 chambered in .45 ACP was introduced in 2015, just a year after the first 9mm-chambered version came out. Like all other P320s that came before it, its frame can be swapped out to a smaller frame.
But as great as it is, there's one thing the Glock 21 has going for it that the P320 doesn't. We'll talk about that in more detail in a bit.
---
The Glock 21
Developed in 1990 with the first production models released in the middle of the following year, the Glock 21 is chambered for the .45 ACP and is one of the very few full-size pistols manufactured by Glock.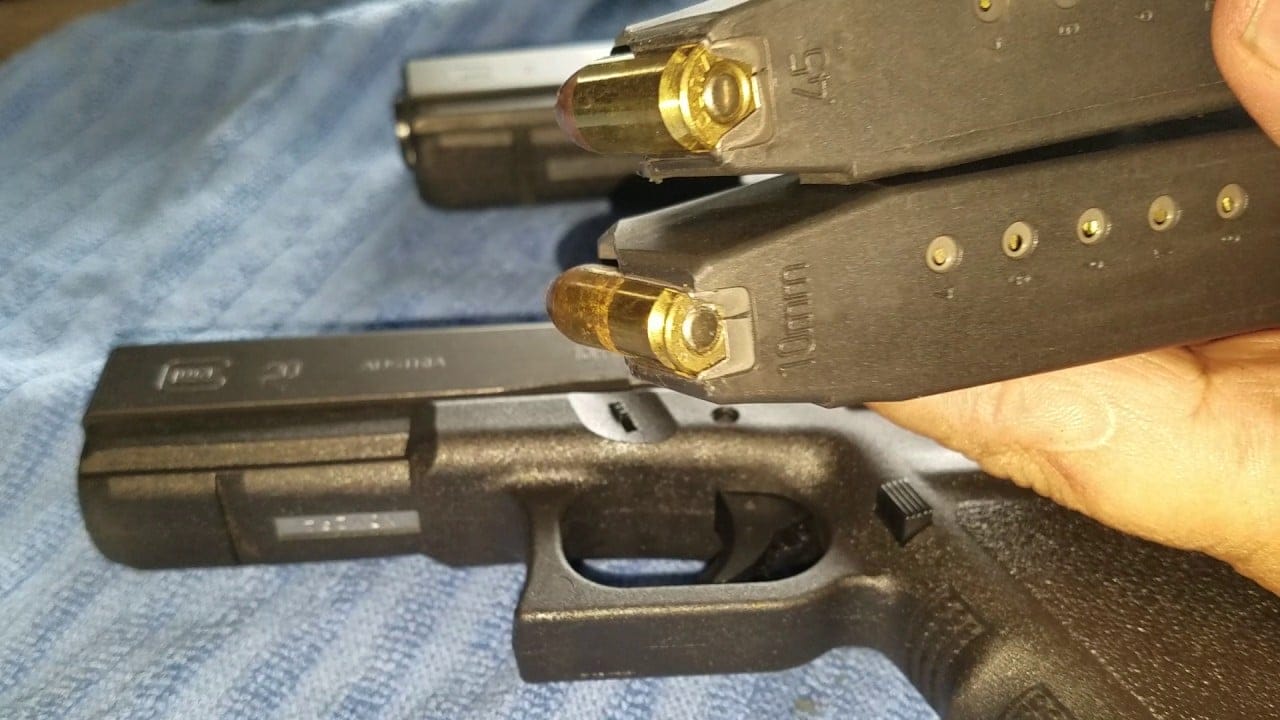 The Glock 21 is essentially a Glock 20 as far as weight and dimensions, the only differences being the caliber it is chambered for (.45 ACP for the former, 10mm for the latter) and that it uses that octagonal barrel rifling mentioned earlier.
I actually did a comparison between the Glock 21 and the Glock 21, you might want to take a look at it in this article. One thing I touched upon in great length when I compared those two was the option to convert either model to a different handgun caliber.
Unlike the SIG P320's fully modular design, no Glock pistol's trigger assembly can be removed for installation in another different size frame. If you bought a full-size Glock 21 and you want a subcompact pistol chambered in the same .45 ACP caliber, the only way you can have one is by buying a Glock 30 or a Glock 36.
But what's so great about the Glock 21 — and all other Glock pistols for that matter (besides being the reliable handguns they are) — is the fact that you can convert one to a totally different caliber with just a barrel, recoil spring and extractor swap in a lot of cases.
The same easy caliber conversion can be only done to SIG P320s chambered in either .357 SIG or .40 S&W (as either caliber uses the same slide and magazine, only a barrel swap is required to convert from one caliber to another).
The SIG P320 chambered in 9mm can be converted to .357 SIG or .40 S&W but it will require a different upper and a different magazine.
---
The SIG P320's Conversion Issues
Sadly, the SIG P320 chambered in .45 ACP is one very lonely handgun in its caliber category. Firstly, there are no Caliber X-change kits currently available for the P320 in .45 ACP. SIG Sauer does plan to release them, but they're not available at the moment.
Secondly, the SIG P320 in .45 ACP cannot be converted to any other calibers. Not that this is such a big deal, as most gun enthusiasts would tell you to just buy two different guns if you want to shoot two different calibers.
And don't get me wrong, I think that advice does make sense (especially when factoring in the price of a new Caliber X-change kit from SIG). But still, for a handgun design that is supposed to be fully modular, this is where the SIG P320 in .45 ACP is outplayed by its Glock counterpart.
The Glock 21 on the other hand has a ton of caliber conversions available: 10mm, .50 GI, .400 Corbon, .40 Super, .45 Super, and .460 Rowland, among others. This makes it even more versatile than the SIG P320.
Now I'm aware of posts by people on a few different gun forums saying the P320 chambered in .45 ACP can be converted to any of the three smaller calibers (9mm, .357 SIG, .40 S&W). While they do sound knowledgeable enough to be believed, since SIG Sauer is keeping quiet about this, I would rather stay safe than risk a catastrophic failure and possibly lose a few fingers in the process.
Sights
The SIG P320 has good sights out of the box. These sights are made of metal and give a better sight picture compared to the Glock 21's (and all other Glock pistols') stock sights that are made of plastic and can easily break.
Also, the U-notch and dot sight pattern on the Glock's stock sights doesn't work as good as the 3-dot sight pattern on the SIG P320's stock sights.
On sight radius, the full size P320's sight radius measures 6.6 inches, while the Glock 21's measures 6.77 inches, making the latter seventeen hundredths of an inch longer than that of the former.
As we discussed in one of these Handgun Showdown articles, a longer sight radius results in better accuracy. You can read more of it here.
What this means is the Glock 21 should be a tad bit more accurate than the full size P320.
Slide serrations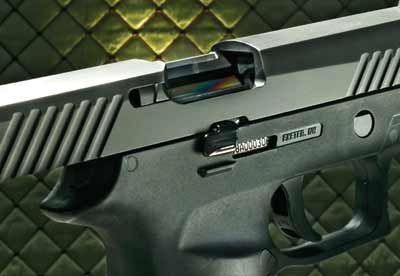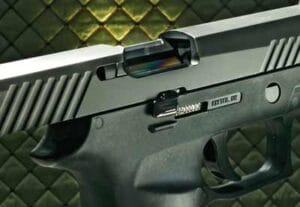 The SIG P320 has front slide serrations out of the box while the Glock doesn't. Depending on your preferences when it comes to racking the slide, the SIG P320 might be the better deal.
Ergonomics
The SIG P320's grip have contours on all its surfaces with palm swells on both sides of it, which allows for a more positive purchase on the grip without requiring the use of removable back straps of different sizes like those included with Glock Gen4 pistols.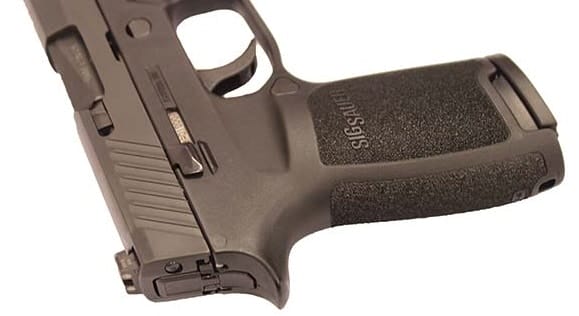 In contrast, all Glock pistols feel blocky because none of them have palm swells baked into the grips. Even the Gen4 pistols with any of the backstraps installed feel blocky, and a lot of people I know complain about those finger grooves too.
Bore Axis
This is a big subject and deserves an entirely different article just by its complexity, but bore axis describes the measurement of the distance (typically in inches) between the shooter's grip and where the barrel and slide sits on top of it.
Ideally, the barrel and slide should sit as close to the shooter's grip as possible, giving it a low bore axis. A low bore axis results in less muzzle flip which in turn results in better recoil management and faster and more accurate follow-up shots.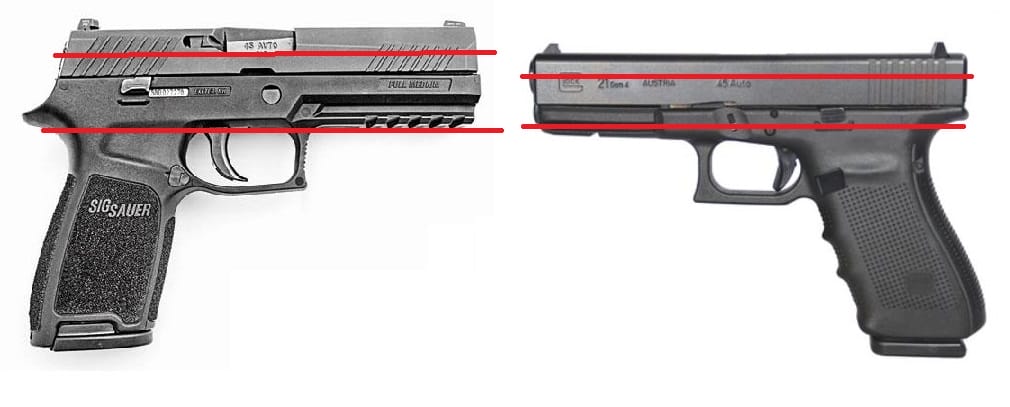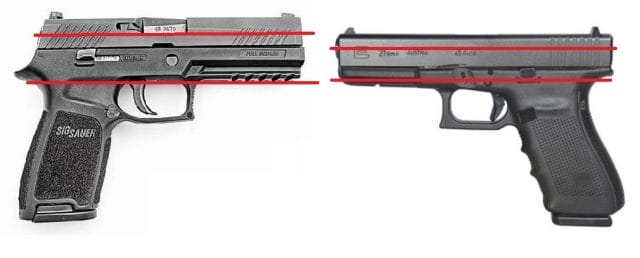 The Glock 21's barrel height measure from the highest part of the grip to the center of the barrel is only 1.27 inches, which gives it a significantly lower bore axis compared to the SIG P320's somewhat high bore axis of 1.78 inches. This is why a lot of SIG P320 owners complain about its muzzle flip.
Slide catch and release lever
SIG P320 owners also complain about the placement of these pistols' slide catch/release lever being too far to the rear. I haven't heard or read of any similar complaints from any Glock owner.
Safety failure
In the middle of last year, just a few months after winning the US Military's MHS contract, news of the SIG P320 resulting in accidental discharges when dropped at a negative 30° from a certain height spread like wildfire all over the Internet.
There are several credible YouTubers who covered this issue, the first of which was a channel called Omaha Outdoors. It was determined that the weight of the SIG P320's thick trigger (the metal piece itself — not the trigger pull measured in weight) is too heavy.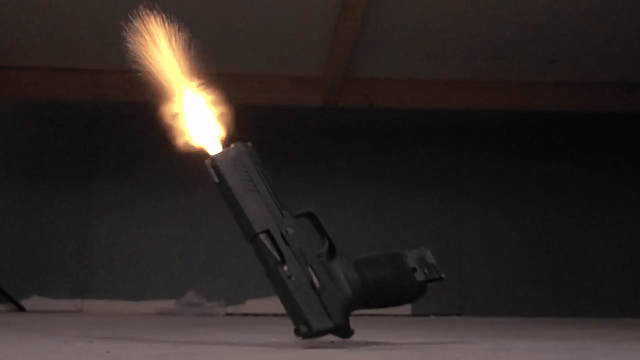 When the gun is dropped at a negative 30° angle, the inertia from the force of the drop results in the thick and heavy trigger of all civilian P320 pistols defeating the safety mechanism, causing the handgun to fire (it was noted by SIG in a press release that the military versions exhibited no such malfunctions when the USMC conducted their tests which SIG Sauer passed with flying colors).
SIG Sauer has since announced a Voluntary Upgrade Program (more like a recall which I think SIG refuses to label as such to avoid all possible class action lawsuits) to all SIG P320 owners.
Upon sending in their P320 back to the factory, a thinner and lighter trigger is installed along with other upgrades like a skeletonized striker, a new mechanical disconnector and a new sear. These upgrades should effectively eliminate any potential accidental discharge issues.
Though Glocks are known to have zero external safety features, news of this type aren't as as sweeping as that of the P320's.
State compliance
In non-free states (e.g. California), it can be difficult, even impossible to purchase Gen4 Glock pistols being they are not on the Roster of Handguns Certified for Sale (i.e. they're non-rostered).
What that means is Glock didn't submit these pistols for approval to certain states because their guns don't meet certain requirements legislated by such states. As such, local gun stores within such states do not have them in stock.
The same is not true for the SIG P320. They have certain SKUs that are state-compliant with non-free state laws. Just go to their website and scroll down toward the bottom of the page — they have a whole list of these state-compliant SKUs.
Ammo Capacity
This entry should really be under state compliance but being such a large topic in and of itself, we won't be covering non-free states' restrictions on magazine round counts.
For the benefit of people living in any of the free states, the full size SIG P320 in .45 ACP uses a 10-round mag while the compact version uses a 9-round mag.
On the other hand, the Glock 21 uses a 13-round mag. That's a whopping 30% more .45 ACP firepower compared to its full size P320 counterpart, and 33.33% more compared to the compact P320 version.
Pricing
As of this article's writing, the full size SIG P320 costs $597 on SIG's website. It comes in a carrying case installed with the regular 3-dot contrast sights, two 10-round mags, and a holster. Upgrading the factory sights to SIGLITE (SIG's brand name for their 3-dot night sights) will cost an additional $82.00, bringing the total to $679.
The compact grip module for converting the SIG P320 to a smaller CCW piece costs only $44. Adding that to the $679 price tag on the SIGLITE package, the total will be $723 — the cost of the entire package.
On the other hand, the Glock 21 Gen4 comes in a carrying case with four different backstraps (two of which are beavertail-type grips), three 13-round mags and an ammo loader. It retails for $599 on Glock's website.
---
So which is better?
I'm giving points to the SIG P320 for the following:
Concealed carrying is easier because the grip length can be changed by installing the FCU in a compact grip module.
Factory 3-dot contrast sights are easier to aim with and more dependable being made of metal, much better than Glock's stock plastic sights everyone hates.
Compliance with more non-free state laws and the fact that it is now the US military's standard issue firearm mean there will be zero availability issues.
Better Ergonomics with contours and palm swells on the grip and front slide serrations so it will be easier on the hands.
PVD finishing process is reported to be slightly better than Melonite (70 HRC vs. 64 HRC). And Gen4 Glocks are reported to have more spot rusting compared to other generation Glocks.
Aesthetically pleasing especially when compared to Glocks (I've always hated how Glocks look).
The base model without the upgraded sights and aftermarket grip module is $20 cheaper than a stock Gen4 Glock 21.
And the Glock 21 Gen4 gets points for the following:
Can be converted to a ton of different calibers, making it the more adaptable platform for more use case scenarios.
Relatively the safer option, as no Glock pistol I know has ever had problems with drop tests (unlike that little fiasco about SIG P320s going off when dropped at a negative 30° angle).
Holds 13 rounds in the mag, which is much better compared to the SIG P320's that can only hold 10.
Lower bore axis makes it easier to shoot fast and accurate follow-up shots.
Bullets come out of the barrel faster because of the polygonal rifling design.
No issues with manual controls (unlike SIG P320 owners complaining about how far back to the rear its slide catch lever is).
For $599 you get three 13-round mags, so you get literally more bang for your buck (don't even get me started with SIG owners complaining about how expensive those Caliber X-change kits are).
---
Conclusion
This has been a real tough comparison. Both handgun platforms have their fair share of pros and cons.
Either one excels where the other one fails, to the point it's making me think, did SIG Sauer and Glock conspire so that handgun enthusiasts like you and me would never be satisfied with either and end up buying both?
Nah I think it's just my overactive imagination. But I digress.
If you're in the market for a full size .45 ACP pistol, both the SIG P320 and Glock 21 will be great options, but do take note of that bulleted list that summarizes everything on top. It'll also make sense to go to a range where you can rent these pistols, then shoot both and see which one you handle better.
So, for Round 8 of our series of Handgun Showdowns, it is with much frustration that I'm shaking my head right now as I have to declare this match a draw.
Related Reads: