For the serious outdoorsman, finding a scope that is flexible enough to deal with all the different situations you find yourself in can be a real challenge. Often scopes are designed with just one purpose in mind, and outside of this specific use they do not perform well.
Well, I think I've found a solution. The ZeroTac Tactical Scope is a device which is well suited to a vast variety of activities, from hiking and fishing to serious marksmanship. It's unique 10 x 42 Dual Focus Optics Zoom is an amazing piece of technology, delivering superior light transmission when outdoors, and the level of zoom on this scope has to be seen to be believed.
IMPORTANT: This scope has been discontinued, but we have some alternatives suggested for you to consider. Click here to check them out.
Get Great Guns and Ammo Deals!
---
Things to Consider Before Buying
Scopes like these are becoming increasingly popular amongst serious gun enthusiasts and amateurs alike. They offer previously unheard of levels of zoom, allowing the user to see detail in a scene which is all but invisible to the naked eye. The huge advantage with this scope is its flexibility – it is extremely lightweight, and can be used for a vast variety of outdoor activities.
That said, this scope might not be suitable for some people. Note that it is not a gun-mounted scope, and is not used for lining up a shot with your rifle. That said, if you are serious about hunting, having a handheld scope like this is invaluable, as it allows you to spot animals at great distances, before getting your rifle out for your shot.
You tube video:
Features and Benefits
The tactical scope by ZeroTac has many benefits that set it apart from the competition. Whilst this type of scope is still under-used by marksmen and hunters, note that having a handheld scope like this, in addition to the scope on your rifle, can be really useful when out hunting.
Magnification
The magnification offered on this scope is quite amazing. It offers a 10 x 42 Dual Focus Optics Zoom, which smoothly zooms into whatever you are pointing the scope at. Even at high zoom levels, the image in the scope is remarkably free of distortion, meaning that you can scan a landscape quickly and easily.
The zoom level quoted on this scope is 1200 % , though I feel that in practice it feels like even more. Perhaps this is a consequence of the zoom level being extremely high – other scopes I have tested now feel like they do not offer anywhere near enough zoom to be able to see all the fine details.
This high level of magnification makes the scope extremely well suited to a variety of purposes. I guess, if you are reading this review, that you are primarily interested in a scope for hunting, or in any case one to use with a weapon. However, there are times when it simply feels great, when hiking into the mountains for a spot of hunting, to be able to see the landscape in all its glory.
Image Quality
The image quality offered by this scope is great, and remarkable in such a small device. I'm not sure, given the few lenses this scope appears to have, how ZeroTac have achieved this, but I like what I see.
The glass used here is low dispersal, meaning that almost all of the light in the scene is transferred through the lenses to your eye. This makes the scope particularly well suited to low light conditions, since even in the murk of the evening you are still able to pick out details in the scene that are invisible to the naked eye.
Even at high zoom levels and in low light, the optical system here suffers very little from spherical aberration. Whilst, for most hunters, this is not so much of a concern, it can be a distractions when you are out hunting with the scope.
The scope also offers a huge range of view. It will encompass 66 M at 8000 M, meaning that even when fully zoomed in the view does not become uncomfortably narrow. This is of especial importance when you are scanning the landscape for animals to shoot, because with some other scopes the field of view is so narrow you have to constantly move the scope around, impeding your technique.
Build Quality
As you would expect from what I have already said, the build quality of this scope is also second to none. The outer casing feels solid and robust, and I'm confident that even in the most demanding of situations the scope will not break under normal knocks and scrapes.
The matt black casing also reduces shine when out hunting. If you are using this scope to check out a group of deer as your are stalking them, it is nice to know that the scope will not glint in the sun and give your position away.
The optical options on this scope, such as the focusing and zoom rings, are nicely weighted. There is nothing worse than a scope which is too stiff, and that you have to take away from your eye in order to adjust. The controls here stay where you put them, even if you are walking forward whilst looking through the scope, but are equally easily to adjust when needed.
Accessories
This scope also comes with a great range of accessories that have been specifically designed for use with it. This adds a great deal of value to what would otherwise be a great scope, but one that ultimately will be useful to only a small percentage of gun enthusiasts.
First and foremost, the scope comes with a Nylon holster. The holster, in itself, is built well, and I'm confident that it will give many years of reliable service. If you are carrying a separate scope like this, sometimes it can be awkward to carry alongside your rifle, ammunition, and perhaps a handgun. The holster for this scope is nicely compact, meaning that it will not get in the way, even if you are lying in the dirt, lining up our shot.
In addition, the lanyard that comes with this scope adds a great deal of usability to it, allowing you to easily tie the scope to yourself or your pack, and ensuring you don't drop it in the muck.
Use With a Weapon
The major disadvantage of a scope like this, which is not attached to your rifle but rather a separate item, is that for many people carrying just one extra piece of equipment when they are out hunting is too many. You are likely to already have ammunition, and perhaps a hangun, slung around your waist, and adding another item can feel like a hindrance, and ultimately distract you when you are lining up your shot.
In my opinion, however, a scope like this is invaluable for the the serious hunter. Sure, the telescopic sight on your rifle also allows you to aim it, but scopes of this type generally offer an extremely narrow field of view. And in any case, most of the work of hunting is in stalking, and no one wants to have to continually raise their rifle to eye level in order to ascertain how the animals are moving.
For most serious hunters, therefore, a scope of this type is a great addition to your hunting gear, and in my opinion Tactical Scope is one of the best available at the moment.
Pricing
This is a moderately expensive item of its type, and I would therefore not recommend it for anyone. ZeroTac make much of the fact that they have designed this scope for a range of different activities, and that even causal hikers can use it. Whilst it may add value to wandering around in the woods, spending this kind of money on a handheld scope is really only worth it if you are hunting regularly.
Alternative Tactical Scopes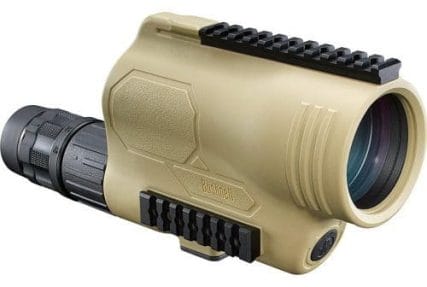 The legend Tactical spotting scope is built with a sense of duty and a commitment to excellence – the same attributes that live in the hearts of the Brave men and women who uphold the American way of life.
The Barska 11-33×50 WP Tactical angled spotting scope is ideal for both Tactical and hunting environments. Features an angled focusing eyepiece system with a side focusing knob for magnification adjustment. The mil-cross reticle helps the viewer calculate the distance of an object. It also features an easy to use twist-up eyepiece.
---
Our Final Thoughts
In general, this scope is a great example of its type. The first thing to note is that it is NOT a scope for sighting with your weapon, but rather a device to be used in addition to the scope you already have on your rifle.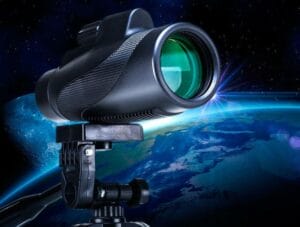 That said, a handheld scope like this is an invaluable addition to any hunter's equipment. As any serious hunter knows, 90 % of the skill of shooting deer is stalking them, and a scope like this allows you to easily scope out the situation before you draw your rifle.
This scope, which offers an incredible level of magnification, has the advantage over many other scopes of this type. It is built solidly, the controls are nicely weighted and work well, and the image quality of the scope is great even in low light. Whilst we do not recommend this scope for the amateur hunter, for the professional it is a great piece of kit.
Related Reads: