Shotgun Scabbards have seen an uptick in popularity as of late. Scabbards themselves have been around for a long time and have been used often to carry a weapon while riding horseback.
While scabbards became less common as horses became outdated transportation they never fully disappeared. Recently the uptick in the tactical market has brought them back with a vengeance.
Shotguns are often regulated to specialty roles and are rarely a primary weapon these days. This makes shotgun scabbard holsters the perfect companion to carry them.
A scabbard across the back gives the operator the ability to carry a primary weapon while keeping the ability to draw a shotgun when it's needed. While the tactical realm has benefited greatly from this advancement so has the civilian world, especially hunters.
Get Deals on Guns and Tactical Gear
Join 70,000 Readers For Our Weekly Discounts
---
The Modern Scabbard
Leather is cool and has a flair to it that polymer and synthetic materials never will. Leather also has a number of downsides and there is a reason its been replaced by more modern materials.
Shotgun scabbards these days are made from nylon and cordura materials. These materials are water resistant, tear resistant, and resist outside elements much better than leather. These materials are even more affordable and easier to manufacture.
Modern materials also allow for a greater element of customization and modernization. Modern shotgun scabbards offer shooters the ability to stow extra ammo, change size, and even alternate carry methods.
Modern scabbards are equipped with MOLLE/PALS compatible webbing. This allows direct attachment to a vest or pack without the need for lashing.
Modern scabbards are also designed for modern shotguns. The shotgun as a platform is simple but has evolved significantly over time. With accessories like side saddles, flashlights, and slings you may need a scabbard that accommodates the necessary tactical gear.
Also, shotguns, in general, vary greatly in size. The scabbard designed for a small breaching shotgun isn't going to work for a full sized combat shotgun.
The modern shotgun scabbard is designed to work in tactical environments, but aren't limited to tactical environments. They offer advantages to hunters as well.
Unlike a sling, they do protect the weapon almost entirely. This means when you're moving through rugged terrain the gun is protected and secure.
It less likely to bounce, bang, and bruise the shooter when moving through a thicket. For bird hunters on an airboat, a scabbard keeps the gun's dry until they're in position. The list of why a shotgun scabbard is great for a hunter just goes on and on.
---
How a Shotgun Scabbard Works
Of course, the scabbard is simple, put the gun in and call it a day right? Well yes, but there is a little more than that with a modern shotgun scabbard. The scabbard itself is worn one of two ways, either across the body or on the vest.
Across the back is a more traditional means to carry the gun. This doesn't require a vest or pack. It sits diagonally across the body and the gun can be drawn multiple ways.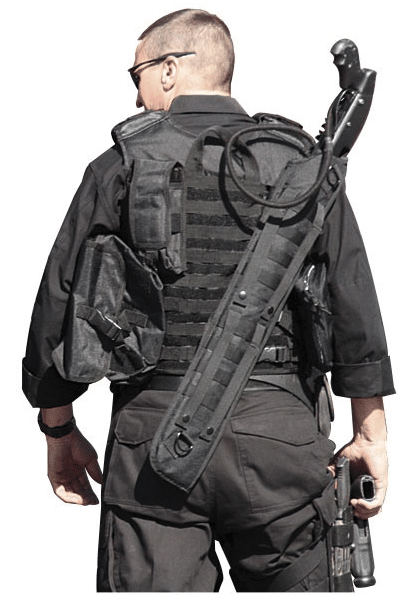 When it's equipped with MOLLE/PALS webbing the shooter can mount this directly to their plate carrier or tactical vest. Mounting it to the rear of the vest allows you to keep it close to the body, and provides simplicity by eliminating the strap.
With the scabbard attached directly to a MOLLE platform, it's secure and not moving an inch. It also stays in the same place at all times.
Scabbards should always be attached or worn low to increase your ability to draw the shotgun. If the shotgun scabbard is mounted too high it will difficult to draw the shotgun.
Inside a building, it may be impossible to draw without taking a knee. Mount the scabbard as low as you can while still being able to reach the gun.
With this mind who makes a good shotgun scabbard? Good question. A number of companies make a number of different options. We dove headfirst into the Shotgun scabbard world and came out with our top 4 shotgun scabbards.
---
Top 4 Shotgun Scabbard Holsters
This particular shotgun scabbard is designed for ultra short shotguns. These can be pistol grip only shotguns, firearms like the Mossberg Shockwave, or short-barreled shotguns. It's compact and small so it stays out of the way.
This is the shotgun scabbard you use when the shotgun isn't your primary weapon, but just a breaching tool. It's a little under 20 inches long, so it's not appropriate for a full-length shotgun. It's also got a big mouth. This means it can accommodate side saddles that are common on shotguns.
The scabbard features a series of loops on the front to carry extra shotgun ammo. The scabbard can be carried one of two ways. It can be attached via a MOLLE compatible straps on the back or a more traditional sling. You can attach it directly to your tactical vest or plate carrier or alternatively to a pack.
The downside is this scabbard doesn't cover the trigger guard of most shotguns. This means the weapon should be carried with an empty chamber.
This isn't a major issue when you factor in its design. It's perfect for guys already equipped with a fighting gun and are using the shotgun as a breaching tool.
---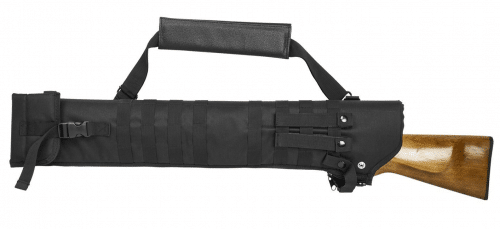 The Vism Shotgun Scabbard comes from NCStar and offers a high level of modularity to the platform. At the end of the scabbard is a folding attachment that allows you to tailor the bag to the size of your gun.
The tip of the bag can be folded upwards and attached via a buckle to change the size of the scabbard. The Scabbard can be as short as 29 inches and as long as 34.75 inches.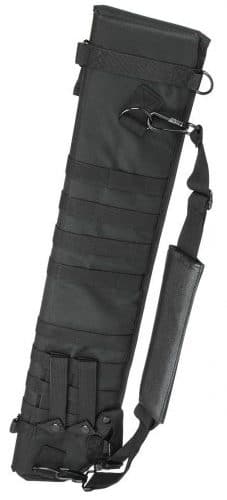 This is a great feature for a shotgun scabbard because shotguns, in general, are very dynamic weapons that come in a multitude of different sizes and shapes. The Vism shotgun scabbard can also be attached via PALs webbing to a pack or plate carrier with ease.
Additionally, you got that shoulder strap and 4 different positions to mount the strap to. This makes it ambidextrous and excellent for lefties. The PALS Straps are even customizable and allow you to slide it up and down the shotgun scabbard to make it a good fit for you.
Additionally, the PALS webbing across the shotgun scabbard allows you to customize and add pouches and even shotgun ammo carriers to the scabbard.
The biggest downside to the Vism is going to be the relatively small mouth that makes fitting shotguns with side saddles difficult.
---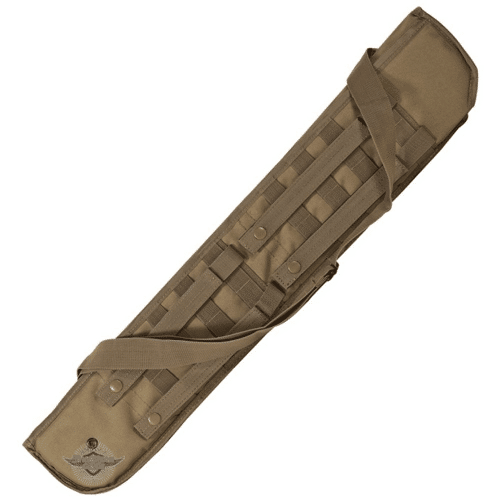 The 5tar Gear shotgun Scabbard is perfect for those shooters rocking a heavier shotgun. This could be a convenient way of carrying a main battle weapon like the Benelli M4 without issue.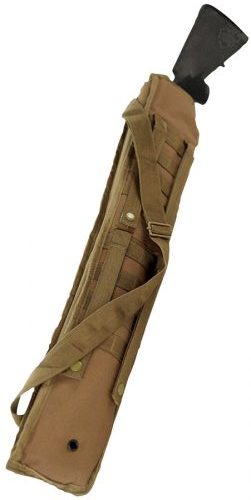 This 29-inch long shotgun scabbard is designed with dual PALS/MOLLE attachments so it remains superbly secure when carrying a heavy shotgun. It allows really easy attachment to both vests and packs. The dual straps allow both customizable placement and the increased security.
You can also sling it across your back via a nice wide and broad strap. The wide strap makes it more comfortable for carrying those large and in charge shotguns. The scabbard is also very well padded and protects the weapon well from being bumped, bruised and scratched.
The padding also keeps it from poking and prodding you when carried across the back. The only downside to this scabbard is that the padding creates a tight fit. Some may find it difficult to draw the weapon due to how snug it is.
On the flip side, the snug nature ensures everything stays in place when you are running, climbing, driving, etc. The scabbard itself is well made and perfect for use on the range, on horseback, in a vehicle, or anywhere else.
---
We mentioned the Voodoo Tactical Breacher's shotgun scabbard, and now we are going to take a look at the scabbard they make for full-sized shotguns. This Scabbard is perfect for that that secondary weapon that fulfills a specialized role like less lethal tasks, and close quarters room clearing.
For those tasks, you need a shotgun with a stock and a scabbard that can support it. This scabbard also has a little extra room to accommodate side saddle stocks, which are a must-have on combat shotguns.
This particular shotgun scabbard also comes equipped with a machete sheath which doubles its usefulness. The Voodoo Tactical shotgun scabbard was designed to accommodate the most common combat shotguns, including the Mossberg 590, the Remington 870, and Benelli M4.
The Voodoo Tactical Scabbard has two sets of PALS straps and one wide shoulder strap for slinging it. While it was made with tactical use in mind it would work well for hunting and for self-defense while hiking.
The Voodoo Tactical shotgun scabbard is a touch short for standard length shotguns and leaves the trigger is exposed. This means the gun should be carried with an empty chamber. Shotguns with shorter barrels fit nice and snug though.
---
Mounted Up
A shotgun scabbard can be a must-have tool if you need to carry a shotgun as a secondary weapon. A shotgun scabbard acts as both a shotgun holster and protective case for it.
Weapons like the Mossberg Shockwave and Remington Tac 14 are absolutely perfect for shotgun scabbards and offer a modern, efficient, and effective means to carry a shotgun.
Just make sure you match your need and your shotgun to the scabbard. If you can do that, you'll be golden with any of our suggested scabbards.
Related Reads: