Are you looking to take your AK-47 to the next level?
I have used quite a few of the options out there and have put together a list that I believe highlights the best of the best from all the different categories of available AK-47 upgrades.
This list aims to help you make an informed decision when the time comes to choose your next AK-47 modification.
Don't have an AK? Don't worry, we got you covered there too! Check out our AK-47 buying guide right here.
Get Great Guns and Ammo Deals!
---
1. AK Scope Rails
First up we have what might be one of the most important upgrades to start with because with a scope mount a whole world of optics opens up!
The guys over at Midwest make some of the best AK add-ons. Let's take a look at a few different mod options.
Midwest Industries AK Railed Scope Mount
This particular Midwest Industries Rail is exceptionally versatile by adding a Picatinny rail to the top of your firearm.
Securely attaching to the side of the AK, this mount can still detach quickly for storage and cleaning. Just don't over tighten the mounting lug and be sure to fully read the instructions to master the disengagement system.
The red dot sight I attached to mine was really good at keeping a solid zero even after being removed and reattached.
Midwest Industries AK 30MM Side Mount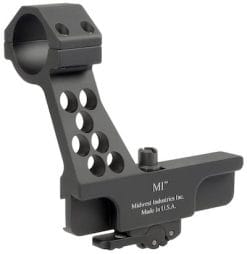 If you only want a 30mm red dot without the weight of the entire Picatinny rail set up then check out the AK 30MM side mount from Midwest.
Midwest Industries AK 30mm Scope Mount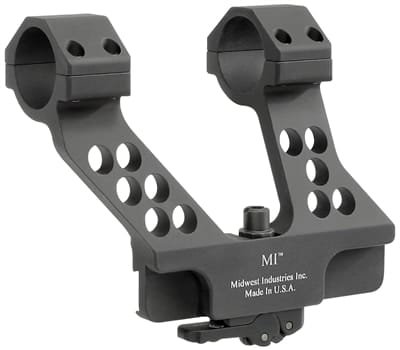 If you already have a favorite sight and want to transfer it to your AK then Midwest has a great option to consider.
Designed to offer a stable scope base and a natural feel to aiming while adding as little weight as possible!
Tacksports AK Rail – (Best for Those on a Budget)
I haven't had the chance to use this one myself but I have seen them around and I've heard plenty of good things. While this is a decent mount, it is designed for those who are on a limited budget, not that there's anything wrong with that.
---
2. Gas Tube Optics Mounts
This is my preferred way of adding a rail to my own AK's.
This mount setup is very solid and keeps its accuracy in large part because it doesn't have to be removed like the side mounted frames. The only real drawback is that heat can be transferred to the optic during rapid action, but most high-end sights are made to deal with it.
The fact that the optic is further up the rifle can feel a bit awkward at first, and it may seem like it takes forever to find the dot. This is quickly cured with a little time at the range, practice makes perfect after all.
Ultimak AK Optic Mount
Ultimak's AK mount has been my choice for years and has never let me down!
Midwest Industries AK Gas Block Mount

Midwest released their own version with a built-in adjustment nut that makes installation a snap. In my opinion, it was a lot simpler install than the Ultimak. I recently picked up one of these Midwest block mounts for myself and I am still putting it through the wringer.
So far, I can safely admit that I am in love with it.
---
3. Handguards
The AK was designed with a really good forward area and gives the shooter a great purchase on the weapon, but even excellence can be improved upon.
Here are a few of my favorite modifications to add flavor to the front of an AK.
Magpul AK Handguard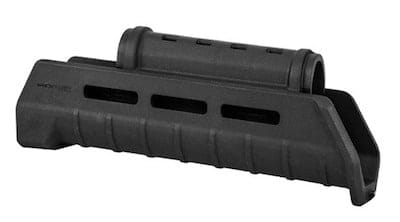 Designed to give the shooter a much better grip and open up M-LOK mounting locations while managing the heat with ease.
Midwest Industries Railed Handguard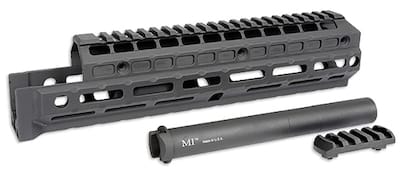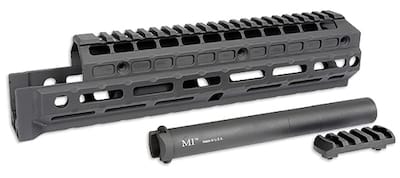 For those of us that love Midwest Industries… they have a few offerings available at the moment to suit your specific needs.
If you prefer to use M-LOK, Midwest has got you covered there too!
---
4. Buttstocks
While factory buttstocks are perfectly fine and don't lack much, there is something about Magpul's Zhukov that really takes my AK to the peak of its performance.
The length is fully adjustable for shooters of all sizes. Oh, and transporting it or storing it away is a cinch as it can fold neatly to the side. The stock itself mounts securely to the firearm for reliable service.
Combine this fantastic stock with some of Magpul's other accessories for a unique look and improved performance customized to your body.
This is hands down my favorite stock for the time being!
Magpul AK-47 Zhukov-S Folding Stock
If you would rather use your favorite AR-15 stock then check out this awesome adapter.
I am looking forward to trying this one out myself soon!
Rifle Dynamics AK-47 to M4 Stock Adapter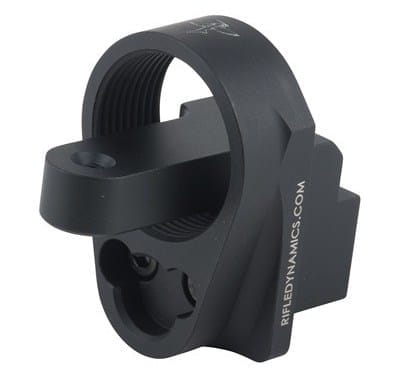 ---
5. Pistol Grip
Pistol grips and AK's go together like peanut butter and jelly.
Magpul MOE AK Grip

Hogue AK Grip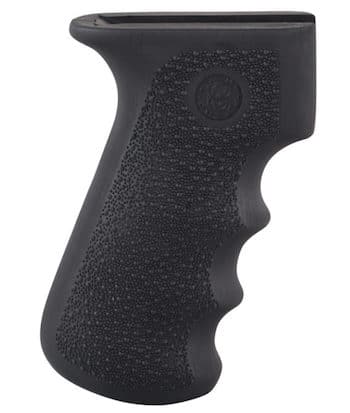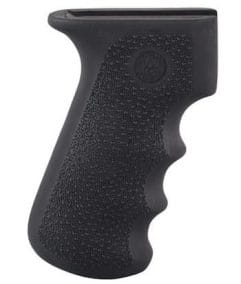 For those who want a more natural feel to the grip, Hogue went with a more form-fitting blueprint.
Strike Industries Featureless AK Grip
If you happen to live in a state that restricts full pistol grips then Strike Industry offers a superb option!
---
6. AK Magazines
I have always been a fan of the old steel bananas when it came to grabbing a spare magazine or two, but these Magpul Gen 3 polymer mags are a welcome addition to my gun safe.
Magpul AK/AKM 30-Round PMAGs, Gen 3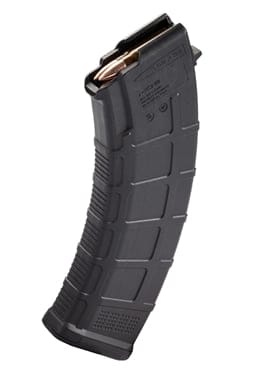 ---
7. Smaller Parts
Retaining Plate
Anytime I do internal work on an AK like change the trigger I usually replace the standard pins with a simple one-piece retainer.
It's an inexpensive upgrade that keeps everything in place with ease.
Tapco AK-47 Trigger Group Retaining Plate

AK Safety Latch
This safety goes the extra step by holding the bolt open, making sure you can see that your firearm is secure.
Krebs Custom AK-47/74 Enhanced Safety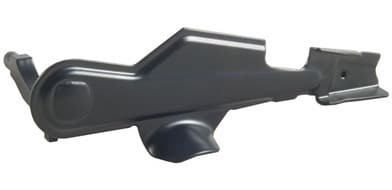 ---
8. AK-47 Muzzle Devices
The AK-47 has a bit more kick then something like an AR-15 so to mitigate so of that extra recoil it's a good idea to look into a better muzzle break.
This is a go-to for me, as almost every AK I own has a PWS equipped.
These really tame the recoil and make a second shot on target much easier!
Primary Weapons – AK-47 FSC47 7.62×39 Muzzle Break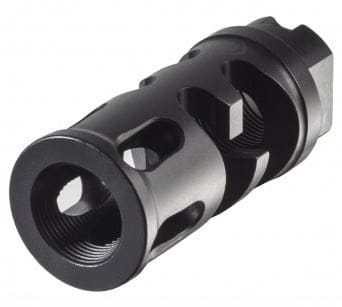 Or maybe you are looking to minimize flash, while there aren't many options out there the AAC works like a dream with its triple prong construction.
AAC AK Flash Hider
Then there's this cool Midwest compensator that directs the blast waves forward which dampens the sonic assault on those near you. If you are using an indoor range, or one that is often busy, this is an extremely courteous upgrade.
Midwest Industries AK-47 Blast Can
---
9. Triggers
Finally, we get to one of the most important upgrades you can put on your treasured AK; a new trigger!
Honestly, it makes some of the most noticeable changes to overall accuracy while being usually budget friendly. It is truly a must do for all AK owners!
The ALG AK Trigger has an amazing pull weight (3 lbs. 1oz) and an impressively tight sweep allowing for a snappier reset and quicker follow-up shot.
On top of all that, installing the trigger kit is a breeze!
ALG AK Enhanced Trigger
For a potentially better overall trigger pull check out this offering from CMC. It does carry a bit of a steeper price tag and can be somewhat difficult to install on some firearms but it can be worth it.
CMC AK-47 Elite Trigger
---
Conclusion
So there is our list of the best AK-47 upgrades that showcases several options for each category.
No matter what you are trying to do, be it simply mounting a scope or going all out and building a space-age looking firearm, there is an upgrade made just for you!
Even though the AK-47 is based on an old blueprint there is no reason we can't customize it as much or more than the newer guns out there.
Now that you have seen the vast array of available upgrades for your AK I hope you feel comfortable enough to go ahead and begin to branch out and make your rifle a true reflection of yourself.