When it comes to ways to customize a firearm, the AR-15 is second to none!
From the more basic changes that can be made to the exterior and the internals, to being able to switch the function of the rifle the options are truly limitless.
Now there is even the ability to alter the entire structure of the rifle.
That's right; you can now fold your AR like a pretzel!!!
Well maybe not quite that much, but with these new advancements, the AR-15 can now fold up far more than ever before. I see all you guys with smaller range bags jumping for joy.
So let's take a look at how this is accomplished, some of the designs on the market, then decide if a folding AR is a good fit for you.
---
Folding ARs?
Most firearms can be made to fold simply by a quick buttstock swap, but the buffer tube and gas system that define the AR-15 make an easy upgrade like that impossible.
The buffer and its tube run most of the way through the stock and can't bend.
Looking past the stock for a while, let's look the rifle over and see if we can find anywhere else we might be able to fold our AR.
The next most logical place to put in a fold is at the point where the barrel and receiver meet. This will also make the fold almost dead center giving it a unique look and function.
The first time I heard about folding ARs, I fell in love with the concept. But honestly, I remember thinking to myself that this must just be some fanciful pipe dream.
I couldn't believe it because there are always some companies or customs maker that will claim to have designed then next big thing in XYZ, but that is just a ploy to draw attention to their booths and said "super mod" which is never actually seen on the market.
---
Vaporware
These fictitious items are known as "Vaporware" in the gun show community.  And continuously promoting things like vaporware can lead to any company's downfall.
And that's what I thought the folding AR-15 was because it sounded way too good to be real, so I ignored them. That is until I saw not one, but two different folding ARs that were in full production and were even being shipped to buyers!
There are a few smaller companies out there making folding ARs, but these are either mods or made to order custom rigs.
However, there is one big name company that is actually producing lines of specifically designed folding AR-15s, the appropriately named FoldAR rifle manufacturer.
I have looked into both and will share what I have learned shortly, but first let's ask why this is even a thing.
---
Size Matters
In this case the smaller, the better! The current trend in the gun world is to make the overall carry and storage size as small as possible while maintaining reliability and quality. The AR presented several challenges when it came to folding, but with some ingenuity, it was finally figured out.
The thought is that a smaller firearm is easier to travel with and the better it can fit into tight storage. And I can definitely see how a folded AR could be very convenient for those who want to have a decent rifle in the truck or on an ATV (afforded that it is legal to do so, always check local and state laws BEFORE making a firearm purchase!).
Speaking of which, this could lead to some exciting new ways for gun owners in more restricted states to gain access to folding firearms. For example, the state of California, which is notoriously strict on firearms, has several regulations relating to folding or collapsing stocks, but I can't find anything about folding barrels.
With all that in mind let's get to the heart of the subject and talk about some guns!
---
Best Folding AR-15s
1. The FoldAR (Only Available in Pistols Now)
I absolutely love witty wordplay, and the guy that named the FoldAR was defiantly on that wavelength too. On top of that, it cuts straight to the point of the gun, a foldable AR. Admittedly, these rifles do carry a hefty price tag, but that's to be expected with new innovations.
The FoldAR family consists of both rifle and pistol caliber firearms, as well as a line of standalone uppers for upgrading other brands of AR. The rifle barrels come in 14.5 and 16-inch variants and can be chambered in 223 Wylde, 300 Blackout, 224 Valkyrie, 6.5 Grendel, and 6.8 SPC.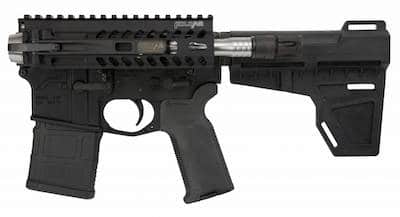 The pistol model barrels measure in at a compact 9 inches and are available 223 Wylde, 300 Blackout, and 6.8 SPC.  When the barrel is folded, the overall lengths of the platforms are only 9, 14.5, and 16 inches respectively.  That's right; the storage length is only that of the barrel!
And if you already have your perfect receiver, the upper replacement kit can be applied to most AR lowers on the market.
If you are worried about maintaining precision after sighting in the rifle then folding it a few times then rest easy, FoldAR uses 3rd party tests to check for a consistent zero. It's not 100% hand operated and comes with a small tool to unlock the cam, but the same goal can be accomplished with an old shell case.
A Version for Everyone
There is another system that nearly identical to the FoldAR, the XAR. The reason they are so similar is actually pretty simple, FoldAR created the design and the licensed production rights to F&D. However, FoldAR has said that the version they sell directly is actually upgraded to be more user-friendly.
The crown jewel of the FoldAR family has got to be the absolutely bonkers Double FoldAR! Obviously, this firearm has the side-folding action of its namesake, but it also comes equipped with the Dead Foot Arms folding stock. This gives the Double FoldAR the distinct honor of being the smallest AR configuration in the world and my favorite by far!
There are even talks about an AR-10 version of the system in 6.5 Creedmoor and 308. This could make long trek hunting far more appealing by making the load more comfortable to carry.
It looks like FoldAR will continue to innovate and redefine the concept of a concealed AR well into the future!
And the most significant news of all, a complete FoldAR rifle can be purchased for around $1500 with the smaller pistol variants being less expensive. However, the Double FoldAR commands o slightly higher price due to the inclusion of the Dead Foot Arms stock, which is worth it.
If you are just looking to upgrade your existing equipment, then an upper can be picked up for around $850. The system is designed to be very accessible and uses mostly common AR connection points, meaning it will fit a Browning just as well as a Rock River Arms build.
FoldAR's pistols are impressively compact and hardly look like anything at all when folded. But these little guys still pack a punch, even if they almost disappear in a shoulder bag.
I will definitely be adding a Double FoldAR to my armory soon, and look forward to showing my friends the before and after folds!
---
Other Folding Options
If all of that was a bit too much for you, there are indeed a few different ways to achieve similar results. I completely understand how some people might think that the rifles above are just a little too pricey, and that is not unfounded. Now let's discuss some different (and less expensive) options for a folding AR-15.
Starting with the former gold standard in folding ARs we have the LAW adapter. This represents one of the first successful designs for folding the AR stock while not negatively affecting buffer integrity. Throughout the year LAW has gone through several revisions and is into the third generation of adapters.
This mod can be installed in the comfort of your own home in a few short minutes, just follow the installation directions and presto, folding stock! You should know, however, that when the AR is folded, it cannot be fired.
The upside is this adapter works with almost every stock and tube setup out there.
The LAW is the least expensive option on the market when it comes to making a folding AR, and it allows the use of all of your favorite gear on the rest of the build. Constructed for hard use, the LAW is a great add-on the will not let you down when it counts!
Then there are manufacturers like Daniel Defense that have integrated the LAW adapter directly into some of their models. This combo takes the rifles to the next level and provides a dependable foldable firearm without the shooter having to modify anything themselves.
The adapter works with some MIL-Spec gear, so if you went all out on your build, you need to do a little research first to see if this option is compatible with your existing rig. Other than that, it is a dream to install and takes very few tools and doesn't require an advanced degree in engineering to do it yourself.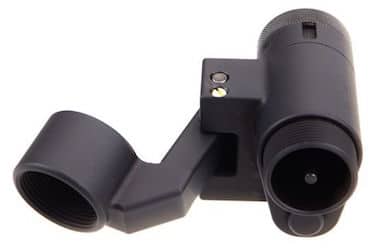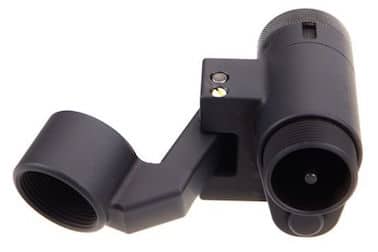 The Dead Foot Arms folding stock is quite a bit different from the offering from LAW. For starters, they do cost a little more but make up for that by having that ability to fire the rifle even when in the folded position. This stock also won't allow you to fold as short as the LAW adapter.
This adapter comes in both left and right-handed configurations and is designed to allow the rifle to cycle and eject properly when the gun is fired in the folded setting.
The Dead Foot Arms adapter has versions to be used with most of the more popular calibers in pistol and rifle. Depending on your needs there are options for 223/5.56, 300 Blackout, 9mm, 7.62×39, 6.5 Grendel, and 6.8 SPC. That should cover just about any AR-15 rig out there with few exceptions.
It may not be the cheapest kit out there, but it is still less expensive than getting a folding upper or going all out and getting a whole firearm designed to fold. And, it is also the only option on this list that allows for folded fire!
---
Getting Folded
The AR-15 platform continues to evolve year after year, and it shows no sign of slowing. The market is constantly being hit with fantastic new ideas and upgrades for this seemingly immortal firearm!
This is great news for the millions of fans of the AR design around the world, and the announcement of folding ARs will spark a new wave of excitement among the building community. The options for concealment are nearly endless now that the rifles can be made as short as the barrel in some cases.
I know that I personally am looking forward to unboxing my new Double FoldAR. What really solidified it for me was an in-depth study on the function of such a phenomenal rifle!
The moral of the story is that even though something sounds too good to be true, it might just be real that one time. I was ready to write this off as a rumor until I did some research and got a delightful surprise. But I am so glad I did my homework as it lead me to one of my next rifles.
Now that you know that the folding AR is more than just a fable perhaps it is time to get one for yourself, or maybe just upgrading your tried and true gun is more your speed. No matter what you decide to go with be sure to complement all of your modifications with each other.
Are you excited to hear about full production folding AR-15s? How about those replacement uppers? Have you ever used any of the adapters on the list? Let us know in the comments below.