Nowadays, a lot of modern firearms are designed to be stripped and cleaned without the use of specialist tools. In many cases, all you will need is your hands, a but of research, and some practice.
However, if you want to get into modifying your weapons, or own some obscure guns that require special treatment, you are going to need to get some gunsmithing tools. While working on your gun may sound like just another mechanical task, it isn't – gunsmithing is more like an art than a science, and you need the right kit to do it right.
Having these tools will not only make working on your guns easier: for many jobs, the right tool is needed to just make the operation possible. Trying to complete a repair or modification with bad quality tools is a sure way of damaging you gun, and possibly making it unsafe to use.
What you will need will depend on the weapons you have, and what you want to do with them. For many weapons, bespoke kits are available that will provide all the tools you need. However, if you are looking to build a toolbox from scratch, there are a few tools that should be in any armory, and will allow you to accomplish most of the tasks you need to do across most of your weapons. Let's take a look at a few.
Get Great Guns and Ammo Deals!
---
A brass hammer is, precisely as the name suggests, a hammer made of brass. These hammers are sometimes needed to move stuck mechanisms, and come in really handy for a variety of other purposes. The idea of having a brass hammer, rather than a steel one, is that brass is much softer than the steel that your gun is made from, and so will not mark or dent it.
Our recommendation would be the SE 5-in-1 Interchangeable hammer. which comes with interchangeable heads of brass, rubber, copper, and plastic.
---
Punches are used to remove the pins that hold together many popular types of firearms. They are also typically made of brass, in order to not damage your gun, and come in a variety of sizes for different pins. Punches for gunsmithing are normally longer than your average set for DIY.
A set of punches like this Starrett SB565Z 8-punch set, when combined with a good hammer, will be more than enough to get you started with gunsmithing.
---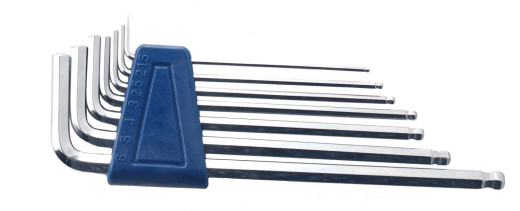 In addition to pins, a lot of modern firearms make use of hex bolts. For these, you need an allen key set. Bear in mind that if your guns were made outside the US, they will likely use metric-sized hex bolts,which your US key set is not compatible with.
The best bet, therefore, is to get a combination hex key set like this Tekton Long Arm Wrench Set, so you'll always have the right sized wrench close to hand.
---
This is a great combination tool, which is essentially just a wrench that includes a few of the most common bolt sizes used on firearms. This is particularly useful for working with rifles, because the wrench can be used to quickly remove the barrel.
---
If you are looking to get into gunsmithing, you likely already have a decent set of screwdrivers, and an ancient one that has been by your side for many years. The only extra screw drivers you are going to need is a set of precision screwdrivers like this Stanley set, though it can be nice to invest in a good set of Magna-Tip drivers to use on your guns.
---
Everything Else
Beyond these basic tools, the extra items you will need will depend on the gun you have. If you own a polymer-framed Glock, for instance, Glock themselves make a great tool for removing the pins without damaging the frame, and many 1911 pistol tools are specific to that design.
Have a look at our other pages on specific guns to get an idea of what tools you will require to work with them.
Related Reads: