It seems like every day another one of my friends is talking about their brand-new AR-15. And I have to admit, I do indeed love mine.
Having said that though, there are some things that I believe the AR-10 can do just a bit better.
For instance, with my AR-10 I can get the most use out of my long-action ammunition. The AR-15 lacks in this department, it just simply won't give you the most power or distance possible in those cases.
So, if you are like me and really enjoy a good day on the range with an AR-10 or just want to do a little work to upgrade your rifle, then read on because today I will be taking a look at some of the best lower receivers available for your AR-10.
---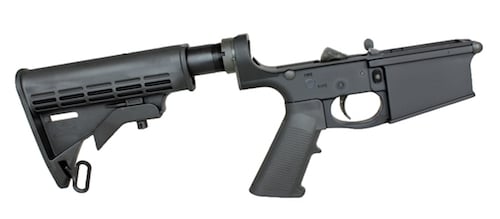 Kicking off this list, I want to take a look at an AR-10 lower that just about anyone can get their hands on with relative ease. It is not only highly popular but it's also easy on your wallet.
I have personally used a few different parts from PSA from a few years now. Usually, these were just small odds and ends, things like sling attachments, Magpul magazines, and plenty of gun cleaning supplies. They have always carried just what I needed and for a price that I couldn't find elsewhere.
With the Gen 2 PA10 .308 Classic Lower, you are getting the same quality as you will from some of the larger manufacturers but for right around a third of the price. Sure, you aren't going to have quite all the same bells and whistles that the more expensive lowers may come stock with, but you are getting a steal nonetheless.
This lower comes as a complete package. You'll get the stock, grip, a parts grip, fire control, and the trigger. Even with all of this included, it is still cheaper than most of the more major brands that don't always come as a complete kit.
Having said all of this, the PSA Classic is probably not going to be able to hold a flame to something like an Aero M5 or the Seeking SP10, but you can bet it will keep up with them without involving too many piles of your hard-earned cash.
Pros:
Entry level
Low price
Solid build
Complete package
Cons:
Doesn't have all the appeal of a more expensive lower
---
2. Armalite AR-10 Lower (Best Choice For Those Who Want To Build A Traditional AR-10)
No discussion of the AR-10 would be complete without mention of a traditional Armalite product. After all, Armalite is the company who is responsible for giving us the AR-10.
Essentially, you will see two styles of AR-10s that dominate the gun owner community; DPMS or Armalite. DPMS is best looked at as being the more commercial version, whereas the Armalite is more on the mil-spec side of things. Both are great in their own right.
If you served in the military, this is the build with which you will probably be the most familiar. It is a fairly rugged design and it lacks some of the fancier refinement of style that you will get with other lowers such as the Aero M5, or a nice Seekins. And buying spare mags for this lower is a bit pricier than either of the aforementioned as well. So, there are obviously some trade-offs to get that more original look and feel.
Overall, if you don't mind spending just a little bit more money and can sacrifice some of the style to get that authentic AR-10 feel, then this is the lower you need.
Pros:
Traditional design and build quality
Major brand name
Mil-Spec standards
Cons:
Very standard look and feel
Extra magazines can get really pricey
---

The Seekins SP10 is probably the most expensive option on our list, and for good reason.
The SP10 is not just a lower receiver, instead, it is a full kit containing the upper, lower, and handguard for those who really want to take their AR-10 to the next level.
The SP10 billet lower is fully ambidextrous, complete with ambi controls like the ambi magazine release and even ambi takedown pins.
The SP10 billet upper features my all-time favorite mounting system. I have tried many uppers, and this one is at the top of my list simply because of how modular it is. Not only that, but its stiffness helps it in maintaining that monolithic look. As a matter of fact, from a distance, it may almost appear like this beautiful trifecta is actually just one solid piece.
Rounding out this kit is the 15" MLOK SP3R free float handguard. This handguard is flat on the bottom and designed to provide you with the utmost stability. The whole handguard is machined from 6061-T6 aluminum and even has a Picatinny rail and integral QD sling mounting points.
Pros:
Fully ambidextrous design
Wonderful rail mounting system on the upper receiver
Very thick, stable monolithic design
Cons:
The upper can feel and even look a bit too stiff for some, this is just personal preference, however
---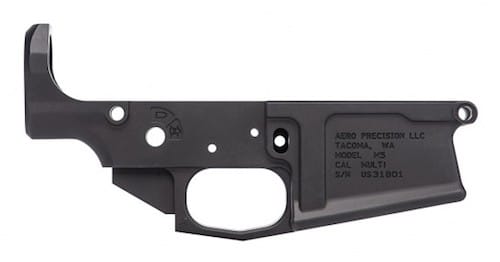 Aside from PSA, Aero products are hands down, one of my favorite companies in the market at the moment and have been for a while now. So, in traditional fashion, I have saved the best for last.
The Aero Precision M5 Stripped Lower is one of the best designs ever created and it truly speaks to the manufacturing quality and attention to detail that Aero puts into all of their products.
For starters, I really dig the addition of an upper tension screw. Not all kits come this way and may require you to do the extra work to adjust your receivers on the fly. But this just isn't the case with the Aero Precision M5. Just loosen or tighten the tension screw that is inserted in the grip tang of the lower receiver, fine-tune your adjustments, and you are good to go.
The second thing that might catch your eye, is that the bolt catch is actually threaded for a screw pin. Yep, that's right… you no longer need to worry about any roll pins. I know some people prefer them, but I am not one of those people, and I just feel that the screw pin is more secure simply by design.
Pros:
One of the best designed lowers available on the market
Threaded bolt catch
Upper Tension Screw system
Cons:
Can feel a bit bulky if you are used to something with a smaller stock build
---
Conclusion
And there you have it, the best AR-10 lowers on the market! Whether you are looking for something that is easy on your wallet, a complete receiver kit, or just something fancy to play around with, there is an AR-10 receiver out there for you.
Out of all the AR-10 lowers that we looked at in this article, which one are you more likely to purchase and use on a regular basis? IS there one that we missed that you believe should have a spot on this list? If so, just drop us a comment below and let us know.
Related Reads: