Are you looking for the right AR-15 barrel for your rifle? If so, you've come to the right place. The first AR models appeared in the late 1950's, and to some gun owners, the barrel is considered the most important part of the AR rifle.
Essentially, it doesn't matter if you're purchasing a new AR-15 rifle or a cheaper used model, your choice of barrel will have a major impact on the rifle's performance and accuracy. The AR-15 is preferred by many gun enthusiasts as the rifle of choice for hunting and target shooting — mainly because of its highly modular nature.
A great feature about the AR-15 is that it can also be customized to your preference –there's lots of options available for you to create one exactly as you like. But before you dive into your AR-15 barrel project, be sure to take a look at these essential functions to aid you in your research.
---
Breaking Down The AR-15
Basically, the AR-15 consists of the upper and lower receiver. The lower receiver contains the serial number and is also equipped with firing mechanisms: the trigger group, trigger and magazine.
Next, we have the upper receiver. It houses the bolt and barrel of the firearm and is associated with the bolt carrier group, barrel extension, charging handle, and rail system.
Length
The barrel length has a blunt impact on muzzle velocity and accuracy. Available in lengths ranging from 7 inches to 24 inches, the 16-inch AR-15 is the most common. Moreover, rifle barrel lengths of 16 inches or greater do not require a Class Three tax stamp from the Bureau of Alcohol, Tobacco, Firearms and Explosives.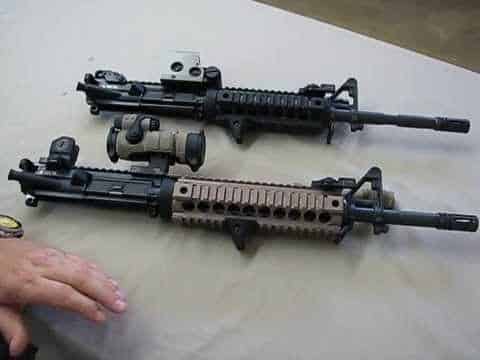 If you intend to use your rifle for shooting at longer distances, a longer barrel is your best bet. It offers increased accuracy and sufficient pressure to enable peak ammunition acceleration.
A shorter, lighter barrel is a better choice for maneuvering in confined areas or protecting your property from intruders. However, if you're planning on using it as a home defense gun or for any near range shooting purposes, then go ahead with a shorter barrel length — it contributes to reduced velocity and rifle portability.
Profile
The profile refers to the weight of the barrel and is broken down into three basic categories: lightweight, government, and heavy. The lightweight barrel is known as the pencil barrel, for obvious reasons and it comes in handy if you're traveling long distance, because it's portable.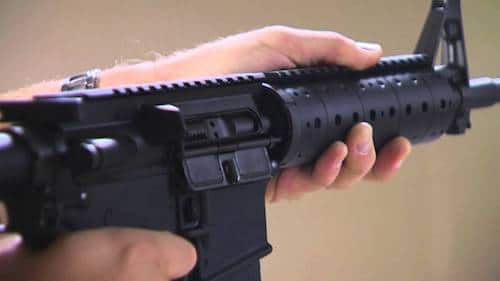 The heavier the barrel, the greater the resistance it provides to the buildup of heat when firing the weapon. The M4 carbine version is the most popular profile option. It offers an acceptable compromise for many AR-15 owners who prefer alternating between heavier and lighter barrels.
Similar to the M4 style profile, there is the government profile barrel. In fact, it is exactly the same as the M4 profile barrel, but without the M4 cut. So, it's slightly heavier than the M4 barrel because it's not light at the handguard area.
Last, we have the heavy profile barrel. The heavier barrel provides excellent resistance to the heat build-up in the rifle due to the burning gases when the weapon is fired.
Construction Material: Stainless-Steel or Chrome Lining?
All gun owners most likely agree that a barrel should be of the highest quality. Why? Because it goes through a lot of pressure and heat each time the shot is fired from the muzzle. AR-15 barrel construction styles include the cold-hammer forged, melonite, stainless steel and chrome-lined style.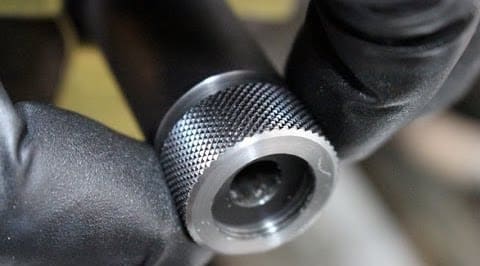 The cold-hammer forged process results in a tougher barrel with incredible resistance to wear and tear. However, they are quite expensive compared to the other types of barrels. Traditional chrome-lined barrels provide longer service life and good accuracy. Mil-spec AR-15 barrels generally include a lining made of chrome-polymer steel — mainly for longevity and cleanliness.
Most importantly, the chrome lining is beneficial for military use in high-humidity and saltwater environments because of the exceptional resistance to corrosion. The chrome will also protect the barrel against heat and friction — significantly helping to increase its lifespan. In addition, a chrome barrel is also easier to clean than a stainless-steel barrel.
The stainless steel barrel has no chrome lining, which is perfect for providing greater accuracy at longer distances. A stainless-steel barrel usually doesn't contain a chrome lining, therefore it provides increased accuracy at longer ranges.
Twist Rate
What's the best twist rate with your rifle? To clarify, the definition of a twist rate is the ratio of how tight the spirals are in the rifle's barrel. For example, a barrel with a 1:7 twist ratio enables a bullet to spin faster than one with a 1:9 or 1:12 ratio.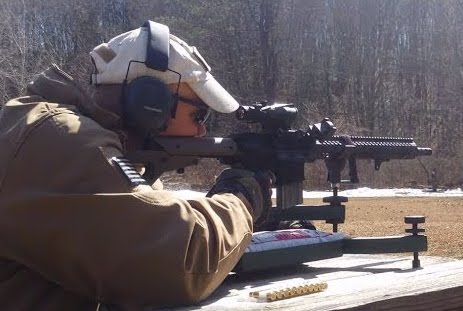 Recommended twist ratio-ammunition weight-grain combinations:
1:12-1:14 = 35 to 50 grain
1:9-1:10 = 45 to 70 grain
1:7-1:8 = 69 to 90 grain
---

Weighing 1.75 pounds, the Criterion Ultralight Contour Barrel is designed for the action sport competition enthusiast in mind. It offers a lightweight barrel (significant weight reduction) and improved maneuverability, all without giving up precision and balance potential.
The Criterion Ultralight Contour Barrel features a divot at the opposite of the gas port which is crucial to ensure the gas blocks don't shift when the shot is fired. The accuracy of your shot is greatly improved as a result.
In addition, the unique chrome-lined process maintains the uniformity of the projectile and contributes to the excellent corrosion resistance of the barrel. Lastly, the Criterion Ultralight Contour Barrel features a solid chrome-lined, button rifled barrel an has a 1:8" twist rate for better precision potential.
Features
Suitable for .223 Wylde chamber
Optimized gas ports
Chrome-lined and button rifled
Lightweight
Barrel Weight: 1.75 lbs
Cartridge: 223 Wylde
Contour: Lightweight
Finish: Chrome lined
Length: 18 inches
Twist: 1-8
Made in the USA
---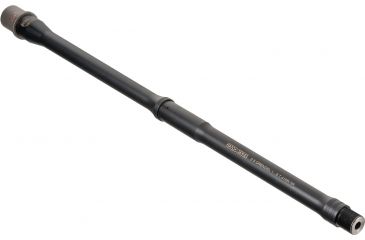 The Faxon 6.5 Grendel Gunner Profile surpasses the performance of the original 5.56/223 due to its shorter and larger diameter case configuration. In fact, this type of configuration provides higher powder volume while ensuring there's space for streamlined, coefficient rounds.
Also, Faxon 6.5 Grendel Gunner Barrel is machined from triple stress relieve 416R stainless steel, with extra space between the chamber and the gas block to alleviate heat warpage and control barrel whip.
In addition, the Grendel Gunner includes an NP3 coated barrel extension and black QPQ nitride coating on the interior and exterior of the barrel. These coatings are perfect to ensure great resistance to rusting and delivers excellent accuracy to a variety of ammunition — ranging from cheap plinking rounds to heavy precision target loads.
Features
Available in 16-inch or 18-inch length
Requires mid-length gas tube
NP3-coated barrel extension and black QPQ nitride coating on barrel
11 degree target crown muzzle
5/8″-24 threaded muzzle
416R stainless steel
Pencil profile
Easy to clean
---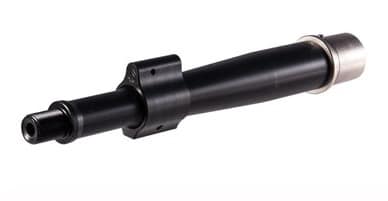 The Ballistic Advantage Barrel Hanson Profile is a lightweight barrel with the benefits of a heavy target barrel. In other words, it offers you the same advantages of a heavy-profile barrel without the extra weight.
Developed by Ballistic Advantage barrel guru, Clint Hanson, this unique profile eliminates sharp shoulders and smooths tapers to symmetrically limit barrel "whip" caused by vibrations and flexing during prolonged shooting.
The Hanson Profile controls barrel harmonics, allowing the barrel to return quickly to its original position after each shot. This is extremely beneficial for follow-up shots at a high rate of fire.
The result is the rigidity of a heavy barrel in a lightweight profile. More so, this rather unique profile removes all forms of sharp shoulders and smooth tapers in order to reduce any barrel whip.
The Ballistic Advantage is precision-machined from the solid 4150 chrome moly-vanadium steel alloy, together with a nickel-boron coated barrel extension. Additionally, the barrel extension has M4 feed ramps in order to ensure smooth feeding and extraction. It also eliminates any need for chrome-lining because the construction is proven to be harder and stronger than chrome.
Features
Durable, matte black corrosion-resistant exterior finish
Generous muzzle threads give you a vast array of options for brakes, comps and hiders
1-7- inch twist stabilizes a wide range of bullet weights
1/2"-28 tpi muzzle threads
High-pressure and magnetic particle inspected for no hidden flaws
Hanson contour
4150 chrome moly vanadium steel construction
5.56 NATO chamber– accepts both military-type ammo & .223 Remington
---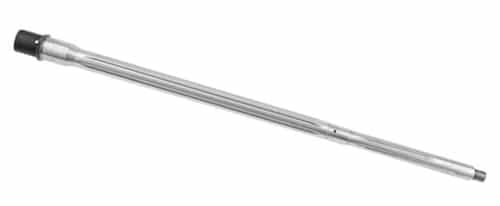 The Criterion AR-15 Fluted Barrel is designed to ensure the best concentration, complete with consistent dimensions. Altogether, eight flutes are machined around the barrel's circumference to the front and back of the gas port. And, each of the flutes are polished to produce smooth-jagged edges.
This barrel is polished to retain a sharp appearance and as far as construction, it's made from 416R stainless steel and comes complete with a M4 barrel extension. Furthermore, it includes the .223 Wylde chamber, which is designed to accept both .223 and 5.56 cartridges.
As far as length, the Criterion Fluted Barrel is available in either 18 or 20 inches, plus it utilizes the rifle gas system length. It finishes off with a twist rate of 1-8 inches, which corresponds to how the bullet will rotate to stabilize — once it leaves the muzzle of your weapon. Overall, this AR barrel is button rifled, with a total of five lands and grooves.
Features
Perfect for fluted profile
416R stainless steel construction
Button rifled
Smooth surface and finish
Barrel weight: 2.15 lbs
Finish: stainless steel
Gas system length: rifle
Length: 18 or 20 inches
Twist: 1-8
---

The Faxon Firearms AR-15 Flame-Fluted Match Barrel gives AR-15 owners a uniquely fluted barrel that promotes cooling while giving their rifles a polished look. The Match Flame Fluted Profile was built using 416R stainless steel with button-rifled barrels. In addition, it boasts its barrels with flame-style cuts on the exterior.
More specifically, this product consists of a variable-depth flame fluted match barrel. And, as well, it provides AR-15 users with a two in one product because it's perfect for sudden cooling (such as when the shot is fired). It's also great for giving your rifle an overall clean and better look.
On the interior and exterior, it's coated with the QPQ black nitride finish to guarantee excellent corrosion resistance in the long run. Moreover, it's equipped with the innovative 5R rifling technology — the bullet more or less has a solid form, enhanced accuracy and longer shelf life. On the other hand, the bullet velocity is also vastly improved because it doesn't deform jacketed bullets (as much as the traditional rifling).
As far as the barrel's length, it's available in three different lengths — 16, 18 and 20-inch and it also features a mid-length and rifle gas system length available so you can choose according to your preference. For superior barrel performance with practically zero flaws, it's also magnetic particle inspected and air-gauge tested.
Lastly, the muzzle comes with ½ inch-28 TPI threads as well, and offers an 11-degree target crown so you can attach muzzle devices. Plus, the M4 barrel extension allows you to attach feed ramps. Overall, the Faxon AR-15 Match Flame Fluted Profile is superbly made and a solid choice indeed.
Features
Chambered in .223 Wylde
416R stainless steel construction
5R rifling technology
Flame fluted profile
QPQ black nitride finish
1/2-28 TPI threaded muzzle
Available in mid-length and rifle-length gas systems
Also available in 16-inch, 18-inch and 20-inch barrels
---
Final Thoughts
Overall, the most important thing to remember before you purchase your AR-15 barrel is simply, why do you need it? What is your purpose? When you decipher your ultimate goal, you can make the wisest AR barrel decision for your needs.
So, when it really comes down to it, your choice of an AR-15 barrel correlates to the reasons for owning and using an AR-15 in the first place. For example, if you purchase an AR-15 for the sole purpose of protecting your family or property from intruders, or for occasional target shooting, a standard-issue mil-spec barrel is basically all you need.
However, if you're a competitive shooter or someone who needs maximum accuracy at long distances, a stainless-steel barrel without lining is the best choice for you. In conclusion, we certainly hope this review has helped you to make the best possible choice!