If you are looking to get started shooting a sniper/precision rifle, there are many different options to choose from.
You need to make sure you find the right rifle — the one that's geared towards newer shooters — so that you can master the fundamentals of precision shooting.
When shopping for your rifle, it's important to keep the following in mind: Rifle Caliber, Action Type, Barrel, and Price.
Let's take a look at each, and why they're important.
Get Great Guns and Ammo Deals!
---
Caliber
If you are just getting started shooting with a precision rifle, we would recommend starting with the 7.62x51mm / .308 Winchester cartridge.
When you are still mastering the fundamentals of sharpshooting, you need to practice with a round that can deliver quick and accurate shots, something that will teach you the precision you need prior to learning how to deal with the difficult recoil of a larger round.
The 7.62x51mm is accurate for up to 800 yards, well within the range you will be shooting.
---
Bolt-Action versus Semi-Automatic
When you are shooting with a sniper/precision rifle, you are aiming for accuracy. For this reason, a bolt-action rifle is an ideal choice for precision shooting.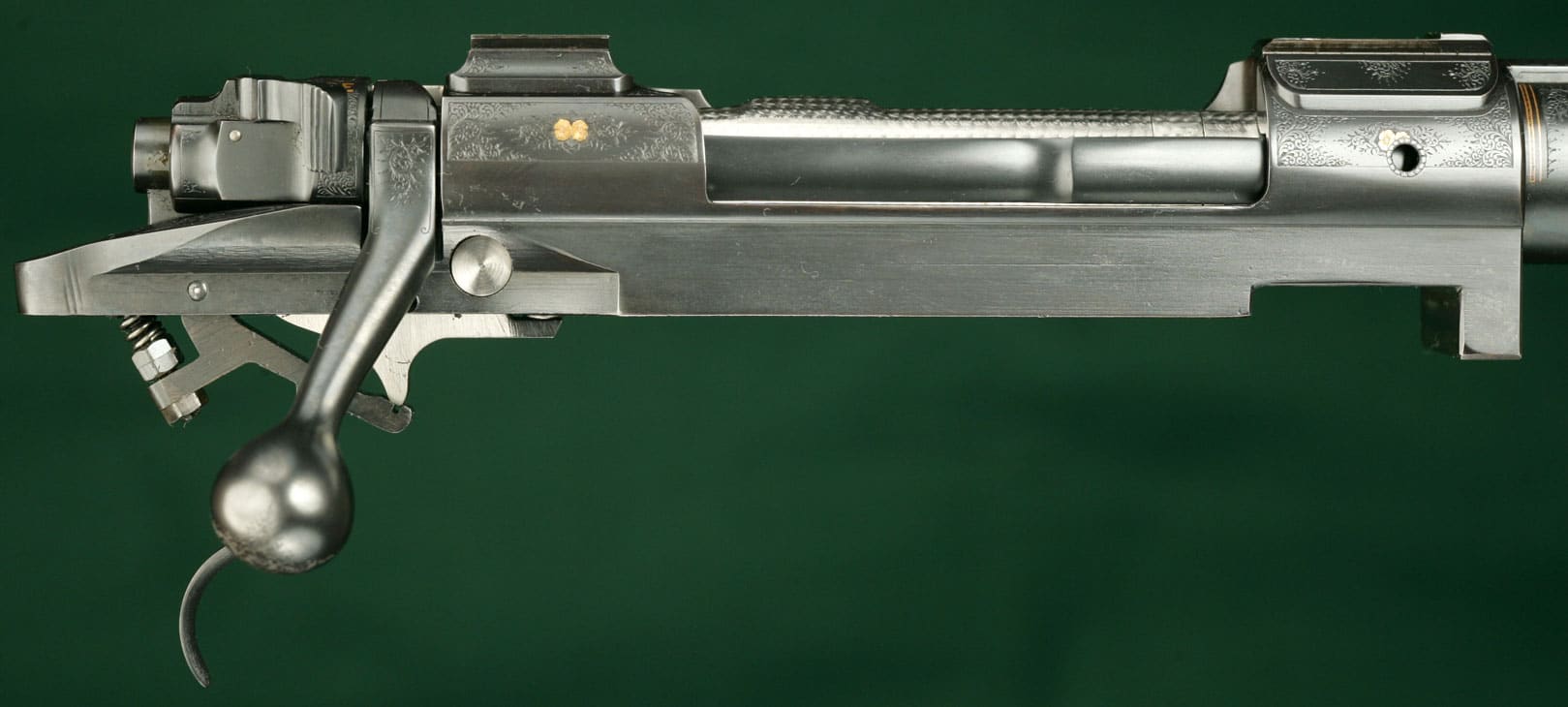 With a bolt action rifle, you are sacrificing the rate of fire for accuracy. Instead of the rifle chambering the next round automatically, one loads the next round by manually operating a bolt, ejecting the previous round and chambering the next.
This means lets you place shots more precisely, as you don't have the added force necessary for chambering the next round.
---
Free Floating Barrel
A free-floating barrel is designed to reduce the amount of contact between the stock and the barrel. Why might such a barrel be ideal?
For one thing, a free floating barrel can account for changes in the shape or condition of the stock due to weather or other conditions: a significant factor when shooting a weapon with a wooden stock.
Additionally, this allows the barrel to vibrate at its own natural frequency, rather than losing some of this energy into the barrel.
The technology was developed to increase the accuracy of the weapon. Instead of mounting the barrel to the stock, it mounts to the receiver instead, containing the recoil of the shot.
If you can stick a dollar bill between the barrel and the mounting, your rifle has a free floating barrel.
---
Price
How much money should you put down on a starter rifle? In general, you are looking at an investment of about a thousand dollars for a beginner weapon. This includes the price of the scope.
Sniper and precision rifles also have some of the most expensive ammo, running anywhere from $0.75 to $1.50 per round of ammunition. If you are looking to purchase ammunition, have a look at the following guide aimed at helping you make the right purchase: Ammo Buying Guide.
---
Top Bolt Action Rifles
Now let's look at some of the best bolt action rifles on the market today. Here are my top 3:
Remington 700
Tikka T3X Lite
Savage AXIS
Remington 700
The Remington 700 series is a classic choice for a bolt-action rifle and one of the top choices for a beginning shooter. It boasts extreme accuracy and precision, as well as a great deal of flexibility when it comes to upgrades.
Which models should you consider?
Most, if not all, of the Remington models make viable choices for a beginner. Where should you start looking?
One good option is the 700 SPS Tactical, which runs around $700, making it an affordable option. Another viable choice, on the more expensive end, is the Sendero SF II. This Rifle costs around $1200. Remington dubs this rifle their best "over-the-counter rifle" in terms of precision and accuracy.
Tikka T3X Lite
The Tika T3X Lite comes from Finland, one of the most popular places for shooting sports in the European Union.
This rifle has a weight of six and a half pounds and costs about $700. The weapon offers a ton of upgrades, and is available for shooting left handed.
Savage AXIS
Axis provides you with a high quality rifle on a budget, costing you around $400. These come with a number of upgrades, giving you a number of options that let you customize your rifle for your shooting needs.
---
Semi-Automatic Rifles: Our Top Pick
Now that we have looked at three of our top picks for bolt-action rifle, let's say you want to deliver rounds a bit faster.
In this case, you should look into a semi-automatic rifle. Here, you have a number of decent options. We are going to look at one semi-automatic rifle in particular: the AR-10.
AR-10 ("The Big One")
You are likely familiar with the AR-15, the American answer to the Russian AK-47. The AR-10 is the AR-15's predecessor.
Unlike its big brother, the AR-10 is designed to fire a .308/7.62 round ammunition, making it an ideal choice for those looking for the classic M-16 design, but with additional accuracy.
The AR-10 looks much like the AR-15, but is slightly larger in size (and looks a bit cooler, imo).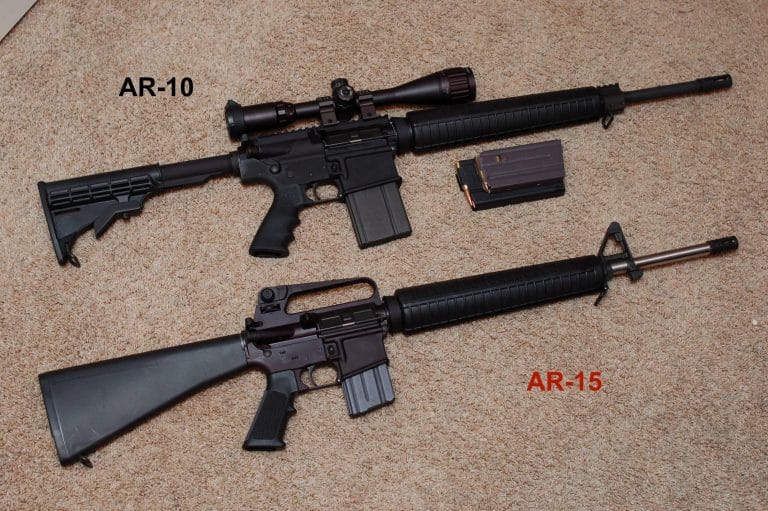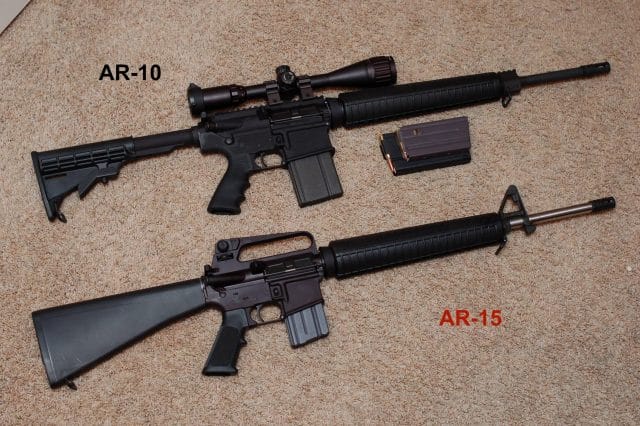 The parts, nevertheless, are largely interchangeable, but the AR-10 adds a bit of extra length to both the lower and upper receivers.
Which AR-10 rifle should you choose?
We would recommend using the Aero Precision M5E1, which runs between $1300 and $1600. With the scope and additional features, this will put a bigger dent in your budget, but gives you the increased rate of fire you might need.
If you are interested in the Aero Precision M5E1, you can read more about this rifle here.
---
Scope Rings and Mounts
In addition to your rifle, you will need a scope and the tools to mount it. If you don't invest the right amount of money into your scope rings, you will have a wobbly scope, significantly lowering your accuracy.
It's a good idea to go for a one piece mount, like the one above, simply because the single piece offers you more stability and less hassle.
Here are two options, one less expensive, and the other on the pricier side:
Burris PEPR this $65 mount offers a great choice for beginners not looking to break budget.
Aero Precision these cost slightly more (usually around $80), but give you less rifle weight, which is worth the extra fifteen bucks.
Scopes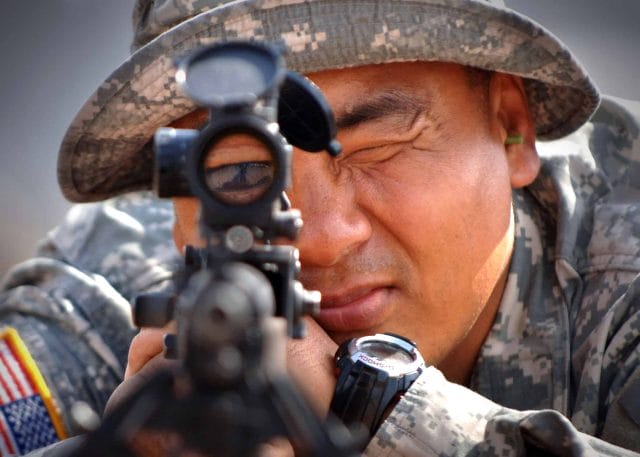 Scopes are more or less universally interchangeable, which means that if you bought a cheaper rifle that you are planning on upgrading, it might be a good idea to invest in a worthwhile scope now, rather than upgrade later.
Scopes can cost as little as $300. There are tons of different options to choose from when buying a scope. Take into account the degree of fogproof construction (necessary to make sure that you don't fog up the lens), the amount of optical clarity you will achieve, and whether it accounts for winds and elevation.
The exit pupil is also important, as you may need an exit pupil designed to reduce glare for shooting in the desert heat. This largely depends on your environment. In New Mexico, you might want to have the glare reduced. In Siberia, this is less pressing.
You will also want to look at the degree of magnification, which largely depends on the distance you aim to be shooting.
If you want a top-of the line scope, we would recommend Schmidt and Bender's PMII. This will cost you about $4000, but will be worth the investment.
If you are thinking about getting a scope for one of the AR models, check out our beginner's guide to choosing the best AR 15 scope.
That ends our guide to sniper rifles. Let us know what rifle you ended up getting!
Related Reads: