You may think that night vision binoculars only have real use in tactical situations. But in reality, night vision binoculars have a variety of practical uses that make them worth owning.
You can use night vision binoculars to help you see while hiking in darkness, to hunting game animals during dawn or dusk, going boating at night, and so on. Basically, in any situation where you need to see at a distance in complete and utter darkness, night vision binoculars will come in more handy over normal kinds of binoculars.
Night vision binoculars are also not cheap. Since they are a high tech gadget that will require you to put down a hefty investment of at least a few hundred dollars, it's vitally important for you to research the best night vision binoculars on the market so you can get the highest quality product possible for the money.
Finding the best night vision binoculars is exactly what we're going to talk about today. But first, we're going to address a critical question that you may have overlooked: do you really need night vision binoculars, or do you need a night vision scope instead?
Do You Need Binoculars or a Scope?
Sure, you may think right now that you need a pair of night vision binoculars…and maybe that is indeed what you need.
But a lot of people who go shopping for night vision equipment in general would often be better served by a night vision scope instead, depending on what their needs and circumstances are.
Night vision binoculars are night vision devices that have two eye pieces with magnification built into them. A night vision scope can be just like a normal rifle scope, only with night vision capabilities built into it. There are also night vision scopes that can attach to rifles in front of your normal scope. Either way, you can peer through your rifle scope and have night vision capabilities.
Night vision binoculars should be your top choice if your primary purpose is to view targets at long ranges while you remain stationary. Just take note that the longer the magnification, the dimmer the image is going to be. But if you need maximum distance, binoculars are the way to go over scopes.
Night vision scopes will obviously be preferable if you are going to be hunting at night and only need night vision capabilities for that purpose. Night vision scopes will not have quite as good magnification capabilities as binoculars do, and if you plan on needing night vision for other uses beyond hunting, you will be better served with binoculars as well.
The Best Night Vision Binoculars
Kylie Tech Binoculars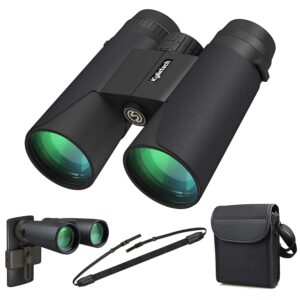 The Kylie Tech 12x42mm Binoculars offers you a 42mm lens combined with 12x power magnification. Kylie Tech designed these binoculars specifically to be used for outdoor activities such as watching wildlife, hiking, hunting, bird watching, and so on. Of course, they could also be used for other leisurely activities such as watching a football game at night as well.
These binoculars are also equipped with an FMC green film objective lens to ensure maximum transparency and brightness when you view the image.
You can also use these binoculars with a tripod mount, and they also ship with a smartphone adapter that is compatible with the iPhone, Samsung Galaxy, LG, and Sony phones.
Finally, the Kylie Tech binoculars come equipped with non-slip rubber material on the outside to provide you with a secure grip in wet conditions, and fog proof and waterproof lenses to ensure that you can use them in inclement weather.
Solomark Digital Night Vision Binoculars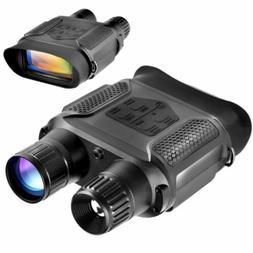 The Solomark Digital Night Vision Binoculars come equipped with 7x magnification power and a 31mm objective lens, and deliver a 320×240 resolution color wide LCD screen display that will make it incredibly easy for you to view the image in front of you.
But another cool feature about the Solomark Night Vision Binoculars is the fact that you can also use them to take photos and video, and you can store the images and video clips you take on a micro SD card.
The micro SD card is not included as part of the package, but the Solomark binoculars will accept any SD card with a storage capacity of 4GB to 32GB.
You can also use a USB cord to connect the Solomark binoculars to your laptop in order to transfer the photos and video you take over. You'll also need 8 AA batteries to power the Solomark; these are not shipped as part of the package either so you will need to buy them separately.
Nightfox 100V Digital Night Vision Infrared Device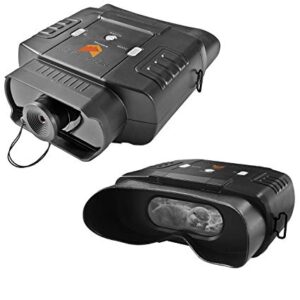 The Nightfox 100V Digital Night Vision Infrared Device is not technically a pair of binoculars, because it consists of only one large screen viewing monitor for both of your eyes. The advantage here is that you can use the Nightfox 100V comfortably while wearing sunglasses.
The Nightfox 100V also comes equipped with a high frames-per-second sensor, which means that the images you will view when you look through the device will be very crisp and clear. Another digital sensor installed on the device will easily detect infrared light that emits from the IR illuminator.
There are seven different levels of IR illumination that you can use depending on the conditions you are in; the highest level will enable you to view images over a hundred yards even at the darkest times at the night.
Finally, the Nightfox 100V is also designed to be as user friendly as possible. To this end, it has three buttons for controlling power, IR illumination, and zoom, along with a focus wheel on the side. It requires 8x AA batteries in order to operate, but these are not included as part of the package so you will need to buy them separately.
ESSLNB Digital Night Vision Monocular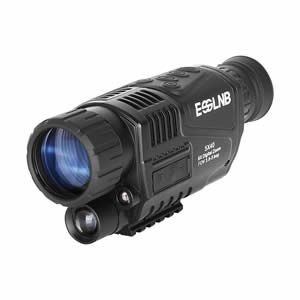 It may not be a pair of of binoculars ESSLNB 7x31mm Digital Night Vision Monocular is still worth a look. It come equipped with a two inch TFT LCD wide screen and a multi-coated lens to deliver you the most crisp and clear image that you could ask for in a pair of night vision binoculars.
This monocular also come equipped with a camera that enables you to take photos and video, and it also comes with playback features as well so you can take a look at the video clips that you have already taken.
ESSLNB also equipped their monocular with a 3W infrared LED light and 850nm illuminator that makes it even easier to view targets at long distances in the darkest of conditions.
Finally, the ESSLNB also come equipped with a tripod mount (the tripod itself is something you'll have to buy separately) and a 5-6v power bank, and they even ship with the 8x AA batteries that you will need to power them up. A carrying case is also shipped with the device for ease of transportation.
Conclusion
Night vision binoculars aren't cheap, but they can make your life a lot easier for situations when it would be nice to have the ability to see at a distance in darkness. The above night vision binoculars that we have covered here today will be the best ones for you to choose from.
Check Price