Ever want to take your Tikka TX3 Lite out for a few hours but don't want to spend the money for the ammo? Maybe you just don't feel like having to clean your rifle afterward?
For times like that, you need a good airsoft sniper rifle on standby.
Airsoft rifles are replicas of real precision rifles but are usually much less expensive than your best rifle. They can come in handy when you need to give your muscle memory a workout, practice team-based drills, or just feel like messing around for a bit.
Get Great Guns and Ammo Deals!
---
The GameFace GF529 is a spring powered, single shot, bolt action airsoft sniper rifle from the fine folks over at Crossman.
The barrel is made from a solid piece of metal designed to give you the added precision you need for long-range shooting. The stock is made of a synthetic material and has a rubber recoil pad to protect your shoulder and give you a bit more of an ergonomic feel overall.
Ammo capacity should hold you over pretty well in longer airsoft matches as it comes with a 29 round magazine and a speedloader. Crossman has thought ahead and also included a cleaning rod so you can easily clean your barrel after your longer matches.
Got a few accessories you want to attach? No problem, there are 2 Picatinny rails for attaching things like red dot lasers, scopes, and just about anything else that will fit on the rails.
The powered packed into this airsoft sniper rifle comes in the form of up to 350 fps, and it accepts .20g ammo. Needless to say, it packs a bit of a punch.
If you are looking to get into playing airsoft, this is the gun we would recommend to you as a beginner.
Pros:
Great entry level airsoft rifle
2 Picatinny rails for accessories
Solid metal barrel
Cons:
Speedloader jams often
The magazine could be better quality
---
This is a single shot, bolt action airsoft sniper rifle and it likes to get right down to business. Its name is fitting too since this airsoft gun is designed for long-range shooting during competition.
The stock of this airsoft sniper rifle is made of a thick, yet fairly lightweight synthetic material, with a deluxe butt pad to keep you comfortable at all times. There is even a thumbstock here to give you a little more control over your airsoft rifle, plus, it's simply comfortable.
The barrel is a 1 inch, one-piece precision metal barrel with two mounts; a Weaver mount rests above the barrel while the tri-rail bipod mount sits below. The bipod is included with the gun but if you are planning on throwing a scope on this, you have to purchase that separately.
Additionally, this airsoft sniper rifle utilizes an adjustable hop-up system, 2 magazines, a cleaning rod, and a rifle sling.
Pros:
Great for long range shooting
Solid barrel
Lightweight
Cons:
Some may find the grip to be uncomfortable
Does best with larger BBs (.28g)
---
By far the sleekest looking airsoft sniper rifle on this list is the WELL MB12. It is spring powered, gives very little recoil for its size, and the bolt action is quick and smooth.
The MB12 pretty much feels like you are holding a real sniper rifle, from the full metal upper receiver, sturdy pistol grip, right down to its weight. It's also a bit lighter than your average airsoft gun, weighing in at right around 6 pounds.
The body is made of a Polymer material, but the barrel is all metal and can spit out your .20g ammo at about 450+ FPS. And you should be able to pack in all the ammo you need for a while with the 30 round magazine capacity.
The only thing we weren't very impressed with, is the scope. It can be hard to get it focused properly, and the overall build quality didn't really match up to the gun itself. If at all possible, we recommend that you add your own aftermarket scope to this rifle. We suggest one from this list.
Pros:
Extremely lightweight (6 pounds)
500 FPS
Comfortable, ergonomic grip
Cons:
Scope could be built better
Bipod is poor quality
Rubber fin on the butt plate often gets in the way
---

If you're a sniper and you're finding yourself playing round after round of airsoft with extremely tight situations and shorter distance engagements more frequently, it may be time to find a new gun.
You need to buy this HK SL9 AEG Airsoft Sniper Rifle.
Since this airsoft rifle is an AEG (Automatic Electric Gas), it is capable of fully automatic action and packs a punch with a velocity in the 440-450 fps range.
One drawback of this gun is that it doesn't come packaged with any additional accessories that you'll get with most of the others on this list. Having said that, you can still deck out your sniper rifle with any of the accessories you probably already have on hand. When this thing is fully decked out, though, it is a beast.
Pros:
Capable of fully automatic firing
450 FPS
Lightweight enough to move around quickly in short distance engagements
Cons:
Not very useful for long distance shooting
No additional accessories
---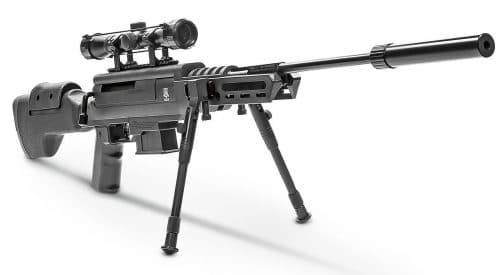 The Black Ops Break Barrel is an airsoft sniper rifle that has this really solid, realistic feel that is hard to find in many other airsoft rifles. It's also probably one of the more accurate airsoft rifles on this list, takes .22 BBs, and is powerful enough to hunt small game like rabbits, and squirrels.
Like most other airsoft sniper rifles, the Black Ops Break Barrel comes packaged with a few extras such as a bipod, a scope, and features a fully rifled barrel. The scope is not the best around but can still get the job done should you have no other option. You will find a standard 6″ Picatinny rail mount along the top of the barrel to attach your own scope, though.
This rifle is spring action powered and the cocking effort with this rifle is in the range of about 44 pounds. This may be hard for some shooters to cock, but it does feature a muzzle brake to give you a little more leverage.
Overall, if you are looking for the most realistic sniper rifle feel possible, don't pass this one up.
Pros:
Feels realistic
Rifled barrel
6 inch Picatinny rail mount
Cons:
Can be hard to get it cocked
Heavyweight
---
What To Consider Before Purchasing An Airsoft Sniper Rifle
Just as it is with any other firearm or other shooting equipment, you need to make sure you are buying something that is made with quality materials even when it comes to airsoft guns. The barrel should be made of solid metal and preferably "rifled", the stock should be able to take a few hits without cracking or breaking, and the firing mechanism needs to be easy to use and work with no issues whatsoever.
Airsoft sniper rifles may seem strictly like toys, but it would be a mistake to believe that they can't severely hurt you. Pieces can fly off, it could jam or misfire, or even completely fall apart while you are out practicing your skills on the field.
The weight of your rifle would be the next thing you need to consider. If you are going to be doing some light practice, or drills where you will be physically moving around often, a lightweight gun is what you need. These will usually be within the 8-10 pound range.
On the other hand, if you will be remaining stationary for the most part, a heavier, more realistic feeling airsoft rifle would be a better option. It gives you the feel of real strategic engagement, and it won't move around as much when you set it on your shooting rest or bipod. Heavyweight guns will be within the 15-20 pound range.
And last, but certainly not least, you need to consider what type of ammunition you will be using. Knowing this will allow you to be able to find a gun that will work with the size of rounds you plan to shoot. In general, most airsoft sniper rifles take .20g, .28g, or .177 BB ammunition.
---
What Type Of Airsoft Sniper Rifle Should You Buy?
Airsoft sniper rifles come in 3 main designs, and they are about as different as night and day in some cases. Some are more or less powerful, harder or easier to cock, and there are major differences in accuracy to consider as well.
Spring Action
Spring action rifles are a common sight on airsoft playing fields as they are inexpensive enough that just about any beginning airsoft player can get their hands on one easily. Oh, and they are a lot quieter and sometimes more accurate than a decent blowback or AEG rifle.
The main drawback here is the potentially slower reload time. For the most part, you are only going to be taking single shots from a distance with a spring action rifle. When you have to reload after every shot, you may end up taking fire from your opponent. And to add to the hassle of a lower reload speed, you may find the way you actually have to load these to be cumbersome.
Gas Blowback
When it is time to upgrade your old spring action sniper rifle, you will more than likely find yourself browsing through gas blowback guns.
This type is going to cost you a little more than a spring action rifle, but the bang you get for your buck is more than enough to justify the price tag. These rifles work via a compressed gas system. You pull the trigger, compressed gas is released, and that is what launches your airsoft bbs at a much higher FPS than any spring action rifle will give you.
Gas blowback rifles are also heavier and more closely simulate the feeling of carrying and shooting a real sniper rifle. There are both single shot as well as semi-automatic versions of gas blowback airsoft sniper rifles available.
AEG (Automatic Electric Gas)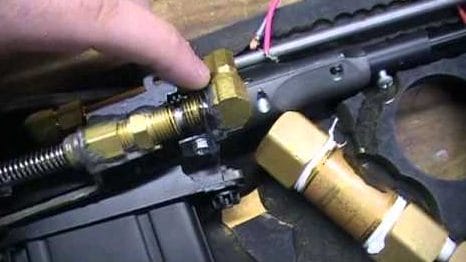 AEG or Automatic Electric Gas powered airsoft sniper rifles give you the absolute highest rate of fire among all three types. Some of the AEG rifles on the market are even capable of fully automatic fire. This alone makes them well-worth the money if you are playing close combat airsoft games.
While they may be faster, the AEG style guns do have a downside. They are notorious for not holding the best accuracy, or firepower. But when you are mowing down entire sides of the playing field with fully-automatic fire, chances are that you won't even notice this small downside.
---
Reasons To Use An Airsoft Sniper Rifle
There may be a limited amount of uses for an airsoft sniper rifle, but you can actually get a lot of benefit from them if you use them with a specific goal in mind.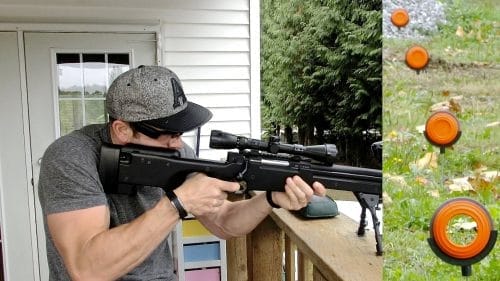 Airsoft sniper rifles are great for use in team-based practice. Whether you are on an airsoft team, or a police squad, building solid teamworking skills is crucial. A few rounds of airsoft make it easy, and cheaper, to brush up on things like how to provide cover-fire, flank an enemy, and just about any other drill you want or need to get more practice on as a team.
Another favorite use for airsoft rifles among gun enthusiasts is for muscle memory workouts. When you don't have money to just blow on tons of real ammo every weekend, you need an affordable way to practice your gun skills. Practicing with an airsoft rifle helps keep your muscle memory working so you won't get too rusty with those skills when it comes time to hit the gun range.
---
Final Thoughts
Whether you are needing a cheap, affordable way to practice your gun handling skills, or you just want to head out to an empty field and shoot your buddies with plastic bbs, a good airsoft sniper rifle is all you really need. Additionally, if you're interested in having some extreme fun shooting, check out the best muzzleloader guns.
We hope this review of the top airsoft sniper rifles will help make your decision just a little bit easier. If you own an airsoft rifle that didn't make it on this list, leave us a comment and let us know why you believe it deserves a spot.
Til next time, happy shooting!