Dove hunting is one of the most laid back types of hunting.  Unlike other types of hunting, it does not require a whole lot of preparation or equipment in order to participate. Just a little bit of scouting to see where doves are concentrating and the right firearms will bring you success.  While almost any shotgun is suitable to knock down these birds from the sky, the 12-gauge seems to be the most popular time and time again. This is most likely due to the quick and erratic nature of the dove, making it quite difficult to hit. Read on to get our list of the Best shotguns for dove hunting.
Though the 12-gauge is the most popular, a 20 or 28-gauge shotgun is just as useful for the right shooter.  In the end, choose the shotgun that you are most comfortable with and have the most control with.  And, no matter how confident you are in your skills, bring more shot shells than you think you'll need. Doves have a way of proving even the most skilled shooter wrong.
The Stoeger IND – P3000 12 GA 18.5" Black Pistol Grip 3" is a great option for a dove hunting shotgun. This particular model was the winner of the 2016 Outdoor Life "Great Buy" award for being high-quality, dependable, and affordable.
The P3000 comes with a pistol grip stock to keep your hands comfortable and in place when shooting. This model comes in a tactical configuration, with the ability to use up to 3-inch magnum shells.  It is also made from a durable polymer, so it is built to withstand long-term use. Overall, this shotgun weighs a little over 6 pounds, is 40 inches long with an 18.5 inch barrel.
Specs:
Barrel: 18.5"
Overall Length: 40"
Finish: Black
Weight: 6.6 lbs.
Capacity: 4+1 Round
The Remington 870 Express 18" 12 Gauge Blue 6+1RD shotgun is a highly rated weapon by many shooters. This shotgun has a fixed cylinder choke on its barrel, giving it optimum performance with both buckshot and slugs at close range. These features explain why the 870 is so popular. 
The receiver is made from a solid billet of steel, making it unbelievably strong.  The stock and fore-end are also almost completely indestructible, so this weapon will last through years of wear and tear. The Remington 870 Express is equipped with a rubber recoil pad that helps to dampen recoil and keep the shooter on target for quick follow-up shots. Remington offers a myriad of accessories that can be added to this model, so that you can customize it however you would like.
Specs:
Barrel Length: 18"
Overall Length: 37.25"
Finish: Blue
Weight: 5.75 lbs.
Capacity: 6 Round
The Weatherby Inc SA-08 Deluxe 28in 12 Gauge Blue 4+1RD is a gas operated, 12 gauge shotgun that is a perfect for your dove hunting endeavors. This model features a dual valve system, perfect for accommodating a wide range of load versatility. 
At 48 inches long, you would expect this shotgun to be heavy, however it is only 6.5 pounds overall. This is due to the CNC machined receiver. The chrome-lined, vented, top rib barrel is designed to dissipate heat as well as aid in target acquisition. Aesthetically, the Weatherby SA-08 Deluxe has a beautiful wood stock with a blue finish for a sleek and stylish look.
Specs:
Barrel Length: 28"
Overall Length: 48"
Finish: Blue
Weight: 6.5 lbs.
Capacity: 4+1 Round
If you are a fan of an AR-15 rifle, then the AR Twelve 12 Gauge from Panzer Arms will be a great shotgun for you. Not only does this gas operated, semi-automatic shotgun look like an AR-15/M16, but it also has similar control and function as well.
This weapon has a flat top receiver that is equipped with a full weaver rail for mounting a multitude of different types of accessories or optics. It also comes with a built-in recoil pad in the butt stock and an ergonomic pistol grip. The Panzer Arms AR Twelve 12 Gauge is chambered for both 2 ¾" and 3" shells.
Specs:
Barrel Length: 18.5"
Overall Length: 39.75"
Finish: Black
Weight: 8.12 lbs.
Capacity: 5+1 Round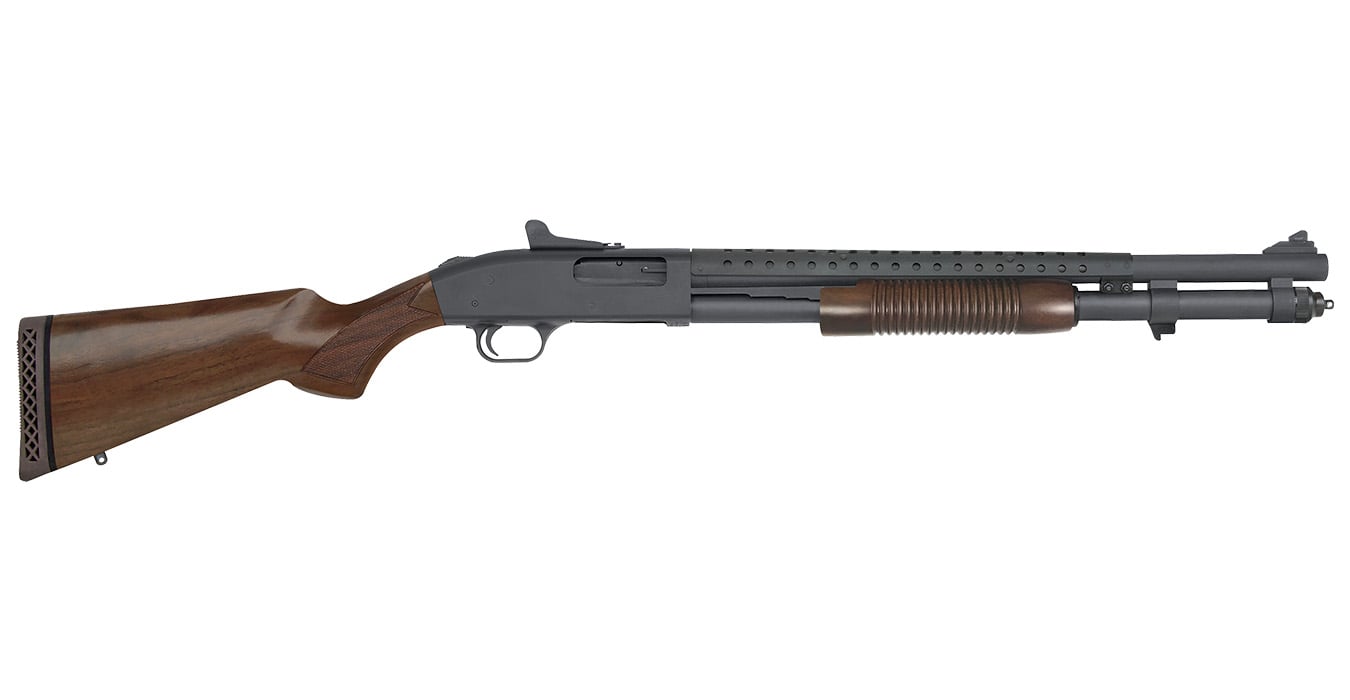 The 590A1 Retrograde 12 Gauge from Mossberg is a beautiful pump action model that has a stock and corncob-style forend fashioned with sleek walnut wood. This shotgun is built with a matte blued heat shield barrel, as well as a cylinder bore choke and bead sight. It is normally intended for home defense, but can be used for hunting as well. 
The 590A1 Retrograde also features a lengthened magazine tube. This holds eight shot shells for more firepower whenever necessary, more so than most other pump shotguns. Additionally, this model is particularly lightweight and easy to maneuver due to the shorter 20 inch barrel. 
Specs:
Barrel Length: 20"
Overall Length: 41"
Finish: Blue
Weight: 7.25 lbs.
Capacity: 8+1 Round
Conclusion 
In reality, you can use any old shotgun for dove hunting. However, if this is a hobby that you wish to pursue with some seriousness and regularity, you should have a specific shotgun dedicated to doves.  The best shotguns for dove hunting are lightweight, easy to maneuver, and well-balanced. Find one that fits your grip well and can be moved around quickly and easily.  Doves are fast and more difficult to hit than you think!