Any homeowner who's dug around in their attic or crawlspace will tell you just how important it is to have a bright flashlight.
As with handguns or home defense safes, certain manufacturers have the edge on their competition and many offer flashlight that others don't.
But the absolute brightest flashlight may be unavailable to you for reasons we'll break down shortly. But first, we'll explore a range of options that may be suited to your needs, whether it's for self-defense, general purposes or professional purposes.
As you'll see in the article below, it all comes down to lumen rating which you'll understand after reading my tactical flashlight reviews.
---
Top 15 Brightest Flashlights on the Market
You may be asking yourself, "What is a lumen rating?" In lay terms, "lumens" (or lm) are a measure of the total amount of visible light from a lamp or other light source. The higher the lumen rating, the brighter the light source.
Here is my list of the fifteen best flashlights based on lumen rating and other factors, starting with the brightest at #1:
Fenix TK35 Lumen Ultimate Edition (Brightest Flashlight in the World Today)
Nitecore P36 2000 Cree MT-G2 Neutral White LED
Solaray Pro ZX-1 Professional Series Flashlight Kit
Streamlight 69260 TLR-1 HL High Lumen Rail-Mounted Tactical Light
Streamlight 75458 Stinger DS LED HL Rechargeable High Lumen Flashlight w/ 120-Volt AC12 Volt DC Piggyback Charger
Ecogear FX Professional Grade LED Flashlight Kit
Grace Top Tactical LED Flashlight
Lingsfire Zoomable Scalable LED Flashlight
Supernova Guardian 1300 Professional Series Ultra-Bright Rechargeable
Streamlight 88040 Protac HL High Lumen Professional Tactical Light w/ White LED
AceBeam X65 12000 Lumens Throw Distance 1301 Meters LED Search & Rescue Flashlight w/NiteElf Keychain
Imalent DT-70 XHP70 Torch Throw 700 Meter High Lumen Searchlight
Olight X7 Marauder 9000 Lumens 3x Cree XHP70 CW LED Flashlight
Nitecore EA81 2150 Caveman Lumen Cree XHP50 LED Flashlight
Titan Plus Ultra-Compact Variable-Output LED Keychain Light 300
Top 3 Brightest Tactical Flashlights
Get Deals on Guns and Tactical Gear
Join 70,000 Readers For Our Weekly Discounts
Top 3 Most Affordable Tactical Flashlights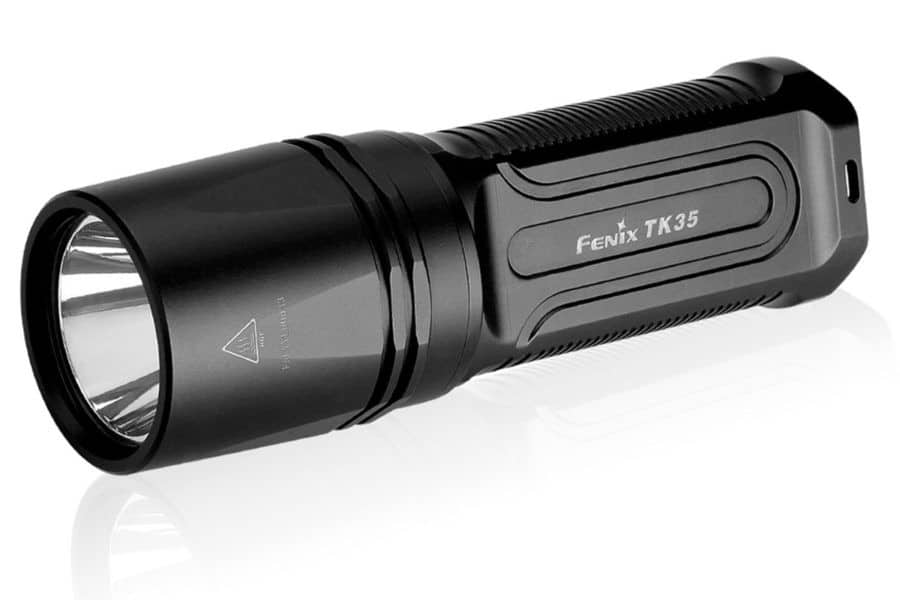 Users can get a max brightness output of 2,000 lumens with this one, but even on its lowest setting, the Fenix TK35 is adequate for finding your way around in the dark. Each Fenix pack is loaded with accessories including a smart charger.
It has inverted polarity protection in case you load the batteries incorrectly and features seven operational modes including Eco, Medium, High, Turbo and Strobe. When I think of the word "tactical," I think of the Fenix because of its SOS mode.
Its beam reaches 1050 ft in distance and you can get at least 100 yards at maximum brightness, making this a real monster in terms of portable light sources. Digital regulation ensures consistent brightness which explains why it takes a long time to re-charge.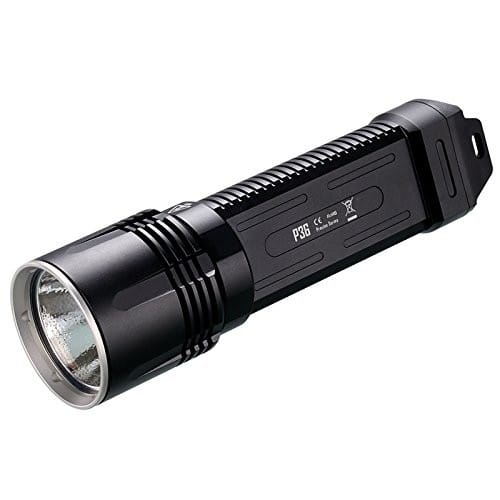 Not only does this Nitecore model produce 2000 lumens but it also offers exceptional peripheral lighting. When powered by its original Nitecore batteries (included with purchase), this sucker rips through even the thickest fog, penetrating smoke and mist with its powerful beam.
Other pros with this one include its energy-saving temperature regulation and ergonomic rotation-operated switch. Like the Fenix model above, brightness is constant when in use.
A tad on the big size to qualify as a tactical flashlight, it nevertheless functions well and is an affordable option.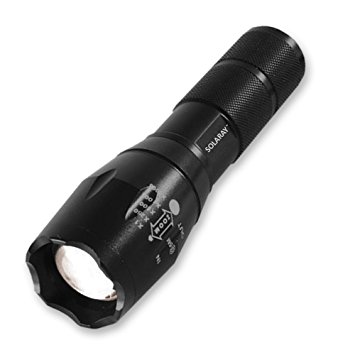 Weighing in at a light 5 ounces, the Solaray Pro packs a formidable punch for its size. It features five convenient modes (Low, Medium, High, Strobe, SOS) and is powered by two 3.7 volt batteries. The beauty part is, you can also use three standard AAA batteries when the first two die.
It offers a smooth zoom and a terrific flooding beam without generating a hot spot. The only con here is that it's a bit difficult to install the batteries, but other than that this one works like a dream.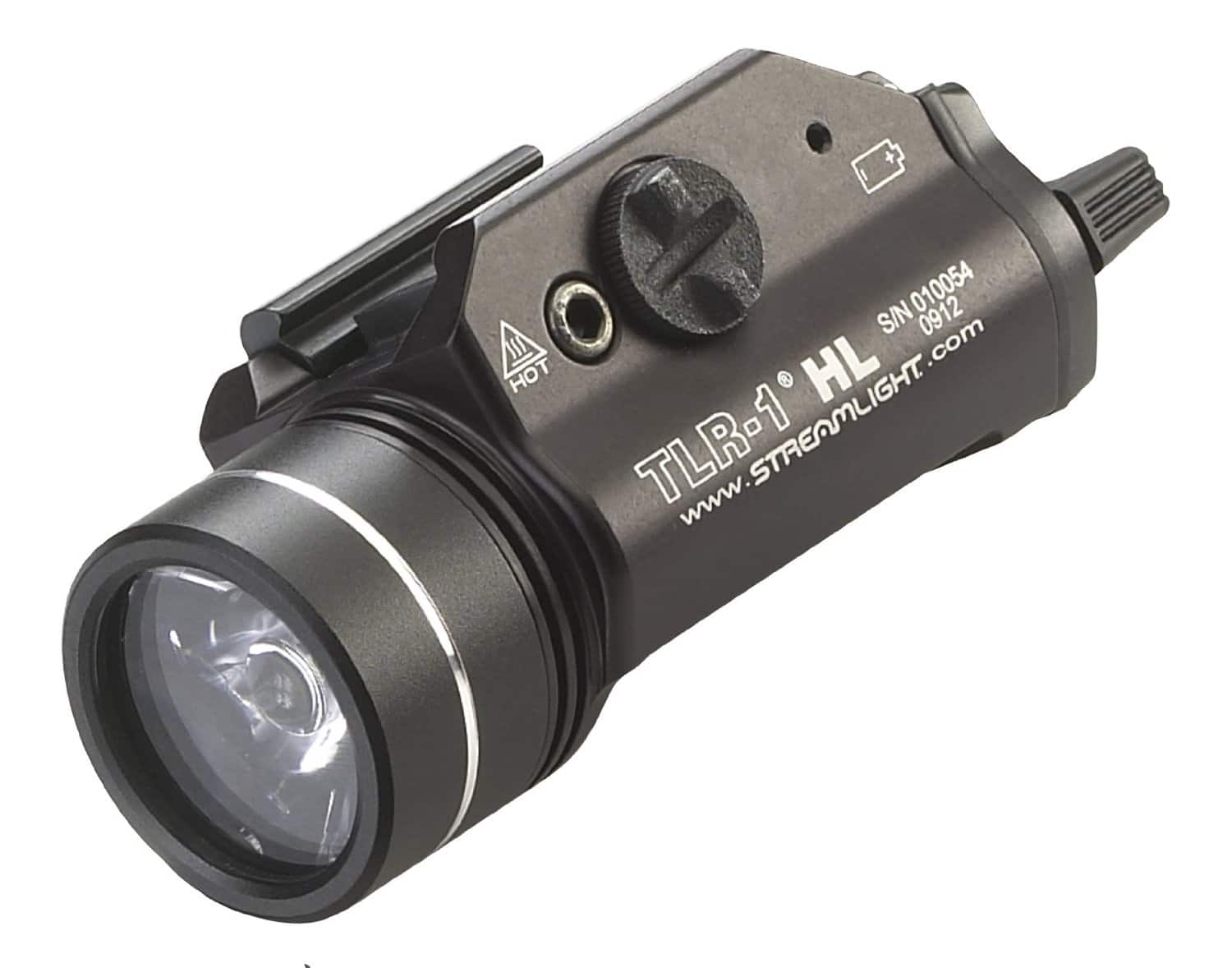 With a weight of 0.26 pounds and CR123A battery power, this Streamlight model gives you as much as an hour and twenty plus minutes of running time without needing to be recharged. It's also ideal for gun lovers as it easily attaches to firearms (Glocks, etc.).
Its aluminum design makes it appear as though it is one with the unit it's attached to which may be a bonus for some shooters. As a tactical flashlight, this one's a top pick if for no other reason than it will safely attach and last for thousands of rounds with terrific functionality.
Buyer beware, however, that the battery compartment is kind of shoddily built compared to the rest of the flashlight's components. That being said, the Streamlight's bright spot can be used to replace your firearm's aim.
The Stinger differs from the previous Streamlight model in that it has 640 lumes compared to the TLR-1's 630. With a beam distance of 297 meters, it provides a steady beam for up to four hours without recharge.
A bit heavier than its predecessors at 2 pounds, the Stinger is still a nice option for most practical purposes as it is durable, easy-to-use and is built to last for as many as a thousand recharges.
It may not be the best tactical flashlight for weaponry as impact causes the brightness to fluctuate, but for most indoor and outdoor scenarios, it is a top of the line choice.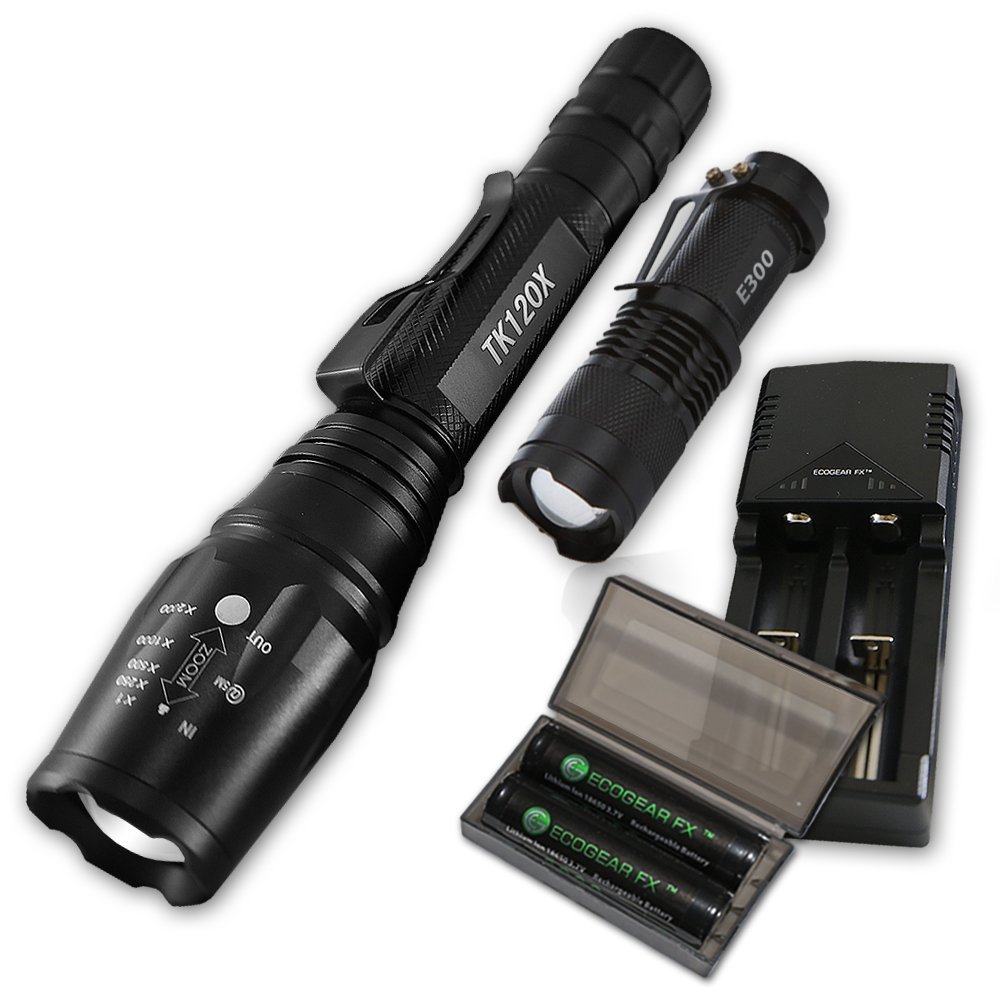 Powered by a 18650 lithium battery, this ultra-performance flashlight will blow you away with 1600 lumens. A lot of users also appreciate the free miniature LED flashlight that's included in the kit, the perfect back-up light for camping and other expeditions.
This one's of professional tactical grade and has a reflector which ensures that no brightness is wasted. It has an intuitive on/off switch and a dual channel battery charger.
A bit pricey at $57.99, it nevertheless performs well and is safe and easy to use. The only thing I really don't like about this one is the company's claim that it is water resistant because you can't actually submerge it in water. Other than that, it's a solid option for the appropriate budget and it's certainly not the most expensive choice on the market.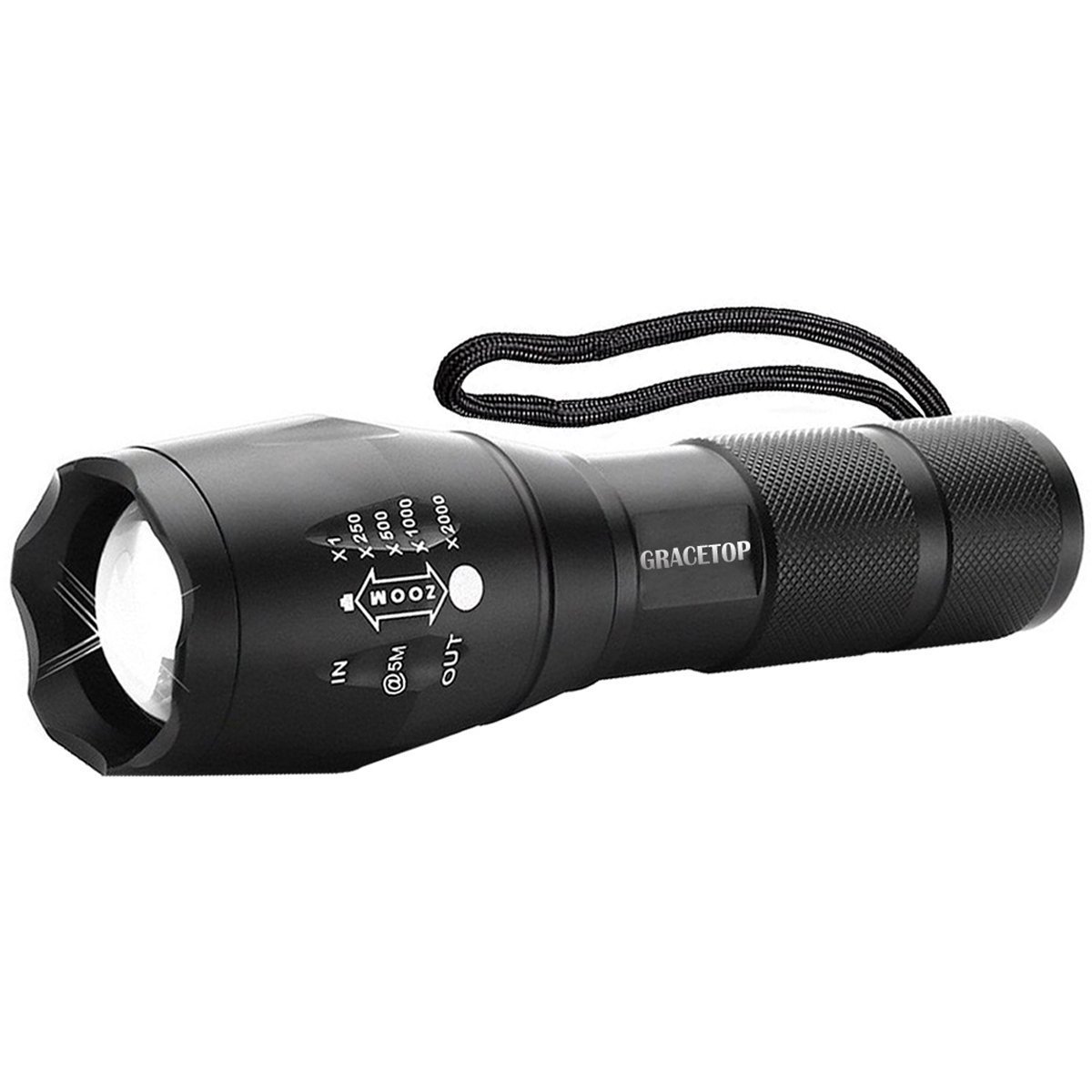 Generating up to 1200 lumens, this Grace Top model's light spreads out to encompass a large space and comes with a great zoom feature that's easy and convenient. It small size means that it will fit comfortably into your hand and is quite affordable compared to many of its counterparts.
The Grace Top Tactical flashlight is often used by law enforcement officials which should give the casual consumer a feeling of confidence when purchasing one. You'll know that you're getting what you paid for.
It's effective for outdoor purposes or in emergency situations such as home defense.
The only caveat here is that the 1200 lumens it is billed as producing is only something achievable with a 18650 battery so be sure to include the purchase of that battery in your budget before ordering.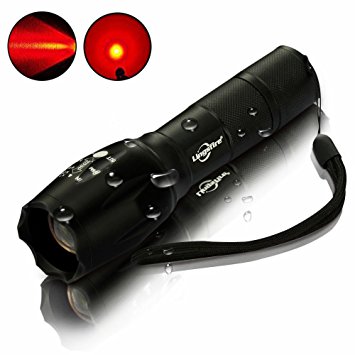 This red tactical flashlight is worth every penny if for no other reason than is extremely bright, water resistant and has a solid metal body that makes it ultra-durable.
At 2000 lumens, it's one of the brightest flashlights on the market and one that performs at full capacity. Its red color is also quite refreshing compared to traditional models.
The proper batteries to power the model aren't included, but are readily available online. While the switch for different modes is a bit tricky to operate, everything else about this one is top notch.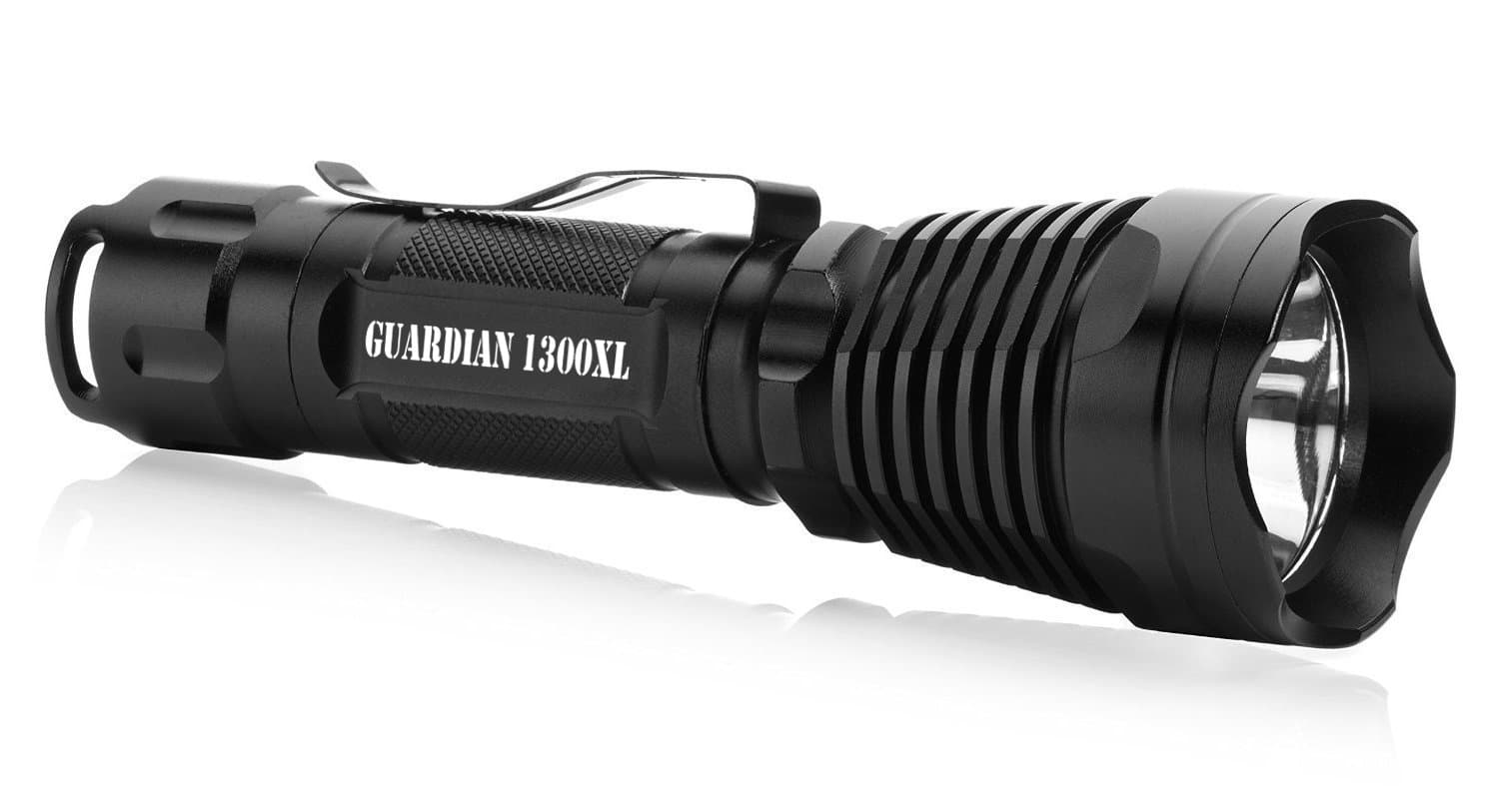 Like the Lingsfire, this one is of that rare breed than can produce 1200 to 2000 lumens. It has a quality build which makes for durability and longevity. It even has an awesome glow-in-the-dark switch that makes it easy to find in the dark.
The Supernova Guardian can be powered by a lithium battery or three AAA batteries. Although it appears to be quite durable, users should take care not to drop it too many times as the lens may shatter.
Other than that, it's a solid option that can outperform many larger models.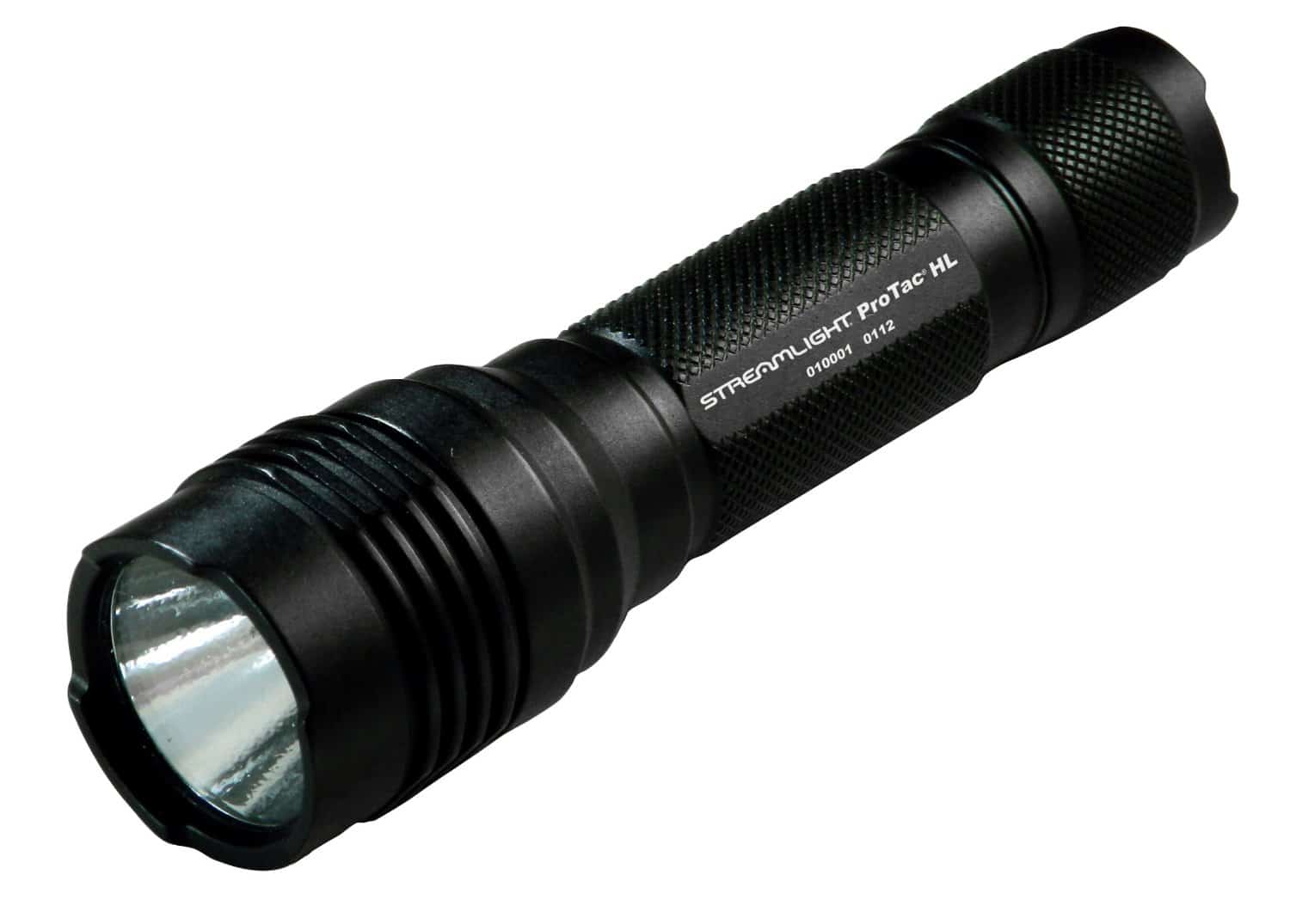 Indicated to reach 600 lumens, this one is still mega-bright compared to other tactical flashlights and has a wider beam spread than many similar models. One of the things I like most about it is its anti-roll design which makes sure that it'll never get far away from you if you drop it.
The only drawback to this one is the fact that it starts to get pretty warm after running for a continuous period of ten minutes or more. But it's favored by many professionals, especially night patrolmen who appreciate its ability to penetrate tinted windows.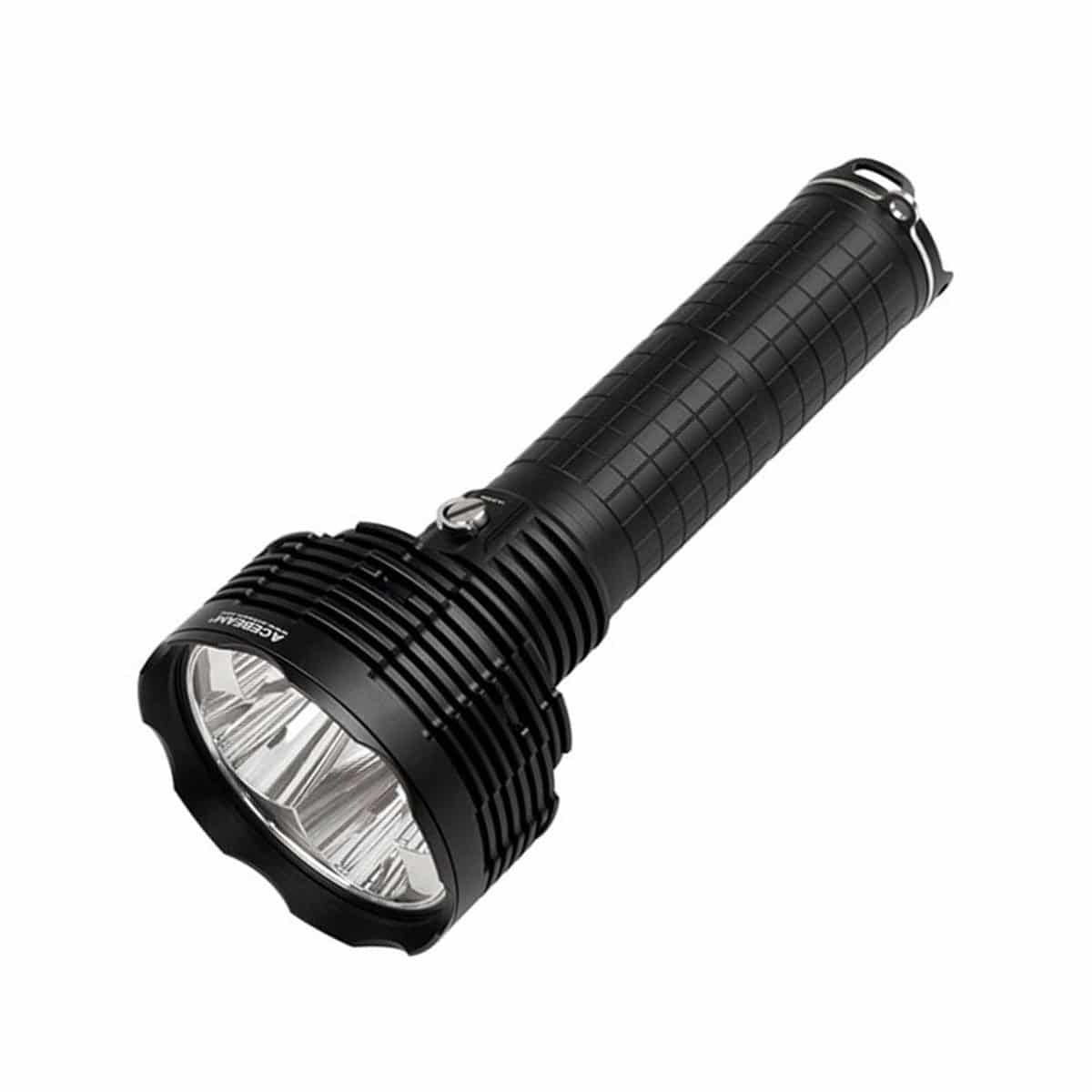 Billed as the best thrower searchlight, the AceBeam X65 is one of the most popular professional grade flashlights around thanks to its 5 x Cree high intensity LED light and its 12,000 lumens.
Yeah, you read that right. A whopping 12,000 lumens. It can stay powered for anywhere from 1 to 450 hours thanks to its custom-built battery pack.
This one comes with six brightness levels which can go as low as 4 lumens, making it adaptable to any situation or environment. Another bonus with this one is its five-year warranty.
It's wildly more expensive than other options at nearly $500, but for the working professional, this is the tactical flashlight you'll want. There's really no flashlight that's brighter for the money.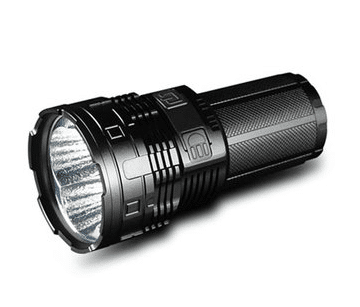 This one usually gets a five-star rating among consumers and it's easy to see why.
The Imalent DT-70 is a sturdily-built aluminum flashlight with a peak beam intensity of 123000 cd. It has a 700 meter range and has a built-in thermal module which automatically adjust brightness to suit your environment.
Its has a lifespan of fifty thousand hours and produces a maximum output of 16000 lumens. That's more than the AceBeam for nearly half the price. It comes with a variety of accessories including a holster and four batteries.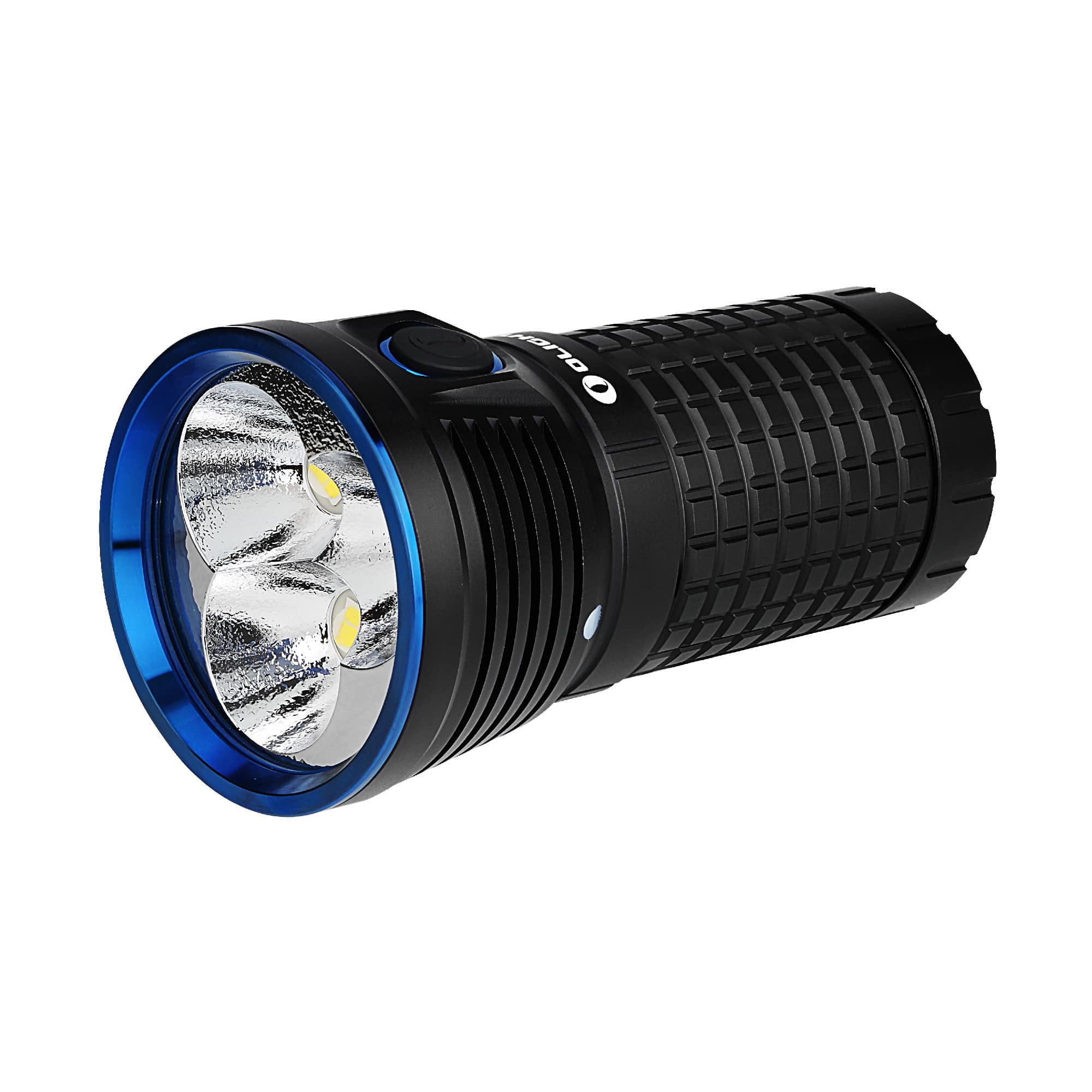 Another five-star rated option, the Olight X7 Marauder produces an imposing 9000 lumens and comes equipped with a trio of CREE XHP70 LEDs. Put simply, when it comes to mid-range tactical flashlights, this one's a beast.
The LEDs make for cleaner, clearer white light which put less of strain on the user's eyes when navigating through the dark. It comes with 4 dimmer outputs from 3000 lumens to just 3 lumens. It also has two "turbo modes" which give it intense illumination temporarily in unique situations.
The Marauder has a smart design that is simple and easy to use with a single side switch interface. There's really nothing bad I can say about this one. It's relatively affordable compared to similar models (just under $200) and is embraced by professionals for its 10 herz tactical strobe function that can seriously dishearten an adversary.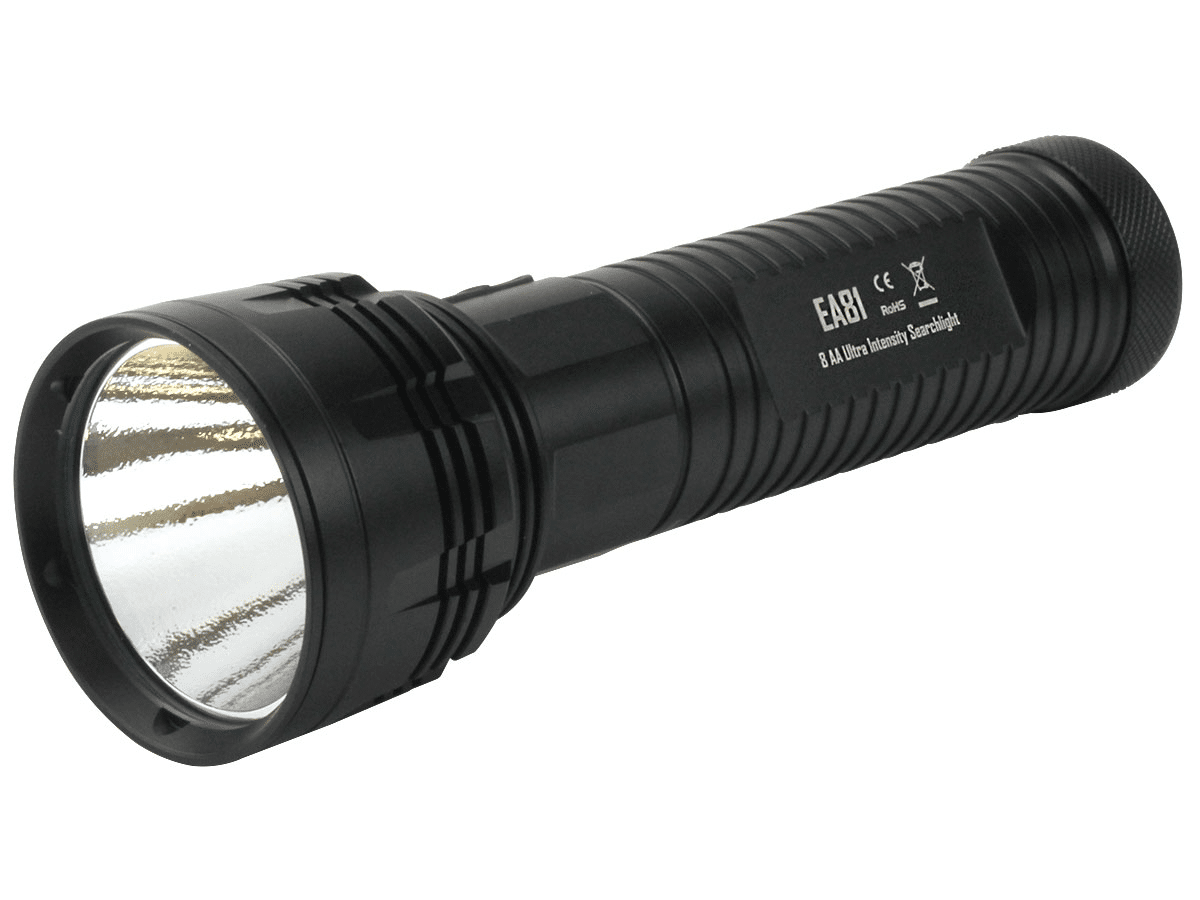 For the $200 price point, the Nitecore Caveman is another viable option for the money. This little bad ass has a beam distance of 505 yards and weights just 9.95 ounces. The bundle includes 8 X EdisonBright AA batteries and the flashlight itself features 5 brightness levels along with 3 special modes (SOS, strobe and location beacon).
With its micro-textured reflector, you get wide angle lighting. Its aerospace grade aluminum alloy design makes for ultimate durability. Another nice feature is its power indicator which lights up to inform you of how much battery is left.
With the Caveman, you get all the bells and whistles you want in a tactical flashlight including advanced thermal regulation, stainless steel retaining ring protection, reverse polarity protection and an anti-reflective coating. You can't really go wrong with this one in my opinion.
Titan Plus Ultra-Compact Variable-Output LED Keychain Light 300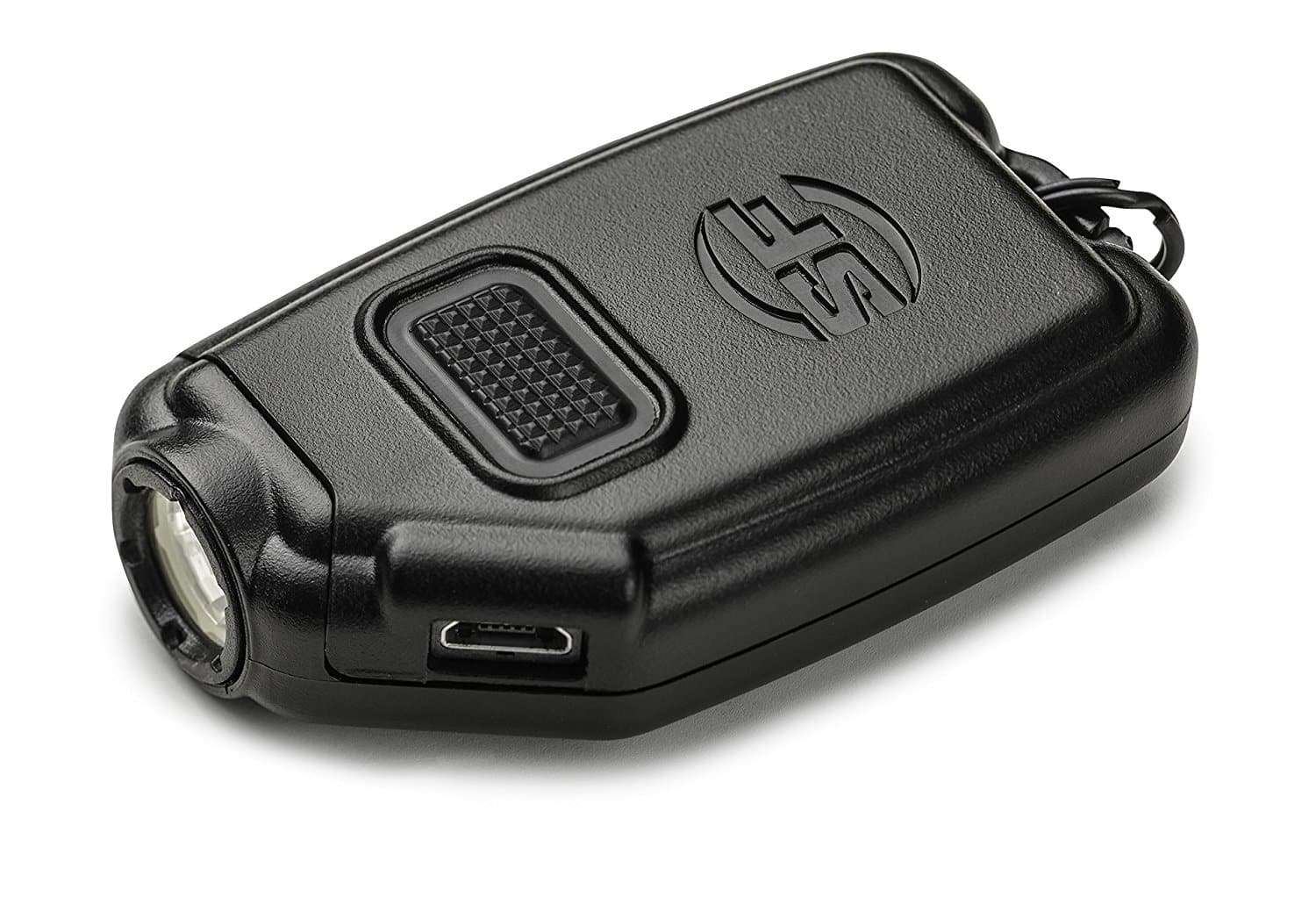 If you're in the market for something that's easily concealable and portable that will always be right at your fingertips, the Titan Plus LED keychain light is the way to go. It's not necessarily the best tactical option, but it's good for an outdoor environment and is great for when you're on the go.
I keep a Titan Plus on my own keychain when I'm visiting relatives who live in the wilderness. If you're from New York, you've probably heard about the long, steep winding roads of Sullivan County. If you've driven down one, you know that it wouldn't take much for you car to go off a steep include and land you in the wilderness.
When driving late at night in the remote woods of America, this is the light you want to have in your car's ignition should anything go wrong. It has an ultimate brightness of 300 lumens and high-performance LED light.
What's more, it's virtually indestructible, making it a great accessory light for even the most extreme of conditions. SureFire's proprietary faceted reflector provides a broad MaxVision beam that adapts to your field of view.
---
Things to Consider When Purchasing a Tactical Flashlight
As I mentioned before, there are several key factors to consider before selecting the flashlight that is right for you.
Before picking out a flashlight, you should think about what you need from your flashlight. These are a few factors that should be assessed prior to purchasing your light:
Lumens: How Flashlight Brightness Works
Most manufacturers heavily advertise their high brightness levels, but high lumen levels don't always equate to high quality flashlight designs. Remember, just because a flashlight has a high brightness level does not necessarily mean that it's built for optimal performance and longevity.
I usually recommend purchasing a tactical flashlight with a midrange brightness and adjustability. For most practical applications, tactical flashlights should have a minimum of 600 lumens and a maximum of 2,000 lumens.
Anything more than 2,000 lumens can compromise the tactical element of the equation. The word "tactical" is defined as, "Pertaining to tactics in order to gain an advantage, primarily in a war-like situation."
As we've seen, the best tactical flashlights come with a variety of tactical modes such as SOS and strobe. Many flashlights with high lumen levels skimp on these features for the sake of focusing solely on brightness.
"Throw & Flood"
These are terms which are commonly associated with tactical flashlights. Here's a handy breakdown of what they mean:
Throw
The Throw profile of a flashlight refers to a narrower beam that is generally stronger and illuminates at a farther distance than what you are aiming it at. While this can be advantageous in certain situations, it offers a lack of peripheral illumination.
Flood
The Flood profile refers to a light that is spread more widely from the lens, enabling the user to have a wider field of view. Most of the time, a flashlight reaches its highest lumen output at the throw profile.
---
Main Considerations When Looking for a Tactical Flashlight
Pure Brightness Isn't Necessarily the Best Thing
Flashlights that are built for pure brightness and nothing else can compromise some of the other things you should want out of your flashlight such as longevity (the flashlight's lifespan) and other features.
At just 2,000 lumens, the amount of power required to generate this level of brightness means that you are draining your battery power far quicker than you would at a lower setting.
Size Really Does Matter
When purchasing a flashlight for tactical purposes, you want something that is easily concealable and easy to maneuver. Whether it's for self-defense purposes, spying or hunting, a tactical flashlight should be small in size and able to fit into a hidden compartment or pocket.
Manufacturers typically built them to be small and compact, but don't think that means you're losing power. These sleek, tiny flashlights pack a lot of punch regardless of how small they are.
Kits vs Stand-Alone Flashlights
For the serious user, it's best to purchase a flashlight kit as the many accessories will come in handy. This is especially true for law enforcement professionals and other pros who will be using it on a regular basis.
---
Conclusion
Hopefully, this comprehensive list of the best tactical flashlights will help you to decide on the right choice for your personal needs.
If you think I left any worthy contenders off the list, be sure to contact us with your suggestions. Be safe and stay bright.
Related Reads: