The Glock 27 is light, powerful, small and accurate. It's got a comfortable grip and size that make it especially popular with law enforcement.
If you're looking for a Glock 27 IWB holster, the Alien Gear Cloak Tuck IWB Holster is my top recommendation due to its flexibility and ease of wear.
There are many great IWB holsters to choose from on the market though so I'll be comparing them in this article.
Get Great Guns and Ammo Deals!
---
What To Consider When Choosing Your IWB Holster
Inside the waistband holsters help you carry your gun while it stays concealed right in your clothing. Before you grab just any one though, there are a few factors to keep in mind.
Accessibility
You want to be able to grab your Glock 27 in a hurry, without worrying that your concealment will impede you. With any holster you grab, you have to consider the level of retention and friction so your gun stays put but the holster doesn't come out too.
Comfort
If you're not comfortable with your option, you probably won't like wearing it. Grab a holster that feels good to have with you.
They're made from different materials that work for long-term wear without collapsing or changing when you pull your Glock. You might need to increase your pant size when wearing an IWB though, so keep that in mind.
Pros and Cons of an IWB Holster
There are different types of holsters, so why pick an IWB?
Less Printing
Better Concealment
Oversized Clothing
Quicker Access
Re-Holstering
Carry Position
Less Printing
An IWB breaks up the outline of carrying your Glock better, especially with tighter clothing. Since it's in your pants, there's less opportunity for printing.
This means that you can abide more easily to concealment laws, and can remove any jacket or overcoat without worrying excessively about everyone noticing that you're carrying.
Better Concealment
You can wear your pants higher without revealing the holster. Just put the holster and gun in your waistband and the exposure will stop at the bottom of the belt at the loops.
Outside the waistband holsters will have the holster protruding far beyond that. If you have to reach up high, IWB holsters are more likely to prevent others from seeing your weapon since they're closer to your body.
They're much more concealed than other types of holsters.
Oversized Clothing
One drawback is that you do need larger clothing with an IWB. That's because you need something with a larger waistband to accommodate the holster and extra magazines.
You'll also need a larger belt too.
Quicker Access
IWB does offer better concealment than OWB since the belt pulls tighter around the Glock.
It's harder to grab your gun in an IWB holster though since your fingers have to dig a little harder to pull the gun out properly. This can reduce your drawing speed if the situation calls for it.
Re-Holstering
OWB holsters also allow you to put away your gun quickly and smoothly. This isn't like an IWB holster that's under pressure from your belt and gets compressed. It's a little harder to get your gun lined up properly and back in place when it's inside the waist band.
That's why you want to find an IWB holster made out of strong materials, so that it hopefully won't compress as much when you're in a situation where you need to put your gun away in a flash.
Carry Position
The best place to carry is usually just behind the point of the hip or in the middle of the back, since those places provide the best comfort.
When worn at the hip or back though, the gun tends to stick out and chafe and can hurt worse when the holster is tighter against your skin.
You may just need some time to get used to it, but if it's really uncomfortable when you're carrying, you might be better with another type.
Check this Youtube video to see how to choose an IWB holster for your Glock 27
Best IWB Holsters for Glock 27
Made in the USA, this holster is popular for its craftsmanship and durability.
You can test drive it for 30 days, and with a warranty for life, you can have your holster replaced for free.
You don't even need to break it in with its spring steel core.
Pros
– Conforms to the body extremely well
– Simple to adjust and still remains comfortable
– Easy on the draw, retains the weapon, and attaches to the belt
– Comes with a lifetime warranty
– Comfortably places the grip of the Glock 27 in a position to grab quickly if need be
– Doesn't move around much because of the included clips
– You can adjust the clips in multiple ways for an easier fit
Cons
– If you want more heavy-duty clips, you do have to purchase those separately
– The kydex shell may not be trimmed enough for you to grab onto your Glock 27 simply
– Magazines are released if you click just right
– Screws can fall out after a while
– Many people say that too much of the trigger is exposed
– Quality is the largest issue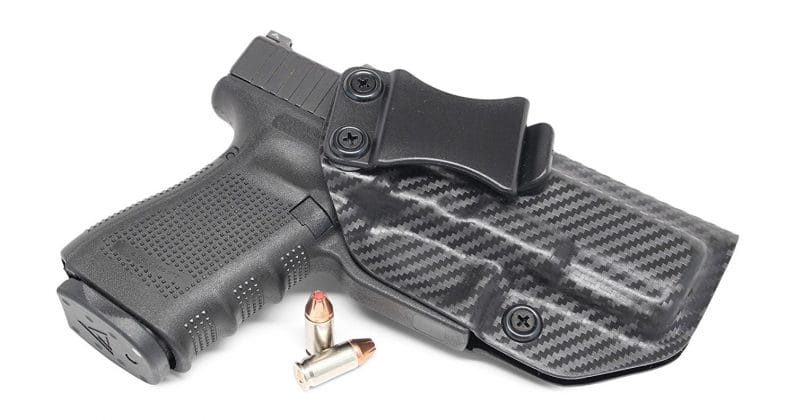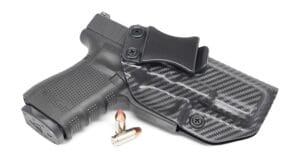 This IWB holster can fit multiple Glock models with ease while being easily adjustable.
It's thin enough to be comfortable while being thick enough to keep your Glock 27 safe.
The retention system locks your gun in, and the sweat shield prevents it from being uncomfortable.
Pros
– Draw from the holster is flawless
– Lets you sit easily and holster the Glock 27 again with ease
– The trigger is always completely covered
– Can wear it for a variety of daily activities
– Easy to adjust for retention
– Very minimal if any print through the shirt
– Sits low and is comfortable in a variety of positions
– Fits the Glock 27 very well
Cons
– If it's warm out, it can stick to your skin and become uncomfortable
– You need to wear a belt with it; the clip will not hold it to your clothing alone
– You may not be able to see the holster, but the print of the belt clip is very obvious
– The way the clip connects to the holster, there's extra thickness; you may have a problem fitting your Glock 27 inside it
This holster is made in the USA with Boltaron and other superior materials that make it higher impact and more resistance to temperature.
There's even less friction so you can slide your Glock 27 out easily and right back in. Adjust it if you need and return it if you don't like it.
Pros
– The Glock 27 sits in there without problem and isn't too hard to draw
– Clips on easily even with various types of clothing, like gym shorts
– The holster is tight enough that your gun shouldn't fall out if you lean forward or if it tips
– Very secure and tight
– There's a noticeable click when you insert the gun, but draw speed is not affected
Cons
– If you adjust the tension, you may have problems drawing the gun
– May not fit the profile of your Glock 27 snuggly enough
– Some screws dig into the legs a bit
– May be more uncomfortable to wear than other brands
This holster includes black spring steel belt clips so that it stays securely in your waist without falling out.
It can adjust depending on the position you're in, and is easily concealable, comfortable, and tuckable. It's completely leather too.
Pros
– Decent quality leather that is comfortable to wear and doesn't feel rough on the skin
– The kydex is shaped well to hold the gun securely and give the right amount of retention
– Solid construction with large rivets, quality leather, and clips that retain their shape
– The leather in the back is cut low enough to make sure the magazine release button does not touch the holster
Cons
– The belt clips are very weak
– The clips are thin, and seem to have a tendency to get caught on things
– The screws frequently work themselves loose; you might find yourself doing a lot of maintenance
– Screws loosen every time the holster is worn in some cases
– Clips are tight, and pull up out of the waistband
– Not too great for appendix carry
– Some friction under clothing
Conclusion
When it comes to picking out your Glock 27 IWB holster, any one of these will do great. My top pick is the Alien Gear Cloak Tuck IWB Holster, not only because of the high quality, but because if there's ever any issue, you've got a lifetime warranty to back you up.
Your gun won't fall out, and even if the price is a little high, most people agree that it's definitely worth it.
Related Reads: