Concealed carry guns have been growing in popularity in the last few years, and more people now than ever before have their concealed carry licenses. That means that gunmakers are having to keep up with the demand and in the area of compact .9mm pistols.
Anytime there is such a large demand or surge in popularity, it usually also tends to lead to some really cool innovations. When talking about firearms, those innovations can come in the form of upgrades and size reduction to some of the classic full-size models you have come to love over time. If you are an avid gun enthusiast or just have a favorite make and model of pistol, you should have no problem finding a compact version that you enjoy just as much. Maybe even more.
If you still need a little help though, we have rounded up a few of our favorites for you to browse through to help you narrow down your choices.
SAFEST NEWSLETTER - WE WILL NEVER SELL YOUR EMAIL
GET GREAT

GUNS AND AMMO

DEALS!
SENT ONCE A WEEK - NO SPAM - NO SELLING YOUR EMAIL
---
The Walther PPQ M2 is a semi-automatic 9mm with a compact frame. It is almost the exact same build as the original PPQ, with the only real difference being that the PPQ M2 incorporates a thumb release push-button for the magazine release. It holds a total of 15 rounds of 9mm caliber Luger ammo.
This pistol is only slightly larger than a Glock 19 and has a total length of 12 inches. And weight is also a non-issue with the PPQ M2, weighing in at only 3.5 pounds.
There is a bit of heavy recoil that you can feel when firing this pistol. This is minimized to an extent thanks to its low bore-axis design, however. And because it has a low bore-axis, the grip handle is also a good deal shorter. This makes it an easy pistol to handle and conceal. In addition to this, it features an ergonomic design that just feels comfortable in your hands.
Couple all this with a relatively large trigger guard and probably one of the best triggers on the market, and you have yourself a gun that is simply a pleasure to fire.
Pros:
Extremely accurate
Ergonomic handle
Low bore-axis
Light-weight
Sleek design
Cons:
Ambidextrous safety pin takes getting familiar with
Heavy recoil on the 4-inch barrel version
3 dot sights aren't very tightly grouped
---
The Ruger LC9 (Lightweight Compact 9mm) is a semi-automatic, double-action only pistol that lives up to its name. It is easily concealable and weighing in at only 1.1 pound; it makes for a quick-draw sidearm.
There are a lot of really great features that come with this small frame. For starters, finger grip extensions are sleek, comfortable and easy to handle, and the overall ergonomic design is on point.
The adjustable three-dot sights are tight and easily adjusted. Just behind your sights, there is a load indicator feature. This feature works by displaying a red pop up indicator bar anytime there is a live round in the chamber. This feature may seem a bit silly to most gun enthusiasts, but it's also fairly useful.
Furthering the safety factor of this pistol, it has a locked-breech system, and a frame-mounted thumb safety similar to that of a 1911. And you never have to worry about the pistol being disabled in the middle of a firefight due to the magazine being engaged thanks to its superior mag lock system.
There is a good deal of recoil that comes with the LC9 but it is easy to deal with and stabilize after you get adjusted to it.
Pros:
Solid and well-built
Lock back slide
Lightweight
Cons:
Heavy recoil
Very long trigger pull
No firing without mag
Bulky
---
The M&P 9C from Smith & Wesson is a compact version of their highly popular full-size M&P pistol. Dare we say, one of the best carry guns for the price?
Despite its small size, the M&P 9C packs one big punch. It is a striker fire action pistol, and it holds a total of 12+1 rounds. There is certainly plenty of firepower on this pistol to get you through a firefight.
Built on a high-quality polymer frame, this bad boy weighs only 24.07 ounces, or 1.5 pound, making it a prime choice among most gun enthusiasts as a lightweight concealed carry weapon.
Its overall length is only 6.7 inches and it features a slimmed down look with all of its rounded edges and no thumb safety. This style helps keep it from getting hung up on your holster during a draw and really lends to the ergonomic feel.
Pros:
Very comfortable ergonomic design
Sights out of box are really good quality
Slide lock is sensitive enough to pick up on magazine slamming
Cons:
Can be difficult to disassemble and service this firearm
Vague trigger reset in comparison to something like the Glock 19
---
The Sig Sauer P320 Compact is a semi-automatic strike fire 9mm pistol that is an excellent choice for a concealed carry firearm. It offers a smooth and crisp trigger that is sure to give you the right amount of pull-ease to get just that much more accuracy out of your shots.
The P320 Compact is built upon a stainless steel frame, which of course adds a bit more weight than a polymer frame. Depending on your shooting style, this may or may not be something you want.
The safety features on the P320 Compact include a striker safety, in addition to a disconnect safety. Speaking of safety, this pistol is also extremely easy to disassemble without tools and thanks to the ergonomic design that fits just about any hand, you will never need a backstrap.
The Sig P320 is often compared to the next pistol on our list, the Glock 19. Not only do these two guns look the same, they also perform just about on the same level. The major advantage we would have to give the Sig P320 is that the groupings seem to be just a little tighter at longer range.
Pros:
Low recoil
Excellent ergonomics
Best trigger for a striker fired pistol
Cons:
Replaceable grips feel cheap
Expensive magazines
Not as modular as they claim to be
Bulky for a compact concealed carry pistol
---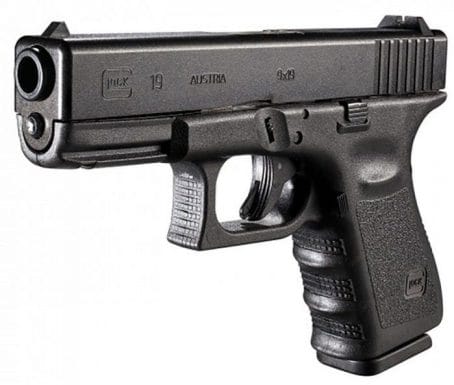 If you ask just about any gun enthusiast what they think the best compact 9mm pistol is, I guarantee you will hear "Glock 19" more than a few times. And honestly, the G19 has certainly earned the title and it's often thought to be one of the best concealed carry pistols ever created.
This pistol is ideal for use as an all-around gun and great for beginners and pros alike. It excels in this area and is usually on the list of approved firearms for many law enforcement agencies and in various branches of the U.S. military.
The G19 is a semi-automatic, striker fired, compact 9mm that is constructed with a black polymer frame. It holds 15 rounds in its 4-inch steel barrel and weighs roughly 23 ounces when unloaded. Loaded fully, it will bring you to around 29 ounces when it contains a full magazine.
The safe action trigger is rated with a 5.5-pound trigger pull, and it feels very similar to the trigger on the Sig P320. It is smooth, crisp and has minimal recoil.
Pros:
Lightweight
Great for all skill levels
Large magazine release button
Magazines are inexpensive
Cons:
Slide rail is molded directly into the polymer frame
No trigger safety
Trigger may be difficult for most to learn and get comfortable with
---
What Makes A Pistol A Good Choice For Concealed Carry?
When you need a well-concealed carry pistol, you need something compact, easy to handle, and lightweight. Of course, there are a number of other factors that go into naming a pistol as a good choice for a concealed carry sidearm.
We've narrowed it down to three main areas we believe are the major determining specs to pay attention to. While all of these will vary from person to person, the following should at least provide you with a decent set of guidelines to follow.
Weight
When looking for the best compact 9mm, the weight of the pistol is going to be one of the most important factors to consider.
If the gun is too heavy to comfortably support in your hand for more than a minute, keep on searching. The heavier it is, the more recoil you are likely going to feel when you fire it. And with all that extra weight the more cumbersome it is going to be when you need to quick-draw your sidearm.
But you still need something that has enough weight to it as this helps to stabilize it while firing. The range you probably will want to consider for your compact pistol is right around 1-3 pounds. Keep in mind that you can very easily double your load when you have a full clip in depending on the type of ammunition you are using.
Ergonomics
Ergonomics are very important when we are discussing the best concealed carry pistols.
First of all, whatever pistol you choose needs to fit comfortably in your hand. Your fingers should fill out the finger grips fully, and the handle shouldn't make you try to contort your hands in an unnatural position.
It shouldn't extend too far from the bottom of your palm when holding it in a shooting stance. The longer the handle, the more awkward the handling and even concealment may become. The recoil may be lessened with a longer handle but the control your hand has over the pistol is too.
This is a big one for most gun owners I know. Having a comfortable, fitting grip on your gun can easily be a game changer.
Capacity
The ability to hold several rounds while remaining compact is a feat that any concealed carry pistol should be able to pull off easily. There is nothing worse than being pinned down or otherwise caught in a situation and you run out of ammunition.
Remember, as we mentioned above, the more ammo your pistol is able to hold, the more weight you will be adding to your load. And if your pistol only accepts a single stack magazine, it will more than likely come at the expense of a longer profile.
Alternatively, if you want to keep your handle length short, check into double stack magazines if your pistol will accept one. Double stack magazines are great for packing in more ammo, but all those extra bullets require more room so this type of magazine does come at the expense of a wider profile.
In general, you probably want to be able to hold at least 12 rounds in a compact magazine and one chambered.
---
Final Thoughts
In this review of our top picks for best compact 9mm pistols, we looked at some of the most popular handguns on the market. While it was a tough decision for us to settle on only one of them as our top pick for best compact 9mm, we had to go with the Glock 19. This is a solid sidearm that is great for the novice shooter, packs a major punch and is what you may call "just right".
When it comes time for you to make a decision on which firearm to invest in, it all really just comes down to personal preference. With the help of our guidelines for what to look for, you should be more than well-prepared when you are ready to scoop up your next concealed sidearm.
We hope that we have been able to help you narrow down your choices and have given you enough to think about to pick between them. If there is a compact 9mm pistol that you believe deserves a place on this list, please feel free to let us know in the comments section below.
Related Reads: