If you are looking to carry an iconic firearm like the 1911, you might consider using a paddle holster. Paddle holsters are especially useful if you are constantly on the go. If you constantly need to be taking your weapon on and off, a paddle holster allows for you to disarm without removing your firearm from its holster.
When choosing a 1911 paddle holster, there are many great options. My favorite, however, is the Galco Speed Paddle Holster. The Galco Speed Paddle boats a beautiful, top-quality leather holster, keeps your pistol in place with tight retention, and fits the shape of your 1911 with a custom-tailored design.
Get Deals on Guns and Tactical Gear
Join 70,000 Readers For Our Weekly Discounts
---
The 1911
Although some consider the 1911 outdated, many still swear by this classic American handgun today. Not only does this gun offer innovative features that have stood the test of time, it carries with it more than half a century of American history.
History
The 1911 replaced the double-action revolver as the standard service firearm of American troops. It entered service on 1911 (as its name testifies) and remained in service until it was replaced by the Beretta M9 in 1986. The M1911 was invented by the famous weapons designer John Browning in the late 1800's.
Our troops first carried this into action in Mexico border disputes, the so-called "banana wars" in South America, and during various Native American disputes. When Woodrow Wilson sent American troops to relieve the battle-fatigued and weary French and British trenches in 1917, our GI's packed the M1911 under their belts.
We brought this iconic firearm to Europe's aid again once more in the second world war, trusting this reliable firearm to fight the Nazis, storming the beaches of Normandy and liberating France from Vichy rule.
Again, we carried this firearm countless times in the jungles of the far east, and even today, when given their choice of firearm, countless special forces units still swear by the M1911.
Features
Besides this American legacy, a number of features make this legendary firearm unique. 1911's are heavier than post firearms, pack a number of extra safety features, utilize a unique trigger design, and have a somewhat limited ammunition capacity.
The Weight of a 1911
The military-issue M1911, loaded with seven rounds in the clip and one in the chamber, weighs 1.36 killograms (three pounds), making it about 385 grams (15.68 pounds) heavier than a Glock 22. Some dislike the extra weight of the 1911, making them prefer the lighter weight of the Glock.
The 1911 Safety Mechanism
Early I mentioned that the 1911 was the first standard issue semi-automatic sidearm issued in the United States military. One of the major factors the United States considered when choosing a firearm for the job was the safety features.
In the year 1911, the United States still used cavalry, which indeed saw a great deal of use during the beginning of World War I, but were quickly made obsolete by the machine gun and the trenches.
When riding on horseback, the security and safety of your firearm is crucial. Before the American military was ready to trust a semi-automatic firearm with the task of becoming a standard service weapon, it needed to stand the constant rattling and bouncing of being carried on horseback.
The 1911 employs two different safety features. The grip safety on the side of the gun means you will have to squeeze both safety and trigger to discharge a round. Given the light trigger of the 1911, the grip safety is ideal.
Alongside the grip safety, the 1911 also offers a side-lock safety, a device that locks the hammer and sear into place, allowing the weapon to be "cocked and locked."
Critics of the 1911 have mixed opinions about the safety features, making it a matter of personal preference. While any safety mechanism can be incorporated into your habit of drawing and firing through usage, many people are worried that the safety features could potentially prevent you from discharging your handgun in an emergency situation.
Moreover, if you frequently use a variety of handguns, the habits you have learned elsewhere might make adjusting to the 1911 uncomfortable. I personally prefer to maximize the safety features of my firearm, rather than throw caution to the wind. On the other hand, I understand that some people find grip safeties awkward and uncomfortable, making the choice a matter of taste, comfort, and preference.
1911 Trigger
The single-action trigger of the 1911 works as a single piece. Instead of turning on hinges, the entire trigger slides back like a screen door, meaning that the trigger pull is much lighter. This light pull means that there will be less motion added by the pulling of the trigger, allowing for easier accuracy.
Since most complaints about the 1911 involve the safety mechanisms, I would imagine those complaining about excessive safety features wouldn't be complaining about the gun being easy to fire. Here, you might think of the 1911 as offering you a trade. If you want a light trigger pull, you need to compensate for this by adding extra safety features.
So if you are willing to trade some extra hours of training for added accuracy, the 1911 might be the gun for you. If you are more concerned about drawing quickly and comfortably than keeping your shot absolutely steady, you might look for a different firearm.
---
Should You Use a Paddle Holster?
What is a Paddle Holster?
Rather than clipping or attaching to your belt, a paddle holster slips into the side of your pants. The "paddle" portion of the holster gets tucked into your waistband, keeping your firearm in place.
Paddle holsters are ideal for people who are constantly taking their weapon on and off. While you might simply remove your firearm from the holster, you might want to store the weapon in a holster when disarmed, making the paddle holster an ideal choice.
Most popular materials for making paddle holsters are Leather and Kydex.
Why You Might Need a Paddle Holster
A paddle holster is a viable option for anyone looking to draw from the waist, but it is especially ideal for those who are constantly taking their weapon on and off.
If you are a plainclothes detective or have to check your weapons to go through security, the paddle holster lets you quickly take your holstered firearm on and off without taking off your belt or pants.
The downside to a paddle holster is that you won't have the added security of a belt, so you want to make sure that you draw your gun, not your entire holster. You wouldn't want to be pointing your holster at someone!
---
Our Favorite Paddle Holsters for the 1911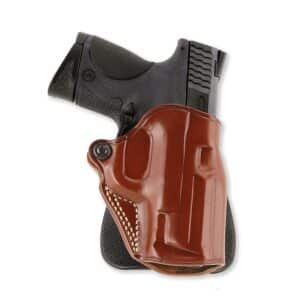 I picked the Galco Speed Paddle Holster because it offers all the features I am looking for in a paddle holster with an elegant leather design. It also is designed for being speedily taken on and off, which is the main feature I am looking for in a paddle holster.
Whether in law enforcement, security, or simply carrying for personal protection, the Galco Speed Paddle Holster lets you wrap America's most iconic sidearm in cowboy leather.
Features
Made from premium steerhide
Adjustable tension
Cant keeps the butt slightly forward
Custom-tailored molding for reasonable retention
Covered trigger guard.
"Speed Paddle" system for quick arming and disarming
Pros
Beautiful Leather Design
Fits comfortably
More resistant to wear and tear than plastic
Easy to take on and off.
Cons
Rides high, depending on where you carry
Tight retention
Takes time to break in leather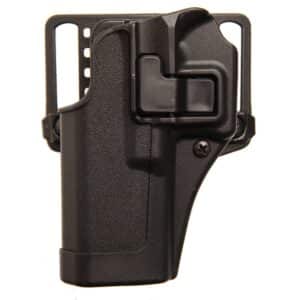 The Blackhawk! Serpa Concealment Holster sacrifices the cowboy looks for tactical functionality. This holster is ideal if you want to make sure it's absolutely impossible for anyone to ever take your firearm from your holster.
If you work in a crowded area where you can't always be watching your back, this holster offers an ideal choice. It's also slightly less bulky than Blackhawk's other paddle holster.
Features
Matte finish
SERPA auto-lock release holds gun in place
Passive retention with adjustable screw
Clicks when gun is holstered
Belt loop or paddle options
Active Retention
Pros
Cons
Longer guns can catch sight on draw
Difficult to draw and reholster
Plastic scratches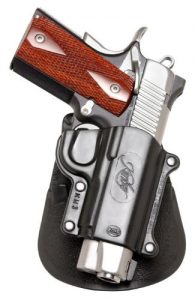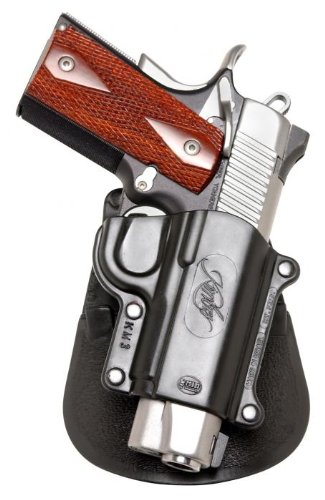 This holster from Fobus offers a sleek and simple design. If you're interested in drawing your weapon fast, the Fobus Standard RH Paddle is ideal, as only the trigger guard of your firearm meets the frame.
However, the spartan design covers the bare minimum of your weapon, making printing a problem. If you are worried about your weapon printing, you might invest in something different.
Features
Lifetime Warranty
Weapon rests on trigger guard
Passive retention
Fits Kimber 3"-5" and all 1911's.
Pros
Option for cross-draw
Holds up to wear and tear
Comfort
Cons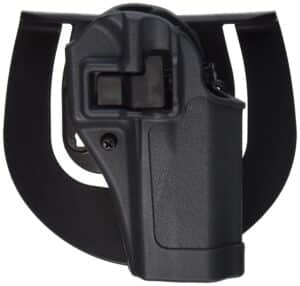 This holster offers a bit larger version of the Blackhawk! Serpa paddle holster. Like its smaller sister, the holster holds belt loops that can make your weapon more secure if necessary. It also offers extremely tight retention, clicking your gun into place so that no one can take it.
Features
SERPA auto-lock keeps gun secure
Trigger lock for release
Retention is adjustable
Belt adds extra support option
Pros
Active Retention Keeps Weapon Safe
Designed to Fit the 1911
Allows for Concealment
Cons
Large and Bulky
Plastic Scratches
Heavy Retention Makes Draw Difficult
Difficult to Reholster
---
Conclusion
While all of these holsters offer excellent choices, when carrying a weapon with the beauty and history of the 1911, I much prefer putting my weapon into rawhide leather. The Galco Speed Paddle Holster excels at providing the primary function of a paddle holster by making it exceptionally easy to take your weapon on and off.
Our Pick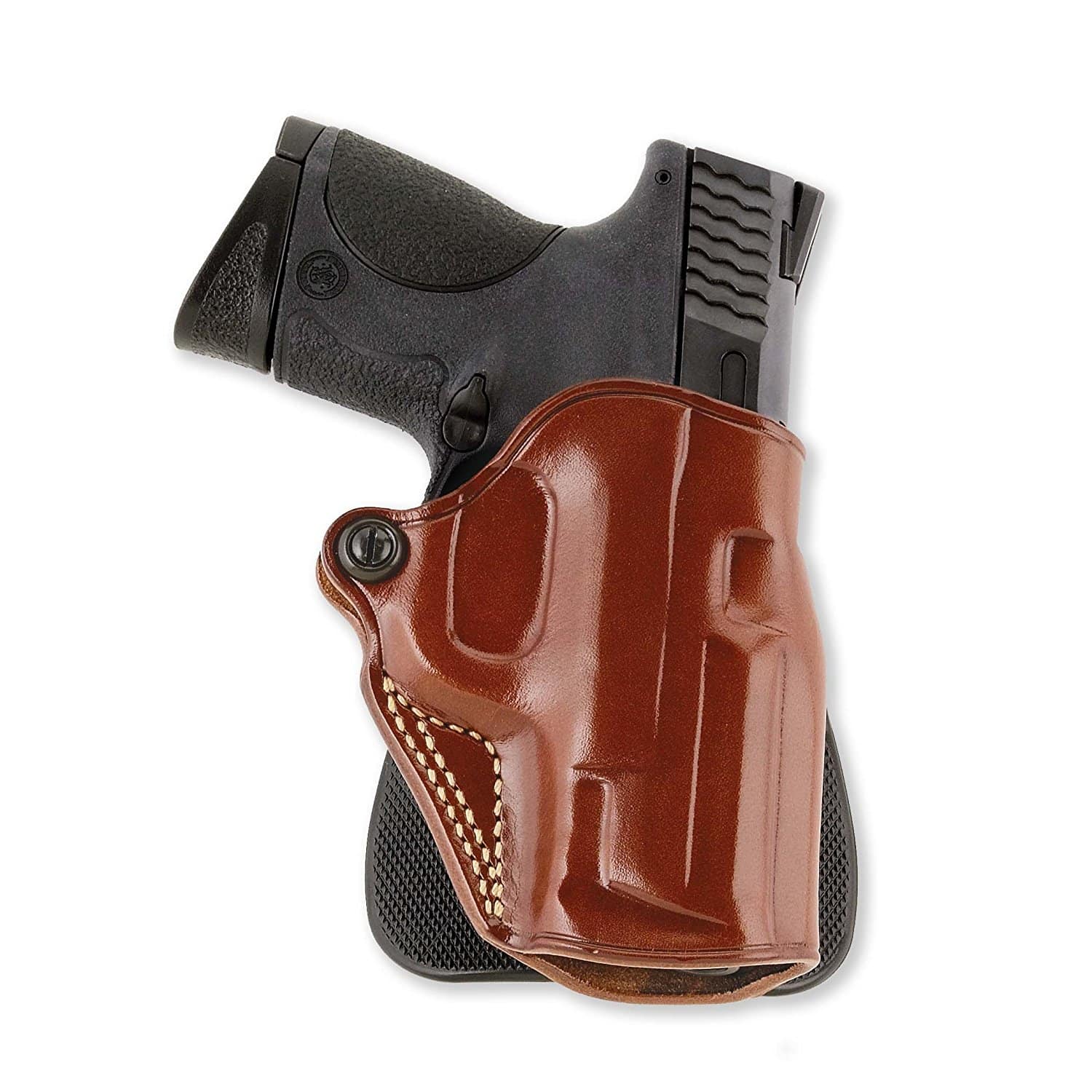 Best 1911 Paddle Holster
Galco Speed Paddle Holster
I picked the Galco Speed Paddle Holster because it offers all the features I am looking for in a paddle holster with an elegant leather design. It also is designed for being speedily taken on and off, which is the main feature I am looking for in a paddle holster.
Check Price
While the Fobus Standard Holster RH Paddle offers comparable utility, it keeps my 1911 almost completely naked, making me look like I have a gun in my pocket. While the Blackhawk holsters are tempting, I will take leather over plastic any day, and find the active retention and bulky size excessive and unnecessary.
Since I am more worried about beauty, comfort, and removing and replacing my holster with ease, the Galco Speed Paddle Holster remains my top pick.
Related Reads: