So, you're in the market for a drop leg holster and you're wondering which one is the best.
If you carry a gun for several hours a day, your back can get sore. Especially if your job, or a day at the range, requires you to wear a rigid belt. Put a couple of guns, extra ammo, and even flash lights on your belt and it gets heavy.
Reducing the weight on your belt and distributing it evenly throughout your body helps. Using a thigh rig will have immediate results. Your lower back will be happy to have some of that weight distributed to your thigh.
There are plenty rigs to choose from. After doing some research, I found I like the Condor Tactical Leg Holster the best.
Condor specializes in tactical gear. They have over 20 years experience in the tactical gear industry. This drop leg holster is a wrap around design that fits a pistol with a laser or flashlight mount. It's fully adjustable and fits most medium and large pistols.
Get Great Guns and Ammo Deals!
---
Tactical Holsters
As a hunter, a prepper, an armed citizen, or a weekend warrior on the range, there will be times you prefer concealment over function. Any time you hide something on your person it becomes harder to access.
There are many great concealment holsters out there, but they will never be as quick draw as a hip or thigh holster. That's the first noticeable difference between a tactical holster and a concealment holster.
Tactical Holster Features
A tactical holster has different features than a concealment holster. Let's look at a couple of these features.
Access
Tactical holsters are easier to access. They are right there, on your hip or thigh, out in the open. This serves a couple of purposes. You can have easy access and get a good grip on your gun with a tactical holster. It also does not lend to the imagination. What you see is what you get. No one will be questioning if you are carrying or not.
Retention
After access, retention is the second most important feature of any holster. Tactical holsters usually offer different levels of retention. Passive retention is just the friction of the holster holding the pistol in place. Level two retention adds another level of security, like a strap around the gun. Level three will have two mechanisms to keep the gun retained in it's holster.
Most agree that passive retention is sufficient for concealed carry. If you are carrying out in the open at least a level two should be used to reduce the risk of gun grab.
Strong Attachments
A tactical holster will have extra strong belt attachment systems. This means reinforced belt loops with polymer or metal hardware. You want the belt loops to be as strong as the holster. A side note here is that you will need a belt strong enough to hold your tactical holster. The average department store belt will not be sufficient.
---
Hip or Thigh Holster?
If you ask this question you will find everyone has an opinion. Strong opinions. It's almost like bringing up religion or politics. There are reasons for both types of holsters and in the end, the decision is yours.
Thigh Rig
This puts the handgun right on your thigh. Access is super easy and quick. It is an excellent choice if you are wearing some body armor that makes a hip holster hard to draw from. It can also be a good choice for someone who spends a lot of time in their vehicle.
The downside of a drop leg holster is that it can snag on things since it does stick out quite a bit. It is also easier for someone to go after your weapon since it hangs down so low.
Hip Holster
Hip holsters, also known as OWB or outside-the-waistband holsters, are the most popular and recognizable type of holster. They are comfortable and have easy and quick access. They tend to be more secure than a thigh rig. The downside is that they are not easily accessible while sitting in a vehicle or while wearing armor.
---
Want or Need
The first thing to figure out is if you need a tactical holster. You may need one for your job or an upcoming hunting trip. If you don't need one for a specific reason then you can figure out why you want one. Do you like to wear tactical gear at the range? Do you compete is gunmanship courses? These are all very good reasons to get yourself a tactical holster.
Common Drop Leg Holster Mistakes
There are a couple common mistakes that people make while wearing a drop leg holster.
Too Low
The higher you can wear your thigh rig, the better. It really only needs to be low enough to clear your belt or body armor. It will be more secure and less likely to flop around the closer it is to your hip. Plus, the lower you wear the rig the longer reach you need to get to your handgun.
Too Loose
Tighten the leg straps as much as you can. Loose straps can impede your draw and keep your holster loose enough to wiggle around. Loose straps can cause problems.
---
Recap
Features
Tactical Holsters
Drop leg holster
Hip holster
Want or Need
Figure out your reasons for wanting or needing a tactical holster
Your mission dictates the kind of equipment needed
Common Thigh Rig Mistakes
Don't wear the rig too low
Keep straps tight
---
Top Drop Leg Holsters
Let's get back to the top picks. Here are a few good drop leg holsters for you to look through as you are researching which one may work the best for you.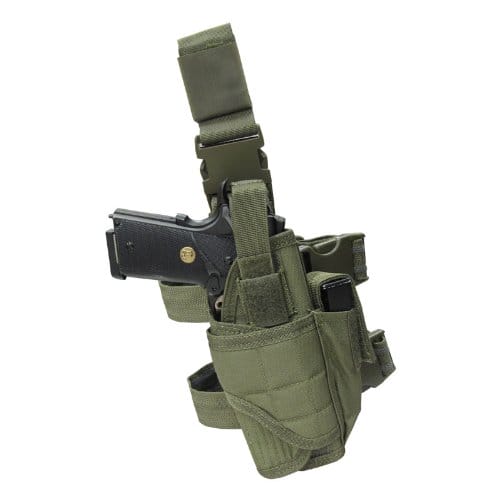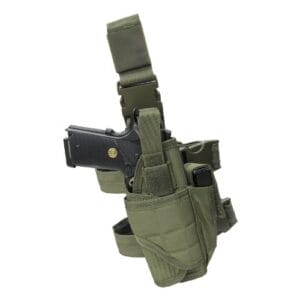 This leg holster is a wrap around design that fits pistols with a sight or light mount. The leg strap is fully adjustable with a non slip rubber lining and a quick release buckle.
Features
Wrap around design
Fits pistols with sights or flashlight mount
Retention system
Fully adjustable
Non slip rubber lining
Quick release buckle
Mag pouch
Fits medium or large pistols
Pros
Affordable
Comfortable
Fits almost any pistol
Nylon is heavy duty
Customizable fit
Covers trigger guard
Extra space on thigh strap
Cons
Does make some noise while wearing (hunters take note)
Needs easier release
Needs less wiggle room
Snap seems flimsy
This holster is for right handed draw/right thigh. It has an adjustable non-slip leg strap for safety and comfort.
Features
Fully adjustable leg strap
Non-slip strap
Ideal for military, police, hunting
Tactical thigh holster
Pros
Comfortable
Holds gun secure
Stays put on leg
Well made
One size fits all
Easy to adjust
Cons
Right handed only
Works best for large guns
Straps seem to loosen
Slips down a little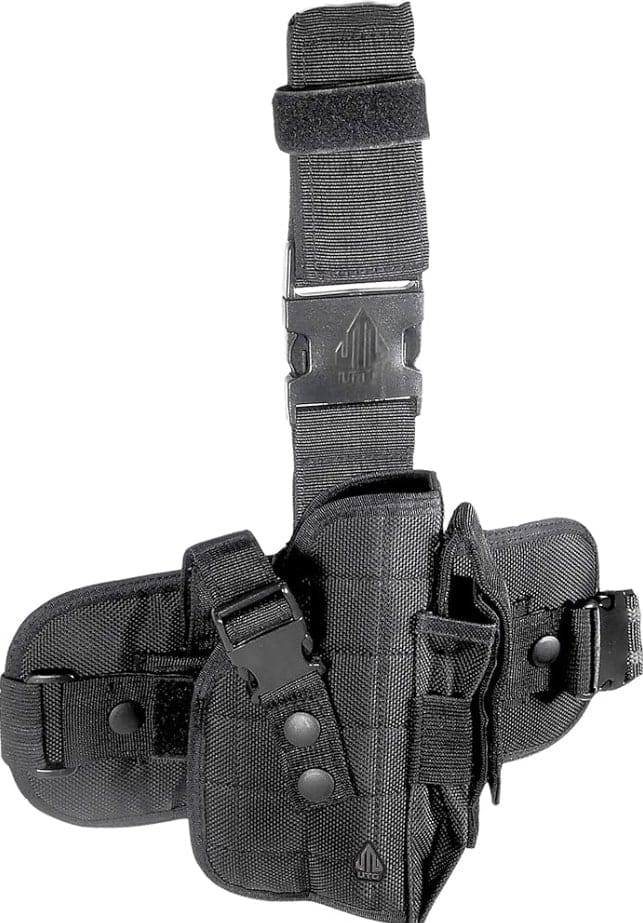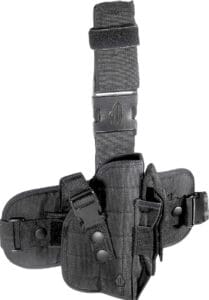 This holster has a fully adjustable and removable belt hanger, non-slip holster pad, straps, and buckle system and features an extra mag pouch.
Features
Universal design for most medium/large pistols
Double thumb break security system
Non-slip holster pad
Fully adjustable
Lightweight
Made in the USA
Pros
Made well
Affordable
Retention strap is sturdy
Doesn't move around
Non-slip padding works great
Adjustable
Comfortable enough to wear for hours
Cons
Pistol slips side to side
Too much velcro
Can chafe legs
Makes sidearm a little low
A little bulky
4.

Infityle Tactical Leg Holster
This thigh rig is durable, lightweight and keeps your gun secure. It comes in right and left hand models with multiple color choices.
Features
Lightweight material
Fits pistols with sights and flashlight mounts
Velcro strap retention system
Fully adjustable
Non-slip rubber lining
Quick release button
Extra mag pouch
Right or left hand options
Multiple color choices
Pros
Right or left handed
Very adjustable
Affordable
comfortable
Cons
Hard to get straps to stay put
Takes a lot of time to figure it out
Too big if you're a small person
---
Final Thoughts
If you are in need of a good drop leg holster, the Condor Tornado Tactical Leg Holster outshines the others. It is a very comfortable holster and you can make it fit just about any pistol. All the materials are high quality and it will last the long haul.
Condor makes other tactical items to go along with the drop leg holster. They are a good company that has been around for over 20 years. I think you may find a lot of tactical gear from them. Check them out!