You might be wondering what's the best holster for Glock 30 model handguns. Well, your choice of holster will depend on your style of carry. This is a compact .45 caliber pistol, making it an excellent choice for concealment.
Our holster of choice for Glock 30 models is the Cloak Tuck by Alien Gear. This is an inside the waistband (IWB) concealment holster meant to ride inside your pants. It keeps your firearm securely against your side in a polymer skin, yet the side against your body is comfortable neoprene.
This holster offers user-adjustable ride height, cant (carry angle), and retention to get your perfect fit. Alien Gear holds a lifetime warranty on this holster, and also a lifetime skin replacement if you change pistols.
Some Terms Defined
You may come across some unfamiliar terms while shopping for a holster. Some of the common terms include:
Retention — this is a way to keep the pistol secure. Sometimes this means a strap or finger button, but sometimes the shape of the holster itself guarantees retention.
Ride — this refers to the height of your firearm. Some holsters are adjustable to customize the height.
Cant — this talks about the angle of carry of the weapon, whether it's a straight draw, FBI-style (muzzle back) or reverse draw (muzzle forward). Many holsters offer adjustable cant.
IWB — short for Inside the Waistband, this refers to carrying a holster on the inside of the pants.
OWB — short for Outside the Waistband, this means carrying outside of the pants.
Cross-draw — this refers to carrying a pistol on the opposite side as your dominant hand, so you'll reach across your body to draw the firearm.
Get Great Guns and Ammo Deals!
---
What To Look For in a Holster
There are a few things to keep in mind when purchasing a holster for your Glock 30.
Concealment
If you plan to carry concealed, simply buying a concealment holster isn't enough. You'll need to make sure your wardrobe is appropriate for carrying a concealed firearm. This may mean adding clothes to your closet, such as long t-shirts, sport jackets, sweaters, or hoodies, as all these can aid in keeping your pistol covered.
Your Dominant Hand
Most holsters are not ambidextrous, though there are a rare few that are. So, you'll need to carefully look at listings online to ensure you purchase the correct holster to correspond to your dominant hand.
Even if you decide to carry cross draw or in a shoulder holster, keep in mind these are right- or left-handed as well. Carrying in a shoulder holster, you'll want the pistol to ride under your weak side arm, so you can draw with your dominant hand.
Draw Speed
Many holsters come with retention features such as straps, thumb breaks or finger buttons. These may reduce draw time, so practice with them until your draw feels natural. Other holsters like those that go around the ankle or belly, will slow draw time because they're under a layer of clothing.
Body Shape
Your body shape can make a difference in how a holster feels. Many concealment holsters are designed of polymer to go inside the waistband (IWB), but if you're a slim person with bony hips, these may not always be comfortable. If you have a little extra padding around the middle, perhaps a belly holster would not be your best choice.
Activity and Safety
If you're a active person, you might want to choose a holster with additional retention features, such as a thumb break or finger button. These holster additions will help keep your weapon secure if you move around a lot.
General Types of Holsters
There are many different styles of holsters you might see when you're shopping around. Here, we'll go over the basics of these types of holsters and give you some idea of what might work best for you.
---
Top 5 Glock 30 Holsters
Now that we've covered holster basics, let's take a more in-depth look at several popular holsters. We'll discuss their pros and cons and give you a good understanding of the specific holsters.
This is a holster made from saddle leather which is molded to fit specific firearms. It's an outside the waistband (OWB) holster with belt slots to slide over a standard belt. The Mini Slide is a flat-profile holster, making it easy to conceal. It may have an adjustable retention screw.
The Mini Slide is not ambidextrous, so make sure you order the correct right- or left-hand holster.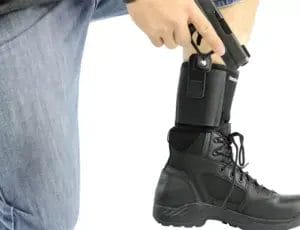 This is an ankle holster designed to be worn around the ankle. The band is made of neoprene, similar to knee braces, and offers protection from pressure points against the skin. The holster is elastic, offering a fit for many different handguns.
The Ultimate has a retaining strap for additional security. The metal snap offers quick removal for a smooth draw. This holster is available in two sizes, so make sure you follow the size guide when ordering.
Since this holster sits under your pant leg and has a retaining strap, it may slow down your draw time. But, the snap offers a quiet draw, reducing the chance of revealing your position in a tactical situation. The Ultimate is not ambidextrous.
ComfortTac offers a 30-day, money back guarantee if you're not satisfied with the holster. 
This is a molded carbon fiber Outside the Waistband (OWB) holster with both passive and active retention. You'll get an audible 'snap' when the firearm is correctly holstered, and it requires a button you push with a finger to draw the weapon.
The SERPA holster comes with both a belt slide backing and a paddle mount. The paddle slips into your waistband and rests against your hip with no need for a belt. However, paddles can be uncomfortable for those who are thin or have bony hips.
It is not ambidextrous, so use caution when ordering. This holster offers an adjustable retention screw to customize for the perfect fit. But, it doesn't offer adjustable cant (carry angle).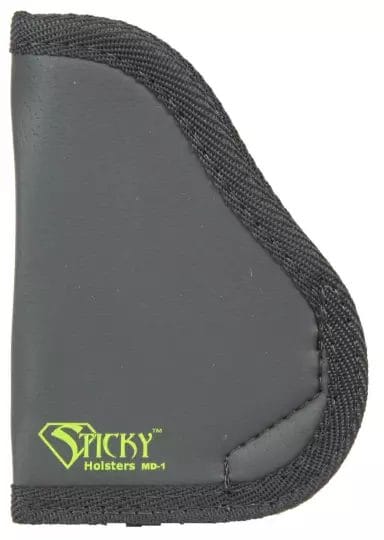 This is a pocket holster molded to particular models and it uses friction to keep the holster in place. There are no retaining features other than the friction of the holster. It can be used both in the pocket and inside the waistband (IWB).
The pocket holster is ambidextrous and will work for both right- or left-handed people. It's an enclosed holster, keeping dirt and lint from your barrel and slide. It can fit full size Glocks with barrel lengths up to 4.75 inches.
This is a hybrid Inside the Waistband (IWB) holster consisting of a polymer skin over a soft neoprene backing. The neoprene rises up to the top of the slide, protecting it from the sweat and oils of your skin.
The Cloak Tuck is adjustable for ride, cant (carry angle) and retention. The neoprene backing offers a comfortable fit for most body types. Also, Alien Gear makes different skins that will fit their universal backing, making it easy to swap out for different firearms.
Alien Gear offers a 30-day test trial on the Cloak Tuck, and a lifetime warranty. They'll also give you a lifetime of shell swaps in case you ever change firearms. This holster is not ambidextrous, so use caution when ordering.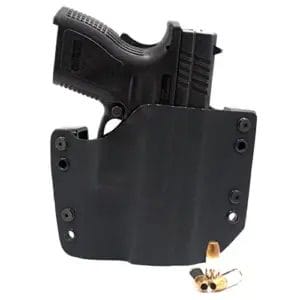 This is a molded Kydex polymer outside the waistband (OWB) holster designed for the Glock 30. It has two belt slots to slide over belts up to 1 ½ inches. But, they do offer one for belts up to 1 ¾ inches.
The Kydex holster offers adjustable cant (carry angle) by moving the belt slot attachments. It also offers a partial sweat shield on the side of the holster against your skin. However, some shooters don't like Kydex material, saying it has a reputation of marring the finish on some firearms.
---
Our Final Thoughts
Now that you've learned a little about specific holsters, you probably have a good idea of what will work for you. Our pick is at the higher price range, but for the available features and quality warranty, we feel it's the best choice.
Our Pick
Best Holster for Glock 30 Models
Cloak Tuck by Alien Gear
The award-winning Cloak Tuck 3.5 offers best-in-class performance in comfort and concealment. Dubbed "Best Holster in the History of Ever" by readers of Concealed Nation, this inside-the-waistband gun holster is built with formfitting neoprene and a flexible base that requires zero break-in time.
Check Price
The Cloak Tuck by Alien Gear offers a full lifetime guarantee, lifetime swaps of holster skins, and a 30-day trial. The holster boasts features such as adjustable retention, cant (carry angle), and height.
It has no additional retention straps to slow draw time, and won't collapse, easing re-holstering. This holster is an excellent choice for the price.