The J-Frame is often considered the classic "snub-nosed revolver". It's Smith & Wesson's smallest revolver, and therefore the easiest to conceal.
The S&W J-Frame has been around for some time, and there are plenty of holster options available for it. This review should help narrow down your choices, and give you a clearer idea of the best holster for your snubbie.
My top choice would have to be the IWB holster from Relentless Tactical. Read on to find out about this and a few other holsters for the S&W J-Frame.
Get Great Guns and Ammo Deals!
---
Choosing a holster for the S&W J-Frame
Before we get into specific holster brands, it's a good idea to familiarize ourselves with the various holster styles on offer. We also need to think about what makes a good holster.
Below are some of the top requirements of any quality holster:
Concealment
The J-frame is one of the most popular firearms in history for concealed carry.  A good quality holster should prevent even the most careful eyes from detecting that you're packing heat.
A lot of holsters today have special design features to reduce the silhouette – or "print" – of your gun, which may be visible through clothing.
For more on concealed carry, check out this useful wikiHow.
Comfort
Whether you're carrying all day on the job or you're just on a jaunt to the store, comfort is a top priority. Think about it this way, you wouldn't wear a pair of shoes that make you wince with every step. Why do the same with a holster?
What makes a holster more comfortable than others often depends on personal factors, such as body size. I've never been comfortable with a gun strapped to my ankle, but I know others who find it to be perfectly alright.
Retention
Retention describes how well a gun stays in its holster. The last thing you want is for your gun to slip out, or worse yet for someone to slip it out for you.
All gun holsters will have some form of retention. This is normally referred to as passive retention, which relies on friction and retention screws to keep a gun in place. Or active retention with straps, buttons, or levers which need to be manually switched to release your weapon.
You may also hear about different "levels of retention".
Durability
Finally, when you land a holster you're happy with, you want to make sure it lasts for a good amount of time. A decent holster should be made from durable materials, and not fall apart with regular use.
---
Ways of carrying
Now, let's take a look at some ways of carrying the J-Frame. One of the great things about this kind of weapon is that it can be used with a variety of holsters. This is by no means a comprehensive list of all the different carry methods. However, here are some of the most common and useful ones:
IWB
Inside-the-waistband holsters are probably the single most popular holster for concealed carry. This kind of holster usually attaches by a clip. They offer a very simple and effective way to conceal your gun, and can be worn at a number of different locations on the body.
IWB holsters are considered by some to be a comfortable form of carry. However, they often leave the grip of your gun exposed, which can rub against your skin – especially if you are a bit bigger about the waist. It's important to remember that not all holsters suit every body type, and you should shop around to find the one that suits you.
IWBs also require you to wear pants that are a few sizes bigger to accommodate for the gun and holster.
OWB
Outside-the-waistband holsters generally attach to your belt through slots built into the holster, alternatively they may attach via a paddle. They can be concealed under a long shirt or jacket, or they make a good choice for open carry. Larger pistols can present problems for decent concealment, but this isn't much of a problem with the J-Frame.
OWBs are more accessible, and are thereby faster on the draw. For that reason, they are often used in competitions.
For most people, outside the waistband carry offers the best level of comfort, but you may have to compromise on concealment.
Pocket Carry
If you've started to browse the different holsters available for the J-Frame, you've probably noticed the huge number of pocket holsters. They're very popular for this kind of handgun, and for obvious reasons.
Pocket holsters let you place a gun in your pocket, and keep it upright. They're perfect for a handgun with the proportions of a J-Frame.
This type of holster is very convenient – just place it in your preferred pocket!
Pocket holsters only work with the smallest of guns, and make wearing skinny jeans a practical impossibility.
Ankle Carry
One of the big advantages of carrying on the ankle is that no one is going to pay much attention to your lower leg. Ankle rigs are often used to carry a secondary weapon as a backup. They offer a decent alternative for people who aren't able to carry on the waist or upper torso.
An obvious disadvantage to an ankle holster is that you have to bend down to retrieve your gun. For that reason, they aren't always the fastest draw. They also tend to bounce around a lot on your ankle when running – a problem even with a smaller gun, like the J-Frame.
---
Best Holsters for S&W J-Frame
This is a suede inside the waistband holster that attaches with a clip. It is designed for inside the waistband carry.
It is handmade and the quality of production really shines through in areas like the stitch work.
Pros
It has a sturdy, metal clip that is mounted on to a robust piece of leather – unlike other holsters on the market, this one should last for many years of good service.
It rides very low, making it particularly good for concealed carry.
Relentless Tactical offer a lifetime guarantee on their products.
Cons
You might find the clip to be a little loose depending on the belt you are wearing. As with any holster, it's highly recommended you get a good quality gun belt.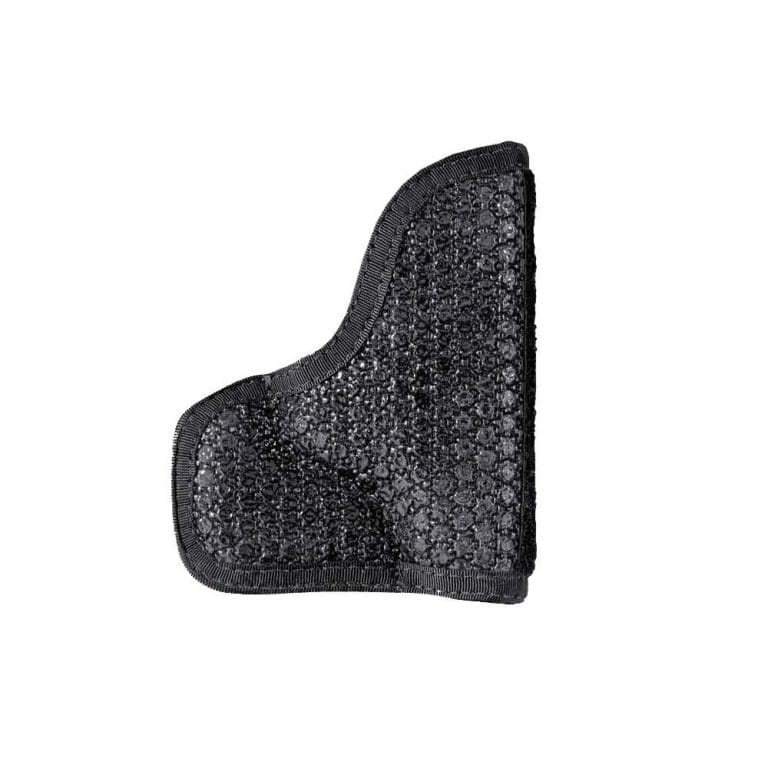 A hugely popular option for pocket carry, the Super Fly is Desantis's upgraded version of the Nemesis.
It's made from a sticky outside material that clings to the lining of your pants, ensuring minimal movement inside your pocket.
Pros
The sticky external surface means it will stay in your pocket, whilst the slick cloth inside the holster allows for a low-friction draw.
The Super Fly features a removable outer flap for added concealment.
It's ambidextrous, so you don't have to worry about ordering the wrong type.
Cons
It's a bit too bulky for shallower pockets – and skinny jeans are out the window!
This is another pocket holster which is made in the USA. Despite being a low cost option, it's still a fairly decent holster that fits the J-Frame well and covers the trigger guard.
Make sure you get the Size 3 holster, which is made specifically for J-Frame revolvers.
Pros
The outer layer is a rubbery texture that holds the gun in place in your pocket, and the inside is made from nylon for a slick and easy draw.
It has a good amount of padding for comfort and retention.
Its ambidextrous design makes it a good option for both left and right-handed shooters.
Cons
The barrel end of the holster is open, which could become a problem with lint and other pocket debris.
It is a bit too bulky to fit in all pockets. The pockets on women's jeans – which are generally less deep – present a particular problem here.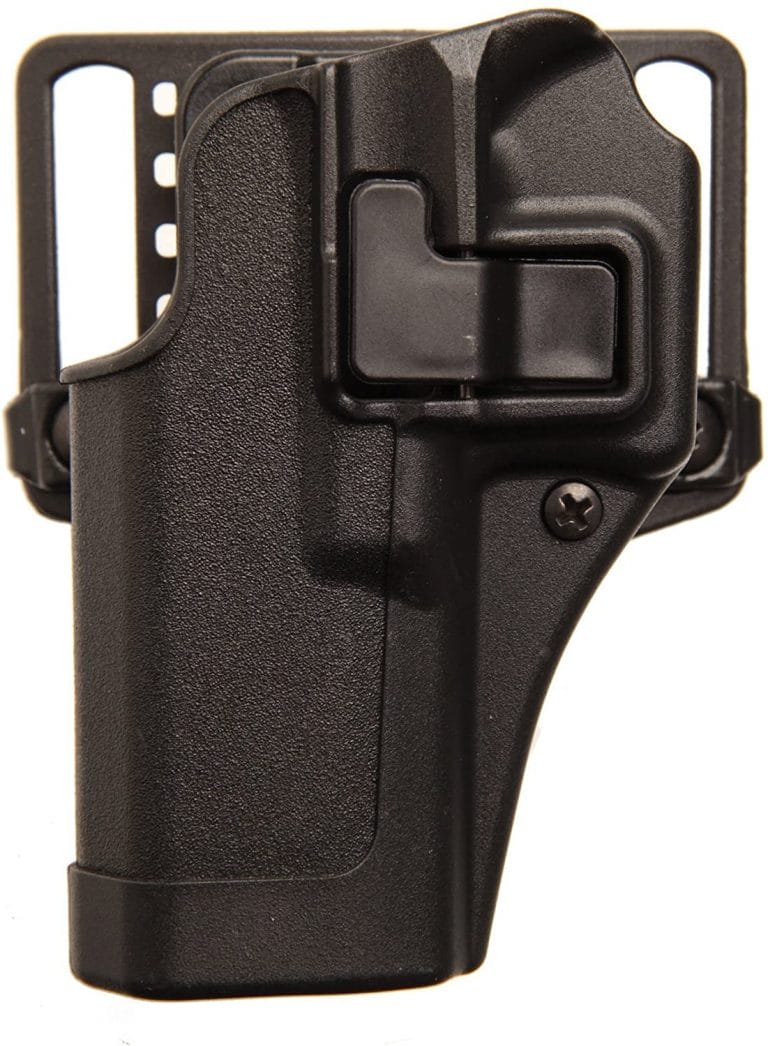 Blackhawk are well-known for making quality gear, and this OWB holster is no exception.
It has level II retention (meaning it uses two different functions to secure the gun in the holster). There is an adjustment screw for passive retention, and an "auto-lock" release for active retention.
Pros
It comes with belt loops and a paddle, which can be switched up depending on your need.
It fits the handgun very well, and gives an audible "click" when you reholster.
Despite its good level of retention, the Blackhawk Serpa is fast on the draw.
Cons
Most of the problems you'll encounter with this holster are in setting up and getting used to it.
You may also find it harder to conceal, as it is designed to be worn on the hip and can protrude a little.
---
Conclusion
By now you should have some idea of the right holster for you, and you can begin trying out the different options.
All of the holsters featured in this review will work well with the Smith & Wesson J-Frame, but my top pick would have to be the Ultimate Suede Leather IWB from Relentless Tactical.
Our Pick
It's made of good quality materials, and is sold at a price that won't break the bank. It also offers a very good level of concealment, which is perfect for carrying with a J-Frame. Plus, if you ever have a problem, Relentless Tactical offer a lifetime warranty.
So, if you can't find a decent holster for your SW J-Frame, I'd strongly recommend giving this holster a try.
Related Reads: