Today we will be looking at some of the in the waistband holsters for the 1911. My favorite 1911 concealed carry IWB holster is the Alien Gear IWB Cloak Tuck 3.0. I picked this because it has what I want in a concealed carry holster: concealment, retention, and adjustable features.
Now, while Cloak Tuck isn't quite as sleek looking as suede or polished leather, I'm not looking for aesthetic features in a concealed carry holster. It doesn't have to be beautiful to work. I'm looking for an efficient, spartan holster.
I want my weapon to be safely secured on my person where I know it won't be falling out, completely out of sight except in the unlikely circumstance that I have to use it. The Alien Gear IWB Cloak Tuck 3.0 fulfills this basic function, even though it might look spartan, and that's why it's my top pick.
Get Deals on Guns and Tactical Gear
Join 70,000 Readers For Our Weekly Discounts
---
The 1911
When carrying my 1911, I feel like I'm carrying a piece of American history. The 1911 boasts the longest service use of any American firearm. Our troops carried this sidearm on the beaches of Normandy, and I love carrying a gun that helped defeat the Nazis.
Prior to the first world war, American troops had mainly used the Colt M1892 revolver. However, American troops found these pistols useless during the Philippine-American war, so the United States commissioned a new .45 caliber semi-automatic pistol.
The M1911, which was invented by John Browning in the late 1890's, was chosen for the job and first saw action in Mexico, Cuba, Nicaragua, Haiti, and the Dominican Republic. From then on, it became a staple of the American armory until the Beretta M9 replaced it as the standard sidearm of American troops. Today, special operations continue to carry the 1911 all over the world.
A great innovation in developing the 1911 was the interchangeability of its parts across different manufactures. Since the U.S. commissioned several different companies to produce the 1911, it was essential that parts from any manufacturer could fit any particular model. This practice continues today, but was coined with the 1911.
Carrying a 1911 in the Waistband
If you are carrying a 1911 for personal protection as a concealed carry, you might choose to use an IWB or "in the waistband" holster. The major factor I consider when looking at these features is concealment. I want my gun to stay hidden so that no one gets alarmed and I stay in compliance with the law.
Accessibility versus Retention
Now, there's a lot of different opinions about the value of a holster. Some people prefer easy accessibility, others retention. Now, my personal preference is that a gun stay well-retained. Since it's extremely unlikely that I will be drawing my firearm, it's more important for my gun to remain retained than for me to pull it out quickly.
On the other hand, if you are drawing your gun constantly from your holster (or feel safer knowing you can pull it out faster), retention might not be as big of a factor for you. For me perosnally, in the unlikely event of an incident, I'm confident enough that I could draw my firearm quickly enough to handle the situation, even if a few milliseconds are shaved off by the gun's retention.
99.9 percent of the time, if not 100 percent of the time, my concealed carry weapon will remain hidden, and so I will be getting a lot more out of the retention than anything else.
If you are especially worried about your gun falling out of your holster at a public place, you will put a high value on retention.
However, you don't want to be like Barney Fife, unable to pull your gun out of your holster. But as long as you are training with your holster, any retention device will be part of your natural motion as you draw. You will be developing the muscle memory at the practice range, and so ideally you should never be slowed down by a retention device in a real life situation.
Now, many people might value draw speed over retention, and if that's the case you might look for something with a lot less retention, something with a hard interior surface. But I personally favor a hard surfaced holster for an open carry firearm, say if I'm out on the ranch and need to get the drop on a rattlesnake.
In an active shooter situation or public robbery, you look no different than any other civilian. Instead of trying to outdraw an assailant, you should be taking advantage of the element of surprise.
If you're a plainclothes detective, on the other hand, you might value draw speed over retention, especially because you are more likely to be in a situation where you need to quickly access your firearm.
On the other hand, if you're in law enforcement, you might be more worried about someone taking your gun, in which case a secure retention device (such as something that actually locks your gun into place) would be a better choice.
Comfort
Another feature I look for in a in the waistband holster is comfort. Since I'm going to be standing up and sitting down with my gun attached to my hip, I want to make sure that I have the maximum comfort.
However, different people find different things comfortable. Is it more comfortable to have something smaller and thinner, or something more bulky that's going to keep your gun from moving?
In my experience, I have learned that keeping your gun close to your body provides the maximum comfort and the larger "hybrid" imb holsters give you the necessary kind of support for keeping everything where it's supposed to be.
On the other hand, if the idea of a large brace taking up half your body sounds uncomfortable, you might be better off going with a smaller holster.
Where to Wear Your Holster
Generally speaking, you wear an IWB holster at one o'clock, but some wear it between three and six o'clock. Some of them even allow you to tuck in your shirt, so if you're wearing it in a professional environment, the holster can be adapted to your style.
---
Our Top Four Picks for the 1911 IWB Carry
Let's look at some of our top choices for concealing a 1911 in the waistband.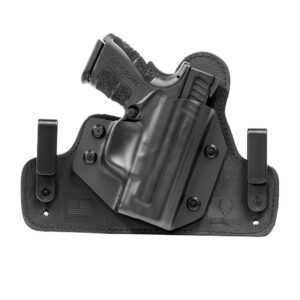 My top pick for a 1911 concealed carry holster is the Alien Gear IWB Cloak Tuck 3.0. Now, I have to admit, this holster isn't very aesthetically pleasing. It's made of an ugly rubber-like coating and different looking parts, but since the holster's purpose is to remain out of sight, I am not as concerned with aesthetics.
The "alien skin" coating gives you the retention you need to keep your gun well holstered and out of sight. The adjustable holster allows you to adapt to your personal needs, letting you draw in the position that's comfortable for you.
Features:
Neoprene backing for comfort
Shell can be swapped out to fit other guns
Spring-steel retention
"Alien skin" rubber coating adds to retention
Attaches to the belt
Height, cant, and retention are adjustable
Pros:
Retention
Comfort
Adjustable to your needs
Allows you to tuck in your shirt
Cons:
Large width, bulky
May become hot in warm temperatures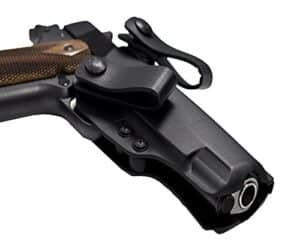 If the size of the Alien Gear 3.0 isn't appealing to you, maybe you want something with a tighter fit and minimal bulk. With the Blade Tech Phantom, you get minimal size, but keep the large belt loops. The belt loops are fixed, rather than snapping. Your 1911 snaps into place and locks with retention, and the sleek design fits the shape of your 1911 like a glove.
Features:
Lock trigger guard
Prevents pistol-body contact
Thin material provides concealment
Tailored to closely fit your 1911
Adjustable Retention
Pros:
Custom made for 1911, giving you a close fit
Clips to belt, giving you stability
Cons:
Difficult to adjust
Leather snaps difficult to attach, sometimes get stuck.
Right hand only
This sleek, suede holster from Relentless Tactical trades belt loops for a belt clip, and offers a slim alternative to the heavy-duty cases we've look at so far. Now, I love the design of this case and its efficiency and simplicity means it should supply a product capable of fitting your most basic need: having something to hold your gun.
The other thing I like about this holster is that it's much more ideal for storing your firearm than some of the larger models we've looked at. You can keep this in a drawer, take it out, and simply clip it on your belt. At the same time, the case looks like it was designed for your smart phone, not your firearm.
You might also be worried that the clip would come undone when you pull it out, making you draw your holster instead of your gun. Added to this are reports that the sight gets caught on the edge of the holster, preventing you from drawing quickly.
Features:
Sleek suede and leather Design
Fits multiple handguns
Offers the option of right and left
Lifetime warranty
Pros:
Simple, efficient design
Comfortable
Cons:
Re-holstering your weapon can be difficult
Sight often gets caught on edge of holster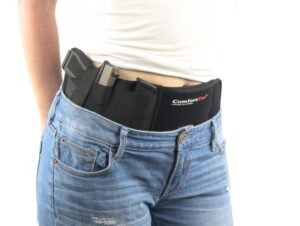 Lastly, I'd like to mention an interesting new direction in holster design: the belly band holster. These full-body holsters wrap around your waste like a brace (made of surgical grade elastic), and give you multiple options for storage.
You can keep your pistol, an extra clip, your cash, credit card, and cellphone all in the same place. If your body frame is small, this adjustable size is ideal. Moreover, the additional baggage won't affect your figure.
This also would be ideal for keeping your valuables safe while traveling abroad. If you jogs early in the morning and live in a major city, this holster offers a great way to work out safely.
Features:
Adjustable waistband fits up to a 44" waist
Neoprene material
Surgical grade elastic
Pros:
Multiple options for storage
Adjustable for different storage and drawing needs
High concealment
Fits small frames
Won't affect your figure
Cons:
Cannot take off without getting undressed
Right hand only
---
Conclusion
All of these holsters offer great options, depending on your needs, but the Alien Gear IWB Cloak Tuck 3.0 remains my favorite pick for keeping my 1911 safely concealed. If I preferred a smaller size holsters (as many do), I would take the Blade Tech's Phantom holster, but unlike the Cloak Tuck 3.0, the Phantom is much more difficult to clip onto the belt.
Our Pick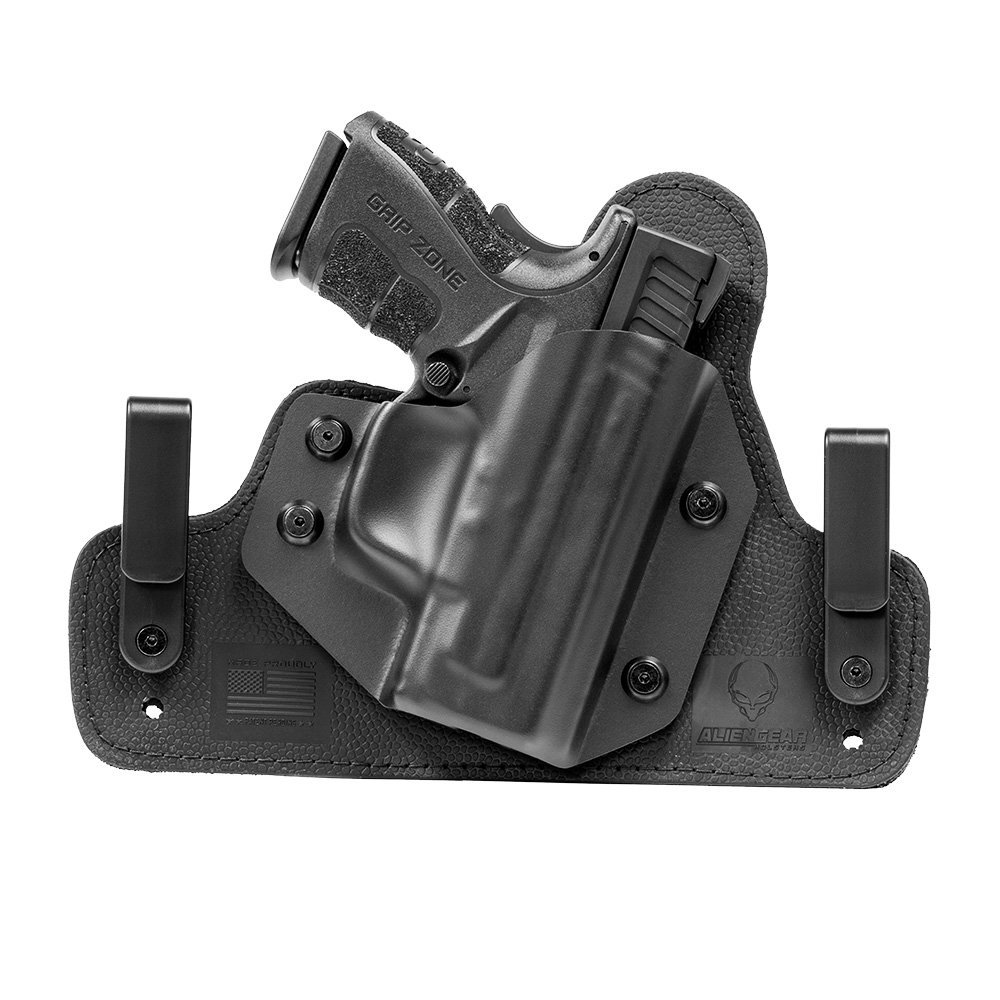 While Relentless Tactical's Ultimate Suede Holster offers sleek elegance and simplicity, I'm looking for a device with more adjustable features designed to ensure that my 1911 remains out of sight.
While I appreciate the innovation behind the ultimate belly band and would recommend it for joggers and people with small frames, I need something adjustable that's designed for the single purpose of keeping my weapon retained, out of sight, and comfortable.
Related Reads: