You're looking for a rifle scope, but how do you know what kind of scope is best for your intended uses? There are hundreds, maybe thousands of scopes on the market today. You must first determine what your needs are, and then look at those features most useful to you.
Our pick for the best Barska rifle scope is the Point Black 4-16x 40mm. This scope comes with flip-up lens covers so you'll never lose your lens protection. It's also got MOA adjustments for windage and elevation, plus a self-illuminated and colored mildot reticle. It comes with a limited lifetime warranty.
Get Great Guns and Ammo Deals!
What to Consider When Buying
You must think about what you plan to use your scope for. Are you going to be in the deep woods, hunting through dense undergrowth? Or do you plan to use your rifle and scope for target shooting? The answers to these questions will give you a good starting point.
Next, you need to learn what the different features of a scope are and how they affect performance. And there are some terms involved that you may have never come across before.
Vocabulary
Let's look at some terms you'll see when looking at scope listings.
2.5x 40mm–you will find numbers like this when looking at scopes. The first number(s) tells you the magnification range of the scope, and the number following the X tells you the size of the objective lens.
Objective lens–this is the front section of the scope and what allows light through the scope. A larger number objective lens will give a brighter field of view.
Field of View–this refers to the area of sight within the scope.
Reticle–the technical term for 'crosshairs'.
MOA–this stands for Minutes of Angle and refers to adjustments of the scope.
MRAD–for milirad, this is a type of scope adjustment.
Parallax–refers to the inability of the scope to focus on a target; many scopes with magnification over 10x will offer adjustable parallax.
Eye Relief–this is the distance you can pull away from the scope and still see a full field of view.
What's in a Scope?
Each part of your rifle scope has its own job to do. First, consider the parts separately, then think about how they will work together in your scope. Let's look at some of the parts of the scope and learn a little bit about how these parts work.
Objective Lens
This is the part of the scope nearer to the barrel end and is important for allowing light into the scope's field of view. When looking at a scope listing, the objective lens size will be the number after the X and before the letters mm.
Because the objective lens controls the amount of light entering the scope, the larger the lens, the more light you'll get and the brighter your target will look. Larger objective lenses are excellent for hunters who may be out at dawn and dusk.
Magnification
When looking at a scope listing, you'll see this number or numbers listed before the X. If a scope has variable magnification, it will list two numbers, telling you the range of magnification.
Anything up to 10x magnification will be suitable for distances of up to 100 yards and will work well for general hunting applications. For target or competition shooting, you'll definitely want a scope that goes well beyond 10x magnification.
On scopes with adjustable magnification, there are two options available. One type of adjustment is MOA, which stands for Minutes of Angle. This is a good setup for scopes with Duplex reticles. The other adjustment is called MRAD, and this type of adjustment is great for scopes with mildot or BDC reticles.
Reticle
This is the technical term for the 'crosshairs' inside a scope. There are three main types of reticle. Each one has its own benefits and disadvantages.
Duplex
This is the standard type of reticle and the most common you'll see in scopes. It consists of thick, black vertical and horizontal lines that thin as they reach the middle of the cross. This helps to naturally guide the eye toward the center of the field of view. A duplex reticle is good for close range shots up to a couple hundred yards.
Mildot
This reticle takes the duplex a step further. Instead of thinning black bars, a mildot reticle has a series of dots near the middle of the cross. This setup allows the user some adjustment for range without going to the knobs to adjust the scope. You'll also get some control over bullet drop.
BDC (Bullet Drop Compensator)
This type of reticle combines the duplex and mildot setup, with hash marks for targeting at different yardage. You probably won't come across a BDC reticle unless you're looking for scopes similar to those used in the military. The BDC reticle is only available for certain cartridges.
Specific Barska Rifle Scopes
Now that we've discussed basic features of scopes, it's time to take a deeper look at some specific models of Barska scopes.
This is a scope with a magnification range of 4-16x and a 40mm objective lens. One great feature of this scope is the flip-up lens caps, which can be quickly lifted when in use, but are still attached to the scope. This prevents your lens caps from getting lost in the field.
The Point Black uses an MOA adjustment for windage and elevation, and also includes the BDC chart for multiple grains of cartridges. The reticle is a mildot with center-lit blue, green, and red options. The entire scope is waterproof.
This scope also has an adjustment for parallax. It comes with a limited lifetime warranty.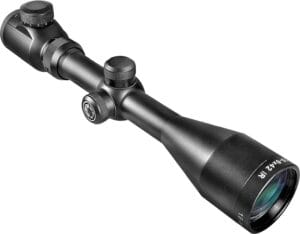 This is a close-range scope with a magnification of 1.5-6x. This would be a great scope to use for close quarters, probably within 100 yards or so. The 42mm objective lens size will allow more light to enter the scope, brightening the target.
The illuminated duplex reticle has red center bars to contrast from the thicker black bars. The scope adjustment is MOA for windage and elevation. It's got no parallax adjustment, but is parallax-free at 100 yards.
The Huntmaster Pro comes with lens caps, but they aren't attached to the scope itself. It comes with a limited lifetime warranty.
The Sniper scope has a built-in sunshade to reduce glare. It offers a magnification of 3-9x and the 42mm objective lens allows more light inside the scope. It comes with lens caps as well as mounting rings.
The scope uses MOA adjustment with a mildot reticle, either black or illuminated green or red, which have 5 brightness levels. The scope is fully waterproof and shockproof and offers almost 4 inches of eye relief.
The Sniper is backed by Barska's limited lifetime warranty.
This scope is intended for use only on rimfire rifles (.22 caliber) and has a magnification of 3-9x. If you're fan a of these rifles, you might be interested in what is the best rimfire scope out there. The 32mm objective lens will let in slightly less light than the other scopes on this page. It's a good scope for short range plinking.
The reticle is a simple duplex and the scope uses MOA adjustment. It does not have a parallax adjustment. But, the scope comes with lens covers, a lens cleaning cloth, and mounting rings. It's also backed by a limited lifetime warranty.
This waterproof scope is adjustable for magnification from 6.5-20x, and the objective lens of 50mm gives excellent light into the scope. The Varmint has a duplex reticle with a target dot in the center, excellent for small targets.
The scope is MOA adjustable for windage and elevation and has a parallax adjustment on the objective lens. The Varmint gives an eye relief of 3.6 inches, and comes with a limited lifetime warranty.
Final Thoughts
Choosing an excellent scope for your needs may seem like a daunting task. If you've narrowed your choices down to a Barska scope, by now you should have an idea as to which type will work the best for you. Consider your style: are you a hunter or a target shooter?
Our Pick
The Point Black 4-16x 40mm is a fabulous choice for an all-around scope. It's backed by a lifetime warranty and gives you the benefit of adjustments for windage, elevation, and parallax.
Not only that, but this scope comes with flip-up lens protectors to keep your lenses in perfect shape. The magnification of the scope is above average, and the 40mm objective lens guarantees a bright target.
More scopes reviews here.
Related Reads: