So, you carry a Glock 43?
First off, congratulations on owning what is currently the leading edge of Glock engineering & ergonomic design to date.
Now, you need a CCW ankle-carry solution that works in synergy with all the strong points of your Glock 43? But where should you begin looking? Why, right here naturally, that's where!
While no handgun can be the best for everyone's situation, the Glock 43 slimline for many, offers the optimum balance of reliability, handling, and excellent concealment.
In this article, we consider some of the most popular ankle carry solutions, including my favorite, the Galco Ankle glove.
Our Pick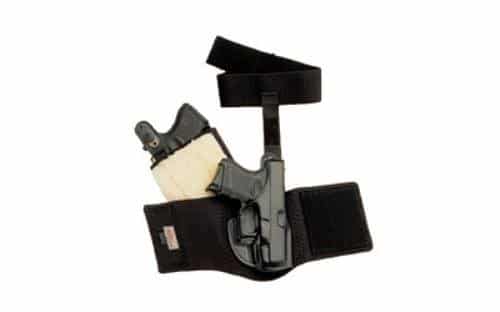 Personally, the chief points for me were it's simplicity of design, secure retention, easy retention release, and comfort. No other handgun on the market can match the ultra-concealment of the Glock 43, combined with a 9 x 19mm punch, and the reliability in use Glock are famed for.
Let's jump in and take a look at the important points to consider when shopping for the Glock 43 ankle holster best suited to your needs.
SAFEST NEWSLETTER - WE WILL NEVER SELL YOUR EMAIL
GET GREAT

GUNS AND AMMO

DEALS!
SENT ONCE A WEEK - NO SPAM - NO SELLING YOUR EMAIL
---
Main Points To Consider
Cost
This informs all other considerations, and it's understandable that after paying for a new Glock 43, there is a temptation to consider, 'what is the best cheapest holster I can get away with?'
Construction quality
Many holsters at the bottom end of the scale, are a false economy. Commonly this reflects in poor stitching, which can be repaired, incurring additional cost, or e.g. delamination of holster composite material, but either way, occurring too soon. Another typical problem with cheaper holsters is poor comfort.
Comfort
Though most owners will say their #1 primary consideration is functionality. (It should 'just work', as Steve Jobs put it). A fundamental aspect of ankle holsters just working, is precisely in terms of comfort, such that the wearer may even forget it's on, (versus being a torture device).
Weight
One component of comfort being weight.. This can be an issue, including backup-magazine-type holsters, which I'd argue normally are not worth the impaired mobility, or risk of dropped magazines.
Additional magazines
This comes down to context / personal preference, (particularly given the Glock 43's 6+1 capacity), so I'd refrain from completely discounting the idea for all situations.
I feel a core concept the Glock 43 was developed around, was minimizing weight, as well as printing. Accordingly I incline toward lightweight holsters, playing to it's strengths.
FBI Cant vs Straight Drop
The angle of the holster, vertical or slightly canted, (aka FBI canted) will have a bearing on how quickly the gun can be drawn, (and potentially, printing of the grip, e.g. with aftermarket higher capacity magazines).
Calf Strap
Opinion is divided on these, however should you feel the need, most ankle holsters allow for this option. Again this is about personal preference, holster model, and how it fits you.
Retention Strap – Drawing
Other aspects to bear in mind are does the holster incorporate a retaining strap, if so, how easily does the strap disengage / unfasten, does the strap upon opening spring away clear of the weapon as it is being drawn?
Retention Strap – Return
Cognizant of Glock's safe action trigger™, i.e. no orthodox external safety catch, does the retaining strap stand clear of the weapon automatically? Or does it flop around increasing the possibility of fouling the trigger / an ND?
---
Top Ankle Holsters for the Glock 43
The DeSantis Die Hard ankle rig is constructed from PU coated, top grain saddle leather, embodying DeSantis's core principles of performance and durability. A smooth leather lining protects your Glock 43's finish and ensures a silky quick draw.
Pros:
The Die Hard retains the Glock 43 securely with a conventional thumb break, tying back to the padded, sheepskin lined neoprene leg band.
The RH suffix identifier signifies the version for right handed users, i.e. worn on the left ankle, but is also available in an LH version.
Being a natural leather structure, the holster requires a breaking-in period, however is commonly cited by users as the most comfortable holster they've ever owned.
In common with the rest of the DeSantis range, though supremely functional, the Die Hard is itself a beautifully crafted accessory, complimenting the Glock 43 perfectly.
Cons:
The breaking-in period is not related solely to the holster main body, but to the thumb break will be stiff to begin with also, so it would be advisable to break-in fully prior to using the holster in live situations.
For some the calf strap D ring, or the DeSantis nylon badge, embroidered on the inner face may cause irritation, albeit either of these are easily removed, so easily fixed for anyone experiencing hotspots.
In the event one needs remove the D ring, obviously you lose the calf strap option. That said however, I've yet to meet anyone running the Die Hard and uses a calf strap, which pretty much testifies as to the holster's basic design.
The ComfortTac Ultimate ankle holster eschews model-specific holsters, instead aiming to accommodate a range of guns, from 22LR micro-pistols up to 9mm /10mm compacts. To this aim ComfortTac use medical grade elastic for the holster, a padded neoprene leg band, and a metal-snap silent-draw retention strap.
Pros:
ComfortTac Ultimate ankle holster is significantly cheaper than the other holsters presented here, however in use, this doesn't translate into the usual deficiencies of poor build quality, problematic retention, discomfort in use etc., one expects in this price range.
Similarly, beyond fit of multiple weapons, as an ambidextrous holster, the savings extend into a genuine 2 for 1 solution.
There is no break-in period, and is ready for use out-of-the-box. Albeit, as with any new purchase, it behooves owners to burn-in new kit, via time spent training, ensuring muscle memory is already there prior to exposure to live situations.
ComfortTac provide a buy & try 'bulletproof' guarantee, allowing users to try the holster for up to 30 days and return for full refund if not 100% satisfied.
Cons:
Given the character of surgical elastic, vs e.g. leather, there is more flex in use which some users may not like, but given the 30 day guarantee, this shouldn't represent a deal breaker.
Similarly, the 'ride' is different vs e.g. the DeSantis Die Hard. For comfort, it needs to be worn less tightly, rather than approached on equal terms, so has a different feel.
The metal snap on my model worked fine, but I've noticed other users comment not liking it.
Similarly, I did not experience it in my case, but I heard of issues with the gun making contact with the wearer's ankle, but this could just be down to incorrect use.
The injection-molded polymer Fobus GL43NDA ankle holster incorporates a ¾ inch thick suede lined cordura pad, securing around the ankle with a 2 inch wide Velcro strap, returning through a buckle at the front. Weapon retention is by an adjustable internal passive retainer, hence the pistol grip sits clear of any straps etc.
Pros:
Fobus's heritage as developers for the Israeli Military shows through in the GL43NDA's robust construction, which looks like it would shrug off being driven over by an RV.
The passive retention is very firm, such that running with the Glock 43 holstered there's no concern it will dislodge, allowing you to focus on running your primary gun. As one would expect, the passive retention provides an adjustment screw, this allows fine-tuning of the retention to suit.
The majority of people will find this a very comfortable holster, with ample padding within the body of the cordura, I'd add thick socks do not go amiss, however, as the strap unshielded by pad could be uncomfortable.
Perhaps due to hailing from Israel, but this holster is cooler vs neoprene banded holsters in warm weather conditions.
Cons:
As above, some users do find this holster uncomfortable, but this is probably impossible to get right for every user.
I felt the holster prints more than I care for. Given this holster is for a slimline Glock 43 this aspect disappointed me.
While I did appreciate the lightweight of the GL43NDA, I personally prefer natural materials,
I concede its subjective, but I'm not a fan of the overall aesthetic of Fobus holsters.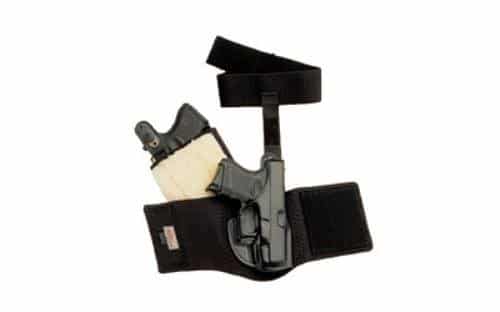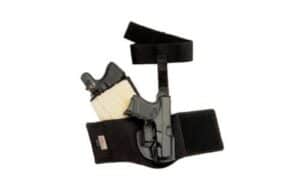 The Galco Ankle Glove Holster for Glock 43 comprises a Premium Steerhide body & retention strap. The retention strap incorporates a reinforced thumb-break release, while the holster is secured around the ankle by a wide neoprene ankle band with Velcro fastening. Local to the weapon, the holster has thick genuine sheepskin.
Pros:
Though looking the part, with gun-specific-profiling, but in leather, hence the glove moniker, and feeling good, I just like the absence of fumbles to open on the draw, that can be the case with other holsters, particularly some passive retention models which can seem to decide to hold on extra tight at surprise moments.
Similarly, on the draw, disengaging retention is by the thumb, not the index finger, so I like that I can do what I 've always done in this respect, and place it straight along the top of the trigger guard.
Though a small detail, the thumb break, or how good it feels in operation, is my favorite of any I've tried, and am yet to meet somebody who's tried and didn't feel the same way. Confidence inspiring when closed, and easy to open when needed.
The comfort cannot be overstated, if needing to ankle carry a Glock 43 for extended periods of time, but not wishing to be reminded of the fact by discomfort, this is a key strength of the ankle glove.
Cons:
The ankle glove is not cheap! On the other hand, this is a premium product, that could easily serve as an illustrative example in the dictionary definition for the expression, 'get what you pay for'.
The ankle glove will not be a one time purchase to last the entirety of one's shooting life, and will require replacing after circa 8 years. As above however, typically owners consider repurchasing the same holster again a no brainer.
Due to the popularity, depending on where you buy from, there may be a little bit of a wait to get your hands on an ankle glove. This is anecdotal though, I've not had that problem personally.
There's very little else about the Galco ankle glove that could be considered a con. The only one I can think of is having experienced it, after a while owners themselves tend to become an ankle glove bore, proselytizing it to anyone raising the subject.
---
Conclusion
Ultimately, the best ankle carry holster for the Glock 43 for you is something which needs to be determined by hands-on field experience.
We are all made in different shapes and sizes; what works great for me, might not be for you. That said however, my recommendation for the best ankle carry holster for the Glock 43 is the Galco ankle glove.
Our Pick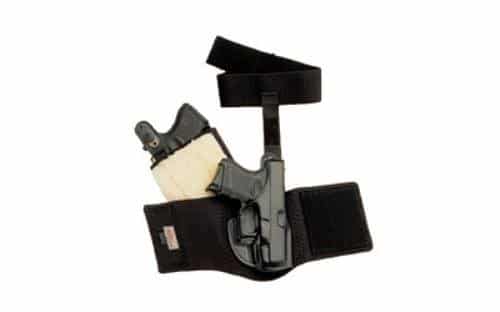 The Glock 43 dominates its niche as an ultra-concealable 9mm handgun, superbly engineered, but zen-like in it's simplicity, providing in a new paradigm within the CCW / EDC community.
To complement the Glock 43's strengths, you need a holster which delivers the same values of reliability, optimal ergonomics and unbeatable concealment, for these reasons, in my own opinion, there really is no better choice available than the Galco ankle glove.
Having second thoughts about ankle carry? Check out this alternative list of IWB holsters for the G43.