The Ruger Alaskan is a step up in the snub nose Ruger line, I've come to see. Perhaps you were one of the ones who liked the reliability and sturdiness of the Super Redhawk but weren't quite satisfied with the design. The Alaskan was their fix to that.
Now, though, you will want just the right holster to go with your handgun. With so many options out there, how do you go about narrowing down the best choice?
That depends on each person's preference. Do you plan to carry it concealed? Open? Where will you be taking it and how do you plan to use it? These are some questions to ask yourself that will help you narrow down your options.
Based on the features and needs of the Alaskan, I'd like to show you this OWB, the Galco Dual Action Outdoorsman Holster. It is quality material, has great retention, and made for this gun. Ultimately a wonderful pick for a variety of people, and it has been tested for durability.
What if you prefer another type of holster? In a bit we will look over some other options, but before that let's look over the variety of holsters there are out there and the features they offer.
Get Great Guns and Ammo Deals!
---
Popular Holster Types
There are an assortment of holster types out there. There is one to fit nearly all occasions, and each has a different purpose. Let's look at some of the most popular ones, plus a few additional types that serve just as much of a purpose as the rest.
Outside the Waistband
Outside the waistband (OWB) is pretty much as it says. These are the kind you'll see on military or law enforcement, and of course are popular among the open carrier. Of course, they are concealable under longer or looser garments, as they can sit high or behind your hip.
These are popular, but also leave the firearm exposed and easily accessible to outside forces, as well as create more chance of it falling out if not retained well.
Inside the Waistband
The inside the waistband holster (IWB) is ideal for concealed carry as it is clipped to the inside of your pants or skirt. It is generally clipped to a belt, and different sized clips will fit different sized belts. This is a secure way of concealing your gun, and often times you can get away with tighter or tucked in clothing.
There is also the option of the appendix inside the waistband holster (AIWB), which allows you to wear it inside the front of the pants rather than the side or back.
Shoulder Holster
The appearance of a shoulder holster is similar to a backpack, meaning there are two straps that connect and the actual holster pocket is on either the left or right one. The gun can be pointed in different direction depending on the holster, but the benefit of it is that the weight of your sidearm is distributed evenly over your shoulders versus on a belt.
While they are often used for concealed carry under a coat or shirt, they can be worn as open carry. Keep note that they can be uncomfortable for women if one is chosen not specifically made with female wearers in mind.
Belly Band
Belly bands are elastic holsters that go around your lower torso, generally above your belt line or higher. The gun can sit in many positions, such as in front or beneath your armpit. They're generally a great unisex option as well, and most are adjustable to a certain size.
Due to the necessity for them to be tight in order to be secure, they can be uncomfortable, however they are concealable under different types of clothing. Often you'll find magazine pouches built into them like some IWB/OWB holsters.
Pocket Holster
These concealed carry holsters are just as they say: pocket holsters. They slip into your pants or shorts pocket, and usually have a tacky exterior that keeps them from slipping out. Compact guns usually fit into these, and if you plan to wear sweats or basketball shorts it can be a convenient holster to have on hand.
Because of the lack of clips or straps, these may be loose and not good for running or jogging, as your gun may come out.
Ankle Holsters
Ankle holsters, also known as boot holsters, are common among law enforcement who like to have a second weapon on hand as backup. They are worn on the opposite leg of your dominant hand, with the gun on the inside of your leg. You can conceal these under loose jeans or pants.
One common complaint is that they can tend to move around or bounce when jogging or running.
Pancake Holsters
These are usually two pieces put together, likes thin pouch, that allows the gun to sit in between them. These are worn a bit further back from the hip, and they are great for concealment as they are pulled closer to your body.
Without an undershirt, perspiration can wear on gun, and if seated a lot this can dig into your side depending on the holster.
Below waistband
The below the waistband (BWB) was made popular by Urban Carry Holsters. It sits directly below the waistline for a much deeper concealment than the OWB or IWB. It was created in hopes of fixing some issues that have been noted with IWB and OWB, however it is not without its own flaws.
Two handed draw is required, and it might not be easy to draw seated. While IWB and OWB are easier to access, with practice it can be easier as well.
Additional Types
Other kinds of holsters out there are sling holster, small of back holster, groin holster,thigh holster (AKA tactical or drop leg), chest holster, strut holster, crossdraw holster, flash bang, and a variety of other meant to fit in briefcases and handbags.
---
Holster Choices for Ruger Alaskan
Now, having seen the variety of types there are and how they work, let's see which ones come up while looking at some top options for the Ruger Alaskan.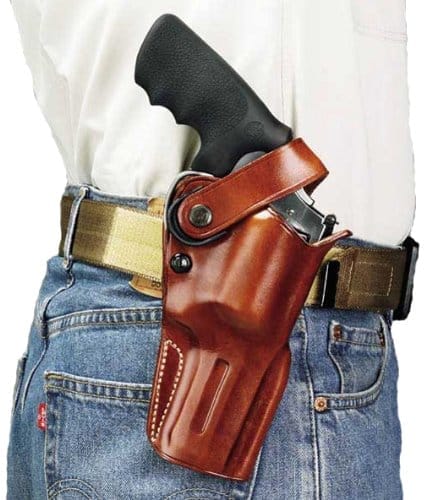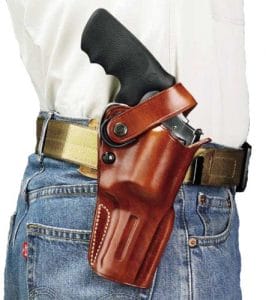 Made from quality leather and for durability, this holster is an attractive and dependent option. With a sturdy retention strap, your gun will stay secure but still accessible to you.
Features
Strongside or crossdraw wear options
Retention strap
Premium saddle leather]
Right and left handed options available
Pros
Strong retention
Good material
Fits gun well
Looks great
Tested for durability
Cons
Needs breaking in
Material may be thick near strap snap
Needs practiced fast draw
May sit too high for some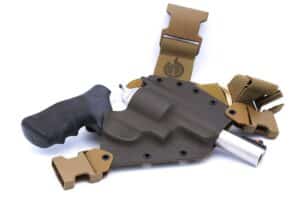 This chest holster is designed for all day comfort. It is adjustable to fit most body types and sizes, and the buckles are placed to cause minimal rubbing and to be out of the way. Great for the avid outdoorsman and hiker.
Features
Adjustable for most body types
All day wear
Can be worn low or high chest
100% US made nylon
Threading coated with waterproof agent
UV resistant
Pros
Good retention
Fits under backpack
Quality made
Cons
No padding on straps
May pull tight
Gun may be tight fit
Not comfortable for women
This belly band is good for concealed carry, and works well for men and women. It is an ambidextrous design so no fus over making sure you pick the right design, and it is adjustable up to 45".
Features
Ambidextrous
Adjustable sizing
Soft, neoprene material that is lightweight and ventilated
Elastic
Fixed Mag pouch and extra moveable pouch
Pros
Comfortable
Retains well
Good material
Cons
Adjustable size doesn't go up high enough
May create bulk on smaller built wearers
Mag pouches don't hold as well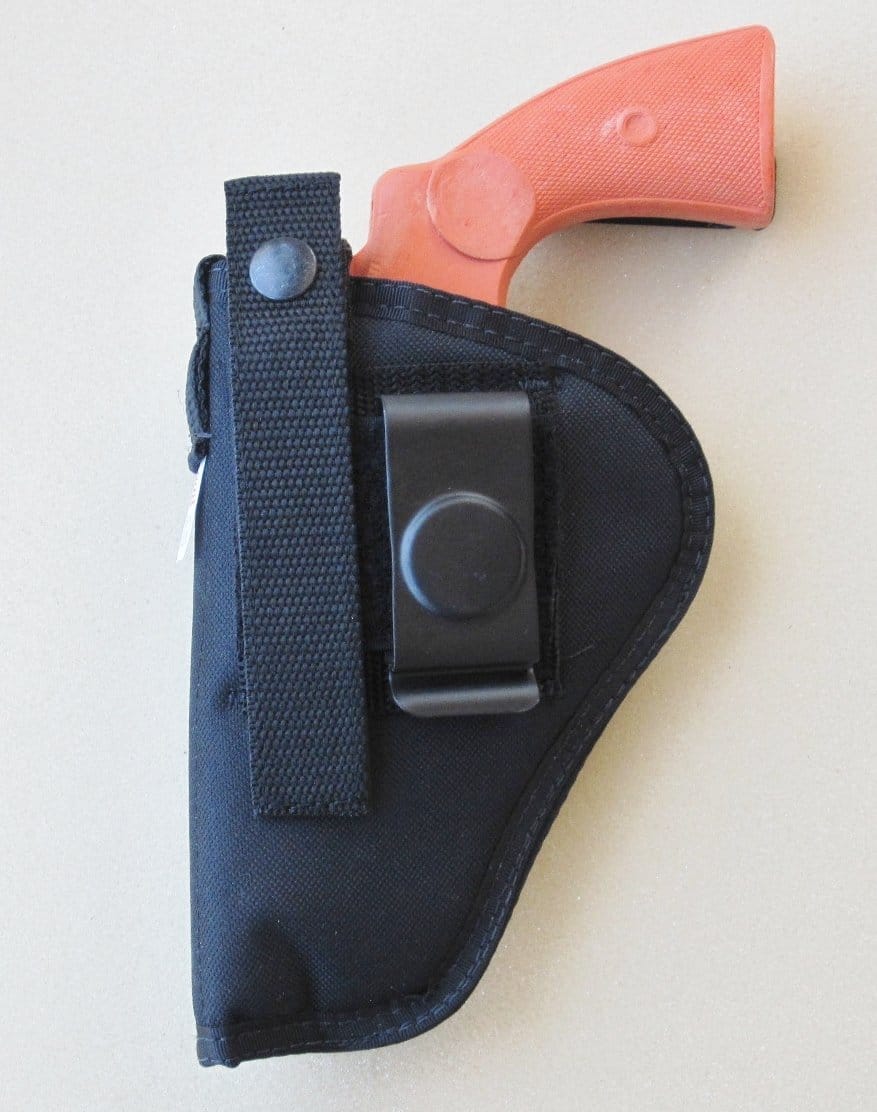 Another great option, this hip holster is a good, simple product that will last awhile and has good retention. Another plus is it is ambidextrous and can be moved from side to side with no problem.
Features
Clip on or belt wear
Sturdy nylon exterior
Soft lined interior
Ambidextrous
Thumbreak safety strap retention
Pros
Great fit for firearm
Comfortable
Conceals well
Cons
Velcro strap may get caught
Velcro not the strongest
Belt clip slightly loose
Rear sight may hang up
---
Top Pick for Ruger Alaskan
Regardless of these other great options, and I do think they are all impressive and worthy, the best holster I see is the Galco Dual Action Outdoorsman Holster. Not only is the material of great quality, it is also made specifically for the Alaskan. The retention is secure, the design is excellent, and it will last for years to come.
Our Pick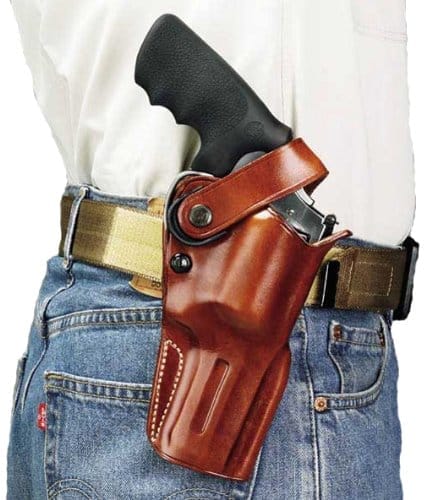 Now it is your turn to let us know your thoughts. What holster is your favorite for the Ruger Alaskan? Is it one of the ones on this list or have you found another? We love to hear about the experience our readers have with different options so let us know any comments or questions you might have. Thanks for reading!
Related Reads: